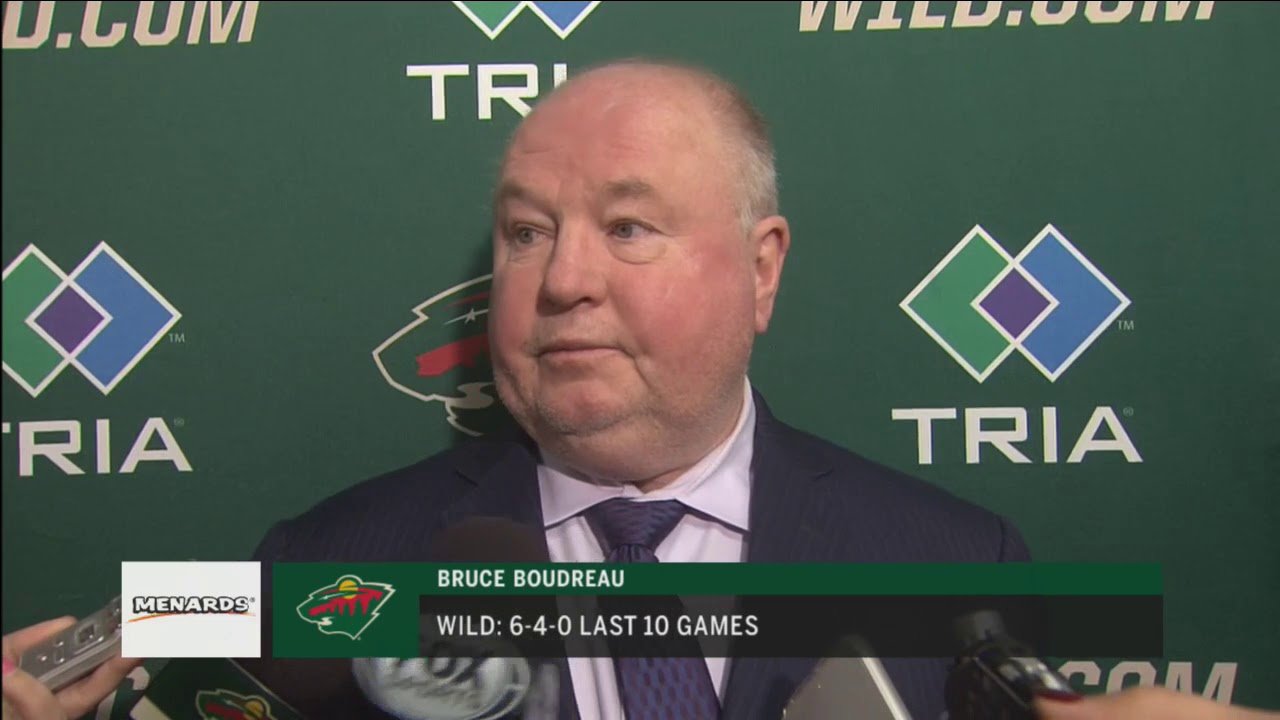 Earlier this season, the Minnesota Wild went through a stretch where Jason Zucker caught fire and was the only player on the roster scoring goals. He scored six straight goals in three games before another teammate put a puck in the net.

 

Now it's Matt Dumba's turn, apparently.

 

"He's probably the only one with offensive confidence right now," said head coach Bruce Boudreau. "What he's doing is he's starting to shoot the puck."

 

Defenseman Dumba scored the lone goal for the Wild (17-13-3) in their 4-1 loss in Chicago on Sunday evening. The loss meant a win-less back-to-back series this weekend for the wild, while the Blackhawks (17-11-5) reached a season-high five-game winning streak.

 

The Wild allowed 45 shots on their netminder to their 28. Now the Wild have a pair of losses after winning four in a row.

 

"Frustration is the most useless emotion you can have," Boudreau said. "It does nothing but hurt you. We have to get away from it."

 

Dumba's last three goals have been quick one-timers. His latest effort Sunday was a one-time blast from the point on a screened shot to Crawford. Dumba also scored both goals in Saturday's game against Edmonton and has eight points in the last 11 games. He's fifth on the team in scoring with six goals and 11 assists this season.

 

Ryan Suter and Charlie Coyle were credited with the assists on Dumba's goal.

 

So, where has the Wild scoring (minus Dumba) gone all of a sudden? Just a game after Mikko Koivu stood in the Wild dressing room and talked about his frustrations with his scoring slump, he again failed to register a point. He only managed one official shot on goal. It pushes his streaks to 24 games without a goal and 11 games without a point.

 

Then there's Patrick Kane for the Blackhawks, who scored career goals No. 298 and 299 – he has 18 career goals against the Wild. For those wanting to keep track of his rank on the all-time Blackhawks list, he's now fifth in goals, passing Dennis Hull (298).

 

Kane gave his team a 1-0 lead in the middle of the first period and then a 2-0 lead late in the second off an in-all-alone breakaway chance.

 

Ryan Hartman scored an unassisted goal at 1:41 of the third period for a 3-0 lead before Dumba's tally. Tommy Wingels threw in the empty-netter while shorthanded with four minutes left in the game.

 

Not only did the Wild fail to score and allow Kane to work his puck magic, the trips to the penalty box are still a concerning problem. The Wild sent seven different players to the box in the game, including a too-many-men bench minor, resulting in six Blackhawks power plays.

 

"You can't take six penalties and win," Boudreau said. "I mean, it's an impossibility."

 

He said they're trying to use the third and fourth lines to kill penalties. The Wild went 6-for-6 on the kills.

 

As has happened so many times in the past, Corey Crawford did his job against the Wild. He's undefeated since returning from an injury earlier this month, and 9-0-2 in the past 11 games. He hasn't notched a regulation loss since Nov. 12.

 

In goal:

 

Alex Stalock (5-5-1) with 42 saves. Crawford (16-7-2) with 27 saves.

 

Tidbits:

In his first game back from injury, defenseman Jared Spurgeon has the second-most ice time on the team at 23:20. He hadn't played since Nov. 25.

The Wild are 2-2-0 in the second half of back-to-backs this season.

The Wild out-hit the Blackhawks 27-18 and blocked 24 shots compared to 12 blocks for Chicago.

Up next:

 

The Wild road trip heads to Ottawa for a Tuesday tilt.