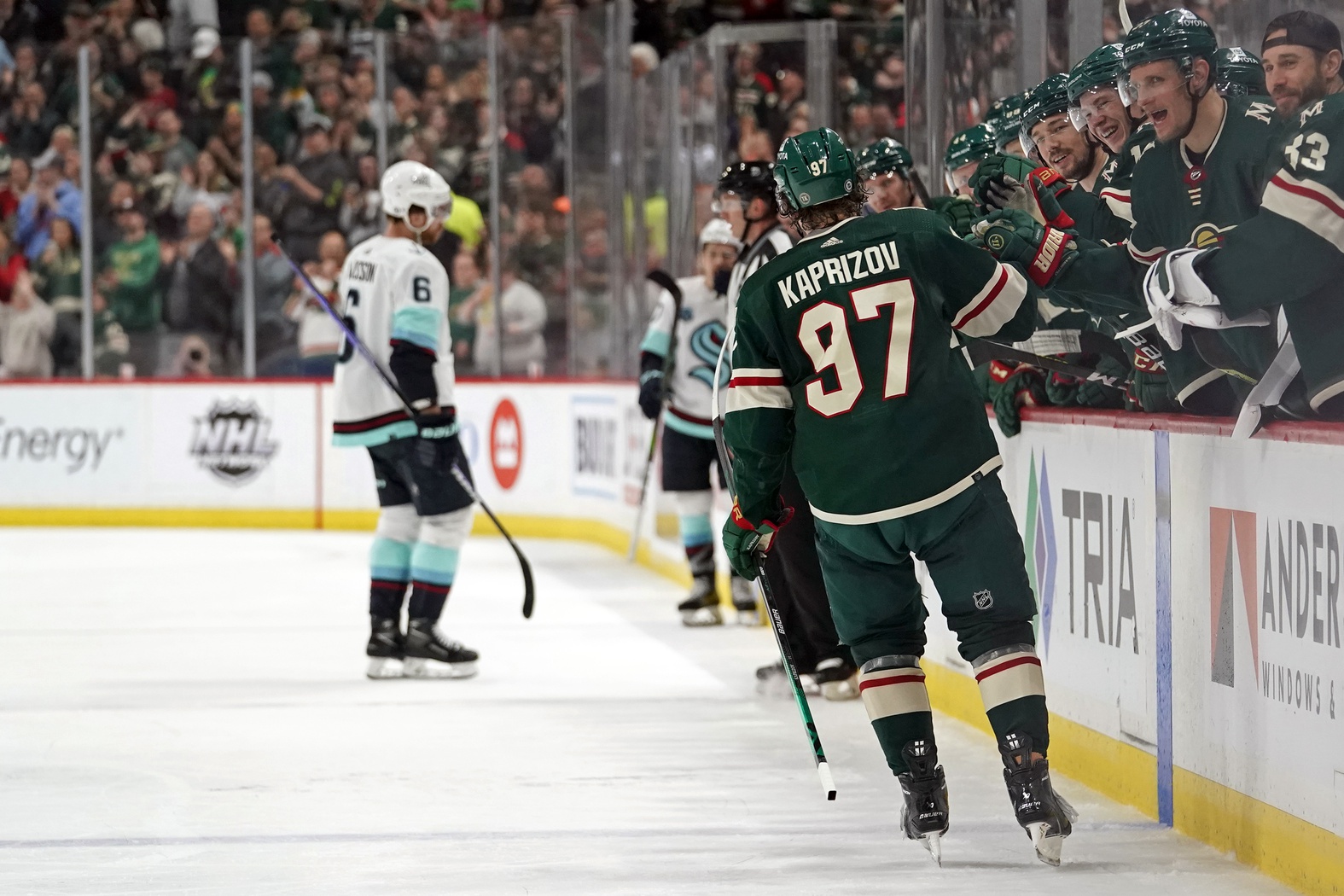 Hey, wow, have you heard the news? This Kirill Kaprizov guy? He just scored 100 points for the first time in Minnesota Wild history. We gotta say, that's pretty neat.
How are we going to celebrate this momentous occasion? We're going to put up 100 stats about his 100-point season. This is not a drill. Let's go.
Combine the previous Wild record for most goals (Marian Gaborik/Eric Staal) in a season, and the previous record for most assists (Pierre-Marc Bouchard), and that hypothetical player still falls nine short of Kaprizov's Wild-record 101 points.

The most points Gaborik scored in any 82-game stretch in his Wild career? 96, from January 30, 2007 to February 2, 2008.

As it stands now, Kaprizov's 152 points place him 21st all-time in Wild career scoring, between Kyle Brodziak (169) and Mats Zuccarello (150).

Kaprizov's 101 points from this season alone would make him the 40th-highest scorer in franchise history, right behind Dany Heatley (102).

Some Wild players that didn't quite reach 100 points with the Wild? Stephane Veilleux (97 in 428 GP), Thomas Vanek (93 in 154 GP), and Erik Haula (89 in 266 GP).

Of the 157 draft picks in Wild history, Kaprizov's 152 points rank 17th in career scoring with any team.

Of those 16 players ahead of him, just two (Cal Clutterbuck, Haula) were selected after the second round.

His 152 career points out-produces the entirety of the Wild's 2007 (68 points) and 2013 Draft classes (47 points), combined.

Kaprizov's 1.33 points-per-game is the Minnesota Wild's single-season record for any player with 20-plus games.

Lower the games played threshold to 17, and he's second to only Gaborik (1.35 in 2008-09).

Lower the games played threshold to 1, and he's third to only 2008-09 Gaborik and 2017-18 Louis Belpedio (2.00 in one game played).

Include the North Stars, and Kaprizov is just one of four players in Minnesota's NHL History to reach the century mark. The others are Dino Ciccarelli (twice), Bobby Smith, and Neal Broten.

The NHL sees 6.26 goals per game today. In those North Stars 100-point seasons, the NHL averaged between 7.34 to 8.02 goals per game.

Hockey Reference adjusts point totals for the era, and once they do that Kaprizov leads 2007-08 Gaborik among Wild/North Stars players by 11 (102-91).

1986-87 Cicerelli is in third place, with an era-adjusted points total of 87.

Were Kaprizov on the inaugural 2000-01 Wild team, his 45 goals alone would have bested points leader Scott Pellerin by six.

Let's do the same thing with the 2003-04 Wild. If you just counted Kaprizov's 56 assists. He would've bested points leader Alexandre Daigle by 5.

Take out every one of Kaprizov's goals for this year, and his 56 points would still be tied for 32nd on the all-time Wild single-season leaderboard.

Kaprizov had as many assists as Charlie Coyle's career-high in points (2016-17).

Kaprizov contributed a point on 34.8% of the Wild's 290 goals.

He also registered a point on 78.3% of the 129 goals Minnesota scored with him on the ice.

Minnesota scoring four goals with Kaprizov on the ice Friday gave Kaprizov the Wild record for most on-ice goals for in a single season (129).

The previous record-holder was Ryan Suter, with 126 in 2016-17.

Suter logged 2,208 minutes that season. Kaprizov? Just 1,469.

Kaprizov notched an assist on 12 different Wild players' goals.

Best friend Zuccarello unsurprisingly led the Wild by combining with Kaprizov on 56 of his points.

If you eliminated every one of Zuccarello's points that Kaprizov wasn't involved in, it would still be the fourth-highest total of Zuccarello's career (career-high: 61 in 2015-16).

20 of Zuccarello's 164 career goals have come off assists by Kaprizov, including 11 of his 24 from this season.

The only player to assist on more of Zuccarello's career goals is Derick Brassard (25).

Kaprizov has played almost 1000 fewer career minutes with Zuccarello than Brassard (~1690 vs ~2670).

Ryan Hartman teamed up with Kaprizov for the second-most amount of points on the Wild, with 31.

This includes 17 of his career-high 33 goals.

If you eliminated every one of Hartman's points that Kaprizov wasn't involved in, Hartman would still have tied his career-high (set in 2016-17, 2017-18).

At 5-on-5, the Kaprizov-Zuccarello-Hartman line out-scored opponents by a 48-25 margin.

Rounding out third through fifth place in the "Combining with Kaprizov on a Point" category are Kevin Fiala (18), Joel Eriksson Ek (17), and Jared Spurgeon (14).

The only lines with a greater goal differential are Elias Lindholm-Johnny Gaudreau-Matthew Tkachuk in Calgary (+40), and Michael Bunting-Auston Matthews-Mitch Marner (+29).

Kaprizov drew 41 penalties this season, ranking just fourth behind Connor McDavid, Pierre-Luc Dubois, and Bunting.

He's also very good at not taking penalties. He's taken 17 minor penalties this season, giving him a +24 penalty differential.

That's tied with Tim Stützle for second in the league, and only behind McDavid (+36).

His 41 drawn penalties are third in Wild history, dating back to 2007-08. Only the pesky Clutterbuck (47 in 2008-09) and Gaborik (42 in 2007-08) have drawn more in a single season.

Minnesota has very rarely had players skilled enough to draw a ton of penalties, so it's little surprise that Kaprizov's 66 drawn calls are tied for 14th (with James Sheppard) in franchise history since 2007-08.

In fact, Kaprizov looks like one of the best players in the league at drawing penalties since 2007-08. Among 792 forwards with 2000-plus minutes in that time, Kaprizov ranks 24th, drawing 1.60 penalties per hour. He also is fifth in the NHL in per-hour penalty differential over that span.

Only Alex Ovechkin, Matthews, David Pastrnak, Timo Meier, and McDavid have fired more unblocked shot attempts than Kaprizov's 377.

Since 2007-08, there are 5,355 seasons where a forward has played more than 500 minutes. Only 114 of those forwards have attempted more shots than Kaprizov (485).

Just six forwards during that time have seasons where they've attempted more shots than Kaprizov and shot for a higher than Kaprizov's 16.42%: Steven Stamkos (3 times), Matthews (2021-22), Ilya Kovalchuk (2007-08), Nikita Kucherov (2019-20), Sidney Crosby (2009-10), and John Tavares (2018-19).

Brian Rolston (3 times) and Gaborik (2) are the only players in Wild history to get more than Kaprizov's 274 shots on goal.

Kaprizov needs just nine shots in his final four games to surpass Gaborik's highest single-season total as a Wild.

Kaprizov is tied with Hartman for the Wild record for most even-strength goals in a single season (32).

With a power-play goal Friday, Kaprizov needs just two more in his final four games to tie Rolston's single-season franchise record (15).

Kaprizov smashed Gaborik's record of multi-point games in a season (22 in 2005-06), notching 29 with four games remaining.

He also had a major hand in bumping Gaborik's 22 multi-point games down to third place, as Zuccarello has 24 of his own.

Kaprizov reached double-digits with his 10th three-point game on Friday night. He's now four clear of second-place (Gaborik twice, Zuccarello, Staal, Mikael Granlund).

Kaprizov joined Connor McDavid, Jonathan Huberdeau, Gaudreau, Leon Draisaitl, Matthews, and Tkachuk as the NHL's seventh 100-point scorer this season.

Kirill Kaprizov joins Alex Ovechkin (4 times), Evgeni Malkin (3), Sergei Fedorov (2), Pavel Bure (2), Alexander Mogilny (2), and Nikita Kucherov (2) as the only Russian/USSR-born players to hit the 100-point plateau.

That group has six Hart Trophies between them.

Except for Kucherov (601 points in 557 games), every player Kaprizov joins on that list scored 1,000 career points.

Kaprizov is one of just 15 players drafted in the fifth round or later to score a 100-point season.

Out of those 15 players, just four of them were drafted with a later selection than Kaprizov's 135th slot: Theoren Fleury (166th in 1987), Luc Robitaille (171st in 1984), Håkan Loob (181st in 1980), and Dave Taylor (210th in 1974).

Add undrafted players to the pile (whose first draft-eligible years were 1980 or later), and that list only increases to seven (Adam Oates, John Cullen, and Martin St. Louis).

In just 132 games, Kaprizov is already 21st in scoring among the 2015 Draft class.

Kaprizov has out-produced 13 of the 29 skaters drafted in the 2015 first round.

The Boston Bruins, who traded the 135th pick to Minnesota in exchange for a fifth-rounder in 2016, held five picks before the 135th slot, including the 13th, 14th, and 15th overall selections.

Selections 13-15: 172 points in 386 games. Selection 135: 152 in 132 games.

That 2016 fifth-rounder was 136th-overall, used on Cam Clarke, a defenseman with 69 career points in 144 ECHL games. Not nice.

Kaprizov is now the second player of the 2015 Draft to hit the 100-point milestone in a season. The other is McDavid, who's done it five times.

Kaprizov's 45 goals are currently the most by any 2015 Draft pick in a single season, though Kyle Connor (44 this year), and McDavid (43) may still catch him.

Since 1990, only four other players have scored 45-plus goals and 100-plus points in their second season: Malkin, Staal, Paul Kariya, and Bure.

In the Salary Cap Era (2005-06 to today), Kaprizov is one of seven players under the age of 25 hit those benchmarks. Joining him are Malkin, Staal, Ovechkin, Matthews, Crosby, and Draisaitl.

Expand that list to include anyone of any age in the Cap Era, and you add just four other players: Heatley, Patrick Kane, Vincent Lecavalier, and Jaromír Jágr.

Kaprizov has nine goals this season that either tied or put the team ahead in the third period or overtime.

He's tied with Aleksander Barkov for third in the league. Only Stamkos and Alex DeBrincat have more such goals (10 each).

Kaprizov added six assists in these clutch situations, for good measure.

Kaprizov's most clutch finisher was Eriksson Ek, who buried four of those assists.

In an interview before an October match-up with the Kings, Drew Doughty famously declared Kaprizov to be overpaid. This season, Kaprizov has out-scored Doughty 101-31.

Kaprizov's $9 million cap hit is $2 million less than Doughty's.

Kaprizov is one of 19 forwards to carry a $9 million-plus cap hit over last season.

Among those 19th forwards, his 101 points rank third, behind McDavid and Matthews.

He also ranks third in goals, behind Matthews and Ovechkin.

Kaprizov is one of 709 players in the NHL who does not have an Entry-Level Contract (ELC), which sets players' salaries at the league minimum.

Kaprizov's Cost Per Point (CPP) is $92,783.

Again, excluding the ELC players, Kaprizov's CPP ranks 235th out of 709 league-wide, or the 67th percentile for the most efficient contract in the league.

Of the 49 forwards that make $7-plus million, the only ones with a more efficient CPP are Connor ($82,101), Draisaitl ($80,188), and Tkachuk ($70,000).

Kaprizov not only is an efficient CPP player, but he also makes bargains out of his linemates. Mats Zuccarello's $76,923 per point is 177th among non-ELCs, in the 75th percentile.

That's value on par with Filip Forsberg ($76,923), MacKinnon ($74,117), and Jake Guentzel ($74,074), who offer elite results for very team-friendly prices.

Speaking of team-friendly, Kaprizov is a big reason Hartman's CPP is at a bonkers $27,868, which is 19th in the league among non-ELCs (97th percentile).

We're going to keep talking about efficiency. Kaprizov year rates him as one of the most efficient scorers of the Analytics Era (2007-08 to today). There have been 4,095 forwards to play 750-plus minutes in all situations. Kaprizov's season is one of just 24 that have averaged over four points per hour.

Specifically, his season ranks 18th with 4.13 points per hour.

If he finishes the season above four points per hour, he'll be just the 15th player to accomplish it in the Analytics Era.

He also has 1.84 goals per hour in all situations, which sits tied for 27th in that time span.

Don't forget about his 5-on-5 dominance, too. Right now, he's also ranked 18th since 2007-08 with 3.15 points per hour at 5-on-5 among 3,187 forwards with 750-plus minutes.

Fiala is right on Kaprizov's heels with 3.14 points at 5-on-5, but no one in Wild history ranks above Kaprizov's 5-on-5 scoring rate...

Unless you lower the cut-off to 185 5-on-5 minutes. Then Rem Pitlick bumps Kaprizov to second with 3.55 points per hour.

Mind you, Pitlick had to shoot an insane 46.2 percent to muster that over a tiny sample size.

So with all these great stats, where does Kaprizov stack up in the MVP race? Well, right now he's tied with Elias Lindholm for 12th in the NHL with 6.8 Standings Points Above Replacement (SPAR), according to Evolving Hockey. Being worth around 7 points in the standings is good for about 10th place most years. Maybe not a Hart Trophy finalist, but definitely a fringe candidate.

6.8 SPAR ranks fifth in Minnesota Wild history, behind 2007-08 Gaborik (8.8), 2016-17 and 2017-18 Jason Zucker (8.7 and 7.2, respectively), and 2016-17 Granlund (6.9).

In his young career, Kaprizov has been worth 9.9 points in the standings to Minnesota, which ranks 21st among all Wild players since 2007-08.

On a per-hour basis, however, Gaborik (at his absolute peak from 2007-09) is the only Wild player with 1500+ minutes to deliver value at a faster rate than Kaprizov.

Kaprizov reached the century mark in his age-24 season. The only players to do it at a younger age in that span? Crosby, Ovechkin, McDavid, Malkin, Staal, Draisaitl, Nicklas Backstrom, and Joe Thornton.

Between the Wild's inaugural season and Friday night, 27 players have combined for 50 100-point seasons.

This includes 17 of the league's 30 franchises that existed at the time.

Bonus stat: If you're a Wild fan, you 101% deserved to see it.
Stathead, Evolving-Hockey, Hockey-Reference, and Natural Stat Trick were all used to prepare this article.