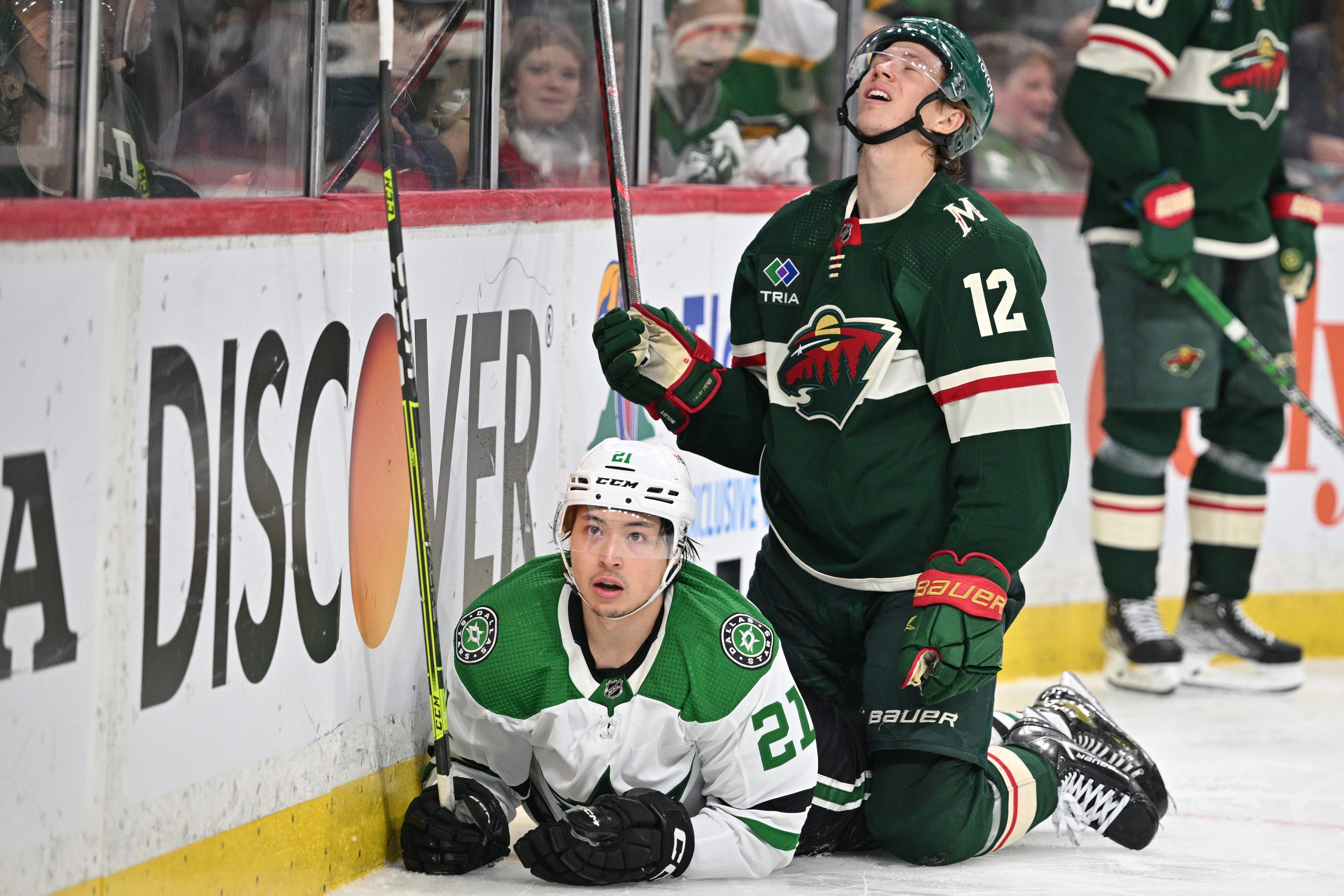 Image courtesy of © Jeffrey Becker-USA TODAY Sports
Your daily dose of Wild news, along with other interesting stories from around the NHL.
The Minnesota Wild players were made available to the media on Monday to conduct the last interviews of the season after being eliminated in the first round. There is no reason to really dance around the topics that were mentioned so we might as well get right to it.
It started with the annual Players Were Actually Hurt Really Bad ceremony as Ryan Hartman, Matt Dumba, and Joel Eriksson Ek disclosed their injuries. For Hartman he was playing through it, Eriksson Ek tried to but eventually had to get surgery for his broken fibula, and Dumba suffered a concussion in the very last period of Game 6.
One guy that we were worried about being injured during the series was Kirill Kaprizov. He said he was fine but maybe it was just the month away from the ice as the reason why he didn't really appear like his typical self in the first-round series.
Matt Boldy joined Kaprizov in underperforming star talk and recognized that he let the team down a little bit. But again, he is still so young that he will be moving forward with lessons learned.
Speaking of age, Ryan Reaves is a pending unrestricted free agent and he would love to re-sign in Minnesota, but wants security more than anything right now, for his family.
Brock Faber is on the opposite end of the NHL career spectrum from Reaves and his role on the Wild next season is not 100% secure. So he knows he will have to work hard to rise to the occasion.
Another player whose role is uncertain is Marc-Andre Fleury. He lost his starting position and might play even less next season, but with one year left on his contract, he's not going anywhere.
And that was basically it! A whole lot of "would love to come back here" from pending unrestricted free agents and younger players knowing they need to play better.
That's Wild
For more detail on the exit interviews: The Wild were left to ponder the what-ifs. [StarTribune]
Matt Dumba has been an integral part to this team for so long and he might be leaving this summer. He has built a legacy of community care and on-ice passion that will be nearly impossible to replace. [Pioneer Press]
Off the trail...
Five reasons why the historic Boston Bruins flopped out of the first round. [ESPN]
The Calgary Flames fired head coach Darryl Sutter and star Jonathan Huberdeau disclosed that he didn't really "click" with the hard-nosed bench boss. [Yahoo Sports]