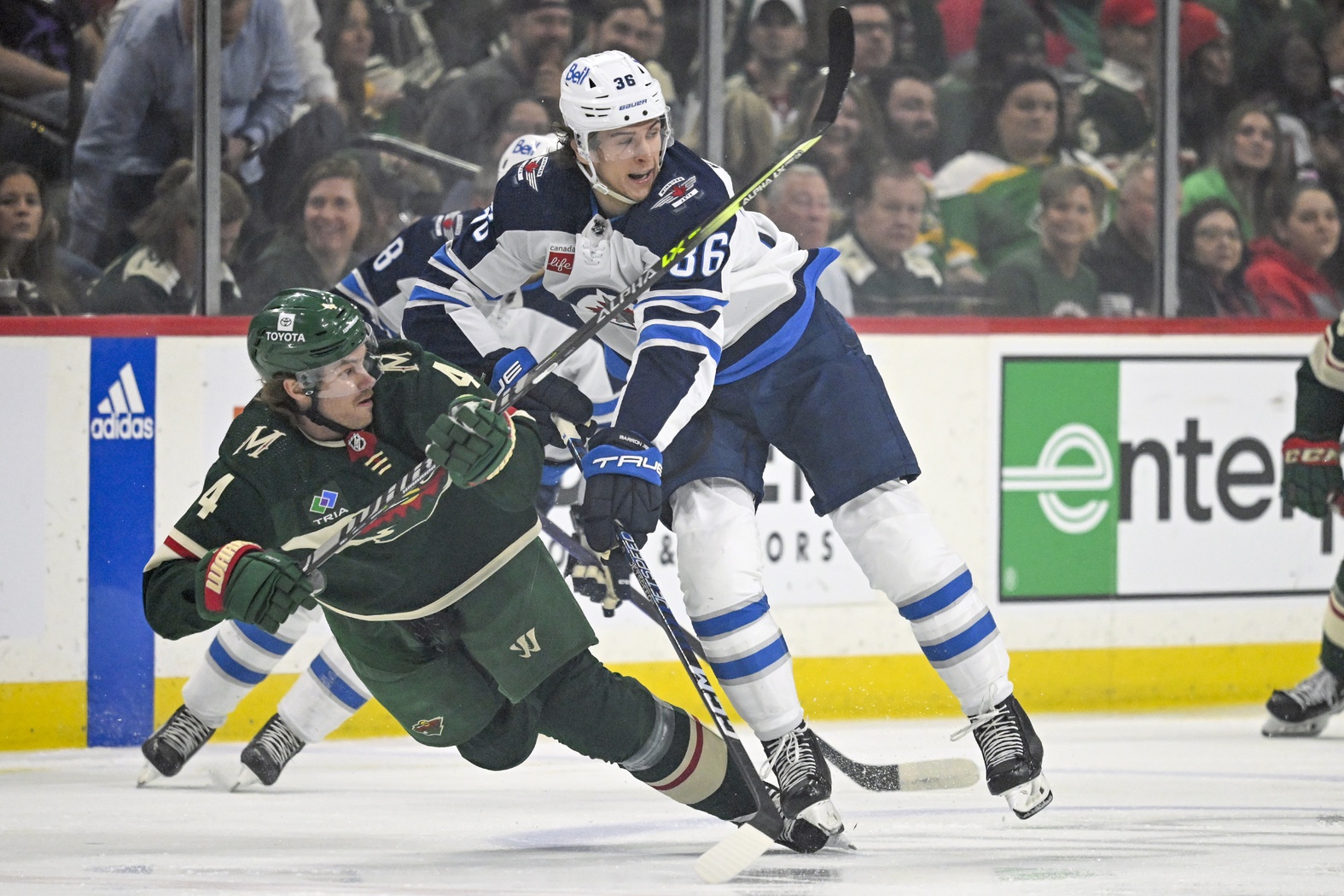 Image courtesy of © Nick Wosika-USA TODAY Sports
Your daily dose of Wild news, along with other interesting stories from around the NHL.
Tuesday night against the Winnipeg Jets was a game to forget for the Minnesota Wild, but could be a memorable one for those liking a little bit of tenacity with their hockey.
The end result -- a 3-1 loss where the Wild had the advantage in a whole lot of categories -- is not that important anymore, but we were treated to an entertaining but deadly third period. It all started when Ryan Hartman laid an incredibly massive hit on Nikolaj Ehlers in open ice.
It wasn't the prettiest and might get some extra attention from the NHL's Department of Player Safety, but Hartman causing some pain for the Jets' scoring winger made Winnipeg go into a frenzy. Careless hits were thrown, there were scrums after every whistle, and multiple gloves were dropped in the final several minutes of the game.
It was a bad hockey game but a good series of extra-curricular activities. Ryan Reaves even put in one of his best performances of the season in a bout with Adam Lowry to close the game.
It might have been just a little better of Reaves could have settled the score when the Wild still had a chance to actually win the game, but the period was put on the violent sentence.
Hell, by the end of the game the coaches were willing to go at it, especially Dean Evason. Oh, the Wild coach wanted it so bad.
The Wild didn't just lose the game either. Sam Steel left mid-game and was sick, according to Evason. But even worse, Marcus Johansson was cross-checked in the ribs during the final minutes of the game and there's no official word yet on how bad it is.
Full strength, the Wild would have to fight hard to get a win in the first round. Now down a couple key forwards in Johansson and Eriksson Ek? It's going to be so much harder.
That's Wild
Marco Rossi might be playing for the Wild in the playoffs after Joel Eriksson Ek went down with a broken bone in his leg. Well, then why did the young center not get as much of an opportunity to get acclimatized to the NHL? [Hockey Wilderness]
After a weird season for him personally, Ryan Hartman is entering the playoffs with confidence. [StarTribune]
Brock Faber impressed a whole bunch of people with his debut on Monday. He might be getting a shot in the season finale, and when asked if he could get into the playoff lineup, head coach Dean Evason didn't shy away from the possibility of that happening.
Off the trail...
The Calgary Flames really crapped the bed this season. They're out of the playoffs and their big-time acquisition in Jonathan Huberdeau was not good at all. Now, the general manager and the coach have questionable futures with the team. A whole lot of decisions need to be made. [Sportsnet]
Mitch Marner has been special for his Toronto Maple Leafs this season and is the runaway team MVP. [Yahoo Sports]
They might just have the momentum after getting some guys turning from injuries. Can the Colorado Avalanche repeat? [CBS Sports]