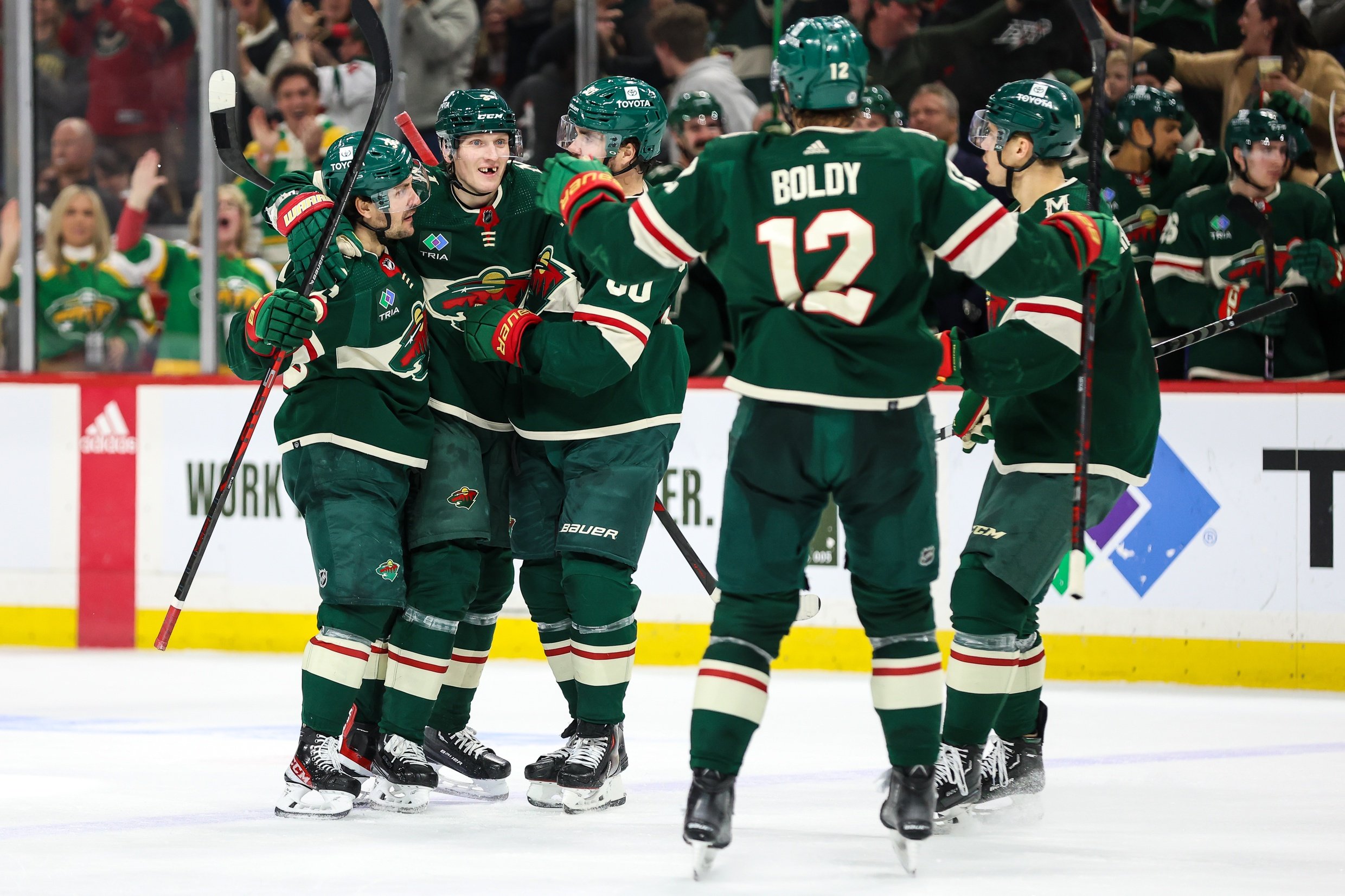 Image courtesy of © Matt Krohn-USA TODAY Sports
Your daily dose of Wild news, along with other interesting stories from around the NHL.
The Minnesota Wild clinched a playoff spot on Monday night, but it came after an unsatisfying result and needed another team to lose for it to mathematically happen.
With the Vegas Golden Knights coming to St. Paul on Monday and having a back-and-forth game with the Wild, that ended by the visitors scoring an equalizing goal with just 34 seconds left in regulation and then earning the full two points in a shootout, the Wild still needed something else to happen to clinch. Luckily, the Nashville Predators lost bad to the Dallas Stars and al the math works out to the Wild making the playoffs for the 10th time in the last 11 seasons.
While we could celebrate the inevitable -- because it did seem inevitable -- with just one point earned because of this shootout loss and the Stars winning that game, the Wild dropped to second place in the Central, tied with Dallas in points by it holds the tiebreaker. Plus, the Colorado Avalanche are just two points below both of those teams, with two games in-hand. So, celebrating this fact feels a little strange given the unfortunate circumstances the Wild find themselves in currently.
There are just five games remaining for the Wild to earn as many points as possible and win the division, so that they can face someone like the Seattle Kraken in the playoffs instead of the reigning champion Avalanche. 
If we need a silver lining to this, we can hope that the Avalanche just keeps on winning and it is the Stars in the first round for the Wild instead of Colorado; if Minnesota drops to the second or third spot in the division. We're trying to be positive around here.
That's Wild
Speaking of the playoffs, the Wild are much better suited for the difficulties of late April than they were last time around. [10K Rinks]
Ah, you hate to see it. Mason Shaw's injury has been confirmed as a torn ACL, something that the winger has already recovered from in his short career. That now makes it a total of four devastating knee injuries for Shaw. He will be out for the rest of the season and is hoping to be fully healed by training camp in September. [StarTribune]
The Wild have found their identity, but now they need to win the Central. [Pioneer Press]
In good news, Kirill Kaprizov is back skating after suffering his injury last month. He is still aiming for a return before the playoffs.
Off the trail...
Fatigue in the playoffs is its own beast that NHL coaches battle with often. So here's Mark Recchi talking about the fine line between staying rested for the postseason and staying sharp. [NHL dot com]
Preds' Matt Duchene reportedly lost the tip of his finger when it was struck by a shot last week. How do we know this? Well, apparently the fingertip stayed in his glove after he took his hand out. [Yahoo Sports]