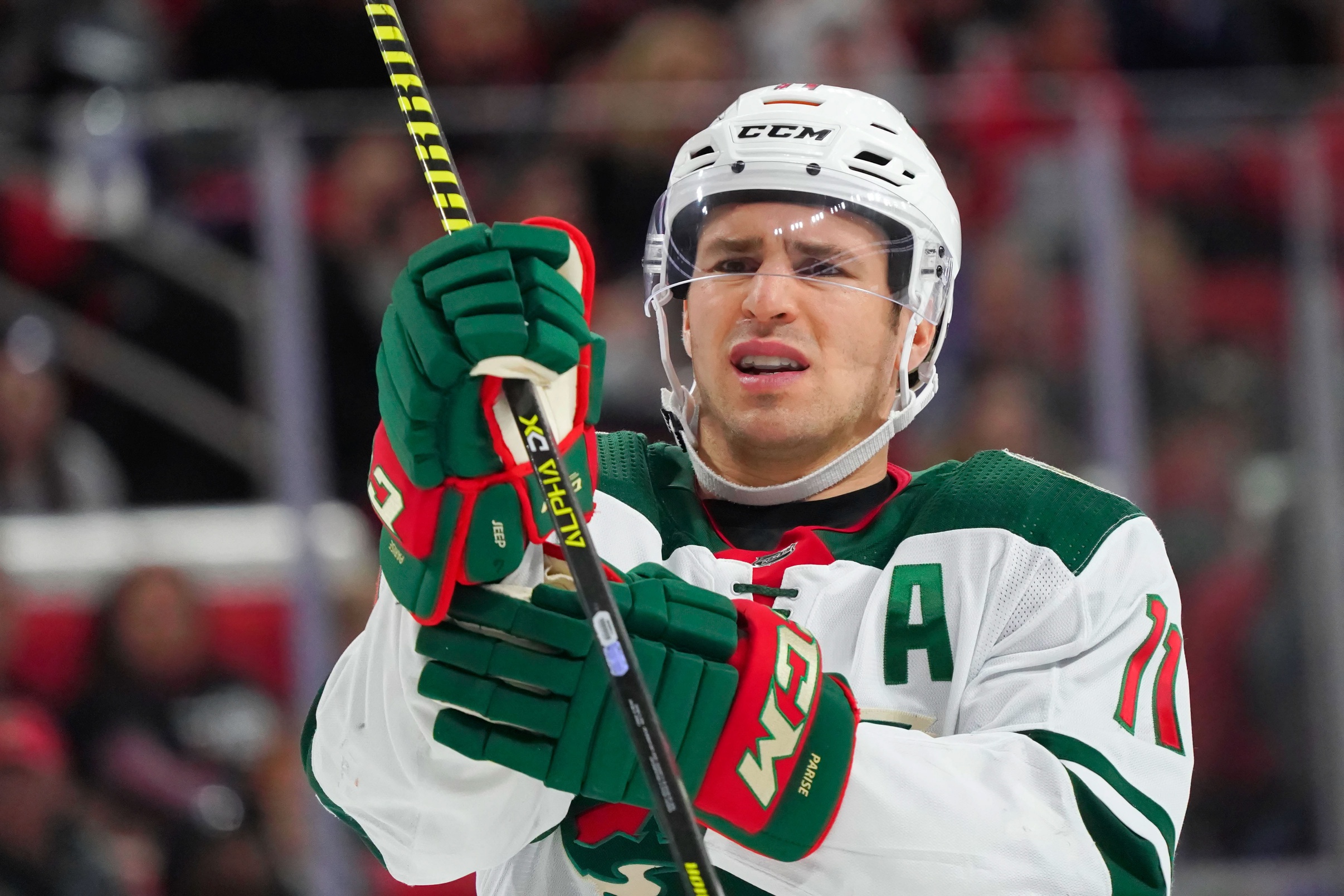 After three straight healthy scratches in the final stretch of the season, it became clear that Zach Parise's future with the Minnesota Wild was in jeopardy. Then it was revealed that he will be a healthy scratch for game one against the Vegas Golden Knights in the first round of the playoffs.
It is difficult to fathom that the Wild's all-time leading scorer in playoff history will not be skating for what could be the entire duration of their playoff run. Parise has been Minnesota's go-to guy since he signed matching 13-year, $98 million contracts with Ryan Suter in the summer of 2012.
It would have been difficult to imagine how Parise's last years would unfold, but it is clear this will be one of the major storylines going into the offseason as the Wild decide how — or if — he fits into their future.
Parise is no longer a cornerstone franchise player in the wake of the Wild's youth movement, which includes Kirill Kaprizov, Kevin Fiala, and Joel Eriksson Ek, among others — and soon Matt Boldy and Marco Rossi. His lack of production justified a demotion to the fourth line with no special-teams action, a decision by head coach Dean Evason that is understandable.
However, it was inevitable that a dip in production would occur at some point due to age; he's 36 years old and will turn 37 in July. Everyone already knew his production would eventually tail off, which makes this decision somewhat puzzling. Is punishing a veteran like Parise for a normal decline in production fair? Former general manager Chuck Fletcher knew the risks involved with signing him to a lucrative long-term contract.
Another thing to consider is that this is a shortened season that includes strict guidelines for the players and a whole different schedule. Why are the Wild so quick to dismiss a player who scored 25 goals last season?
This is just another development in Evason's questionable deployment and lineup decisions. There is no doubt that Parise deserves to be in a smaller role, but do we really believe that Marcus Johansson has played better than he has? Johansson should not be given a playoff spot over Parise when Parise has outplayed him this season.
Johansson has been the worst forward on the Wild. His -0.4 WAR and 43.46 expected goals percentage are last on the team. Furthermore, he has just 14 points in 36 games and he has yielded poor defensive numbers.
The most perplexing element of this decision is that Evason views Johansson as an upgrade over Parise. This makes the decision to scratch the veteran very interesting because of the potential repercussions. The thought of trading Parise would have never crossed anyone's mind a year ago, yet it almost occurred when the Islanders expressed interest. However, after Parise's rough season, it is probably a safe bet that teams won't be eager to make a deal for him. A buyout wouldn't save the Wild much money and doesn't exactly make sense. So where does this leave us? It just doesn't make sense that the Wild would open themselves up to a distraction like this when there is a legitimate alternative, such as scratching a player like Johansson.
If Parise was forced out of the lineup because of terrible play and being a liability on the ice, it would make sense. However, that is not the case. He is being scratched because of lofty expectations, a bad contract, and a dip in production in a shortened season.
Parise hasn't been at his best this season. His significant drop in production is more than concerning, it's problematic. He has just seven goals and 18 points in 45 games. Likewise, the amount of individual expected goals he has generated is the lowest of his career, which is not a positive sign, and he still has four years remaining on the lengthy contract that will end after the 2024-25 season. But he isn't a liability and can still be an effective bottom-six contributor. He is an unrelenting competitor and his work ethic is next to none.
After an awful first half of the season with horrible defensive results, his game has vastly improved since the midway point in this shortened season. His 2.12 on-ice expected goals against per hour is hovering around league average or just below. He's still been above average offensively in terms of goals for per hour and expected goals for per hour, according to Evolving-Hockey's RAPM model. He provided the Wild with 0.8 wins above replacement this season too.
Parise should play in the postseason, even if it's in a fourth-line role. It is often forgotten that he has been Minnesota's most consistent playoff performer since his arrival. He has 34 points in 40 playoff games since joining the Wild.
All Data Via Evolving-Hockey, Natural Stat Trick & Hockey-Reference.