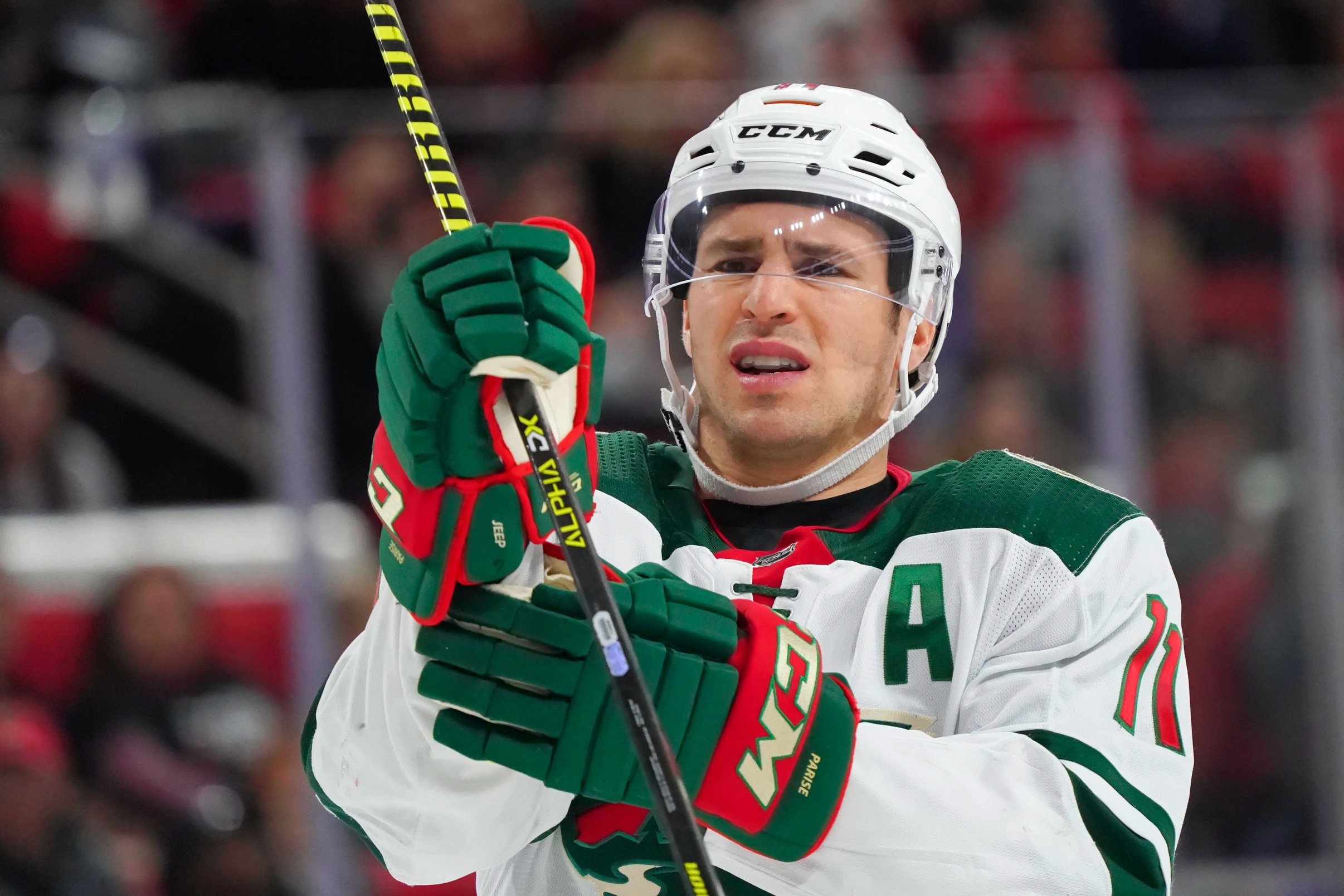 In the aftermath of the Wild signing Zach Parise in the Summer of 2012, Lou Lamoriello wasn't sure where to turn to next. "You just don't replace a Zach Parise," said the former New Jersey Devils general manager. "You just don't do that." Parise had the tenacity and the skill that any team would have wanted as the centerpiece of their franchise.
There's just one problem: What if Parise becomes replaceable?
Surely, it would be a gradual fall from grace, one that led both the franchise and the player to understand it's time to take a step back. Perhaps, in the way that Matt Cullen was able to sustain his career into his 40s, Parise could reshape his game and ride out the remainder of his eternal contract.
That was the dream. The reality is far harsher. It's come in the form of trade talks, a healthy scratch, and most recently a stapling to the bench in the final 11 minutes of last Friday's game against the Arizona Coyotes. Parise hasn't scored a goal since Feb. 24th and has just three on the season. If current trends continue, he's likely to finish the 56-game season with just seven goals.
His 5.8 shooting percentage is the main culprit for his lack of scoring. Over his career, he's only been sub-10% just twice when healthy. And while shooting percentage can swing the other way violently as the season goes along, and Parise could shoot closer to his career average, hoping for a return to the mean at 36 years old is unlikely. The change in production from an age-36 season to age-37 is negligible. Throughout NHL history, forwards aged 36 averaged .439 points per game; age-37 forwards saw the average points per game tick slightly upward to .457 points per game. 
Ideally, Parise could morph his game and still play out the rest of his career as a net-positive player. As he fades on the roster, his grinding style should fit on a checking line. The Wild might not get his offense anymore, but at least there's some contribution. Unfortunately, that's never been Parise's game.
Going back to 2007-08, Parise's defense was at, or very close to, replacement level every year. Now Minnesota is expecting more on the defensive side of the puck. They have been getting a long, hard look at Parise in a checking role this year, and it isn't anything to write home about. Evolving Hockey has Parise's defense rated below replacement level. At -1.5, it's second-worst among similarly aged players.
It's hard to figure out why his defense is so bad. Parise's always had a pretty good stick, and his hockey IQ usually allows him to be in the right position. It just never translated to the defensive end. If he's lost a step, or his hand-eye coordination is slipping, it's exposing an already deficient defender as something even worse. 
If Parise is no longer making an impact on the offensive side of the puck, and he's not a good defensive forward, then making room for him on the roster isn't an option. Wild GM Bill Guerin explored a trade of Parise before the trade deadline last season. He's instituted a culture change and turned over a good part of the roster. The hope was that the near-trade and the changes in the locker room would force him to respond. So far, he hasn't. If Mats Zuccarello and Kirill Kaprizov appear to be operating on the same page, Parise and his younger teammates aren't even in the same book. 
Too often, Parise has been out of sync with his teammates. Passes have missed, he's not available for centering passes, or he's errantly clearing the puck out of the offensive zone. Minnesota as a team is third in the league for xGF, but Parise is not pulling his weight. 
So what's different other than Parise being another year older? His style of play contrasts what Dean Evason is trying to do.
It's not a dump-and-chase strategy. The Wild are clearly trying to use their skilled forwards to carry the puck into the offensive zone more often than not. Controlled zone entries require an innate ability to stickhandle through traffic and use speed to evade the backpressure. On the other hand, Parise is tailor-made for dumping the puck in and getting in on the forecheck.
At least, the Parise that the Wild signed in 2012 was. He no longer has the speed to beat defensemen behind the net and win the puck battle. The former UND standout is a straight-line player who crashes the net and finds success by being tenacious near the blue paint of the goal crease. Minnesota is becoming a much more east-west team, allowing for creativity, the high cycle, and everyone to touch the puck. That isn't in Parise's repertoire.
Instead, he looks like a fish out of water on offense. His defense is subpar, and his play this season has forced Evason to pull him. He's become a replaceable player. And when a player is replaceable, even a Zach Parise, you make a necessary move. You have to.
Stats courtesy of Evolving-Hockey.com and QuantHockey.com