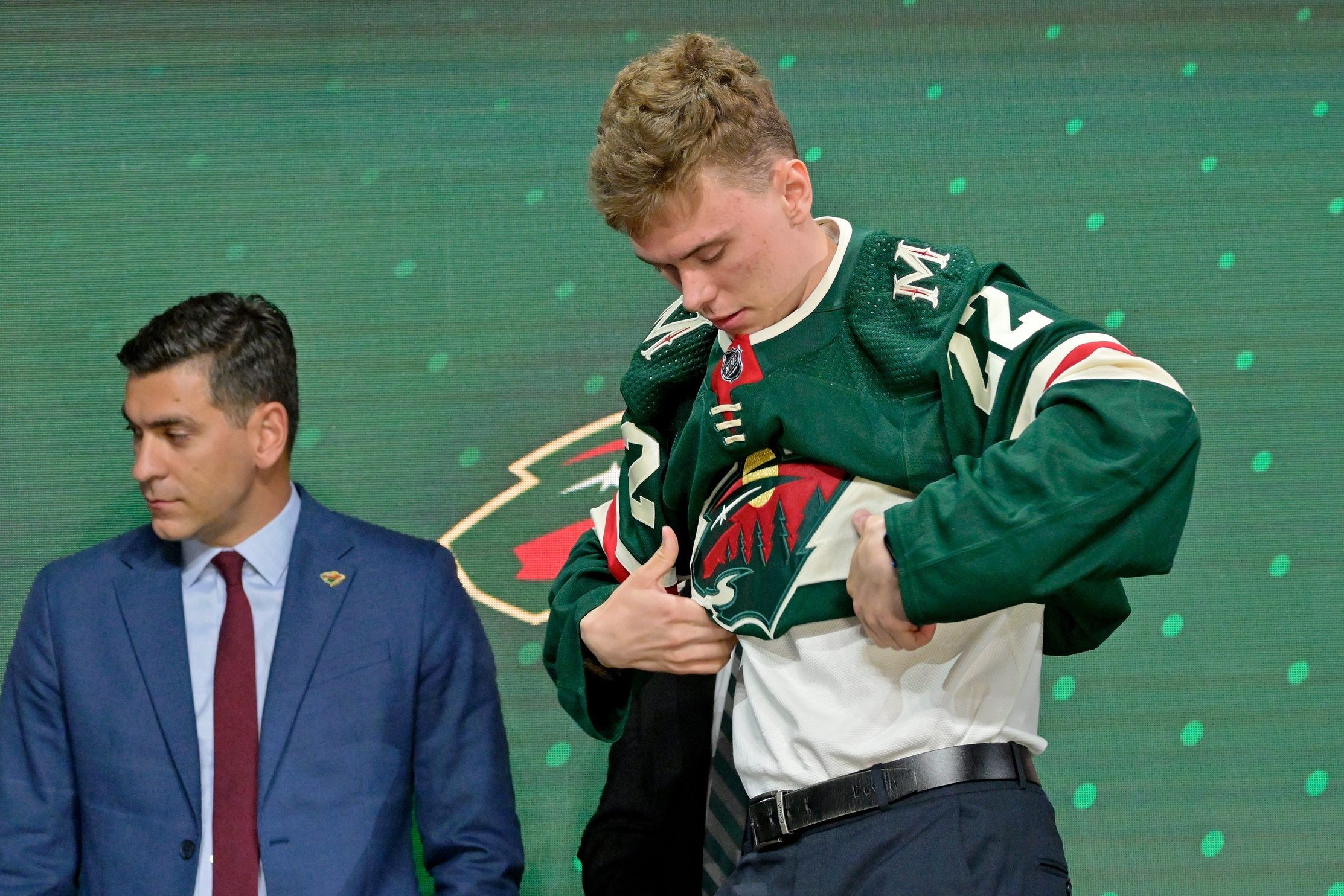 The first day of the 2023 World Junior Championships gave Minnesota Wild fans an opportunity to see many prospects. Four recent draft picks saw action on Boxing Day, including Sweden's Liam Öhgren (2022 first-rounder), USA's Jack Peart (2021 second-rounder), Canada's Caeden Bankier (2021 third-rounder), and Czechia's David Spacek (2022 fifth-rounder).
Even with five players (including 2022 sixth-rounder Servac Petrovsky, who plays for Slovakia) in the WJCs, there are some notable names who won't appear at the tournament. Carson Lambos (2021 first-rounder) and Kyle Masters (2021 fifth-rounder) didn't make the cut for Team Canada. That is no doubt a bummer for Wild fans.
Danila Yurov's absence might be more disappointing for Wild fans, though. Minnesota drafted Yurov with the 25th pick in this summer's draft. This should be the first time Wild fans get to see their prized prospect take the ice. Except, it's not, as the IIHF is suspending Russia (and Belarus) from the IIHF over their illegal invasion of Ukraine.
In the short term, everyone wants to see their prospects do well at these tournaments. It's also not great (though far from the worst effects of the war) that Yurov is denied this opportunity because of geopolitical issues outside his control.
Yurov's inability to participate might be good for Minnesota, though. Not seeing him this winter gives him a much better chance of seeing him in North America next fall.
In case you don't remember the difficulties in extracting Kirill Kaprizov from the KHL system or even the recent setbacks with 2020 second-rounder Marat Khusnutdinov, it's not easy to get Russian draft picks overseas quickly. That's a reason why many fall down the draft boards to begin with and why Yurov was available at No. 25 this summer.
Russian teams want their young stars in their home country as long as possible and know what pressure points to push to keep them there. For example, Khusnutdinov was frequently healthy scratched, and his ice time decreased for SKA as the season went on -- until he signed a contract, that is.
Khusnutinov is not only playing a more impactful role and getting over 15 minutes a game this season, he's even wearing a letter. Some of it has to do with him being a year older. Still, it doesn't hurt that Khusnutdinov is signed through next season, either.
Ice time in the World Juniors is another carrot to dangle in front of a prospect they want to extend. They also used that page of the playbook for Khusnutinov last year. They don't have that now, not with Yurov, and that gives him just a bit more of a fighting chance to jump overseas.
At least, we think. We know that Yurov's contract with Metallurg Magnitogorsk expired at the end of this year, at least at the time the Wild drafted him. He may have already signed an extension without North American media knowing. News out of Russian Hockey can be mysterious even when there's no geopolitical crisis happening.
Still, if we were a betting Wild blog (and we're not), we'd guess there's no extension yet. Remember, KHL coaches don't care about your development unless you plan on sticking around. And if you look at Yurov's ice time, Metallurg is pretty much ignoring Yurov's development completely.
Granted, they have a good team (second in KHL East), but Yurov's skill could help them, and he's lost in the shuffle completely. He's averaging 9:38 per night in 40 games, and while that's up from 4:23 per game last year, it's still very low. In Metallurg's last six games, Yurov has ice times of 1:17, 2:35, 0:00, and 1:28. His highest games in that stretch are 9:52 and 9:04.
And we thought Marco Rossi was getting the short shrift in ice time. No wonder Yurov only has four goals and nine points on the season. You want to see progress in prospects, but the ice time makes it very difficult to tell what direction he's actually trending in.
[caption id=attachment_141254" align="alignnone" width="758]

Courtesy of Hockey Prospecting[/caption]
On the surface, it looks like his star potential took a massive hit this season. Maybe it is lower than what we thought last year, as he dominated a junior league and isn't producing in a men's league. On the other hand, he could well be the exact same player. But what do you expect when you play for nine minutes a night, seeing just two or three shifts in some games?
All this hints that Yurov hasn't signed that extension and that the KHL is trying to leverage his development in negotiations. They might win out. There's still another three months to the KHL season, and not even Kaprizov was immune to whispers about "draft dodging" his "military service" last summer.
But if that's the case, and Yurov makes the jump this summer, he'll find himself in an highly incentivized environment to develop him. That will be worth missing seven games of action in this tournament.
World Junior Update
Like we said up top, four Wild prospects saw action on Day 1 of the World Junior Championships. The biggest game, by far, was that of Spacek, the overage draft pick who put himself on the map this summer with a big showing in the World Junior tournament this August.
Spacek led Team Czechia in ice time with 22:02, scored a goal to tie Team Canada at 1, and then assisted on the eventual game-winner. He ate 17:20 in the second and third periods, as Czechia defended the lead in what became a shocking 5-2 upset of a star-studded Canada team.
Mind you, the coaches gave him all that ice time despite having 2022 sixth-overall pick David Jiricek on the team. Yes, Spacek is about 10 months older. Still, he showed out in a massive way on Day 1. Defending the likes of Top-10 picks Shane Wright and Dylan Guenther, as well as presumptive 2023 Top-2 picks Connor Bedard and Adam Fantilli is no easy task.
Bankier had a quiet debut in his opening game for Canada, with no points or shots through 9:48.
Öhgren led Team Sweden's forwards with 18:06 in an 11-0 beatdown of Team Austria. Star prospects love to pad their stats against the bottom-tier teams, but Öhgren scored just one goal on two shots when the game was far from in doubt. Still, nice to see the 19th overall pick get on the board with a vicious one-timer.
Finally, Peart notched an assist in the United States' 5-2 victory over Latvia, seeing 16:31 of ice time in the process. Petrovsky went pointless on four shots in almot 20 minutes of play during Slovakia's opening 5-2 loss against Finland on Tuesday morning.