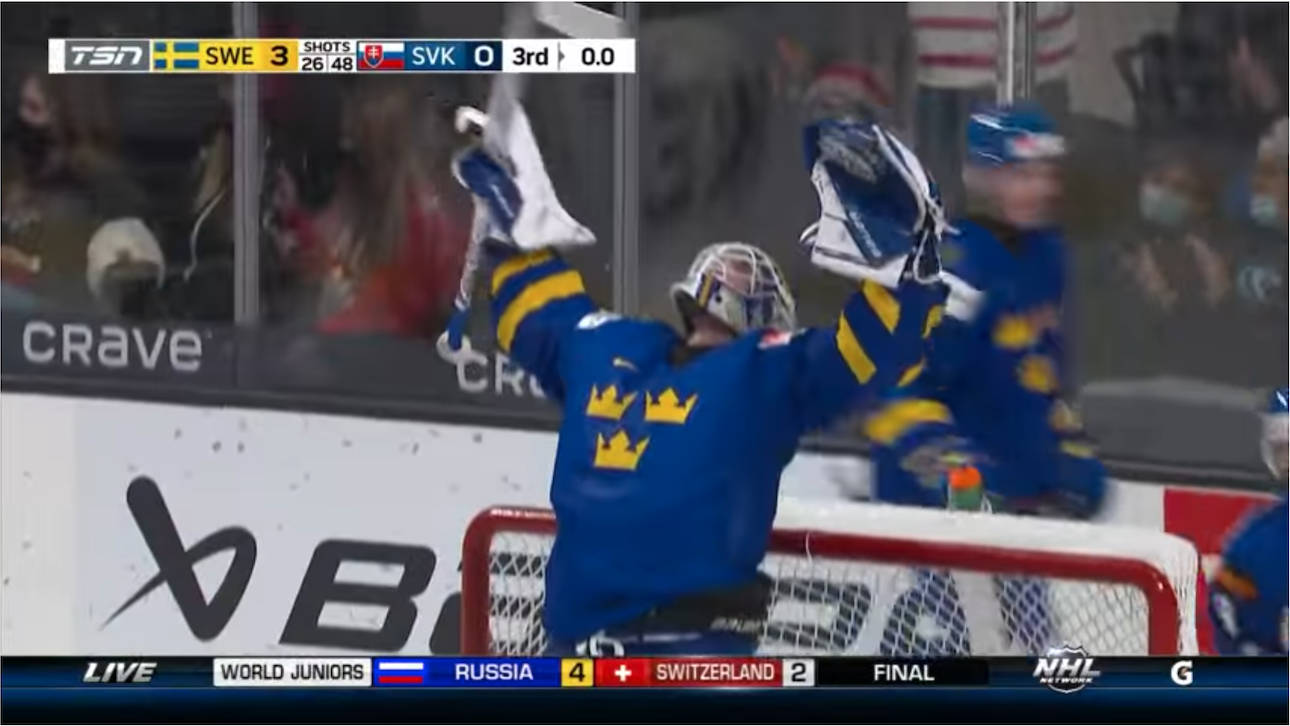 Top goalie prospects rarely get to warm up for the season by playing in a high-intensity, super competitive tournament. But that's what Jesper Wallstedt gets to do starting next week. The IIHF World Junior Championship will re-play the tournament, which they canceled in December. It's a chance to put an exclamation point on his impressive year for Wallstedt. It's also an opportunity to make his jump to North American hockey a smooth one.
Though the stats will reset when the tournament re-starts this week, Wallstedt had an excellent showing for Sweden in December. He posted a .962 save percentage in two games and 1.50 goals against average before COVID forced cancellation.
The canceled tournament didn't slow down Wallstedt's momentum, though. He finished with a 12-10 record but owned the fourth-best save percentage in the SHL (.918) and the best goals against average (1.98). Those three goalies ahead of him on that list are 25 or older, including former NHLer Jhonas Enroth. Wallstedt won't turn 20 for another three months.
Last month, he arrived in Minnesota for the first time to participate in Development Camp. It was a low-stakes setting, but Wallstedt showed off his technical abilities. His lateral movement is powerful. He knows when to play deep in his net and when to challenge in front of his crease. Wallstedt's size ensures that a lot of the net is covered, and his quickness allows him to cover up what little room is left open. These attributes led The Athletic's Scott Wheeler to rank the Wild prospect as the top goalie prospect in the world.
Still, a massive test awaits him in the AHL, where he's projected to start the season. There are still many things he'll need to learn coming from Sweden's top professional league. The ice is different on this side of the Atlantic. He didn't have to deal with a revolving door on defense because the top-level organization suffered injuries, either.
The Swede will also have to learn to shrug off more contact in the blue paint. Then there's the grind of the 60-plus-game AHL season, a giant leap from the 52-game SHL schedule. The AHL regularly features back-to-backs and three-games-in-four-nights stretches. Oh, and travel, too. Being a top-ranked prospect is nice, but this season is going to see if he can back it all up.
Will it be easy? Definitely not. Even Hall-of-Famer Henrik Lundqvist saw a dip in his save percentage after coming over from Sweden to North America. Lundqvist had a .936 save percentage in his final season in Sweden, then .922 in his rookie NHL season. Granted, that's still remarkable, but Lundqvist is one of the great goalies of this generation and came over at age 23. The jump has been less kind to others, not so great.
Look at incoming Wild backup goalie Filip Gustavsson, for example. When he arrived in North America, his save percentage took a 31-point hit in his transition to the AHL. He had a .918 save percentage in his final SHL season, identical to Wallstedt's last year. Can Wallstedt avoid that pitfall despite being a year younger than Gustavsson was as an AHL rookie?
True, Gustavsson wasn't nearly as highly touted as Wallstedt is entering his first North American season. Nor did he get the benefit of using the World Juniors as a warm-up to his first campaign in a new league. A great performance for Wallstedt and Team Sweden in the WJC's second take can go a long way to springboarding him into this season. And a good first season is crucial to any hopes of fast-tracking Wallstedt to the NHL. 
Ultimately, the Wild are counting on him being good and staying good into the future. The Marc-Andre Fleury re-signing — and the drama that ensued shortly after — sent ripples through the organization's goalie plans. Bill Guerin wanted to have Cam Talbot and Fleury in the NHL so Minnesota could have a competent veteran goalie in net every night to help them win games.
The part that went unspoken was that by having both healthy and playing well, they could also set Wallstedt in the AHL and forget about it the rest of the season -- as if the American League was the Ronco Cooker. If he has a good season in Iowa, having two capable goalies in Minnesota would keep cries to put Wallstedt in the NHL down. Now, Guerin's potentially a lengthy injury to Fleury away from making that call at some point in the season.
There are rookies in the AHL that don't always need extra time to earn their spot. Marco Rossi was probably too good for the AHL level last year. Matt Boldy seemed that way when he jumped from Boston College to the AHL the year before. But goalies are the one position that needs that extra time to bake. Recent examples of Carter Hart and Steve Mason are what can go wrong if goalies aren't brought up at the right time. The Wild need Wallstedt to get everything he can handle in the AHL this season.
And hey, why not see if he can handle a big international tournament before the season, too? It gives Wild fans a chance for one last look at Wallstedt before having to travel down I-35 in October. They'll see a goalie with all the goods. They'll also get to view one of the most highly-touted prospects this franchise has ever had gearing up to make a statement in Des Moines this season. Can he deliver on the enormous hype? We'll start finding out at World Juniors.