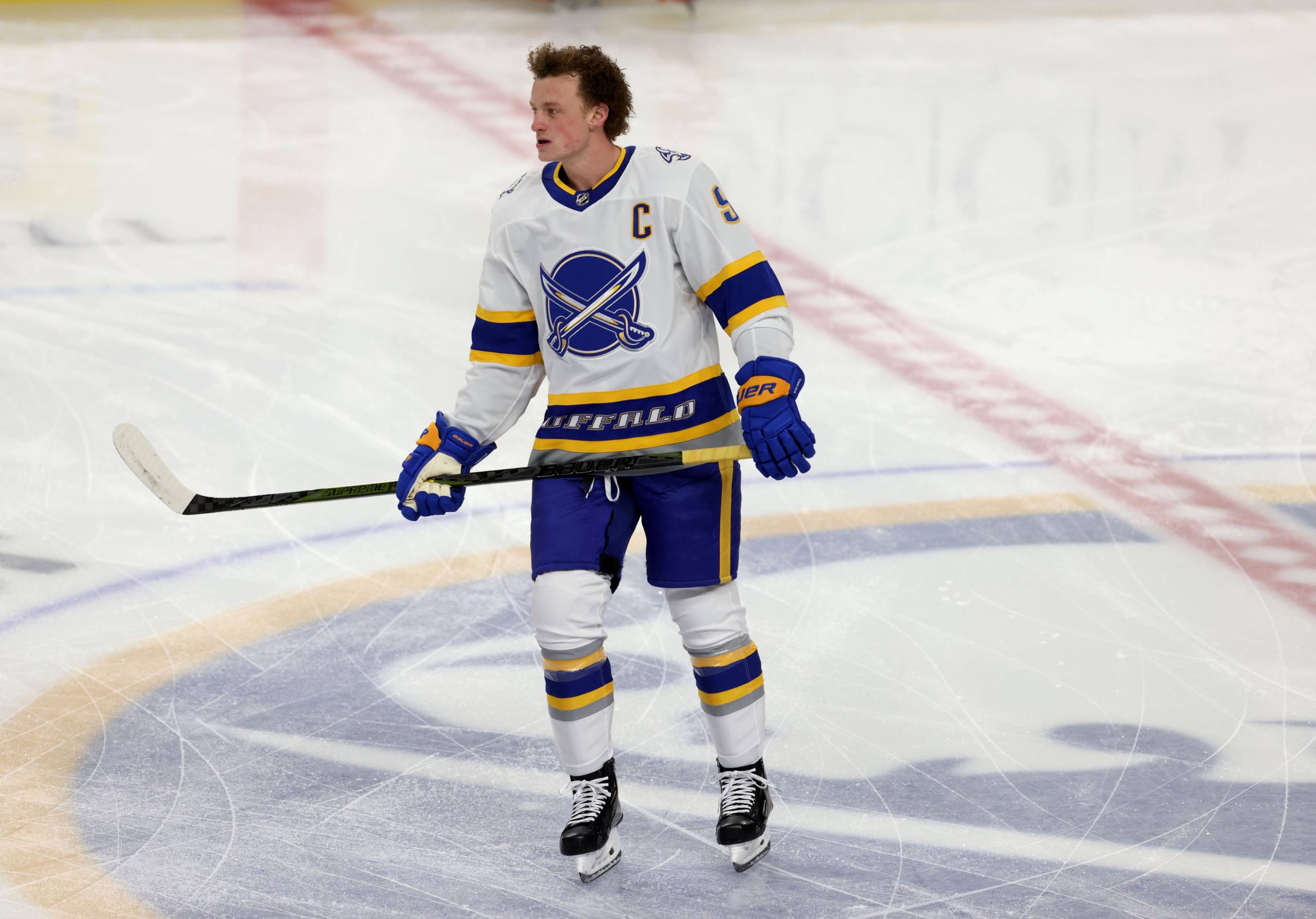 It's June 2025, and captain Mark Stone hands over the Stanley Cup to Conn Smythe winner Jack Eichel. It's a triumph for the Vegas Golden Knights, who always were in the mix but couldn't quite win it all. They faced so many questions along the way. Were they too old to win a Cup in a young players' league? Was Vegas going all-in multiple times ever going to pay off? Did Eichel, their big acquisition from Fall 2021, have the temperament to win?
All of them are erased. One of the teams doing soul-searching is the Minnesota Wild, a Wild Card team eliminated by Vegas in the first round. It was their fifth consecutive playoff loss to the Golden Knights or Colorado Avalanche. Now they face questions of their own.
When will one of their young players break through into stardom? How do they use their upcoming cap space to compete against the titans of the West? And most hauntingly, did they sow the seeds for their downfall by not trading for Eichel when they had the chance?
That's a nightmare scenario for Wild fans who are hopeful that the organization is on track for true Cup contention. Or at least, it's a nightmare now. It may soon become one step closer to manifesting into reality. The Jack Eichel trade market is starting to gain steam again after being dormant since early August.
Vegas' love of making a splash and win-now mentality makes them a favorite, even with a sticky cap situation. But the Anaheim Ducks have long been in the mix, and the Calgary Flames are intriguing newcomers.
However, the Wild have been out on Eichel since just after the NHL Draft. Minnesota had a strong interest in him over the summer but deemed the price too large. The price reportedly included both stud prospects Marco Rossi and Matt Boldy, so that was probably wise. The Buffalo Sabres tried to negotiate as if Eichel didn't have a pending neck surgery and trade request.
Would the price drop to meet reality now? Perhaps, but we likely won't know, as Minnesota is still presumably out. The sweetest spot for the Wild to execute the trade before free agency. Months later, both their top prospects and the worst of Zach Parise and Ryan Suter's buyouts are on the horizon. Most contenders have their cap space spoken for. The ship has likely sailed.
By removing themselves from the picture, Minnesota frees up another (likely Western Conference) team to get Eichel instead. This is where the opportunity cost can bite them in a second way. Not trading for Eichel doesn't only mean that the Wild don't get him; it means he could hypothetically block Minnesota's path to a Cup for years to come.
It's easy to see how adding Eichel would help Vegas boost their chances. Adding him to a roster potentially including Stone, Max Pacioretty, Alex Pietrangelo, and Shea Theodore is a scary thought.
But Minnesota probably won't much enjoy the Flames landing Eichel, either. Calgary's spent years stuck in Minnesota-esque mediocrity, but adding a star center alters their outlook significantly. Pairing Eichel with a core of Matthew Tkachuk, Andrew Mangiapane, and Johnny Gaudreau makes them a top-tier offensive threat.
At this point, all the Wild can do is pray that the Ducks make that deal. Their combination of a good farm system and awful NHL club is reminiscent of the Wild before the Parise/Suter Era. Otherwise, they'll have to contend with either two super teams in Vegas and Colorado or a formerly rudderless Flames squad establishing themselves as a top threat.
Worse yet, it's unlikely either Vegas or Calgary can match what Minnesota has to offer, even if they made someone like Rossi untouchable. Calgary's top prospects include winger Matthew Coronato and center Connor Zary, who Hockey Prospecting's projection system gives a 33% and 28% chance of becoming a star player, respectively. Vegas' best prospects are Peyton Krebs and Lucas Elvenes, who have less upside than Calgary's duo.
Compare that to Minnesota's prospect pool past Rossi. Boldy has a 50% chance of reaching stardom, Calen Addison sits at 53%, and center Marat Khusnutdinov is at 43%. All three have higher projected upside than Calgary's best two prospects, with Adam Beckman (25%) fitting in comfortably with that Coronato/Zary tier. Any two of those prospects should blow away what Vegas can offer.
It's frustrating to imagine not only a Western Conference team landing Eichel but doing so at a discount that Minnesota never got to take advantage of.
Can you blame Minnesota for not getting a deal done on account of Buffalo being unreasonable? Perhaps not; it takes two to negotiate a deal. The Wild (presumably) made a reasonable offer, had it rejected, and wisely chose not to give in to outrageous demands. It's an easy way to justify the outcome.
But the Wild also had other options. They could've gotten creative and dealt a star player to facilitate the deal, and they didn't. Minnesota had the choice to preserve or create flexibility to better equip them to take on Eichel's salary in case of a price drop. They didn't, leaving an opening for Vegas or Calgary to strike.
Minnesota's front office made the call to stop pursuing Eichel this offseason, and they may be right. The uncertainty surrounding Eichel's neck surgery may mean he never becomes the player he was up until the injury. Minnesota's prospects may hit their potential, erasing a need for a star like Eichel.
But they'd better be right. As they say, sports are a results-based industry. If Eichel's new team flourishes and leaves Minnesota sputtering for years to come, it won't matter how justifiable their reasoning was this summer. All that will matter is that one team got a Cup by adding a franchise player, and that team wasn't the perpetually mediocre Wild.