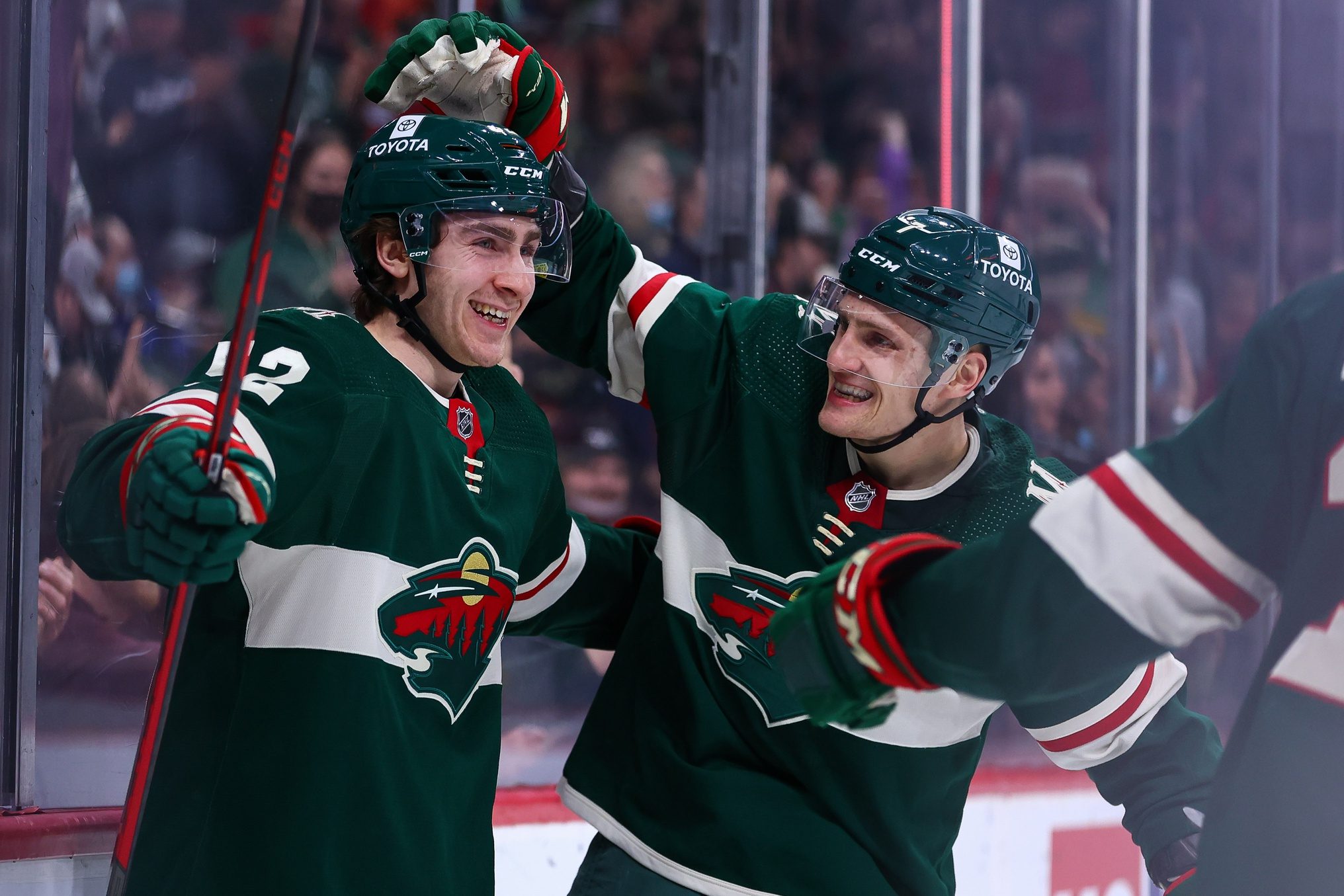 Jan. 31, 2022, will be a pivotal day for the Minnesota Wild's future. They signed Jordan Greenway to a 3-year, $9 million extension on that day. Opinions on Greenway vary, but whatever your opinion is on him, Greenway has played pretty well since the extension. However, that contract could lead to the Wild losing key players. One such person might be Nico Sturm, their fourth-line center.
Both Greenway and Sturm play on the Wild's two hard-nosed lines. Also, both are young players with bright futures who the Wild would love to keep long-term. But Minnesota's salary cap is about to get pretty tight. The Zach Parise and Ryan Suter buyouts will significantly influence how Bill Guerin constructs the Wild's roster for the next three years.
Signing Greenway to an extension takes money away from some other key free agents the Wild need to try to sign in the offseason. The Wild will have to juggle restricted and unrestricted free agents like Kevin Fiala, Kaapo Kahkonen, Alex Goligoski, Connor Dewar, and Nick Bjugstad. With so many balls in the air and $13 million in dead cap, Sturm might get squeezed out.
Sturm is a mainstay on the Wild's grinding fourth line that continues to see ice time deep into games. He's now competing for minutes with his doppelganger, Bjugstad, who himself will likely not be back next year. But the Wild should be exploring what it would take to bring back Sturm.
What are some things that would need to happen to bring Sturm back? Let's have a look.
First off, what would a new contract look like for Sturm? The market will view him as a bottom-six center in free agency. There are a few first and second-line centers available this coming summer. But is Sturm at the top, or close to the top, of that bottom-six center group?
Sturm currently has the best faceoff win percentage of any center this season with the Wild. That's why Sturm is finding himself with time on Minnesota's second penalty kill unit, along with still seeing some important minutes late in games. Dean Evason has shown patience and high confidence with all of his lines, and Sturm is no exception.
Given his play this year, Sturm's next contract could price himself out of the Wild's price range. He's flashed some goal-scoring to go with his good two-way game. It's not out of the question for Sturm to see a contract similar to what Greenway signed last month.
While it may seem like too much for the Wild to spend on a fourth-line center, there will likely be teams out there pressing to sign a center like Sturm. There always are for centers.
Currently, the Wild have roughly $10 million to spend in free agency next year. Fiala should be the highest priority. While Fiala is a restricted free agent for one more year, it would be in the best interest for the Wild to sign him long-term, if possible. What would that long-term option look like? Well, Kirill Kaprizov signed a 5-year, $45 million extension this offseason. Fiala's contract is unlikely to hit that number, but would a 4- or 5-year contract with an AAV of $6.5-7.5 million be out of the question? Probably not.
So let's say the Wild sign Fiala for $7 million a year, leaving $3 million available. That's plenty for Sturm theoretically, right? Well, Kahkonen also needs a new contract. With Kahkonen's recent play, he will be in for a good payday. Unfortunately, that will eat up most of what is left of that salary cap.
While those two are higher priority signings, a Sturm re-signing isn't out of the question. The Wild would need to make a move or two to make room for Sturm.
The first move would be trading Matt Dumba. Guerin will likely need to deal him anyway to make any of these other signings happen. Dumba's $6 million cap hit would give the Wild some pretty good flexibility in the coming year.
Passing on Alex Goligoski and going cheap at defense would also help. The Wild brought in the Grand Rapids native to be the veteran presence that was vacated after Minnesota bought out Ryan Suter. Ultimately, Goligoski's age has caught up to him, and he is getting pressure from lower-line players. Goligoski doesn't fit what the Wild are doing going forward, getting younger and faster. There was once a time when it seemed like Goligoski would sign an extension. That seems far in the past now.
If you make those two decisions, the Wild can re-sign Sturm, and their bottom line can remain intact and highly effective. Sturm's presence on Minnesota's roster is crucial, and it should be a higher priority for Guerin. Without Sturm, the Wild could see instability on their fourth-line, weakening their depth going forward.