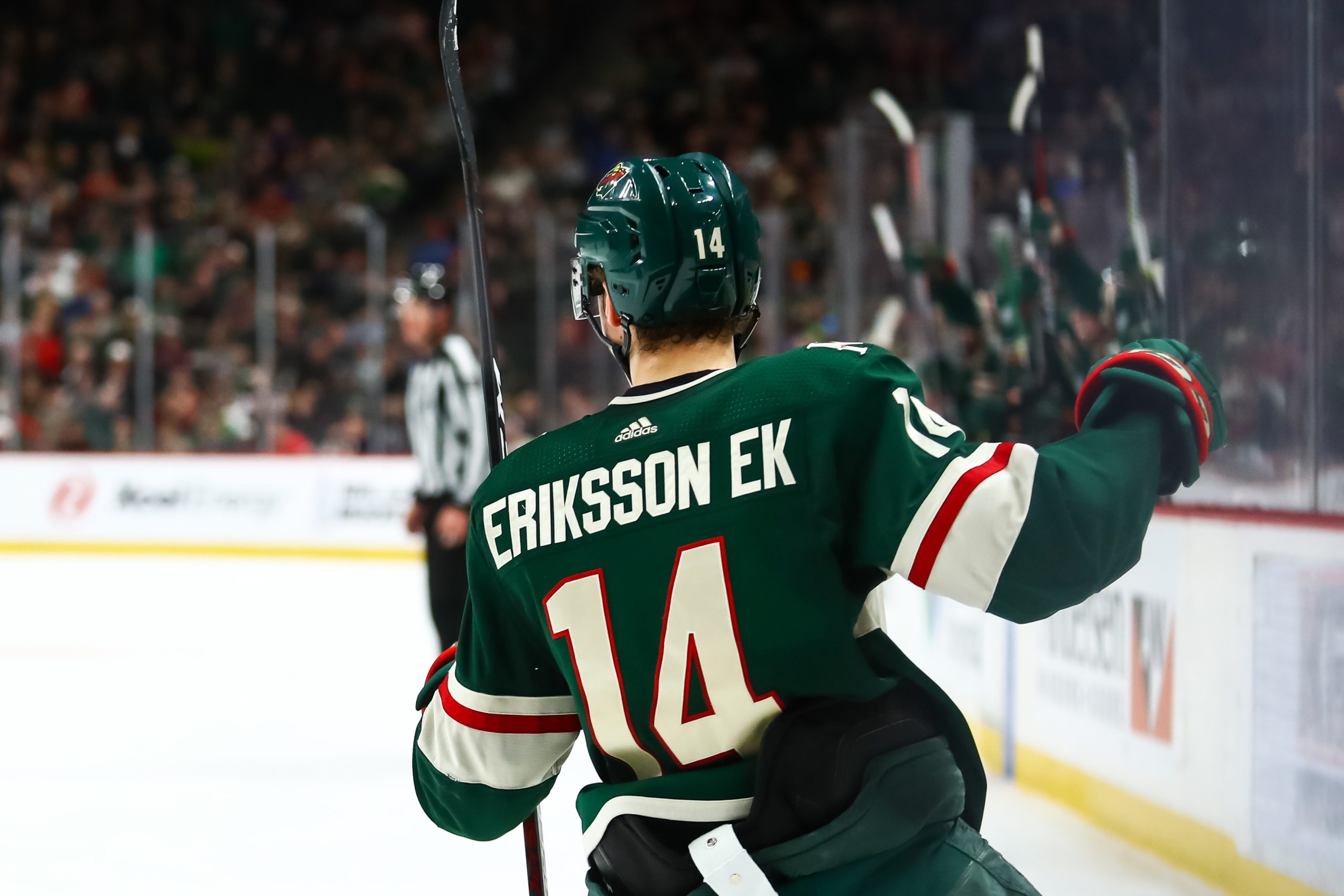 Tonight's Minnesota Wild preseason game will be fans' first chance to see Joel Eriksson Ek in-game action this season. This time last season, many were wondering if he'd play his way into Minnesota's future. There's no such worry now. After his breakout 19-goal, 56-game season, he inked an eight-year, $42 million contract over the summer. He isn't just in the Wild's future, he arguably is the future.
What his role will be going forward is still up in the air, though. Despite his breakout and a desperate need for top-6 caliber pivots to center stars Kirill Kaprizov and Kevin Fiala, coach Dean Evason was reluctant to move Eriksson Ek up in the lineup. Overall, 79% of his 5-on-5 minutes came alongside Jordan Greenway, and 46% came with Marcus Foligno, even though Foligno missed nearly a third of the season.
In both construction and usage, that's a checking line. Yes, it was a great checking line, controlling 65.6% of the expected goal share at 5-on-5. Still, as the season went on, it was clear Minnesota's top-6 wasn't working down the middle. Was keeping Eriksson Ek on a checking line worth not addressing this? Apparently so, as Eriksson Ek played with Greenway and Foligno through the playoffs, even as Minnesota's stars struggled to score.
Being highly paid tends to open some doors, though. Eriksson Ek has spent training camp skating on a line with Kaprizov and Mats Zuccarello. Will that continue to hold? It appears we won't see that line in action tonight, as Kaprizov is currently scratched for tonight's action. This could be some kind of precaution, but whatever the reason is, Minnesota loses some valuable time for this group to build chemistry.
Will old habits win out when it comes to Eriksson Ek's placement in the lineup? It's hard to say without seeing things play out more, but despite his breakout year, there still seems to be resistance to the idea that he can play a top-6 role. Why is that?
Eriksson Ek just doesn't fit what people think of when they think of a "No. 1 Center." Players with that status tend to be point leaders on the team. Eriksson Ek isn't, and will likely never be that, even if he regularly scores 25 goals. Centers also tend to be similar to point guards in basketball, a distributor and primary puck-carrier. That's also not Eriksson Ek's game.
Does that mean he ultimately can't stick playing with Kaprizov or Fiala? No.
There's no denying that most top centers have a different skill-set than Eriksson Ek. But instead of looking at what he can't do, it's much more useful to look at what he can do. His skills are no less capable of elevating the Wild's top offensive talents than more prototypical Number One Centers.
Eriksson Ek's goal-scoring breakout came courtesy of crashing the net hard and often. 11 of his 17 goals were within 20 feet of the net, and all of them within 30. He had an incredible knack at getting his stick on rebounds, and beat goalies with a compact release.
He managed to be a rebound-getting machine despite playing with two forwards who don't shoot much. Greenway had just 7.6 unblocked shot attempts per hour at 5-on-5, and Foligno generated just 6.2. Imagine how many more rebound opportunities Eriksson Ek could get with Kaprizov or Fiala, who each had around 12 per hour. Eriksson Ek offers a net-front game that other center candidates like Ryan Hartman and Victor Rask simply don't.
And, of course, there's that defense. Eriksson Ek's defensive prowess isn't a secret anymore, as he finished fourth in Selke voting last year. It shouldn't be any secret that an elite two-way center can raise stars to new heights. Look what Patrice Bergeron does for Brad Marchand and David Pastrnak, or Sean Couturier for Claude Giroux. Being that defensive anchor frees up others on your line to create. Eriksson Ek can do that, and then clean up on second chances by the net.
Yes, Bergeron and Couturier are good puck carriers, but that's not a requirement to succeed in the role. Ryan O'Reilly is below average at carrying the puck into the zone, doing it on about 39% of his entries (Eriksson Ek did so on 41% of his). That doesn't stop him from elevating David Perron to a nearly point-per-game winger.
Mikko Koivu is another player who has excelled in a top-6 role despite not being a great transition player. In fact, Koivu was downright awful at it. However, it didn't matter because when he was on the ice with Mikael Granlund and Jason Zucker, who could carry the puck, they were one of the best lines in the NHL. Kaprizov and Fiala are two of the league's best transition players, so there's little reason this dynamic couldn't work.
Fans and media might have their gripes about Eriksson Ek not fitting the prototype of a top-6 center, similarly to how Koivu got that rap throughout his career. But once Eric Staal provided him with an offensive complement, the State of Hockey appreciated just how well Koivu played with Minnesota's skilled players. Could a similar dynamic form with Marco Rossi and Eriksson Ek?
Absolutely, but Minnesota's going to have to let him take that Koivu role. And there's simply no way, no how that the Wild would ever let a prime Koivu bang and grind on a checking line. Even if Rossi makes the team, he can't center all of Kaprizov, Fiala, Zuccarello, and Matt Boldy. There'll be plenty of super-skilled wingers that could use what Eriksson Ek brings to the table.
The Wild have committed to Eriksson Ek financially, and now they need to commit to using him in a way that his price tag suggests. He may not fit anyone's prototype for a top-6 role, but he'll never fit his full potential if Minnesota limits him because of that. Evason and the Wild need to find a spot where he can best elevate the skilled players on his team, and best unlock his own offensive talents.
Transition data via Corey Sznajder, all other data from Evolving Hockey.