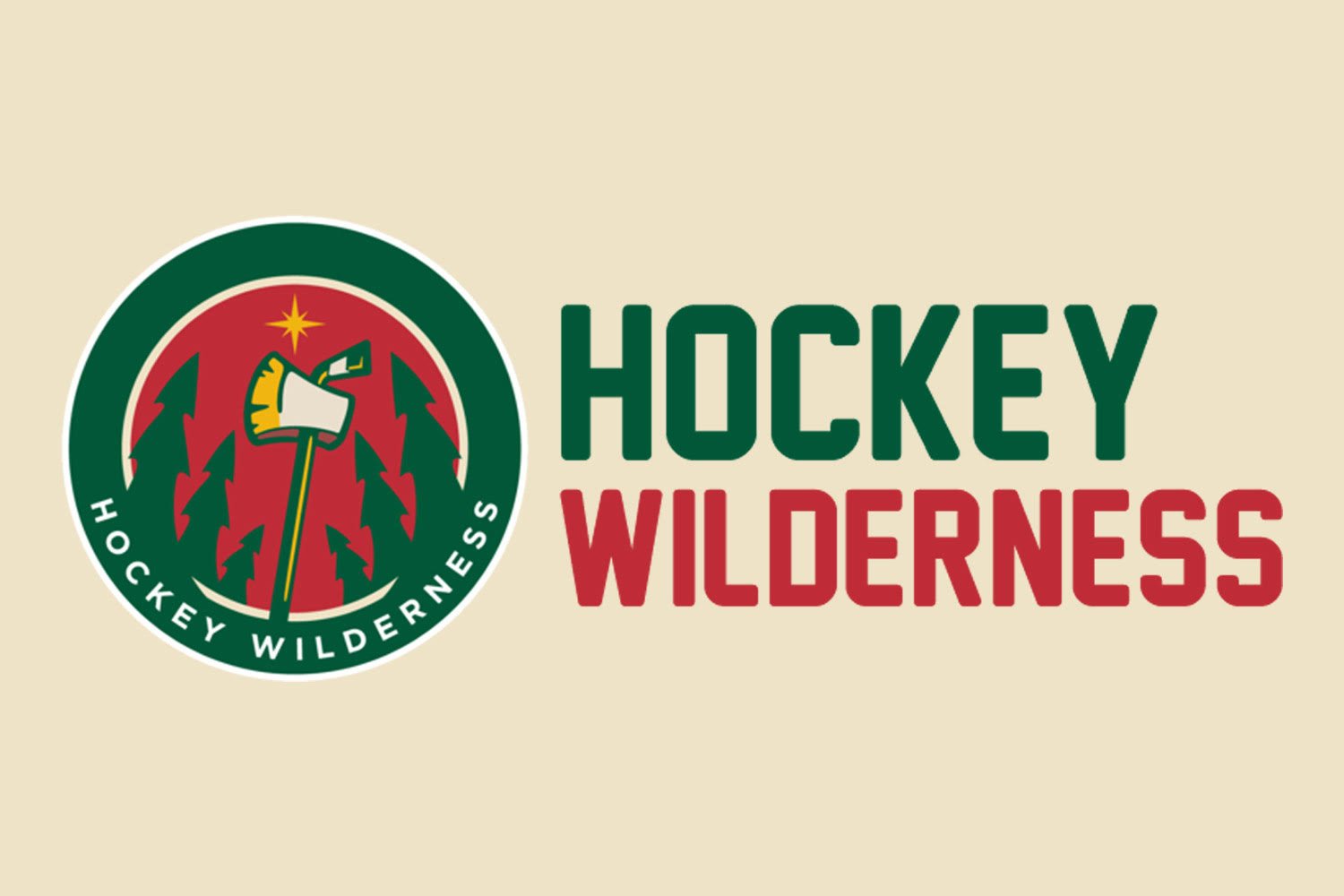 I had a chance to be in the Xcel Energy Center for Saturday's scrimmage and practice with my father. I won't go over every player who was there- just the ones who I made notes of. Practice was fluid, and the scrimmage was fast, so I didn't have a good chance to see everyone... if you are wondering about a certain player that I don't mention, hit the comment section! I'll tell you what I can.
It should go without saying... but just in case: training camp and the scrimmages that take place there are very different from actual game situations. These observations and statements should be taken with at least one grain of salt, particularly considering that, while there was checking, the scrimmage was not the same intensity as a real game would be.
Goalies
Backy was back, and boy was he back. Despite his age, the net minder appeared very steady, and was poised throughout. Some pucks did sneak past, and obviously things will be different in a real game, but there was no hesitation from Niklas in making saves. He is aided by his goaltending style. Niklas Backstrom has never been one to be the most acrobatic goalie; he instead relies on good positioning and efficiency to stop pucks. This isn't an indication that he will be great, but he does look better than he did last year at this time.
After a long, drawn-out negotiation for his new contract, the much-maligned Darcy Kuemper was back in practice today. Fans won't be happy to hear that he let in 5 goals during the scrimmage. Don't be fooled; this is no measure of Kuempers proficiency or lack-thereof. Kuemper did well in the morning skate, and looked good in the few exercises they ran prior to the scrimmage. Hopefully, the 24-year-old can build on a strong showing last season.
Goose made a strong showing for himself; he was at the end of a lot of the veteran's forwards shots, and didn't stop all of them, but he did well. With a competent team in front of him, this year should tell us more about what we have in the young net minder.
Curry and Whitney are 30- and 20- years old, respectively. They both are backups to the backups to the backup, and hopefully we never see them in Minnesota. They are very competent at making stops from distance, but struggled to keep pucks out of the net that were fired from close range. They also seemed to give up more rebounds than Goose, Kuemps, or Backy (though I wasn't tracking rebounds as a stat, that is just my impression). Also, both Curry and Whitney seemed to be slower moving side to side- this was part of the reason they had trouble stopping rebounded shots.
Alexander Belanger
Belanger is 19 years old, and will be competing (eventually) with Brandon Whitney for starting jobs in Iowa, and then Minnesota. I separate Belanger from Curry and Whitney for this reason: they all ran through the same drills one after the other, so I had a good grasp of who did what better. While certainly not head-and-shoulders above Whitney, Belanger did have more fluidity in his movement, and stopped more of the close-range shots than either other backup. It will be interesting to see the Belanger-Whitney rivalry grow as these players progress.
Defensemen
Both Spurge and Scandy-candy looked very good. They were not partnered, but they had good movement, good defensive positioning, and their shots were generally on-net. Scandella could afford to think a bit more offensively- he seemed very reserved today. I say this despite the fact that he did score a (pretty great) goal on Kuemper; that was a fare moment of offensive thinking from him today.
Brodin was not on the ice a ton, but when he was, it was almost always with Ryan Suter. The pairing worked very well. Because this was a scrimmage and practice, it's hard to tell if Brodin still is displaying the hesitancy to make contact that seemed to cause him trouble last season. "Skittish" was the word I'd use to describe his play, and today didn't do much to dissuade me from using that descriptor. Neither, however, did he prove me correct. This season will be a good litmus test after one great season and one only-ok season.
Matt Dumba
Dumba55 didn't participate in the scrimmage, but he did come out afterward to run some plays. He is quick, has fantastic hands, and frankly could have played forward. At one point, he skated around the defense (in the play they were running) and backhanded a shot into the net- very a la Patrick Kane. Dumba's positioning and defensive play was better than I was expecting; he played well in the drills he was involved in.
Folin was impressive- particularly his shot. #Hot #Taek, I know. In all seriousness, Folin has as good a chance as anyone to make the NHL club; his defensive play was solid, and he moved the puck efficiently. He reminded me a bit of Marco Scandella; he was not at all flashy, but effective. The two could make an interesting defensive pairing, especially considering Scandella's penchant for making whoever he plays with effective.
There's not much to say about Ballard; he didn't participate in the scrimmage, only in some drills afterward. That said, he almost had a "Stoner2Hossa" moment in those drills, where he sent the puck drifting across his own net with 2 young forwards salivating in wait.
Bickel is very big, and very physical. He's the kind of player who the first attribute you list for him is "grit." He could well be the crease-clearing d-man the Wild need... but his passing was mediocre, his movement was poor (even my father commented "wow... #4 just fell over on his own!") There's not much else to say. Hopefully Bickel isn't in Minnesota, but in Iowa.
Baldwin represented himself well in the camp situation. He didn't stick out as being stellar or terrible, and made a few very nice plays. He'll spend the year in Iowa. With a similar build to Stu Bickell, I have higher hopes for Baldwin after Saturday; he seemed to be less of a goon and more of a legitimate hockey player.
Both of these players made a few nice plays and a few not-so-nice plays. Their movement was good but not great, and their defensive positioning was suspect at times. Jobke was manhandled by Koivu in the scrimmage (after which the Kaptain scored his goal). They both need development, but both show ability.
Dylan Labbe hails from Quebec, and played for Shawinigan last season. He played quite well, showing defensive ability and a willingness to join in on the rush. I'll be very interested to see what Labbe can do- at 6' 2'' and 190 pounds (big for a 19-year-old) he has quite a bit of potential to be a big but mobile defensemen. Labbe, like Baldwin, has size and knows how to use it, and skates well.
Forwards
Coyle played well in the scrimmage, and throughout the practice. He possed the puck well in the low areas, allowing his linemates (Koivu and Vanek) to get free. Coyle's shoulders didn't seem to be bothering him, but he can still afford to shoot the puck more. Much like Koivu, Coyle looks to pass first, which isn't always a good thing.
Back to his old self. Good movement, good physical play, and brilliant passing. He bulldozed Colton Jobke to put one past Kuemper in the scrimmage, and more of that is never a bad thing. For my money, Koivu can still look to shoot a little more, though having Vanek on his wing makes passing an easy option. Which brings us too...
Vanek is who we thought he is. He isn't fast (but nor is he slow), and has great hands. More than simply a shooting machine, Vanek does look to pass, and passes well. There is loads of upside here (no surprise) and Vanek will be a player to watch, especially if he has Koivu or Granlund feeding him the puck.
Mikael Granlund
Granlund played very well, and hasn't lost his swagger from the last postseason. The biggest thing to watch with Granny will be whether he can avoid getting some of the hard hits he took last season. He is poised to have a breakout season, and camp showed me nothing to dissuade me from thinking he has the tools to be frighteningly good.
Schroeder, who you may remember as an offseason acquisition, impressed me. Despite what some would call his struggles in Vancouver (and I voiced concerns on a podcast), he is not a bad player. There's development that needs to happen, but he has the skills to be at least a decent 4th liner.Schroeder has a decent chance of being in the NHL, and that shouldn't scare the fans too much, assuming he isn't playing a million minutes per night.
I group these two because they are very similar to me; they both showed decent movement, and have a role to play. Zucker has more upside, while Fontaine has established a role as a 4th liner. They worked well together, which bodes well, as they are predicted to be linemates.
Another offseason acquisition who played better than I was expecting. After netting an assist and a goal in the scrimmage, Almond has earned himself a chance to prove himself NHL-ready tonight in the preseason game. With size and decent speed, Almond has the tools to be a proficient player for the Wild.
Sutter needs some refinement if he wants to play in the NHL. His hands are good, and he moves well; his problem is knowing where to position himself to be productive. This will come with experience and coaching, though the 27 years old, the time is running out. I wouldn't get my hopes too high here.
Raphael Bussieres
Magic Bus is exciting. He is fast, big, and has a good shot. He is approaching the time when he'll need to fight for a spot in the NHL, and he has the tools to do so. A very exciting young player, Magic Bus is someone to watch this season.
You can basically copy and paste my comments about Stu Bickel here; Rechlicz is a big forward who likes to make contact. He is there to frustrate the other team, and showed me no reason to want him in the NHL. Nothing stood out other than his physical play and big size.
While Sprout needs to put on some weight, he is not the pseudo-midget that Spurgeon appears to be on the ice. Despite his slight weight (listed at 176 pounds) and his penchant for being a "fast and flashy dangler," Keranen used his body well; he initiates contact intelligently, and moves the puck efficiently. His biggest problem was seeming to be just a hair slow, which likely has to do with the smaller size of the ice. Given time to adjust, Keranen was a great pickup by GMCF.
Granted I didn't see much of Tyler last season, but his skating must have improved. While still one of the slower players on the ice, he was not lagging far enough behind to cause problems. At 6' 4'', his size is a nice tool, and he can be a good possession player and puck support. I am cautiously optimistic to see Graovac in the preseason game tonight.
The Zacks remind me a lot of Fontaine and Zucker; they seemed to always be on the ice together, played well together, but were not lights-out impressive. They each have a nice, but not great, shot. With another season in Iowa in the cards for both of them, this could be a year they prove themselves. We'll have a chance to see Mitchell tonight, but not Phillips.
Erik Haula
Good sweet lord Haula is fast. He completely left his teammates in the dust doing laps, and was very impressive in the drills. Taking on a defensemen one-on-one, Haula left him in the dust before netting the puck with a fancy backhanded shot. Haula is electric, and I'm thrilled to see what he can do this season.
Gogol appears to be bigger than his listed 6' 1''. He is big, moved ok (if sluggish at times) but had a good shot. While there's (hopefully) no chance we see him in Minnesota, it will be interesting to see what he does in Iowa. Yeo is giving him a chance in the preseason game tonight; so we'll have a chance to see him in a game situation.
The recent draft pick for the Wild has wheels. He is very quick, and is quick to join in on the rush. Think of duke as diet, caffeine-free Dumba; he has good offensive thinking, but is not incapable on defense. This will be an interesting year for Reid Duke, and a year that hopefully will see him leave Lethbridge (where he was a -47 while posting 15 goals (25 assists), and the team's 3rd-leading scorer). Lethbridge is far and away the WHL's worst team, winning only 12 games last season; not a place for a player to develop effectively.
Well Wilderness- were you at the camp? Who did you see that impressed you? Any questions about a specific player? hit the comments!