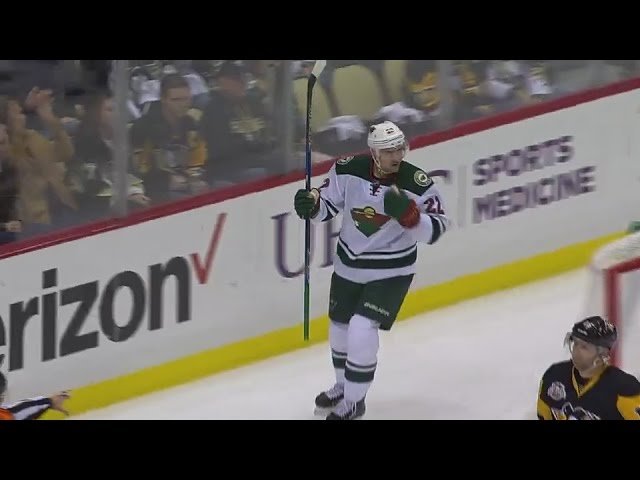 The Minnesota Wild and restricted free agent forward Nino Niederreiter came to terms on a new contract (avoiding arbitration), as a five-year deal worth $26.25 million was agreed upon. Michael Russo of the Star Tribune was the first to break the contract. on Sunday.
Niederreiter, 24, is coming off a season in which he scored a career-high 57 points (25 goals-32 assists) in 82 games last season. The Swiss winger has been a reliable presence in the Wild lineup since coming over from the New York Islanders in the Cal Clutterbuck trade in June 2013, playing in 325 out of a possible 328 regular-season games. The 2010 first-round draft pick (No. 5 overall) has been a mainstay on the Wild's third line since his arrival four years ago, and has been one of the more productive forwards on the team despite his limited minutes.
Niederreiter Points By Season With Minnesota:
2013-14: 36 points (14 goals-22 assists) in 81 games
2014-15: 37 points (24 goals-13 assists) in 80 games
2015-16: 43 points (20 goals-23 assists) in 82 games
2016-17: 57 points (25 goals-32 assists) in 82 games
Niederreiter endeared himself to Wild fans in the 2014 playoffs with his Game Seven overtime goal against Colorado to send the Wild onto round two against Chicago. With Niederreiter now signed to a contract, the Wild have Mikael Granlund and Marcus Foligno (acquired in the Jason Pominville/Marco Scandella trade) remaining as their only restricted free agents without a new contract. Granlund is slated for an arbitration hearing on Aug. 4 if both sides do not come to terms on a new deal by them.
---
Never Miss an Episode of Giles & The Goalie!