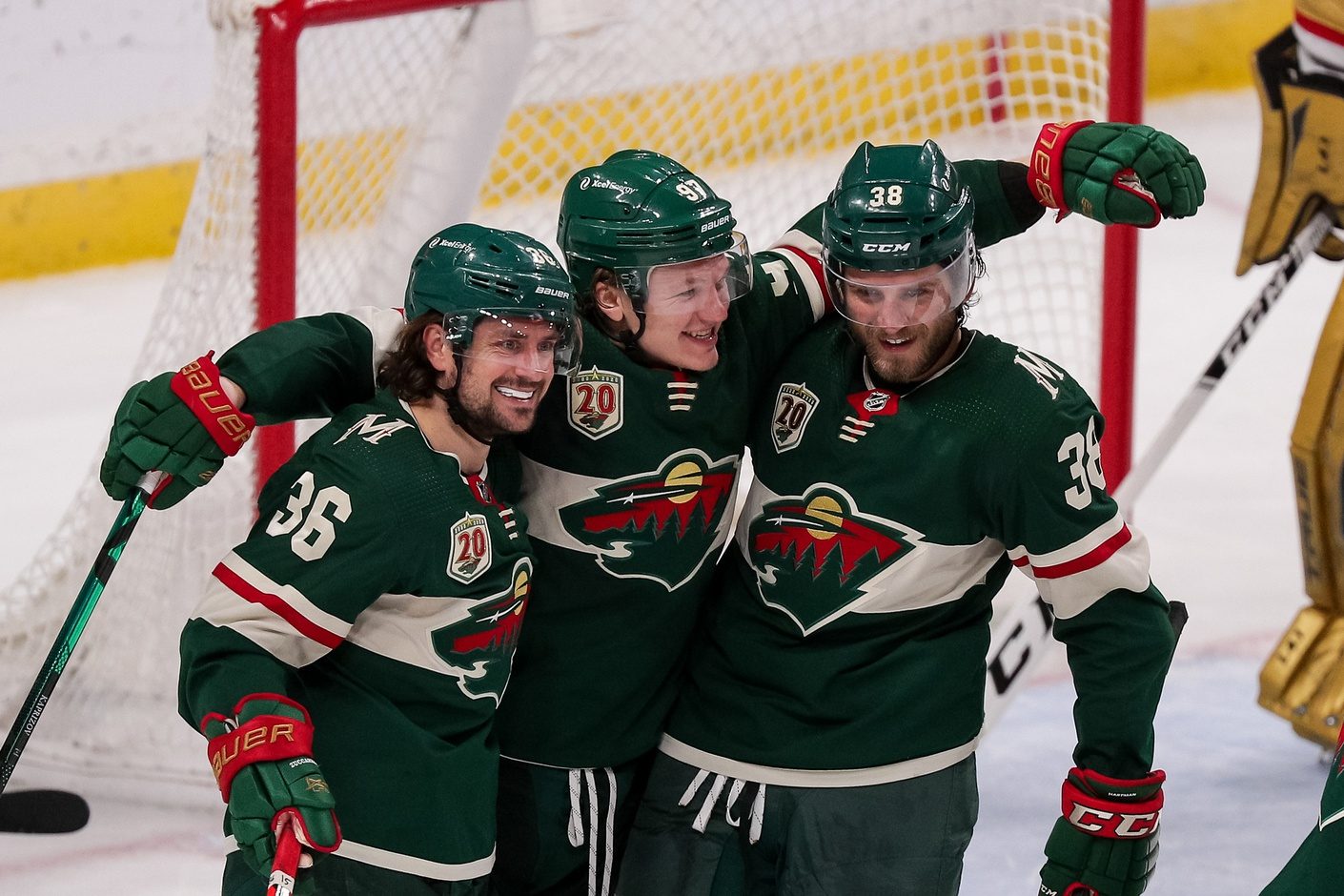 The Minnesota Wild's first preseason game is a little more than a month away. Training camp is the first chance the coaching staff will have to tinker with the roster since the Game 6 loss to the St. Louis Blues in April. In fact, it wasn't until Game 6 that the Wild even tried tinkering with the lineup after the trade deadline. That was too little, too late after squandering an opportunity to push the Blues to the brink. However, after not messing with the lineup in practice, of which there weren't many, how could the coaching staff make any changes?
Outside of Kevin Fiala's departure, the Wild is largely the same as the one that finished last season. With that little turnover, most assume the line combinations will, or should, stay stable. Why mess with what worked? Kirill Kaprizov, Ryan Hartman, and Mats Zuccarello all had career-highs in points. Joel Eriksson Ek, Jordan Greenway, and Marcus Foligno were among the NHL's toughest lines to score on. And while questions remain on Matt Boldy's influence on his line, he's shown in the past that he can make players around him better.
The coaching staff only changed the lineup when they had to because of injury. It was an extreme If it ain't broke, don't fix it approach. Is there a better way to construct the nightly lineup? How can Dean Evason optimize the roster to be even better than last year?
Let's take a look at a few combinations. Some assumptions will be made, like Marco Rossi making the team and playing center and that Greenway and Jon Merrill are starting the season on the shelf due to offseason surgeries. We'll also have Hartman playing center, even though he's a winger forced into the middle.
Strictly Points
If the Wild were going to assemble the roster based on simple point production, it might look like this:
Kaprizov - Hartman - Zuccarello
Foligno - Eriksson Ek - Boldy
Jost - Gaudreau - Duhaime
Dewar - Rossi - Beckman
I've placed Rossi on the 4th line because his 53 points in 63 AHL games last season has an NHL Equivalency of 27 points, per Patrick Bacon's model. However, as Garret Hohl of Hockey-Graphs outlined, NHLe models heavily weigh overall point production, ignoring whether it came via special teams or adjusting for style of play. Leaving out this context misses some very key components to an individual player's game that might help translate better to the next level. 
But the first line remains intact, making this alignment intriguing. Things begin to change once I break up Evason's security blanket line, placing Boldy in Greenway's spot next to Eriksson Ek and Foligno. Eriksson Ek was the Wild's best center last season, and seeing this line with a better scoring talent without losing the size and speed combination is interesting. 
Breaking up that line by inserting Boldy isn't that far-fetched of an idea. Fiala took up the wing on that line when Greenway was sidelined with an injury last year, and they out-performed the original version by a lot. In 86 minutes, the Fiala version saw the expected goals percentage shoot up from 60.85% to 63.26%. Overall shots went up too. By removing Greenway and adding Fiala, shots per hour improved from 32.69 to 40.07. Boldy may not be Fiala in terms of volume shooting, but the idea of adding an offensive player has shown to improve the line by a lot.
Standings Points Above Replacement
Kaprizov - Eriksson Ek - Zuccarello
Boldy - Hartman - Foligno
Dewar - Rossi - Jost
Duhaime - Gaudreau - Beckman
The Wild have tried Eriksson Ek with Kaprizov and Zuccarello once before. After 87 minutes, Evason pulled the plug on the line and never went back to it. The line looked good on paper in training camp last season, yet it couldn't translate it to the ice. It would be one thing to say, Well, that was before Kaprizov took off, but their underlying numbers weren't great. But Eriksson Ek is the best center on the team, and the Wild should try placing a play-driving force with the best scoring duo again, right? Evason could at least give the line 100 minutes before making a decision.
Dropping Gaudreau to the fourth line is also beneficial here. Evason forced Gaudreau into the second-line center role for reasons that never made sense. He's a defensive center, and putting him into a fourth-line role is more conducive to his skill set. It also helps Brandon Duhaime and either Connor Dewar or Tyson Jost once Greenway gets healthy.
Lastly, finding a place for Rossi was more difficult in terms of standing points above replacement. He only played in two games and a total of 31 minutes. However, he played and succeeded on the Iowa Wild as an impactful player in all situations. We split the difference and started him on the third line.
Highest Scoring Chances
This roster construction is more about optimizing shot generation over anything else. It weighs individual shots per game and high-danger shot assists, as tracked by Corey Sznajder of AllThreeZones.com. To determine who was best, I awarded points based on the player's ranking on the team in that stat category. After adding the points, this roster was constructed.
Kaprizov - Hartman - Zuccarello
Boldy - Eriksson Ek - Greenway
Foligno - Rossi - Duhaime
Dewar - Gaudreau - Jost
Rossi had 2.49 shots per game in the AHL. That didn't change in the two games he played in the NHL. His five shots in two games show that part of his game directly translated to the NHL and ranks fourth on the Wild. Since All Three Zones did not track his shot assists, Rossi's ranking matched Gaudreau's mark, thus the reasoning for placing him as the third center above the older Gaudreau.
The top line remains together, even with Zuccarello's mid-tier ranking in shots per game. Boldy was right behind Zuccarello, despite Zuccarello playing all season on the top line. Both are incredibly talented at creating scoring chances by either shooting or finding others in open areas for shots.
While we left Greenway in this roster, it's interesting to see Foligno alongside Rossi. If the Wild break up that line, placing Foligno next to Rossi might be a great idea. The alternate captain can help the kid adjust to the league by taking on the physical play so that Rossi won't have to. Plus, Foligno has shown an ability to play strong defense and a willingness to pitch in offensively. It might be a good fit.
Balance
Boldy - Eriksson Ek - Foligno
Kaprizov - Gaudreau - Dewar
Hartman - Rossi - Zuccarello
Beckman - Jost - Duhaime
This lineup was created by sorting players by expected goals per 60 differential. We get lines that aren't great for scoring goals, but each line has a goal scorer and a strong, forechecking forward. Then in the middle, each line has a center that can play a two-way game. While this lineup is probably the least likely to be seen on the ice, let alone have a smidge of success, it's interesting to see each player play with someone completely unexpected. 
The Wild coaching staff might have something else up their sleeves for the line combinations going into this season. However, Evason must mix things up more frequently this year. At the same time, he should exercise patience if they don't gel right away. We know that he can always resort to the lines from last season at any point. Those worked well up until they didn't during the playoffs. If, as Evason loves to say, anyone can play with anyone else in a Wild sweater, it's time to truly put that idea to the test.
Stats for the creation of each lineup courtesy of Evolving-Hockey, NaturalStatTrick, and AllThreeZones