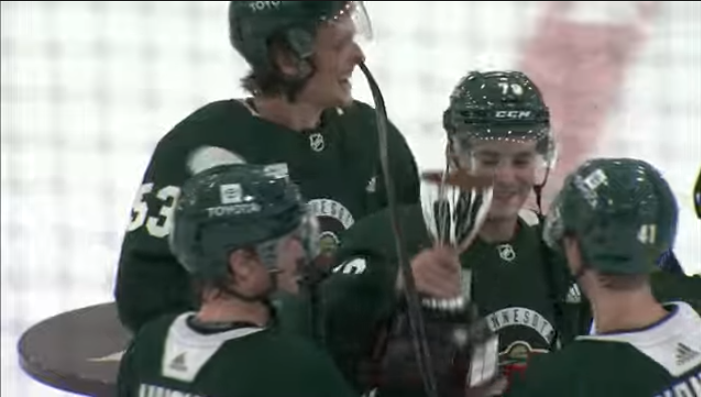 Prospect development camps around the NHL are wrapping up this weekend. It's the first time fans get to witness the newest members of their favorite organizations in action. The Minnesota Wild showcased their crop of prospects last week with practices open to the public, then a 3-on-3 tournament to cap it all off. 

 

Marco Rossi and Adam Beckman didn't disappoint. They both showed off just how good they got the past year in Iowa. This is especially true for Rossi. He got his bid to make the NHL roster off on the right foot after he displayed how much stronger and smarter he got playing in Iowa. Beckman appears more than ready to make a push for the roster after narrowly missing it last season.

 

But it wasn't just The Beckman and Rossi Show on the ice. The Wild made a significant investment into their defense over their past few drafts. Marshall Warren, who plays at Boston College, was in town and got to meet other top defensemen like Carson Lambos, Ryan O'Rourke, and Daemon Hunt. The pandemic disrupted so much the last two seasons that getting all of these players on the ice together was difficult. 

 

Fans also got to witness top goalie prospect Jesper Wallstedt for the first time. Wild fans, up to this point, have only been able to watch him in short clips of the SHL on Twitter, or during a truncated showing at the World Juniors. He exhibited his typical sound positioning, but also some surprisingly good athleticism from a goalie whose technical game is so touted. It's a great thing that he'll be in Iowa this year for fans who want to make the trip to Des Moines.

 

Prospect camp is a moment to get excited for hockey. It's doubly exciting since it's the first WIld hockey anyone gets to watch since their untimely departure from the Stanley Cup Playoffs. However, people were tuning in to see the players, and what they got was a chaotic mess of a production by the Wild.

 

Putting it bluntly, the 3-on-3 tournament was a colossal flop in person and for fans tuning in via the

. Play-by-play announcers Ben Gislason and Kevin Falness performed valiantly to provide a description of the play on the ice. But with two 3-on-3 games taking place at each end simultaneously, there were more than a few times the camera was focused on one end, while the play-by-play was calling the other. And in fairness to the camera operator, a camera — much like anyone in attendance — can only focus on one of the games at a time.

 

It's not that the Wild didn't get valuable insight into its players in these scrimmages. It's that what fans got to watch was not "real" hockey. And it's a development camp, right? It's not really a game with any real stakes. That having been said, in years past, Minnesota held a full team scrimmage that included 5-on-5 play with line changes and…well, mostly everything else you'd expect from a hockey game. Call it a hockey simulation if you want. What fans got on Thursday night was arcade hockey instead.

 

The arcade version was confusing for everybody, and that seemed to include Gislason and Falness. The score wasn't kept, time was an illusion, and it was brutally difficult to keep track of players. It was next to impossible to have any real takeaways about how each player performed in a setting that was decidedly unlike hockey. What fans got to watch was some dazzling goals and plays in a game of shinny. The decision to feature the 3-on-3 tournament over their typical 5-on-5 intrasquad scrimmage leaves fans with almost nothing from which to glean. 

 

That doesn't mean that the Wild can't do a small rink scrimmage. In fact, working drills and scrimmages in the half rink like that are perfectly useful in practice. It's been

to improve small area skills. But the organization can save that for practice during the week, leaving the big scrimmage as the capstone event of the summer for fans.

 

Their new format is a far cry from when the Wild held camp at the Xcel Energy Center. Ten years ago, the lower bowl of the Wild's home arena was packed full in response to both the signings of Zach Parise and Ryan Suter, and a camp featuring Mikael Granlund, Matt Dumba, and Jason Zucker. This year's talent pool is far more talented and deeper than that season. 

 

Maybe there's no incentive to draw fans with a bigger and better spectacle. At the X, partial season and single-game tickets were on sale at the box office, and the Hockey Lodge was open to sell merchandise. Now that it's at Tria Rink, the Wild's practice facility, those sales aren't happening. Regardless, the format of this year's camp scrimmages is not going to bring fans out in droves. 

 

The Wild missed an opportunity to put on a show in front of their fans. Instead, they'll play in Chicago as part of the Tom Kurvers Prospect Showcase in September. Maybe then we'll have some stronger takeaways after watching Rossi, Beckman, Wallstedt, and company in a game that actually resembles real hockey.