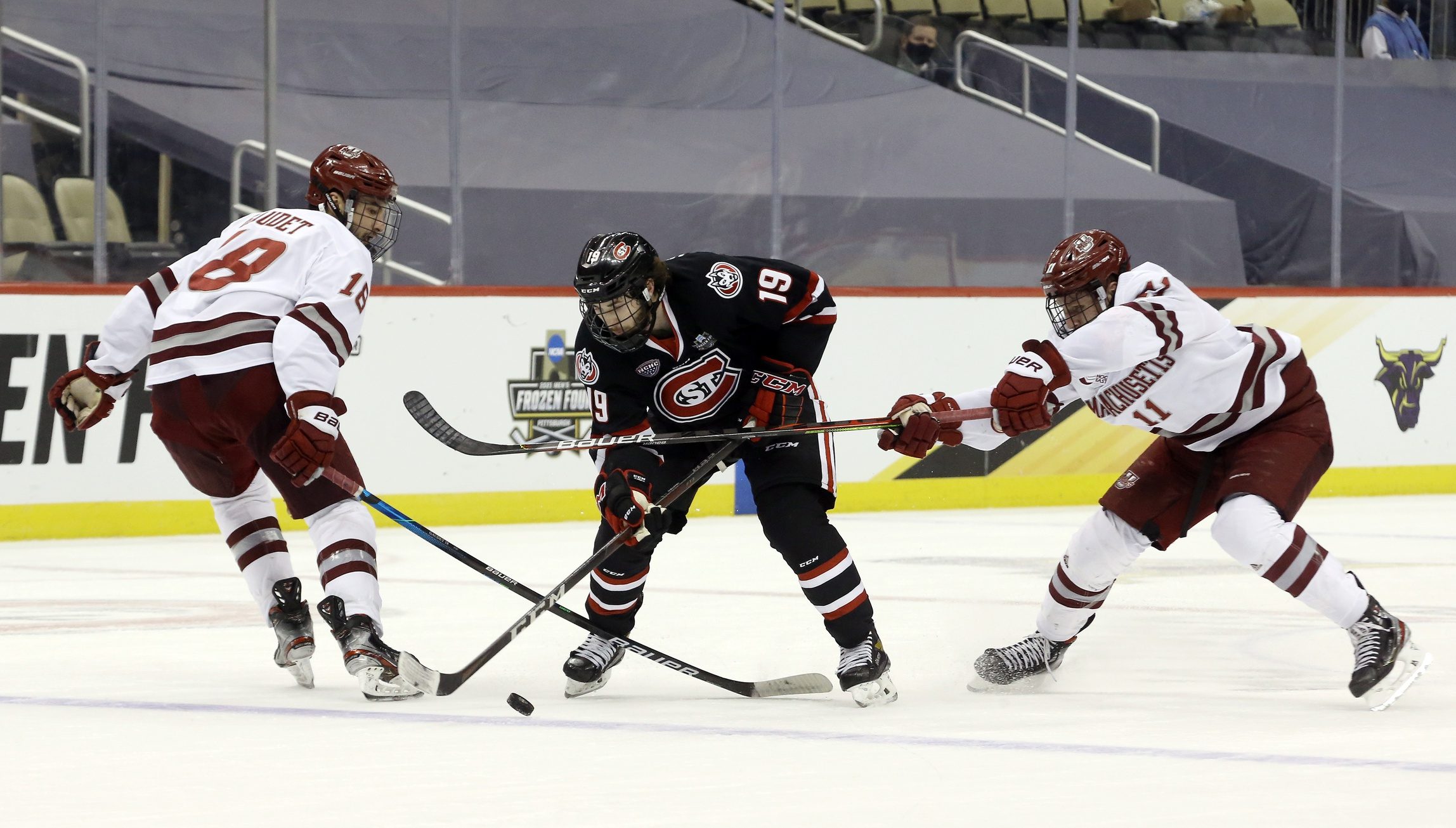 Tons of hockey players grow up and only dream about playing in the Olympics. In just a few weeks, that will be Minnesota Wild prospect Sam Hentges' reality.
A few weeks ago, the St. Cloud State Huskies forward was offered the opportunity to play for Team USA at the Beijing Olympics in February. The USA roster features seven Minnesotans, including Hentges, and some big-name college players like Matty Beniers, Jake Sanderson, and Brandon Brisson. Hentges, the senior drafted 210th overall by the Wild in the 2018 NHL Draft, earned a place alongside them by being a solid piece to an incredibly deep Huskies lineup. In three-and-a-half years at St. Cloud, he's racked up 37 goals and 87 points in 103 games. He even helped them get to the NCAA title game last year.
I got the chance to speak with Hentges over Zoom to talk about his path to St. Cloud, the Olympics, and the Minnesota Wild. This interview has been lightly edited for brevity and clarity.
How did you decide you wanted to be a hockey player?
I started skating when I was two years old. My dad was a professional hockey player, and both my sisters played too, so it was just something we'd always do. We'd always be skating on the pond or playing street hockey with all my friends. It was just something I did daily, ever since I was a little kid.
What's your favorite aspect of the game?
Getting to meet all the different people. Having lifelong friends that I've met along the way. I still talk to my high school teammates, and other teammates throughout the years. I go hunting and fishing with a lot of them. So getting to make lifelong friends and memories is for sure my favorite part.
Why did you decide to play for St. Cloud?
I think it was just the best fit for me. How they play, the facilities, the school, and everything. It's been a great fit, and I'm very happy I chose to go to St. Cloud.
How was it playing in the NCAA tournament last year?
It was so much fun, I wish it could've been at full capacity because it would've been a totally different atmosphere. It was still buzzing at 25%, but there's just a different energy to those games. It was probably the biggest tournament I've played in, other than the World Junior A Challenge was pretty big too but not anywhere close to the National Championship.
How is your season at St. Cloud going so far?
I think it's going pretty good. I've had some injuries at the beginning of the first half of the year and I had to fight through those, but luckily that's in the past and I'm 100% healthy now. The last two weekends [were] kind of a little more bitter for me than most people, just because I only played six or seven games this year. But I'm excited for this weekend, and I can't wait to start playing hockey again.
Was it disappointing to have games against Denver and Duluth postponed this year?
Yeah, they would've been fun to play, they're always fun to play against. It kind of stinks because I was excited to finally get to go out to Denver, I didn't go my freshman year or my sophomore year, and last year with COVID we didn't get to go.
Favorite college opponent?
I think UMD, they're such good rivalry games. They're always 2-1, 1-0, low scoring, defensive grinding games.
How did you find out you had made Team USA?
I think it was two Thursdays ago. I was laying in my bed and wasn't feeling too good. Looked down at my phone and there was a missed call from Coach Brett Larson and I was like "Uh-oh, did I do something wrong?" So I called him back and he's like "You want to go to Beijing?" I said, "Yeah, I can't wait, like it's a dream come true. It's something I've always dreamed about since I was little." I'm so excited to be able to go, it's gonna be so much fun.
How exciting is it to have St. Cloud teammate Nick Perbix also on Team USA?
Oh, it's so exciting, he's such a great player. I'm really close to him, so it'll be nice to have a familiar face there, someone to talk to. It's always nice when there's someone to break the ice with in the locker room, someone you know.
Do you know any of the other guys on the roster?
I know Nathan Smith, I played with him up in Canada for the World Junior A Challenge in 2017, when we were all playing in juniors. I know Noah Cates a bit, I trained with him the past few summers. It'll be nice to see those two guys again.
Do you know any of the Gophers on the team?
No (laughs). I've only played against them.
What are some of the rules they have in place in Beijing for the athletes?
I know fans and family can't go, which kinda stinks, just because it would be a cool experience to play in front of them in Beijing. But it is what it is, especially in these times. You never know what's gonna happen. We'll be wearing masks 24/7, getting tested every day. We'll just have to be smart, don't go out around people, but it will still be a great experience.
What are you going to do on your off days?
I'm not sure, I know they don't want us just laying around all day, we gotta get our bodies moving. We'll do a lot of practices and off-ice stuff, so that will take up a lot of time. We get there on the fourth and play on the tenth, so it's a huge time zone change. We'll be pretty tired the first few days, just getting our bodies acclimated to the time zone difference.
What do you bring to the team?
I bring speed and compete, I take great pride in that. I've also worked extremely hard in being a 200-foot player. Coming into my freshman year at St. Cloud, I wasn't as much of a complete player, but I've worked on that. I take great pride in knowing the little details in the defensive and neutral zone.
How do you think Team USA stacks up against other Olympic teams?
I'm not sure, I haven't seen any other rosters, to be completely honest. But we're just gonna go over there and hopefully surprise a lot of people. We're going over there to win Gold and that's our main focus. Bring Gold back to the USA.
What would it be like to bring a Gold Medal back to Minnesota?
It would be a dream come true. Probably the best experience of my life. Something I'll be able to tell my kids about in the future. Whenever that is, hopefully not for a while (laughs).
What's been your favorite Olympic hockey moment?
I think in 2010, the Gold Medal Game when Zach Parise scored. That was awesome to watch. Unfortunately, they lost, but it was great for USA hockey, shows they can compete with anyone in the world.
Were you able to watch the Women's Gold Medal Game during the last Olympics?
I think I had something hockey going on but it was insane. I know they hit the post in overtime, then went to the shootout, which is different than it is over here. It's always great hockey though, doesn't matter if it's men's or women's. It's always exciting because there's so many good players out there playing their hardest.
Ever been to China?
No, I haven't, but I'm excited to see how different the culture is, so it will be a fun experience to just see that. Going to China, Beijing, I never thought that'd be something I'd end up doing, but it's gonna be a reality pretty soon. We fly to LA on the 30th, then fly to Beijing a few days later.
How cool was it to be drafted by the Wild?
It was a great honor, they were my favorite team growing up, and it's something you only dream about, luckily it came true for me. They've been great for me the past few years, and have been helping me a lot. We go through video stuff and summer training stuff, and they teach me different ways to do things. It's really helped me grow my game and become a more mature player for St. Cloud.
Sam Hentges and Team USA start the preliminary round against Team China on Feb. 10th, followed by games against Team Canada and Team Germany. Qualifications start on the 15th, and the gold medal game is set for Sunday, Feb. 20th.