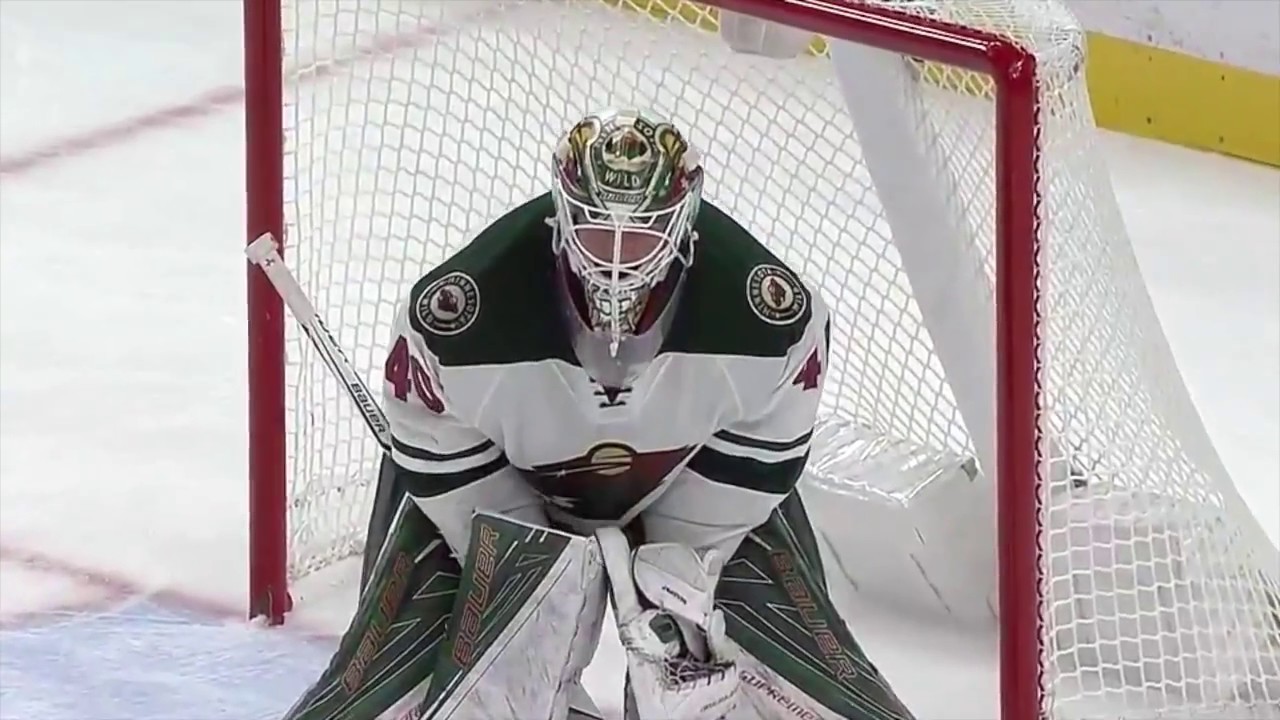 When the Minnesota Wild signed Devan Dubnyk to a six-year contract two summers ago, they were taking a considerable risk.
They were signing a 29-year-old goalie to a six-year contract at a relatively decent cap hit ($4.333 AAV), who had nothing more than an incredible four-month stretch to his name. This featured a .936 save percentage in 40 games after being acquired by the Wild in January 2015. The cap hit was a result of the longer term, but it still remained, this was a huge gamble by Wild general manager Chuck Fletcher. If Dubnyk had reverted to his days as an Oiler -- look at those stats at your own risk -- the contract would no doubt have had a crippling effect on the Wild, who are now crunched to the cap year after year.
But Fletcher had no choice. He had to bring back Dubnyk, the man who single-handedly saved the Wild season in 2015.
The contract was signed, and Dubnyk was entrenched as the Wild goaltender for the next six seasons.
In the two seasons that followed the signing, the Wild have gotten everything they could have hoped for out of Dubnyk. His 132 games played rank first in the NHL -- thanks in large part to his now former backup Darcy Kuemper. He also ranks in the top-five of the other major statistical categories, which are wins (72nd - tied for second in NHL), Goals Against Average (2.29 - third), and save percentage (.921 - tied for third).
https://twitter.com/myregularface/status/911745271465480193
Just to show much value the Wild are getting out of this contract, here is a list of goalies who have signed contracts since January 2015 of at least four years in length and carry a cap hit of at least $4 million per year:
Sergei Bobrovsky, CBJ (signed Jan. 11, 2015) - 4 year, $29.7M (7.425 AAV)
Devan Dubnyk, MIN (signed June 27, 2015) - 6 year, $26M (4.333 AAV)
Braden Holtby, WSH (signed July 24, 2015) - 5 year, $30.5M (6.1 AAV)
Fredrik Andersen, ANA (signed June 20, 2016) - 5 year, $25M (5 AAV)
Jake Allen, STL (signed July 1, 2016) - 4 year, $17.4M (4.35 AAV)
Scott Darling, CAR (signed May 5, 2017) - 4 year, $16.6M (4.15 AAV)
Ben Bishop, DAL (signed May 12, 2017) - 6 year, $29.5M (4.916 AAV)
Martin Jones, SJ (signed July 1, 2017) - 6 year, $34.5M ($5.75 AAV)
Carey Price, MTL (signed July 2, 2017) - 8 year, $84M (10.5 AAV)
As you can see, some of the biggest goaltenders in hockey have had contracts signed during this span. More impressive here, is that Dubnyk's AAV is the second lowest on that list, as only Scott Darling's 4.15 comes in behind him. And Darling is beginning his first season in 2017-18 as a starting goalie (!!!).
To further show how well Dubnyk has done compared to his peers, here is how they all have fared in the past two seasons:
Bobrovsky: 100 GP, 2.31 GAA, .923 sv%, 8 SO, .930 5 on 5 SV%
Dubnyk: 132 GP*, 2.29 GAA, .921 sv%, 10 SO, .931 5 on 5 SV%
Holtby: 129 GP, 2.14 GAA*, .923 sv%, 12 SO*, .933 5 on 5 SV%
Andersen: 109 GP, 2.53 GAA, .918 sv%, 7 SO, .928 5 on 5 SV%
Allen: 108 GP, 2.39 GAA, .917 sv%, 10 SO, .926 5 on 5 SV%
Darling: 61 GP, 2.47 GAA, .919 sv%, 3 SO, .927 5 on 5 SV%
Bishop: 100 GP, 2.24 GAA, .920 sv%, 7 SO, .927 5 on 5 SV%
Jones: 130 GP, 2.33 GAA, .915 sv%, 8 SO, .920 5 on 5 SV%
Price: 74 GP, 2.21 GAA, .925 sv%*, 5 SO, .936 5 on 5 SV%*
* denotes best among the group
Braden Holtby stands out on this list, as he should, seeing he won the Vezina in 2015-16 and came in second in the voting last year. But Dubnyk is not far behind the leaders, and he is doing it at a considerably lower cap hit.
Just to have fun, here is how Dubnyk stacks up with some of the other highest-paid goaltenders in the league the past two seasons:
Dubnyk ($4.333 AAV): 132 GP*, 2.29 GAA, .921 sv%*, 10 SO, .931 5 on 5 SV%*
Henrik Lundqvist, NYR ($8.5M AAV): 122 GP, 2.60 GAA, .915 SV%, 6 SO, .928 5 on 5 SV%
Pekka Rinne, NSH ($7M AAV): 127 GP, 2.45 GAA, .913 SV%, 7 SO, .924 5 on 5 SV%
Tukka Rask, BOS ($7M AAV): 129 GP, 2.40 GAA, .915 SV%, 12 SO*, .924 5 on 5 SV%
Corey Crawford, CHI ($6M AAV): 113 GP, 2.46 GAA, .921 SV%*, 9 SO, .931 5 on 5 SV%*
Jonathan Quick, LA ($5.9M AAV): 85 GP, 2.22 GAA*, .918 SV%, 7 SO, .918 5 on 5 SV%
Huh, how about that? Dubnyk does quite well on this list, too.
To open the 2017-18 season, Devan Dubnyk's $4.333 million AAV is the 20th-highest among NHL goaltenders. Yes, twentieth, you read that right. Performing right with the league's best, Dubnyk has given the Wild great value from his position, while not crushing them on the salary cap.
Imagine if Dubnyk's cap hit was higher. It would have heavily impacted roster decisions the past two summers, which have included big contracts handed out to Jared Spurgeon, Mikael Granlund and Nino Niederreiter. Do those players and their extensions get fit under the cap if Dubnyk was being paid like the Quicks and Crawfords of the world? Do the Wild even get to sign Eric Staal?
Dubnyk will play this upcoming season as a 31-year-old (32 in May). Barring injury, and maybe a few more nights off if the Wild can find a capable backup, you should expect him to give the Wild a couple more good seasons before Father Time starts to creep in and you begin to see a decline, which would get you to the final two years of his contract. Also by that point, the salary cap might have gone up a bit more, which would further add value to his contract.
While some contracts, both long ago -- see: Torrey Mitchell and Darroll Powe -- and more recently, have been questionable from Fletcher, he seemingly has hit the jackpot on this deal with Dubnyk. Paying Dubnyk slightly below league average at his position, while getting top production from him, has allowed the general manager to have a little more cap flexibility which has enabled him to put together a roster that will no doubt be competing for a top spot again in the Central Division this year.
Because when you see goalies making seven, eight and even $10 million on the cap every year, you really are handcuffing yourself. Be glad the Wild aren't one of those teams. They're almost lucky at this point, really.
Stats in this post courtesy of NHL.com and Natural Stat Trick. Salary Cap Numbers in this post courtesy of CapFriendly.
Never Miss an Episode of Giles & The Goalie!