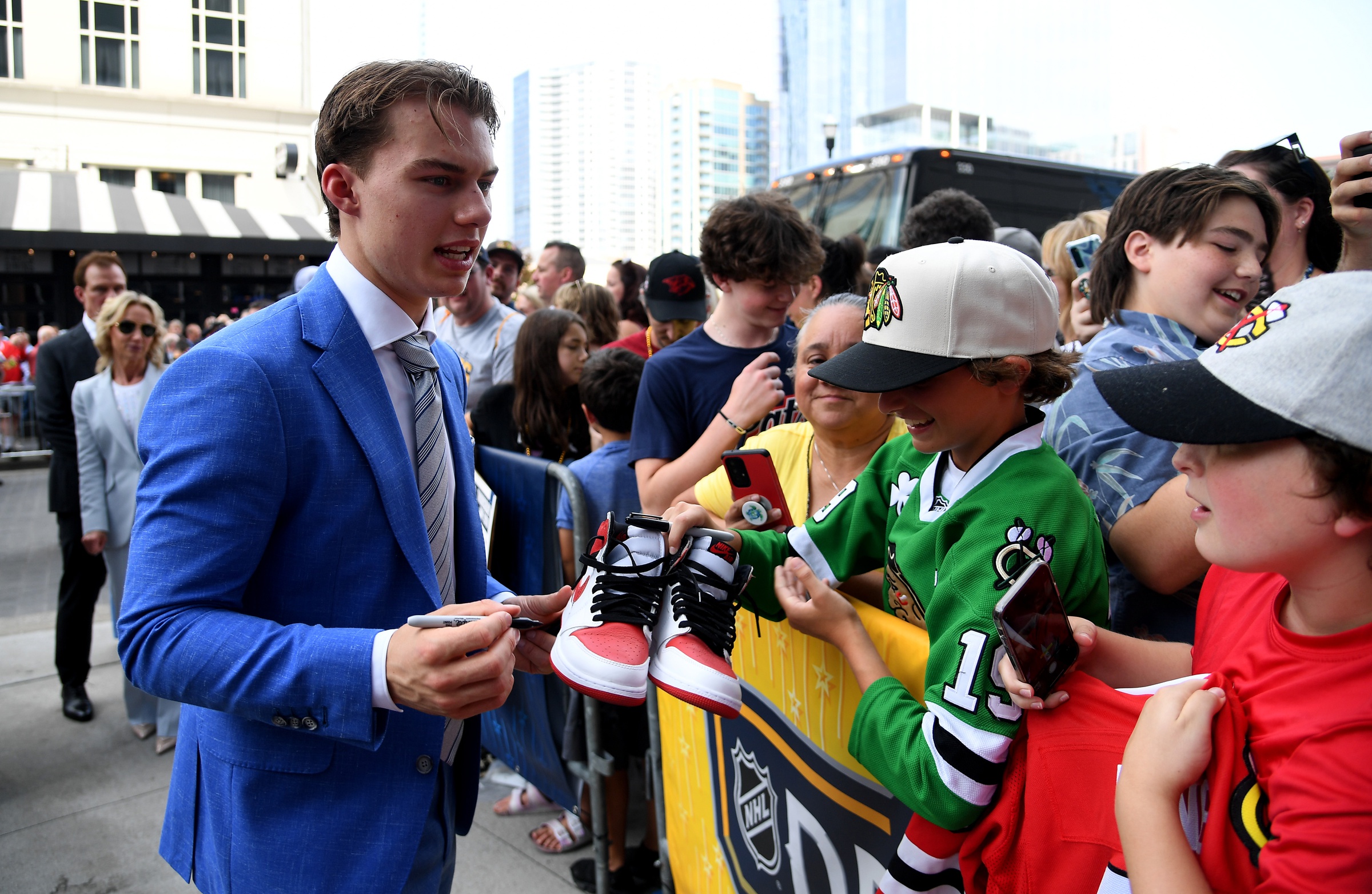 Image courtesy of © Christopher Hanewinc - USA TODAY Sports
Hockey is so back, baby.
While we are still a few days away from the Minnesota Wild officially opening training camp, their upcoming rookies and prospects will be taking place in the Tom Kurvers Prospect Showcase this weekend at TRIA Rink in downtown St. Paul. It's an excellent opportunity to catch a glimpse of the Wild's future.
And it's not without some serious on-ice competition. It's not just the Wild prospects on the ice who will be competing against each other. Minnesota is also welcoming the St. Louis Blues and Chicago Blackhawks to the State Capitol this weekend. All the top prospects from each team are competing on the same sheet of ice in what should be a really fun weekend.
And by all accounts, the Blackhawks took that maybe a little too literally.
In a somewhat shocking announcement, superstar center Connor Bedard is headlining Chicago's roster in the tournament. For a guy heralded as the best prospect since Connor McDavid, it was a little surprising to find out that Chicago would be asking their best player to join the rest of the prospects for a quick trip to Minnesota just before training camp opens.
But for Wild fans, the opportunity to see Bedard on the same ice as his peers should be an absolute treat. (You can watch the games here.) Let's just hope we don't become too enamored by Chicago's shiny new toy this weekend.
Plain and simple: Bedard should stand out far and above his fellow prospects this weekend. There is a real possibility Bedard has at least four goals, and maybe more, in his two games. He may also have a handful of near-misses that will still make the highlight reel. Because that's the player Bedard has been for nearly his entire life. When judged in comparison to players of similar age, the Vancouver native absolutely dominates.
And inevitably, following Bedard's eventual dismantling of Minnesota's best prospects this weekend, many will again say that you can't win a Stanley Cup unless your favorite team stinks for a few years and lands a couple of top-5 draft picks.
Let's all band together and agree not to utter such hot takes by Sunday evening, okay? Please? Because while drafting players in the top-5 certainly helps your case to be a Stanley Cup contender, the process of getting there just flat-out sucks.
If there is one thing about the Wild franchise over the past decade you can't deny, it's that each and every new season has brought a reasonable amount of excitement. And that excitement, in all but one season, has stretched into April every time.
Sure, the first-round exits have grown more and more infuriating. But at least the franchise has given its fans reason to be consistently excited for over a decade. Go ask any Chicago fan how their last six years have gone since they last made the playoffs (excluding the 2020 bubble). And that's just what's happened on the ice.
Since being swept in the first round of the 2017 playoffs, Chicago has won more than 35 games only once. Their best finish in the Central Division over those six years? Sixth. For six straight years, Chicago fans have been able to check out on their team from Thanksgiving on, outside of a worldwide pandemic, creating a unique "everyone's a participant" postseason in August 2020.
As a fan, that sounds brutal.
Sure, after spending half a decade in the NHL's cellar, Chicago can now claim that their future looks as bright as ever with Bedard as their centerpiece. But all those dismal seasons leading to drafting Bedard doesn't mean the pain is over. Because that's where the NHL differs from, say, the NFL – where one star quarterback can be the difference in winning a Super Bowl.
Just ask the Buffalo Sabers. They've been in rebuild for what has seemed to be two entire decades. Ask their fans if they would trade the past ten years of their existence for the last decade enjoyed by Wild fans. I'm sure they'd jump all over it.
Or for even better comparison, go ask an Edmonton Oilers fan how many cups they've won from all those first-overall picks since 2010. (Spoiler alert: it's the same amount as Minnesota.) Drafting multiple players inside the top-5 is certainly helpful to building a cup contender, but so much more is involved.
The Wild are heading down the right path. They have their superstar scorer in Kirill Kaprizov. They have a strong group of prospects on the cusp of making a meaningful impact. And while fans may not agree on every move a general manager or head coach makes, the evidence is there that Minnesota has the right leadership in place to lead them back to Cup contention.
All of this is just a gentle reminder for fans after Bedard scores three goals from behind the goal line on Jesper Wallstedt this Sunday. I'm only half joking with that prediction because he is that special, that exciting, and that much better than every other player who will touch the ice this weekend.
Just don't forget the amount of pain and suffering fan bases go through to get a player such as Bedard. And then ask yourself: Is it even worth it?