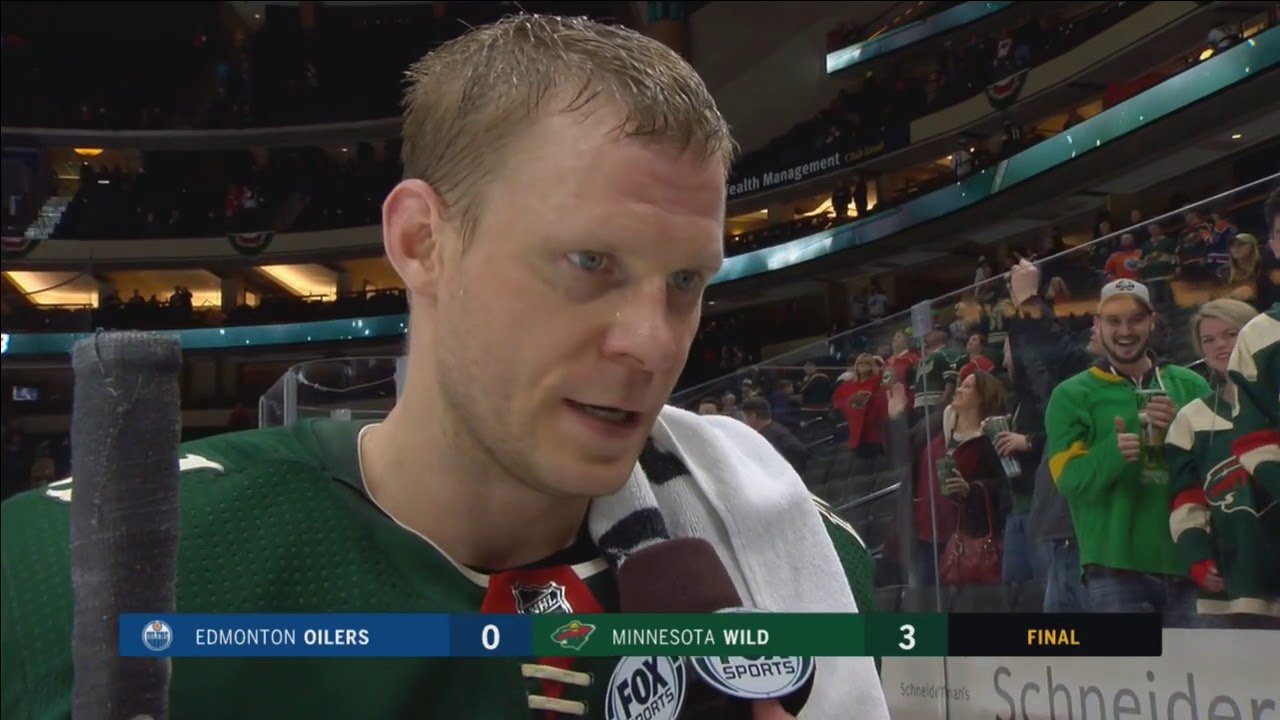 The Minnesota Wild took care of business on home ice, and everything else lined up for the Wild to clinch their sixth-straight trip to the NHL Stanley Cup Playoffs.
The Wild did their part with a 3-0 shutout of Edmonton. With wild-card contender St. Louis losing to Washington, the last puzzle piece was a Colorado loss. The Avalanche lost 3-1 in Los Angeles late Monday night.
In the postgame press conference after the Wild's victory Monday, Boudreau was essentially asked if he would be scoreboard watching to see if his team clinched a spot. He's not sure how all the math works out, he said, with the clinching scenarios. Though he added he planned to go home and was the Los Angeles-Colorado game.
"I'll just wake up in the morning and hope to see an X beside the [team] name," Boudreau said.
Minnesota (44-25-10) has 96 points and sits in third place in the Central Division of the Western Conference. If the standings stay as they are, the Wild would face the second-place Winnipeg Jets in the first round. The Jets are 49-20-10 with 108 points. Both clubs have three games remaining on the regular-season schedule.
The Wild are 1-3-0 against the Jets this season, with their lone victory coming in their series finale, 4-1 on Jan. 13. One of their more lopsided losses of the season came in Winnipeg at the end of November in a 7-2 decision.
The Wild are led by Eric Staal with his 40 goals and 74 points, Mikael Granlund (20-44—64) and Jason Zucker with 31 goals and 30 assists. They'll be without top defenseman Ryan Suter for the rest of the season after he sustained a lower-body injury over the weekend in the Dallas game. He'll have surgery on his ankle.
It's also the second consecutive season the Wild will be led to the playoffs with Boudreau behind the bench. In his time coach in Washington, Anaheim and now Minnesota, Boudreau's teams are postseason regulars.
The only time he missed was the 2011-12 season when shifted from coaching Washington to Anaheim. He has a 42-43 record in the playoffs to go with his 502-242-98 regular-season coaching record.
The Wild are coming off a pair of first-round playoff exits to Dallas (4-2) and then to St. Louis (4-1) last year. In 2014-15, the Wild beat St. Louis 4-2 before getting swept by Chicago in the second round. Chicago took care of the Wild the two seasons before that as well.
Minnesota's most successful run was back in 2003 when they made it all the way to the Western Conference Finals but lost to Anaheim.
---
Stay up to date on the Wild with the Giles & the Goalie Podcast!