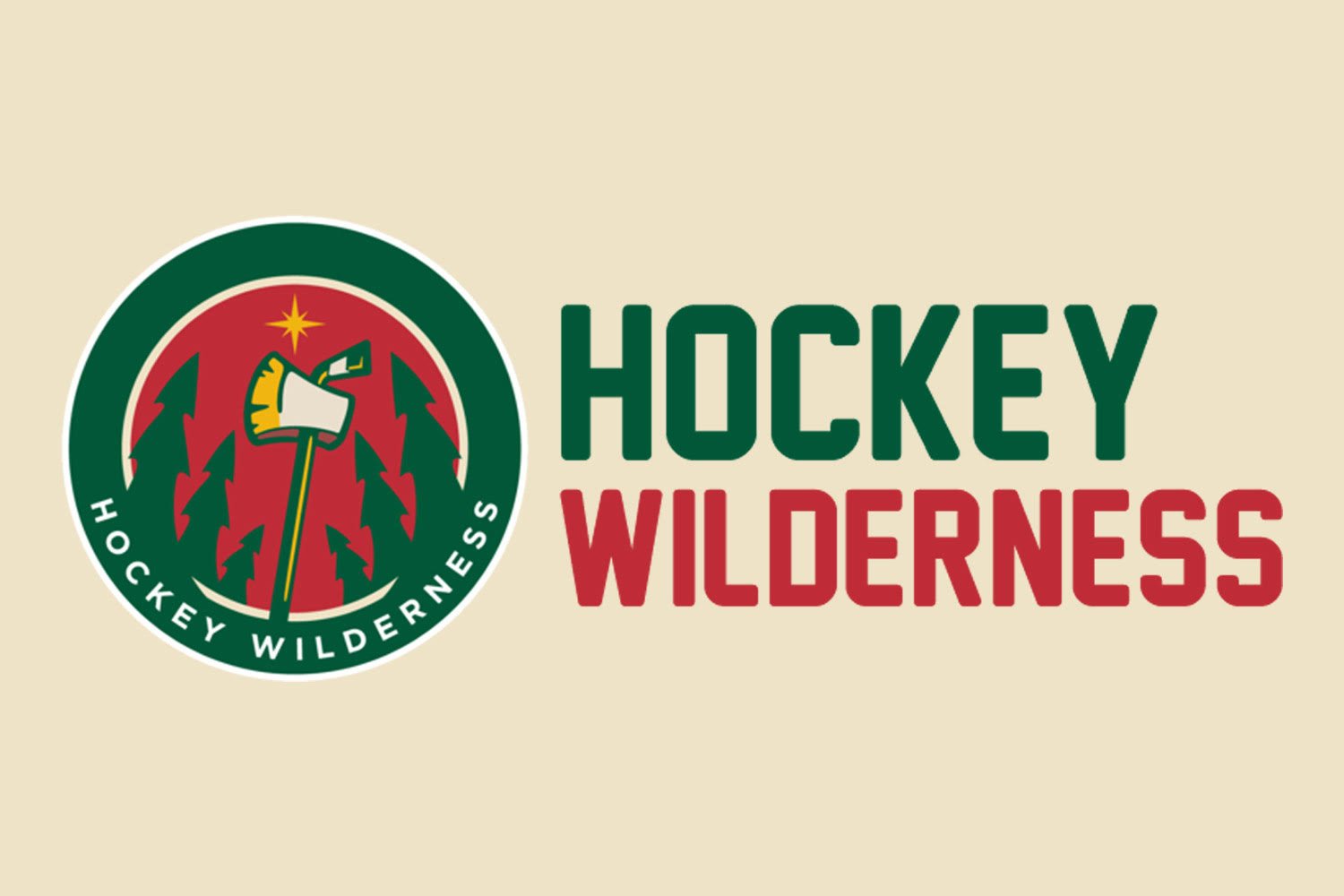 Last night was, by most accounts, a good game from the Minnesota Wild. There were periods of solid possession in which the Vegas Golden Knights were trapped in their own zone, and even the NBC play-by-play announcer noticed the Wild's stifling defensive zone coverage.
Unfortunately, this wasn't enough tonight. Maybe it was bad luck, maybe it was Marc-Andre Fleury, or maybe it just wasn't our night tonight. The Wild owned 5-on-5 shot attempts, shots on goal, expected goals (Per MoneyPuck.com), they took only two penalties and gave the puck away less than Vegas. After racking up 3.04 xG (expected goals, which estimates how many goals the team "deserved" based their scoring chances' shot location data) the Wild had to leave the building wondering how they only scored once.
This graph is from MoneyPuck's website, showing the Wild's scoring chances in green and Vegas's scoring chances in brown (gold?). It ignores Vegas's empty-net shot attempts, which inflate this statistic because of the score affect (meaning that empty-net shots are estimated to be more likely to become goals, which is less predictive of long-term success because the game is played at 5-on-5 most of the time). It also ignores power play scoring chances, so it conveniently ignores Vegas's bogus last-minute power play. If you want to assign blame for the Wild's loss, it's pretty clear that they lost their stranglehold on the game right after scoring their first goal.
The goal came on a well-placed wrister from Matt Dumba at the point, and likely beat Fleury due to the screen in front. This was an excellent screen set by Foligno, after a heavy shift in the offensive zone. It was a great night for this line, who used their elite forechecking to dominate scoring chances, racking up 82% of the expected goals between both teams while all three were on the ice.
Right as the Wild had its fans dreaming of a 2-0 series lead coming back to home ice, Jonathan Marchessault evened the game off of two Wild errors. The first was an ugly turnover by Marcus Johansson, and the other was Brodin's technique on the zone entry.
Number 25 usually prefers to allow zone entries and then limit opponents to the outside, rather than making an aggressive play to turn the puck over or force offsides at the blueline. This was scouted by Dylan Fremlin in his most recent article about Brodin.
In most cases, this works very well, but in this case Brodin ends up too deep and has to over-correct to the inside, leaving space for Marchessault to put the puck on his forehand at the faceoff dot and rifle it past Talbot. While Talbot did have a clean look at the shot, most NHL players are exceptionally dangerous from that close to the net if they have time to pick their shot.
Five minutes later, with the Wild having showed no offensive response since Vegas's first goal, Vegas potted another goal from behind the net. Talbot doesn't see the shooter because he tracks the puck behind his own net. When the pass comes, he attempts to deflect it to the corner with his stick, but barely misses. This opens the other side of the net for Alex Tuch, who scores on Talbot's blocker side.
Part of the blame here can be placed on the defensemen, Suter and Spurgeon, who both decide to follow the puck behind the net in spite of the threat of a Vegas player driving the net. Typically, only one player should venture behind his own net unless the opponent sends three players behind the net to overload that area, and center Ryan Hartman (whose responsibility would normally be to cover the net front for the defensemen if both do have to chase behind the net) is the last Wild skater to return to the play. It's a bit more complicated than that due to the quick nature of Vegas coming in on the rush, but overall the play seems to have a few small mistakes on a tough play rather than anything glaring.
Once the third period rolled around the Wild began to generate offense again, and the game became quite testy at times.
This scrum sent to Pietrangelo and Dumba to the box and opened the game up to two minutes of 4-on-4 hockey. The Wild took advantage of the open ice, racking up a few significant scoring chances. Unfortunately, none of them found their way past Fleury, including this Kevin Fiala one-timer.
Fiala was a man possessed tonight, pushing the play north and stickhandling his way into Vegas's zone. To a large degree, he had to do a lot of the work himself, as linemates Marcus Johansson and Victor Rask were stickhandling worse than Jaime Lannister post hand-ectomy.
Free Kevin Fiala. He's Minnesota's second most-skilled forward, but it's been apparent all year that he can't drive a line all on his own. He plays a good defensive game on the wings, he turns north faster than perhaps even Kaprizov, and he sets up teammates with open looks on which they don't even hit the net. He's also a very fiery, competitive player prone to frustration, and head coach Dean Evason needs to give him a competent line-mate and reasonable scoring matchups in the next two games at home.
Burning Questions
How do you solve a problem like Marc-Andre?
Tonight, it turns out you don't. Sometimes a player like Fleury just steals the game - were it not for Talbot in game 1, he would've stolen that game as well. He's hot, but a hot goalie is not as dependable as the old adage goes. Hopefully a combination of regression and net-front hockey can put some pucks past the Flower in the next few days.
Can the Wild avoid penalty problems?
Tonight, the Wild were in a deathmatch with Vegas in which the refs seemed to swallow their whistles. For example, Zuccarello was blatantly tripped in the offensive corner but the refs allowed the game to continue.
Overall, the Wild did a good job of avoiding the box, killing off the first Vegas power-play. Vegas's second power play did score, although with less than a minute remaining in the game it's likely that Minnesota's penalty killers had their eyes on scoring a shorty to tie the game.
Can Minnesota improve at the dot?
No, they did not. The team was 40% in the dot, nearly identical to game 1's paltry figure. While Hartman and Bonino were able to muster positive nights in the dot, part of that came at the expense of Nick Bjugstad. Bjugstad takes draws in certain situations because he's a righty, but also takes draws whenever Bonino is kicked from the dot. Factoring in Bjugstad's 1-4 record, his line with Bonino lost more than they won. Eriksson Ek won only 40% of his draws, but at least he was able to produce offense in spite of a negative faceoff night.
A real problem for Minnesota in the dot is Victor Rask. He's still being dressed likely because he's a traditional center, but he went an abysmal 2-10 in the dot. He defends surprisingly well according to most analytics but I rarely see him making defensive plays, so perhaps he's a system fit. He skates slowly, flubs passes to his teammates, flubs their passes to him, and somehow gets attached to star winger Kevin Fiala after failing to notch a point in 19 games while centering Kaprizov and Zuccarello and playing on the top power play unit. Johansson had a bad night as well, but at least he's a speedster.
If Rask can't win draws or produce while attached to the Wild's best players, it begs the question of whether Matt Boldy or Zach Parise could do the same. You can't use the "he's a natural center" excuse anymore - it's like if a beer leaguer said the same thing and Evason put him in to take faceoffs every night. Lineup changes may be needed here, and I question whether Evason has the confidence (or just the understanding of what drives this team) to break up chemistry in favor of finding something better.