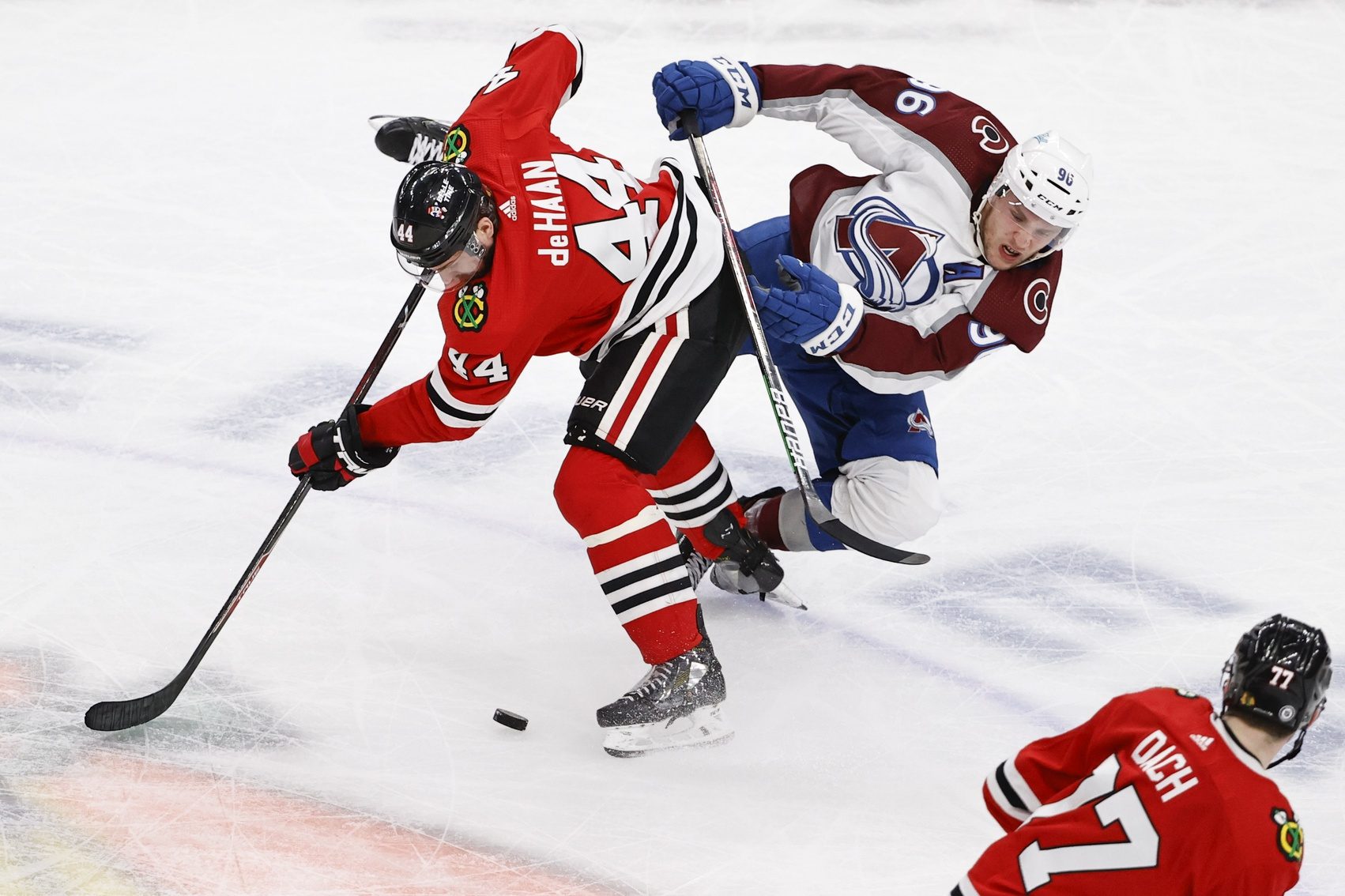 The NHL's March 21 Trade Deadline is still over two months away, but the rumor mill is starting to ramp up. On Wednesday, we saw the first potentially impactful trade since Jack Eichel's move to Vegas, when the Pittsburgh Penguins acquired Alex Nylander from the Chicago Blackhawks.
The Blackhawks are one of several teams with no hope of competing this year. They're 11 points back of the Edmonton Oilers for the second Wild Card. No one expected them to compete, and they're happy to tank for draft picks. So it's not surprising that they're open for business.
Part of being a disastrous team is that you don't have many trade assets, and well, Chicago fits the bill. Defenseman Calvin de Haan is apparently one of the few tradeable players drawing interest, though. The Fourth Period is reporting that he's attracting suitors, including the Minnesota Wild (?).
The question of whether or not the Wild should trade for de Haan is easy: They probably shouldn't. de Haan spent his early and mid-20s as a solid defensive defenseman for the New York Islanders and Carolina Hurricanes. Since joining Chicago, he's still been solid defensively, but his offense is non-existent now. He has one point in 29 games (despite nearly 19 minutes a night), and his underlying numbers back that up.

Focusing on de Haan obscures a bigger question, though: Why does Minnesota want to trade for a defenseman?
Ask a Wild fan to list Minnesota's needs, and "a depth defenseman" might be the last thing they mention. When healthy, their top-4 is high-end. Dmitry Kulikov and Jon Merrill are a solid third-pair. Rookie Calen Addison is waiting in the wings.
And also, have you seen the rest of the team? Are the Wild willing to roll the dice with Ryan Hartman, Joel Eriksson Ek, and rookie Marco Rossi at center come playoff time? How about a goaltending tandem of 34-year-old Cam Talbot (.909 save percentage) and Kaapo Kahkonen (.906)?
If you think either spot is an opportunity to upgrade, impact players will be available. Chicago's got Marc-Andre Fleury in net, who led his teams to the Conference Finals or beyond in three of the past five years. Potential center trade targets include Claude Giroux, Joe Pavelski, and Tomas Hertl. This isn't a "Settle for Martin Hanzal" trade deadline.
Bill Guerin probably has to choose his upgrades carefully, too. Minnesota can take on around $4 million in cap space, according to CapFriendly. That can probably get them a player with some creative accounting, but just one. Acquiring a defenseman will probably wall off the opportunity to get someone else.
So with all that in mind, why waste time inquiring about defensemen?
Well, for one, the Wild's vaunted defense has a lot of cracks in it lately. Typically, Minnesota's defense is one of the two best in the NHL at limiting expected goals at 5-on-5. Their average ranking in that category over the past nine years is 2.3.
This year, they're tenth, conceding 2.30 expected goals per hour at 5-on-5. That doesn't sound terrible, but it's a significant drop-off, especially in the past six weeks. The Wild have allowed 2.68 expected goals per hour since Nov. 20, 24th in the NHL. By virtually every metric, Minnesota's a bottom-10 defensive team.
You could point out that these are entirely due to injuries to Jared Spurgeon and Jonas Brodin. That's correct. If you look at Minnesota's defensive metrics before Spurgeon's Nov. 20 injury, they're second in expected goals allowed, with under two per hour. So why wouldn't the Wild just ride out this injury stretch and let a full-strength defense get back to doing its thing?
The reason is simple: Minnesota can't afford to let one or two players' absences tank the team. If the Wild can't play defense or move the puck without Spurgeon or Brodin, that's a significant problem.
Especially when both players have been injured at crucial times before. Spurgeon had a three-year run of durability, but he reliably missed about 10 games per season before 2019. Brodin has a similar history, and the Wild saw what happened when he left Game 7 against the Vegas Golden Knights early. The shadow of COVID also means that anyone could disappear from the lineup at a moment's notice.
Minnesota has a backup plan for a Spurgeon (or Matt Dumba) injury in Addison. They don't have that for Brodin. Merrill and Jordie Benn aren't suited to moving up in the lineup. They don't have NHL-ready left defensemen in the minors. So picking up a veteran defenseman capable of top-4 minutes makes sense as Brodin insurance.
It could also help with their goaltending situation, perhaps even more reliably than trading for a goalie. Minnesota could upgrade in net, but goalies are notoriously fickle. For instance, if the Wild traded for Fleury, he might go on a hot streak that carries Minnesota to a Cup Final. He could also very easily post a mediocre .909 save percentage in a first-round ouster. He did it in both the 2019 and 2020 playoffs. And that's before taking his age (37) into consideration, or, say, a positive test before Game 1 of a playoff series.
A goalie isn't often a missing piece for Cup contenders. The St. Louis Blues learned that the hard way in 2014 when they went all-in on Ryan Miller as a rental. Miller was a solid goalie but laid an egg in 25 games in St. Louis. It happens.
So should Minnesota go all-in on a goalie, or should they just fortify the ones they have and hope for the best? It's a tough call, as neither Talbot nor Kahkonen inspire a lot of trust. But you can count on a good defensive defenseman providing defense over a 40-game sample a lot more reliably than you can an aging goaltender holding up your playoff hopes.
We may learn very soon whether the Wild can focus on upgrading their goal prevention, as opposed to their goal-scoring. Top prospects Rossi and Matt Boldy make their debuts tonight. If they show right away that they're ready to contribute offensively, then Minnesota may not need to add a forward. A fully healthy forward core would include Kaprizov, Eriksson Ek, Rossi, Boldy, Kevin Fiala, and Mats Zuccarello in their top-9. That's potentially three lines of real firepower there.
But of course, that's if everyone stays healthy. As we've seen this season, that's far from guaranteed. There are many factors to consider for Guerin going into the trade deadline. He likely has one big move to make. Not only does he need to get the right player, but he must also invest in the right position. Could that be on the blue line? It seems nuts, but there's a compelling case for doing just that.
All data from Evolving Hockey unless otherwise noted.