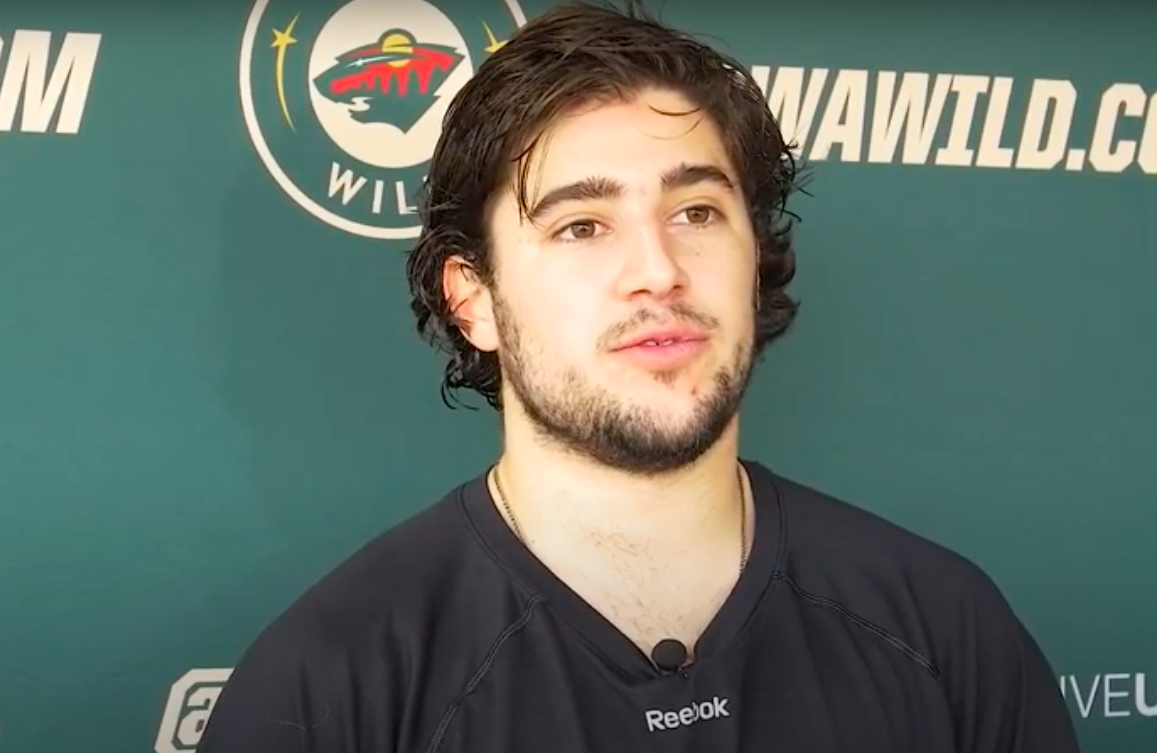 The Minnesota Wild announced their 31-player playoff roster on Friday. With the pandemic necessitating eight more slots than normal, plenty of Iowa Wild farmhands are along for the ride. These range from prospects like Brennan Menell to grizzled veterans like Matt Bartkowski.
In fact, Minnesota cut just three players they brought to training camp: Calen Addison, J.T. Brown and Sam Anas. Most fans will know Addison from being the principle piece in the Jason Zucker trade. Many will recognize Brown from his 56 games in Minnesota last year, or his standout career at UMD.
But unless you're a hockey nerd or a resident of Des Moines, you may not know Anas. He is a lesser-known college free agent out of Quinnipiac, and his 5'8" stature made him a long-shot to become an NHL regular. He just turned 27, meaning he's too old to be considered a prospect.
But in college all Anas did was score goals. He eclipsed 20 goals in each of his three seasons at Quinnipiac. After a 28-point rookie season in Iowa, Anas started showing that scoring touch at the pro level. Anas scored a then-franchise record 26 goals in the 2017-18 season, adding another 35 assists to his total.
Anas' numbers dipped the next year, but he came back with his finest season yet. He formed an elite battery with Gerry Mayhew and the two terrorized the league. Mayhew led the league with 39 goals and Anas chipped in 20 tallies while leading the AHL with 70 points. Anas was recognized in the postseason awards, making the All-AHL team.
None of this has mattered, though. The fact that Anas racked up 169 points in 193 games over the past three seasons? That hasn't gotten him into an NHL game. What about the praise he's earned from his coach, Tim Army? The decision makers in St. Paul — including three separate general managers and two coaches — still don't believe in Anas.
And now comes perhaps the biggest insult to Anas yet. Not only did linemate Mayhew make Minnesota's postseason roster, so did many teammates who were less productive than Anas. Nico Sturm and Luke Johnson had 32 and 31 points, respectively. They'll both travel to Edmonton with the team. Remarkably, Kyle Rau, who is also 27 and 5'8", made the roster after a 43-point season.
This isn't to disrespect any of the players who made the Wild's roster. They all had fine seasons. But Anas has been, at worst, Iowa's second-best player these past three years. In all that time, not once has the organization rewarded him with any kind of chance in the NHL.
It would be one thing if there were no cases of small AHL stars succeeding in the NHL. Rocco Grimaldi scored 46 goals and 86 points in 121 games between the 2016-17 and 2017-18 seasons. He's now a fine secondary scoring piece in Nashville, coming off a solid 31-point year for a playoff team. Not bad for a 5'6" player
Despite putting up excellent AHL numbers, 5'9" Yanni Gourde didn't get a shot in the NHL until his age 26 season. Gourde had a down year (10 goals, 30 points) playing limited minutes in a deep Tampa Bay lineup. But in the two seasons prior, he was excellent, scoring 47 goals and 112 points.
And there's Jonathan Marchessault, the poster child of what can happen when you give a small AHL scorer a chance. The 5'9" Marchessault racked up three 60-point seasons in the AHL. Yet he played so few NHL games for Tampa that he became an unrestricted free agent at age 25. Florida scooped him up and he immediately scored 30 goals for the Panthers.
But even after a 30-goal season for them, the Panthers didn't even believe in him! Florida gave Marchessault away in the Vegas Expansion Draft, adding him as a sweetener to take Reilly Smith's contract. Marchessault went on to score 181 points in 225 games for Vegas these past three years, which ranks in the NHL's top-50. That's a top-line winger two teams gave up on, despite demonstrable success in the AHL.
It's not like Minnesota never could have used Anas, either. Yes, it's true that Minnesota has been deep along the wings, but that doesn't mean there wasn't ever room for him on the roster.
Over the past three seasons, Pontus Aberg, Kevin Fiala, Jordan Greenway, Matt Hendricks, Luke Kunin and Victor Rask have all had seasons where they were below replacement level. Wingers like Brown, Zack Mitchell, Matt Read and Chris Stewart also had seasons where they made a negligible positive impact.
This isn't to say all those players should have been benched for Anas. There are plenty of developmental players like Fiala, Greenway, and Kunin who the team probably should have played. But plenty of those names were fairly underwhelming NHL veterans. Was Anas never a better option over any of these names?
Minnesota was in desperate need of a right-shot forward who could play the power play. The only right-shot forwards that could possibly fit the bill in that time were Kunin and Charlie Coyle. Neither made an impact in that role. It is beyond belief that Anas was never deemed worthy to play a single game in the NHL.
None of this is to say that Anas is a surefire NHL player. It's very possible that Anas is a very good AHL forward, and nothing more. There are plenty of players who can put up numbers in the AHL, but struggle against bigger, faster NHL competition.
But we'll never know whether Anas can be a productive NHL regular. Minnesota never gave him a chance, despite Anas earning one with his play in the AHL. If there was any hope that Anas would find himself in even one NHL game with the Wild, that was dashed on Friday. For the sake of Anas, he has to move on and find another organization to call home.
Hopefully, Anas can go somewhere he can finally get the NHL debut and chance he has earned.