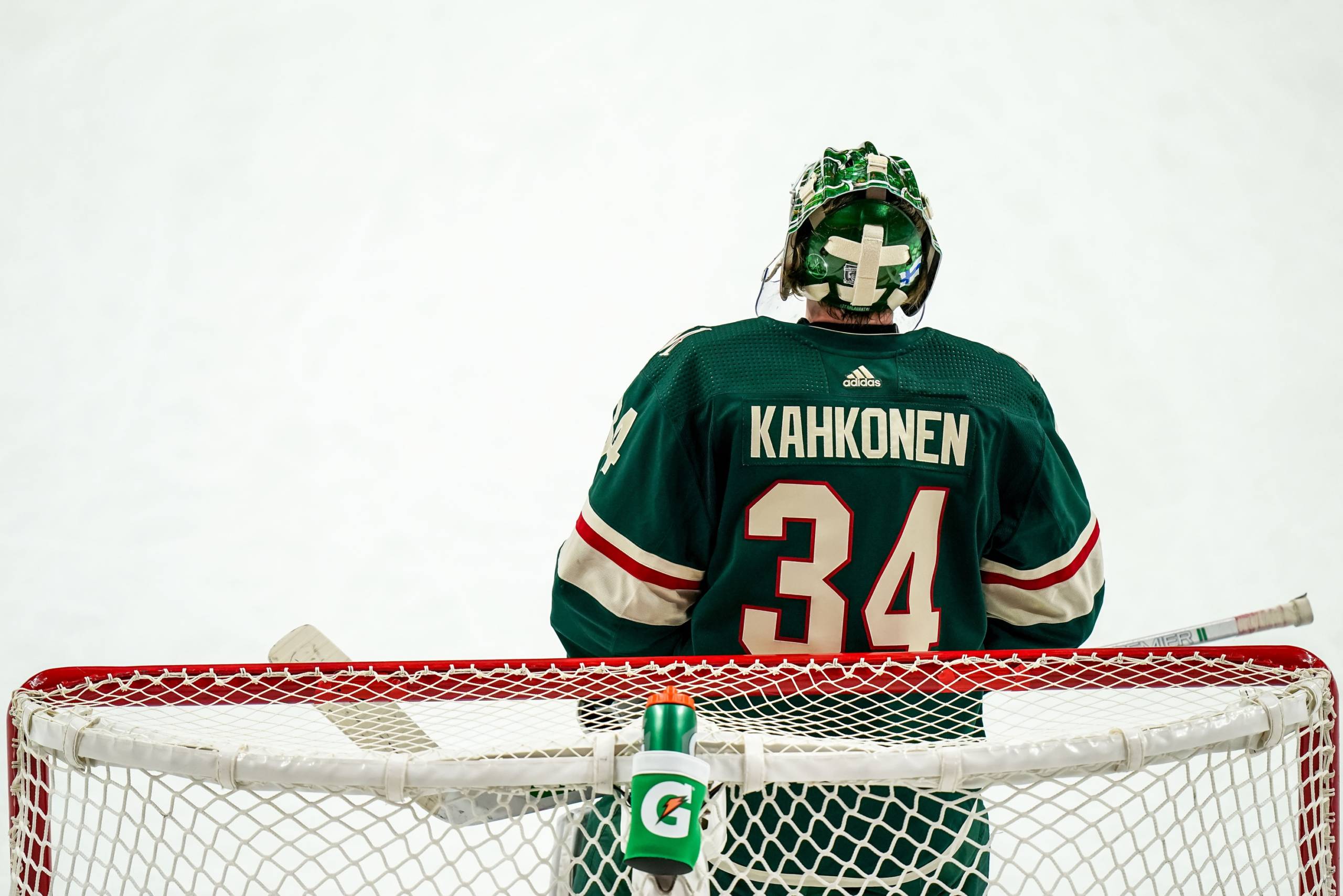 There was a long stretch of games last season where it appeared as though the Minnesota Wild maybe had their goalie of the future between the pipes.
Kaapo Kähkönen won nine straight games from late February to mid-March, and it felt like he was poised to take over the reins in the near future. The early-season winning streak was just one example of his strong play that he has shown flashes of, which make him look like Devan Dubnyk's successor as Minnesota's goalie of the future.
The rookie had impressive numbers on his improbable run. He posted a .948 save percentage and saved 6.33 goals above expected, which takes into account the quality of shots he faced. This is why it was disappointing when the Wild's protection list was released without Kahkonen's name present, meaning his future in Minnesota is in jeopardy. The disappointment doesn't come from him being discluded from the list. Rather, his performance this season, the uncertainty of his ceiling, and the current goalie situation have led to this unfortunate result.
Why would the Wild expose their young goaltender rather than offering up Cam Talbot, who recently turned 34?
One of the biggest reasons is that many people carry doubts about the former AHL Goalie of the Year. It's not completely shocking, given his inconsistency and scattered performances throughout the season. While he has shown spurts of legitimate potential, they can't justify protecting him over Talbot.
According to Michael Russo of The Athletic, Bill Guerin attempted to acquire Tristan Jarry from the Pittsburgh Penguins in the original Jason Zucker trade. I highly doubt a first-year general manager tries to acquire a young up-and-coming goalie if he believes the one in his system has starting upside. Likewise, he wasn't given an opportunity in the bubble to be an X-factor despite the Wild having arguably the worst netminding tandem in the league with Dubnyk and Alex Stalock. Sure, it's reasonable that they didn't want to throw him out there in the playoffs, but it was a missed opportunity nonetheless.
Scott Wheeler of The Athletic likes what Kähkönen has but doesn't see much from a talent upside. According to his annual prospect pool rankings, Kähkönen has the potential to be an excellent backup in the future.
Talbot may be on the wrong side of 30, but he established himself as a legitimate starter and provided the Wild with much-needed consistency for almost the entirety of the 2020-21 season. From a financial standpoint, he has two years remaining on a nice team-friendly deal. I don't know if this is a factor, but Kähkönen will be a restricted free agent next summer with arbitration rights, and the Wild may be thinking ahead, given their gloomy cap situation in the next couple of years.
Another reason could be the uncertainty surrounding his replacement. Giving Kähkönen the reins next season isn't the best idea, so they naturally need to find their next Talbot in goal. The options in free agency would include Tuukka Rask, Frederik Andersen, Antti Raanta, Philipp Grubauer, Petr Mrazek, David Rittich, Linus Ullmark, and Jaroslav Halak.
Not all of these goalies are guaranteed to reach the open market, so the goalie pool will likely get even smaller. It's hard to believe most of these guys would command a contract with a lower AAV that carries less term. The Wild don't have the cap space now or in the coming years to pay more than what Talbot is currently getting now. Beyond those high-profile goalies, there's no promise that a depth option or one of the lesser names can provide what Talbot did this season, either.
Talbot finished the season with a .915 save percentage, 6.51 goals saved above average, and -6.73 goals saved above expected. It's important to note that his below-average GSAx is derived from a poor run down the stretch. He was among or near the top ten for the majority of the season. It proved to be just a poor stretch of games as his stock definitely rose from a strong performance in the postseason. He posted a .923 save percentage and saved 1.78 goals above expected, which was the seventh-best among goalies in the postseason.
Looking at potential options available at Seattle's disposal, how likely is it that they take Kähkönen?
Best options: Braden Holtby, Kahkonen, Vitek Vanecek, Chris Driedger (UFA), Andersen (UFA), Mrazek (UFA), Rask (UFA), Halak (UFA), and Raanta (UFA)
Overpaid/expensive veterans past their prime: Jonathan Quick, Matt Murray, Mikko Koskinen, Martin Jones
Injury Concerns: Carey Price and Ben Bishop
Possible Depth Options: Collin Delia, Malcolm Subban, Marcus Hogberg (RFA), Carter Hutton (UFA), Jonathan Bernier (UFA), James Reimer (UFA), Rittich (UFA), Dubnyk (UFA), and Laurent Brossoit (UFA)
For those who claim there was no chance Talbot would have been picked if exposed, this is evidence to the contrary. Aside from the UFA and overpaid veterans, there aren't many attractive options, and there's a good chance they would have taken him given his productive season and team-friendly deal. That is exactly why Ryan Clark of The Athletic selected Talbot in their mock expansion draft before protection lists were revealed. Aside from likely taking Driedger from the Florida Panthers, they will probably stay away from taking an additional UFA goaltender.
It might come down to whether the Kraken wants Kähkönen or Vanecek of the Washington Capitals. The Caps have many better skater options than the Wild when looking beyond the two young goalies, so it's not looking like it will go in their favor if they are hoping Seattle plucks Carson Soucy. Assuming they steer clear of the depth options and overpaid veterans, the crop of goalies becomes vastly smaller. There is a lot of defensemen available that could result in the Kraken taking Kähkönen. On the other hand, they could opt to take a look at Soucy, given he's only 26 with a relatively affordable cap hit.
Either way, the Wild are looking very good.
If there is one takeaway from all of this, it is the fact that this exposes the Wild's organizational depth hole at goaltending. If Kähkönen is selected, they will need to figure out a plan for the future as there will be even more uncertainty in the crease.
Protecting Talbot is probably the right decision, but it still carries a degree of risk because Kähkönen could overcome the odds just like Alex Tuch did with an elevated role with the Vegas Golden Knights. It would become the second painful casualty in expansion for the Wild.
All Data Via Evolving-Hockey & Hockey-Reference.