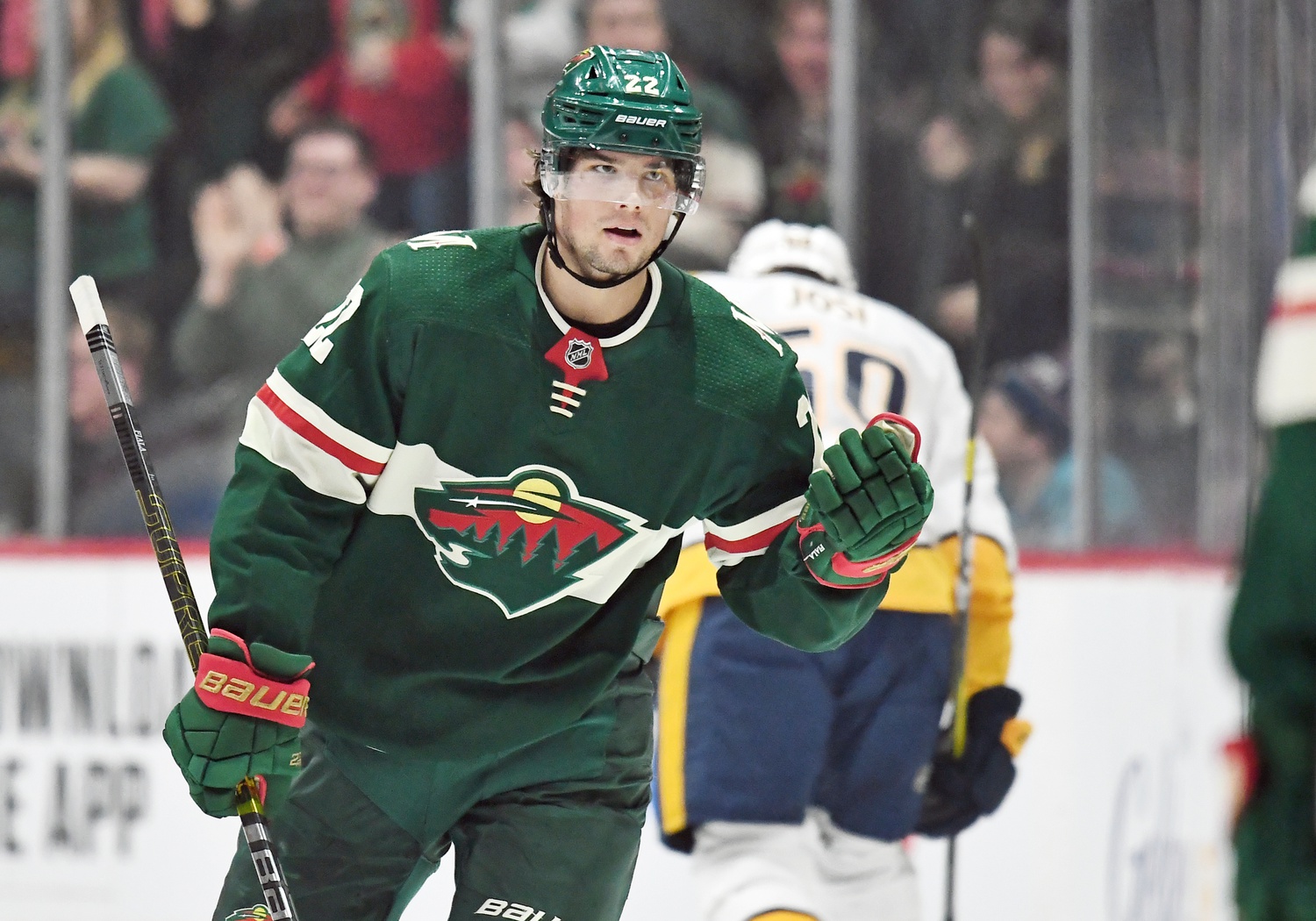 The Wild's wait for Kaprizov is *pinches fingers* this close to being over. Even if Minnesota may have to wait a bit longer for his official signing and subsequent debut, the fact that people can begin to let themselves envision his debut is already a giant leap from where we've been. While it doesn't sound like the NHL will let Kaprizov make his NHL debut, if and when the current season resumes the betting money is on him debuting next season.
Kirill Kaprizov will join a team that's in transition. Mikko Koivu won't likely be re-signed beyond this season. Zach Parise and Ryan Suter, while still producing respectable numbers, are on the wrong side of 30. Jason Zucker was traded before the trade deadline. It's time for the youth to take over this franchise.
Roster configuration will be the job of the next head coach. One tough decision to be made is about linemates with which Kaprizov should play. Mainly, should Minnesota load up the top line by placing him on a line with Kevin Fiala, or should they spread the wealth across other lines?
When the Minnesota Wild was making the playoffs regularly, one advantage they could boast was their team depth. Minnesota is loaded with wingers, and a really, truly solid top four on defense. The real weakness is down the middle at the center position. With Koivu likely not returning, the Wild are left with Eric Staal and Joel Eriksson Ek as the top two centers. After that, only one true center is signed through next season in Victor Rask. Ryan Donato played some center during the season, but doesn't appear ready for prime time at the pivot.
Kevin Fiala's rise to potential team MVP was a slow rise through the season. It really took off when he was elevated to a top line role with over 17 minutes per game. Any head coach will want to maximize Fiala's production, so getting him in the top six, preferably on the first line, must be taken into consideration. Let's look at the line combinations as Fiala took off in late February-early March where he was named 1st Star of the Week.
Fiala was elevated to the first line mid-game on Feb. 7th in a game against the Dallas Stars. He was placed alongside Eric Staal and never left the spot until the season went on hiatus. Zach Parise was the most frequent winger opposite Fiala during the run. Later in February, Gerry Mayhew and Jordan Greenway were placed on the line with Staal and Fiala, while Parise was bumped down.
It didn't seem like the Wild were all that married to the idea of having Parise opposite Fiala. It could be a spot that Kaprizov could easily slide into. Kaprizov plays a shooter's role who can play along the wall too. It would be a swap of one volume shooter in Parise for another shooter/playmaker in Kaprizov.
Minnesota should think about placing their two most creative forwards on a line together because of the way they think the game. A less creative player may not think to ge their stick on the ice for an impossible pass. However, Fiala may because he's not always thinking about getting the puck north. After all, the Wild must do everything in their power to set their young rookie up for success.
Why Minnesota Should Go for a Balanced Approach
Minnesota has been waiting for a game breaker to emerge. Fiala not only showed that he has the talent to be that guy, he did just that. Adding Kaprizov to the fold gives the Wild not just star power, but potentially two real studs at the same time - something that hasn't really existed in Minnesota since Marian Gaborik was skating with Pavol Demitra.
But even for teams that have multiple stars on their roster, they haven't always placed them together. Brock Boeser isn't playing alongside Elias Pettersson. Patrick Kane doesn't have Jonathan Toews as his center. Those teams have chosen a more balanced approach.
The theory is that by splitting up the top players, opposing teams have to worry about more than just one line. A stronger defensive team like the Wild can neutralize Toews' line, but Kane's line can do more scoring damage against lesser defensive foes. Coaches can play different lines to get more favorable matchups.
It's been a successful strategy.
The '16-17 Wild thrived on that strategy. Bruce Boudreau could roll all four lines and they could all defend and score.
Splitting up Fiala and Kaprizov is a solid strategy. It may help to keep Parise and Fiala on the same line. Marcus Foligno likely stays in his third line role where he has excelled. Most importantly, Mats Zuccarello won't see top line minutes.
Then, when the Wild need a goal, the head coach can assemble both Fiala and Kaprizov. Whether it's at 5-on-5, an extra-attacker situation, or on the power play, they'll get their minutes together. By splitting them, no one line can be taken away. The depth of the Wild can shine. Guys like Luke Kunin, Joel Eriksson Ek, Jordan Greenway, Zuccarello, and Ryan Donato get a better mix of players with which to play.
Loading up the Top Line
On the other hand…
Loading the top line with dangerous speed and scoring talent could be the shift in philosophy this team needs. Getting Fiala and Kaprizov together with either Eriksson Ek, Staal, or center-to-be-named-later via trade could be the difference in getting the team over the top or not.
A team like the Colorado Avalanche has a strong top line. Their speed and knack for goal scoring in bunches has turned the team from a Central Division bottom-dweller to a team that could legitimately make a run.
"But the Avalanche are a one-line team," you say.
JT Compher, Tyson Jost, Martin Kaut, and Joonas Donskoi would like to disagree with you. Colorado's depth is better than you think. Lines not with either Mikko Rantanen, Gabriel Landeskog, or Nathan MacKinnon, kept opponents at 2 xGA/60 or fewer while controlling both GF% and CF%.
Minnesota's depth is just as strong. While not controlling the shot attempts as well, they're still above 50% CF on most lines, and xGA/60 are all 1.9 or better. By loading the top line Minnesota can leverage their still productive, yet aging, veterans like Parise and Zuccarello in roles against weaker competition. Kunin, Greenway and Foligno can combine to play a tough brand of hockey. A strong top line can draw all the attention of the opposition, while lines two through four can exploit weaker competition.
Kirill Kaprizov didn't take this long to come over to the Minnesota Wild to play in a middle six role. He'll want to be featured on the top line. It makes sense to place him on the top line and get him loads of ice time. The Wild want the same for Kevin Fiala. They finally have two players they can feature. The Wild know what they have in Parise, Zuccarello, Staal, and the like. Why not give these kids a chance to create magic on the ice?