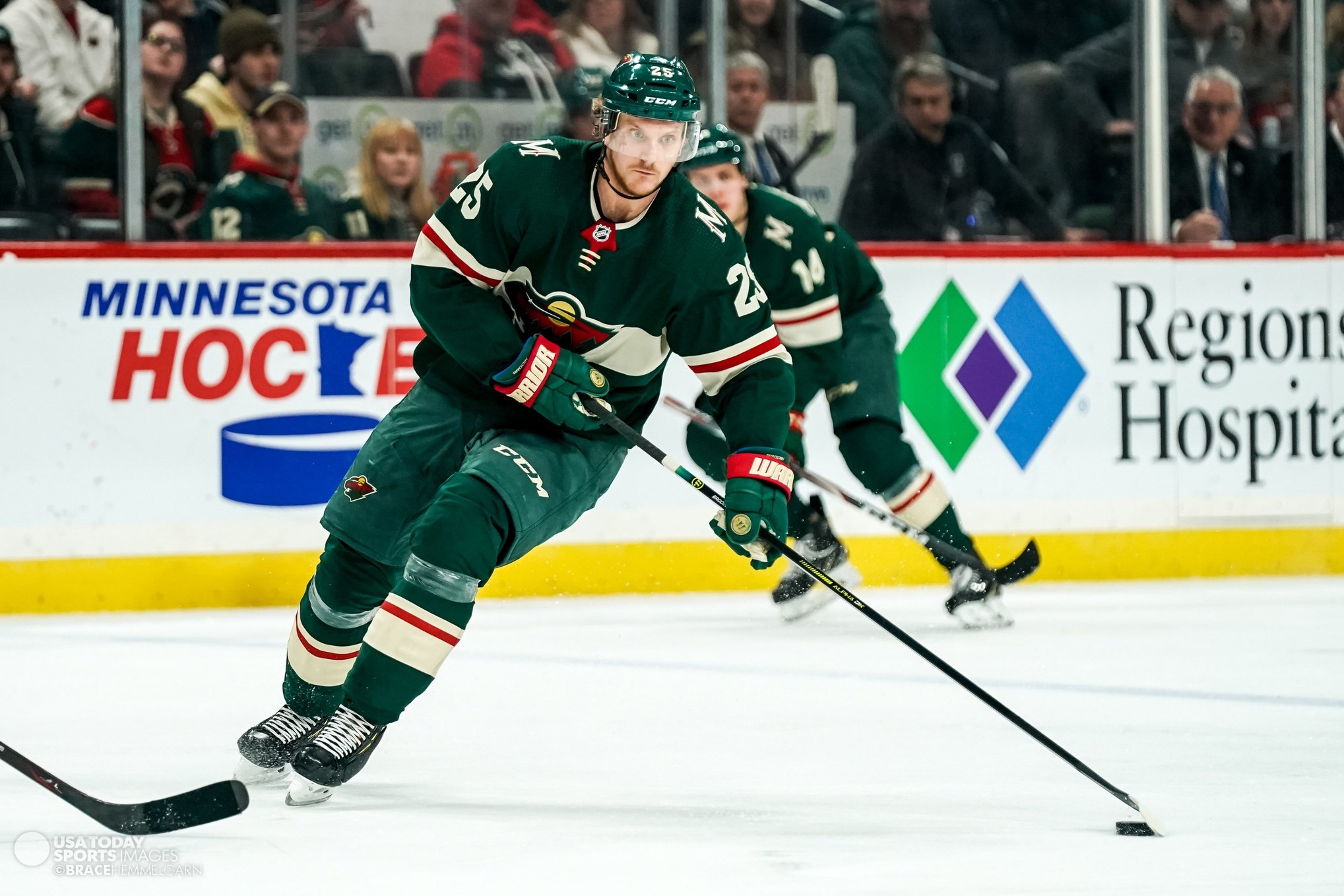 It is hard to believe, but following Minnesota's conclusion to the 2019-20 season (if that happens), Jonas Brodin will have just one year remaining on his six-year contract extension that he signed back in October of 2014.
What's harder to believe, is that Brodin is just still 26 years old and is one of the longest-tenured players on the Wild roster as a veteran of eight seasons.
In the eight seasons Brodin has patrolled the Minnesota blue line, he has turned into one of the better defensive defensemen in the league. His ability to always be in the right spot, good skating and great play turning the puck back the other way may not be flashy to Wild fans, but it has been effective.
If you are in the camp of saying Brodin needs to put up more offense, you are asking for something he just doesn't do. That's not his game. It has never been his game. He can provide it in a pinch, but that's about all you see from him during a given season.
His game is defense. At a time when more blueliners are getting more offensive, Brodin is one of the rare actual defensive defensemen in the game.
And, oh boy, is he good at defense.
If you look at the past three seasons (2017-18, 2018-19 and 2019-20 with a minimum of 3,000 minutes), there has been one defenseman in the NHL better than Brodin in terms of Evolving Hockey's expected goals against metric at five-on-five on a nightly basis, and that's Jared Spurgeon.
In fact, even if you broaden out the search to include the entire time Brodin has played in the NHL since his arrival in the 2012-13 season, you will find him at the top and Spurgeon right behind him in terms of expected goals against (minimum 9,000 minutes played).
NHL Defenseman Leaders In Expected Goals Against Per 60 Since 2012-13
1. Jonas Brodin - 1.84
2. Jared Spurgeon - 1.85
3. Ryan Suter - 1.92
4. Niklas Hjalmarsson - 2.02
5. Justin Braun - 2.05
You'll notice in any of these expected goals against searches from Brodin's time in the league, his teammates surround him on the charts. The Wild as a whole has been just a great team on defense in terms of forcing shots on goal from low danger areas.
But you should not discredit the work of Brodin, who remains other-worldly in his own zone.
Just compare his work to Niklas Hjalmarsson of Chicago/Arizona, who is highly praised for his defensive work on a nightly basis.


Upon the completion of the 2019-20 season, Brodin will go into the final season of his contract that comes with a $4.1667M cap hit, which is the fourth-highest among defensemen on the Wild roster.
If you are wondering what a potential new contract will look like for Brodin should the Wild pursue a new deal in the offseason, the Evolving Hockey contract projections have Brodin at a four-year deal at a $4.3M cap hit. That makes sense from Brodin's perspective, as it gives him another shot to get a large contract at age 30. From the Minnesota side, the deal would not crunch the team cap wise, even when Spurgeon's new contract goes into effect in 2020-21.
Considering how he plays the game, it's hard to imagine Brodin's game going down anytime soon, which is why Minnesota should consider locking him in if they would rather not trade him the following offseason. That statement rings even louder if Dean Evason is retained as the Wild head coach, as Evason wants to give more freedom to players, especially defensemen, in the offensive zone. He will need a guy like Brodin on the back end to make sure things don't go bad when the play comes back up the ice into the Wild's zone.
There are only three notable unrestricted free agents on the Wild roster following 2020-21, between Brodin, Eric Staal and Marcus Foligno. Brodin looks to be the most crucial one of all, given his age and relative play that he brings on a nightly basis (with all respect to Staal and Foligno).
It would be even more imperative to lock down Brodin if the Wild traded a bigger chip in Matt Dumba, which would leave a hole on the right side of Brodin on the team's second pair.
General manager Bill Guerin could opt to play the shortened offseason conservatively and not make any major moves. But the one he should give a serious look to is re-signing Brodin. Hard to find a better bargain for what he would potentially cost, and he would not be that easily replaced in the lineup.
Data and charts in this post courtesy of Evolving Hockey.
http://zonecoverage.com/wp-content/uploads/2016/05/itunes.jpghttp://zonecoverage.com/wp-content/uploads/2017/05/Podcast-header-Image-City-1.jpg