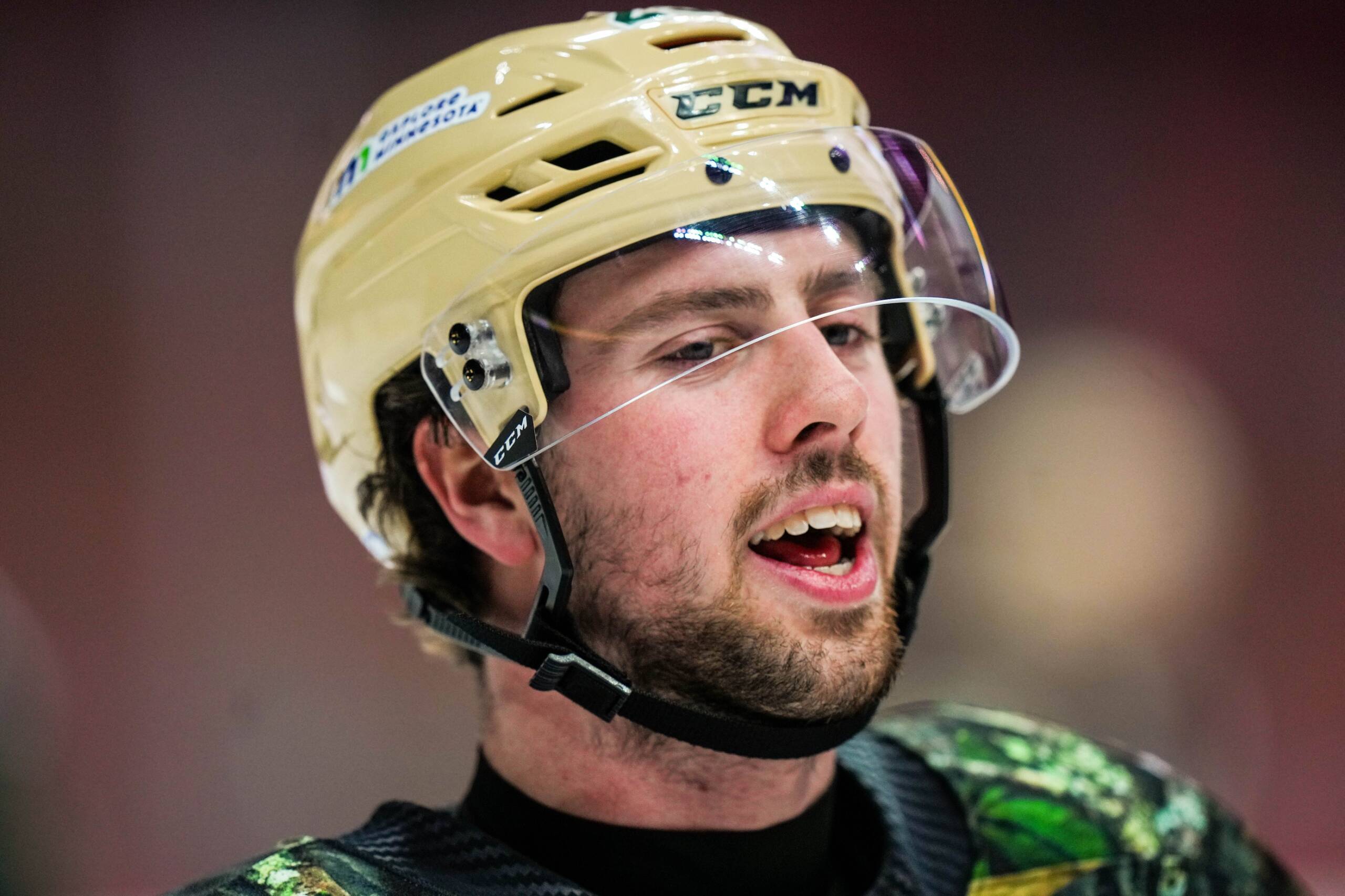 DES MOINES, IOWA — Sammy Walker received a message from the coaching staff after the AHL All-Star Break that took place on February 5-6. The 23-year-old winger is thriving in his rookie season with the Iowa Wild, but head coach Tim Army saw how his fatigue translated to his play on the ice after he returned from the break. While it also affected teammate Jesper Wallstedt, who attended the premier AHL event, Army said Walker showed it more and even started making uncharacteristic plays.
There were times when Walker wouldn't go for a loose puck, or wouldn't give full effort on the forecheck. On some plays, he took shortcuts in the offensive zone, such as skating toward a player with the puck rather than finding open space to be available for a pass.
"He didn't have the jump that he's had in games," Army said. "He was kind of a step behind and then because he didn't feel right, he started to take some shortcuts."
The staff sent a message and reduced his ice time. This isn't uncommon, Army did something similar to top prospect Marco Rossi earlier in the season. Once that occurred, Walker played four to seven fewer minutes than usual depending on the game, which included less usage on the penalty kill.
Army said part of it can be attributed to Walker coming from college. The NCAA season is around 35-40 games, so the AHL's longer season (72 games) finally started catching up to him. Walker didn't register a point in his first four games out of the break and only scored one goal and two points in the first nine.
"I think that little extra [rest] gave him a chance to kind of reenergize himself, get his legs back, and really concentrate on a smaller amount of ice time," Army said.
It worked. The reduced minutes helped Walker recover, and he began to recapture his game without committing shortcuts in the last week before Walker's recent NHL call-up. Army said Walker started to be more patient with the puck, made cuts to the net and through traffic, and made the plays he did all year before the break.
"You could feel the energy returning," Army said.
Walker scored three goals in his final three games with Iowa before receiving his latest call-up on March 9, the byproduct of Kirill Kaprizov's injury. That last week put him in a good spot to be recalled, Army said.
"It's collaborative. They ask me kind of who's playing the best at the time and then it's role and fit [for] what Dean [Evason] is looking for the lineup there," Minnesota Wild director of hockey operations and Iowa general manager Mike Murray said. "It's not just like who's the best player. It's a more in-depth conversation about fit, role and who's the best fit at that time."
Walker leads Iowa as a +17 and plays in all situations. He's tied for ninth in the AHL with 25 goals this season, which is first in Iowa despite him ranking eighth on the team with 99 shots. Walker has four game-winning goals and nine on the power play.
As for how Army describes Walker as a player?
"He's quick, he's instinctive, he's strong and he's very elusive," Army said. "He's got great hands, [and] he's got great edging."
Just like Rossi and Adam Beckman, Army has seen Walker progress this season. Evidence of this is him leading rookies in goals and points, but Army said he's also seen him grow without the puck, too. Although one area Army said he does need to improve in is defensively, but it's his first year and youngsters like Rossi and Beckman already have over a year under their belt in the AHL.
Walker has played two games during this active recall with the Wild, where he's shown his speed once again and hasn't been an eyesore in his own zone by any means. But he still only has one goal to his name in eight contests in Minnesota, where he's held a 50 percent expected goals rate. For now, Walker will continue to grow his game with the big club since he'll likely be in Minnesota for the foreseeable future.
All data via AHL.com