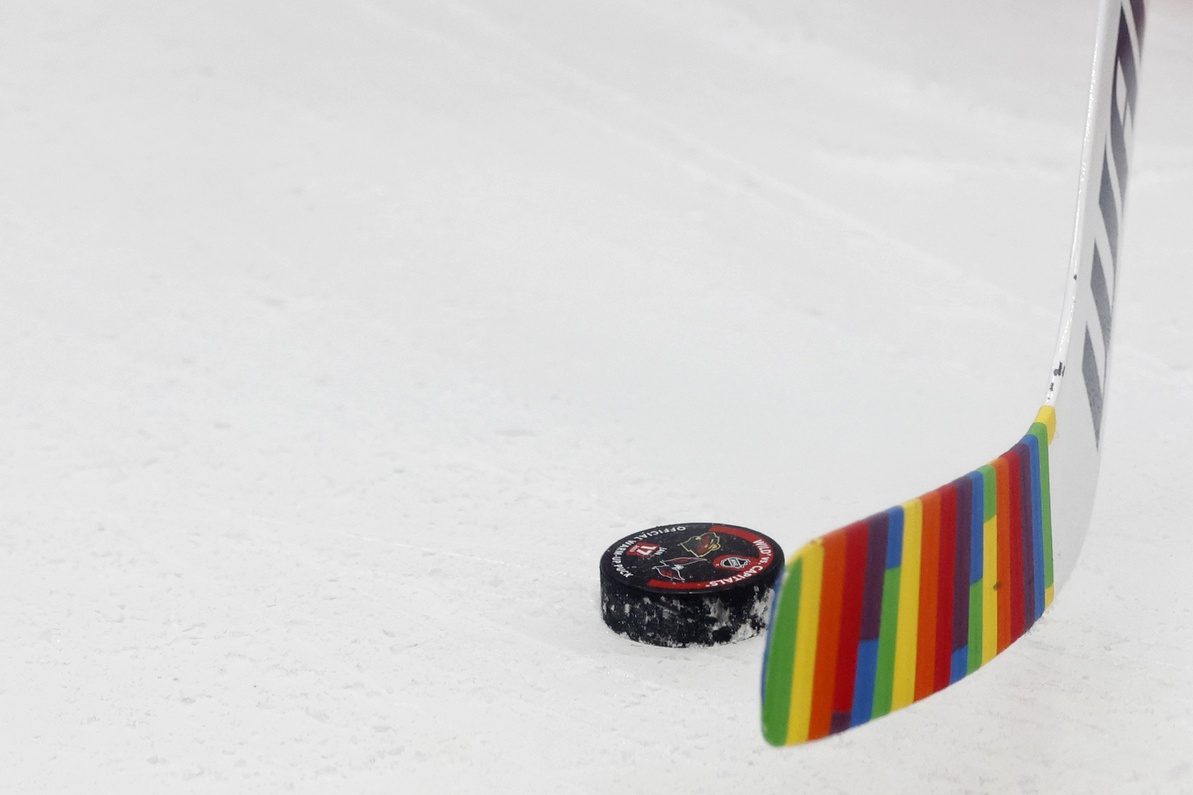 Last night, the Philadelphia Flyers hosted their annual Pride Night. What was supposed to be a night to celebrate love and inclusion was instead twisted into something divisive. A single player, Ivan Provorov, was allowed to co-opt the night and make it about his personal, hateful beliefs, while also overshadowing the amazing work of some of his teammates. Here's why that can't happen again.
In the past five years, the NHL has promoted the "Hockey is for Everyone" campaign. The aim is to reach out to marginalized communities who love hockey but may not feel comfortable playing the sport or attending professional games. This idea is something that has been highly encouraged and a long time coming, but unfortunately, is moving too slowly.
When it comes down to it, visibility and inclusion within all professional sports are important. The bare minimum an athlete can do is wear a themed jersey for approximately 15 minutes during warm-ups. Themed jerseys are a fun way to extend a hand of friendship to all sorts of groups, such as the LGBTQ+, Black, or Native American communities. It issues an invitation, promising inclusion in the hockey world. It's a way to say, "We see you, and we value you." Surely that is an idea that everyone should get behind.
Many hockey players are starting to go above and beyond in their allyship, but even just wearing the jersey is a great start. If a player can't bring themselves to even do that, should they really be allowed to play?
Hockey is a team sport where respect is highly valued. Fans will cheer when an enforcer drops the gloves to defend the honor of a star player or their goalie. Teams should show the same willingness to defend the fans who have been made to feel unwelcome by the hockey community for so long, and desperately want to feel included.
Pride Night is about extending that type of on-ice respect to the community. It means the team acknowledges that their fans come from all walks of life, and they respect the fans who come as they are.
By refusing to participate in outreach to communities looking for a safe way to enjoy the sport we all love, players are showing their own hateful views. Is that the representation that the teams and the NHL as a whole want to show? They should not, in any way, stand behind a player who will use their personal beliefs to ostracize an entire community.
There is a place for everybody in hockey. Any fan of the sport knows the deep-seated love for the game. If the NHL truly wants to promote that "Hockey is for Everyone," then they need to have more action behind that statement. Players should not be allowed to play if they won't do the bare minimum of participation in their teams' outreach.
This commitment to making marginalized communities feel welcome should also extend to the fans. If a fan is using hate speech, they should be escorted out of the game. There is a big difference between getting riled up during a game and crossing the line with hate speech. Arenas should be safe spaces where everyone feels welcome. If someone can't respect other people while at a game, they should stick to watching from home.
Maybe we need to speak the NHL's language. Everyone knows that money is the universal language, so perhaps the higher-ups should be reminded that there are hockey fans out there right now who would gladly spend their money on game tickets if they were guaranteed to feel safe. Unfortunately, that isn't the case, not even on Pride Night.
At the end of the day, "Hockey is for Everyone" needs to be more than just a cliche. Wearing the rainbow jerseys is good, but LGBTQ+ initiatives must go beyond those symbols to make everyone feel safe. Community outreach to marginalized groups is the best way for us to grow the sport. We have a ways to go in terms of diversity and inclusion, but the loving hockey community I know is ready to take our lunchpails to the barn and get to work. Join us.