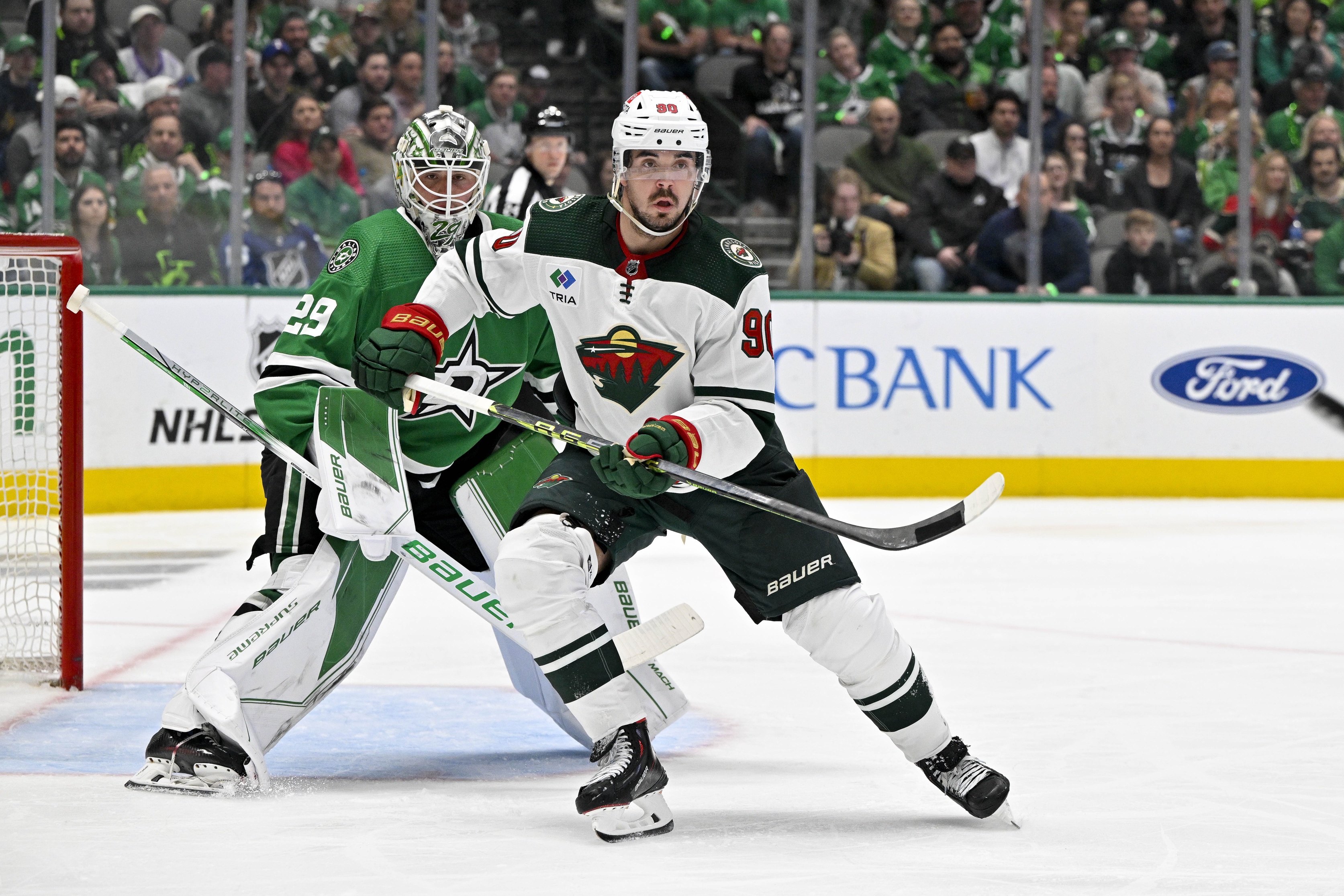 Image courtesy of Jerome Miron-USA Today Sports
It was fair to criticize the Minnesota Wild's decision to acquire Marcus Johansson from the Washington Capitals at the trade deadline. 
For starters, sending a third-round pick to the nation's capital for a depth piece in Johansson seemed unnecessary. The 32-year-old Swede scored a modest 13 goals and 28 points in 60 games with Washington. Trading for Johansson didn't seem to move the needle for a team that saw only four forwards score more than one goal over 13 games in February. Adding Johansson further crowded the lineup, and he had only scored three goals in his previous 21 games.
The move was perplexing, to say the least.
There's nothing wrong with additional depth, but Johansson didn't seem to be the ideal fit with the likes of James van Riemsdyk and Max Domi available on the trade market. Not to mention, the organization also had multiple options in Iowa. Furthermore, Johansson had already struggled in Minnesota. Two years ago, he notched 14 points in 36 games and didn't make much of an impact before he got injured in the postseason.
Trading for Johansson was puzzling because he didn't seem to fit, cost a lot, and there were other options on the market. Yet here we are: Johansson has absolutely exceeded expectations. He's a completely different player from the one fans saw during his first stint in Minnesota. Give Bill Guerin credit, he identified what he wanted and swung a trade that benefitted the Wild down the stretch.
Johansson finished the regular season in Minnesota with six goals and 18 points in 20 games. The veteran winger made his impact felt right away with his speed and offensive vision, especially his ability to enter the zone. The quickness and the flow to his game is something the Wild could still use more of. 
His strong play translated to the numbers, too. After Johansson's arrival, the Wild controlled 57.1% of the on-ice expected goal share and outscored opponents 25-10 with him on the ice in all situations during the regular season. 
Most importantly, he helped aid Matt Boldy's strong scoring tear when Kaprizov's injury sidelined him. Before Johansson's arrival, Boldy had 16 goals and 40 points in 61 games, which is a .66 point-per-game rate. Boldy finished with 15 goals and 23 points in the final 20 games after that – a 1.15 PPG clip. For those counting at home, Boldy went from a 33-goal pace to a 61-goal pace over an 82-game pace.
Boldy almost definitely wouldn't keep that pace up over 82 games, of course. But his goal output significantly rose after Johansson arrived. And Johansson's arrival and Boldy's surge came at the right time. It coincided with Kaprizov's early-March injury.
Kaprizov is back for the playoffs, and Minnesota has a different look than they had in February. The Johansson, Boldy, and Joel Eriksson Ek trio formed an effective second line that produced strong numbers across the board. In just over 176 minutes together in all situations until Eriksson Ek suffered an injury, the trio controlled 60.5% of the on-ice expected goal share. The line also outscored opponents 17-6, good for a 73.9 goals for percentage.
Johansson was worth 2.2 points in the standings in just 20 games in Minnesota, and he deserves credit for his play. He's certainly been more than just a depth piece. His arrival added his speed to the lineup, which was a badly-needed element to the Wild's second line. 
The former first-rounder is showing signs of his play from earlier in his career. Johansson has been a legitimate middle-six option for the Wild, who desperately needed one of those players. He also has provided the Wild with much-needed depth and flexibility with all the injuries that riddled the lineup over the last month. 
Johansson hasn't been nearly as strong in the first two playoff games as he was during the regular season. But he's done something that Boldy, Mats Zuccarello, Marcus Foligno, Gustav Nyquist, and others, haven't done yet: find twine in the postseason. On Wednesday night, Johansson cleaned up Boldy's rebound in front on the power play and scored via the backhand to cut the lead to 4-2.
There's no doubt that the Wild need Johansson to continue producing in this series, just as much as they'll need his size and speed. It's just as important for Johansson to keep scoring if he wants any opportunity of extending his stay in Minnesota.
"I'm very comfortable here," Johansson told the media in March. "I do hope I can find a home here."
The likelihood of Johansson re-signing with the Wild looks incredibly slim due to the buyout penalties and Minnesota's pending unrestricted and restricted free agents. That list includes Filip Gustavsson, who has to be the team's No. 1 priority this summer. But at the very least, Johansson's second audition in Minnesota has likely made the Wild entertain the scenario. He's done everything you could have hoped from him.
All Data Via Evolving-Hockey, Natural Stat Trick and Hockey-Reference.