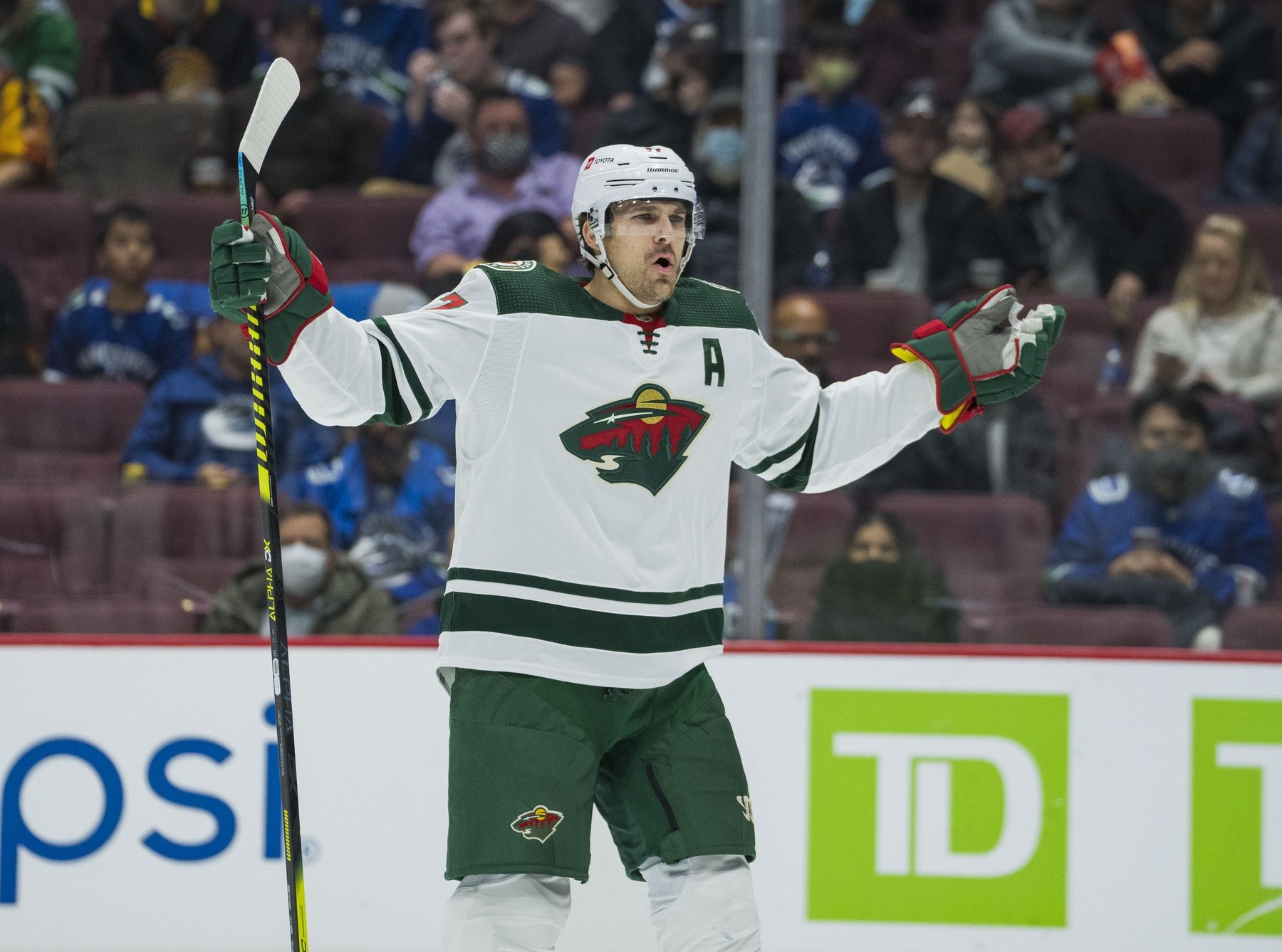 If you asked Minnesota Wild coach Dean Evason who he'd rely on if he needed to score one goal, there's zero chance he'd give you a straight answer. Evason rarely highlights single players for good or bad reasons and keeps things focused on the whole team. We rely on everyone to score goals, he might say. And hey, he'd be right. Every forward line and defensive pairing has delivered big goals for the Wild this season.
But there's no truth serum quite like desperation. With Minnesota down three goals and over nine minutes remaining, Evason pulled Cam Talbot for an extra attacker. Who were the first six players on the ice in that situation?
Five of them weren't all that surprising. Three were the brilliant Kirill Kaprizov-Ryan Hartman-Mats Zuccarello line. Another was Jonas Brodin to quarterback the desperation attack. Kevin Fiala got on the ice for some extra scoring punch.
But the sixth might have raised some eyebrows — at least to a time-traveler from two years ago: Marcus Foligno. Granted, that might well have been Joel Eriksson Ek if not for an injury, but still! Foligno, who was once thought of as just a fourth-line grinder from the Buffalo Sabres, is one of Minnesota's six best scoring options!
Take the focus off his humble origin story and look at the last two years: It's obvious why he was on the ice in that situation. Foligno came out of nowhere to finish tied for fourth on the Wild with 11 goals in 39 games last season. This year, he's already tied his career-high in goals with 13 in 30 games, second on Minnesota.
Consider that he's doing all this with under 16 minutes a night, and he's one of the most efficient scorers in the game. He's notching 1.3 goals per hour in all situations over the past two years. That's tied for 33rd league-wide with Brayden Point among 399 forwards with 500-plus minutes. Some notable names behind him include Sam Reinhart, Tomas Hertl, Jason Robertson, T.J. Oshie, William Nylander, and John Tavares.
Now, Foligno has red flags that those other big names don't. For one, Foligno isn't shooting very much at all, with only 46 shots in 30 games. It's just that over a quarter of his shots are going in. He's leading the league with a 28.3 shooting percentage, which is unheard of. Since the 2005-06 season, the shooting percentage record for someone with 100-plus shots is Mike Ribeiro's 25.2% in 2007-08. No one else is even above 24%.
Any analyst worth their weight in salt will tell you that can't continue, that regression is coming. Of course, they would've told you that last year, too, when Foligno shot 27.5% on 40 shots.
So, wait, what? Foligno's been able to stretch out a hot streak where he's scoring goals at an inhuman rate over two seasons? Yes. But how is that even possible?
Let's start by taking a quick look at where his shots are coming from over that time.

It's no surprise that a big, forechecking forward like Foligno makes his living around the net. What is surprising are the extremes he takes that philosophy to. Of the 106 unblocked attempts Foligno's fired off in all situations (with no empty net), half of them come from within 15 feet of the goal. Only 36 of his unblocked attempts came outside of 25 feet from the net. If this were basketball, Foligno would have the ideal shot profile of a low-post player. No long twos, just get to the net, shoot from there, and good things happen.
Because of that, the average expected goal chance of an unblocked Foligno shot attempt is .115, or an 11.5% chance of going in. Brock Nelson and Nino Niederreiter are the only players to shoot more than Foligno and have a more dangerous average. He's shooting out of his mind these past two years; there's no doubt. His 24 goals are almost double what's expected. But since his average look at the net is so good, it gives him as good a shot as anyone to ride that high -- at least for a little while.
When you watch his 24 goals back-to-back, you see these trends play out. Foligno has scored virtually every goal on a Grade-A opportunity. Twelve of them came off a rebound, deflection, tip, or second effort around the crease. Those shots are naturally much more likely to go in than a clean shot. A couple of those 12 goals were deflections off Foligno's body, but there's also plenty of highlights that show off excellent hand-eye coordination on Foligno's part.
Here's a goal where Foligno bounces a puck off himself, then bats out of midair and into the net.
Six more came off a dangerous pass, either from behind the net or one that crossed center ice. There are few better ways to get some open net to aim at than making a goalie move side-to-side. Foligno does a surprisingly good job finding soft spots and creating shooting lanes to enable those opportunities.
Two more came with him shooting off the rush, yet another situation where a player is much likelier to score than a typical shot. Foligno shows off some more skill, picking a corner on Marc-Andre Fleury. Add in an empty-net tally, and that's 21 of his 24 goals coming from Foligno putting himself in highly efficient positions to score.
Usually, when a player unlocks this kind of shooting success, the best advice is "shoot more." That could lead to a more sustainable method of creating offense for Foligno. At the same time, Foligno's success could just be from knowing his role (mixed in with a bit of luck). While some net-front scorers can develop an outside game (think Eriksson Ek), some just aren't reliable shooters from outside 15-20 feet. That might just be who Foligno is, and staying within himself might lead to more success than straying from his game to add some 25-footers to the mix.
Plus, he's in an ideal situation to do what he does best, and only that. Eriksson Ek has no problem being the primary offensive catalyst on their line, generating volumes of shots. That feeds into Foligno's game perfectly, allowing him to get plenty of rebound opportunities off the ensuing chaos. He's also succeeding on the second power-play unit, getting plenty of rebounds there.
Foligno's defied any sort of reasonable expectations over the past two years, and that surely can't continue. Even when shooting almost exclusively in prime opportunities, no one can expect to score on one of every four shots. But it's clear that Foligno has found a great role where he can thrive offensively, and simply by continuing to play how he's played these past two years, he should be expected to score 15-16 goals per 82 games. Maybe that bumps up a touch more if his power-play spot is permanent. Combine that with his Selke-level defense, and the most valuable role player in the league has somehow found a way to bring even more value to his team.
All data from Evolving Hockey or Stathead unless otherwise noted.