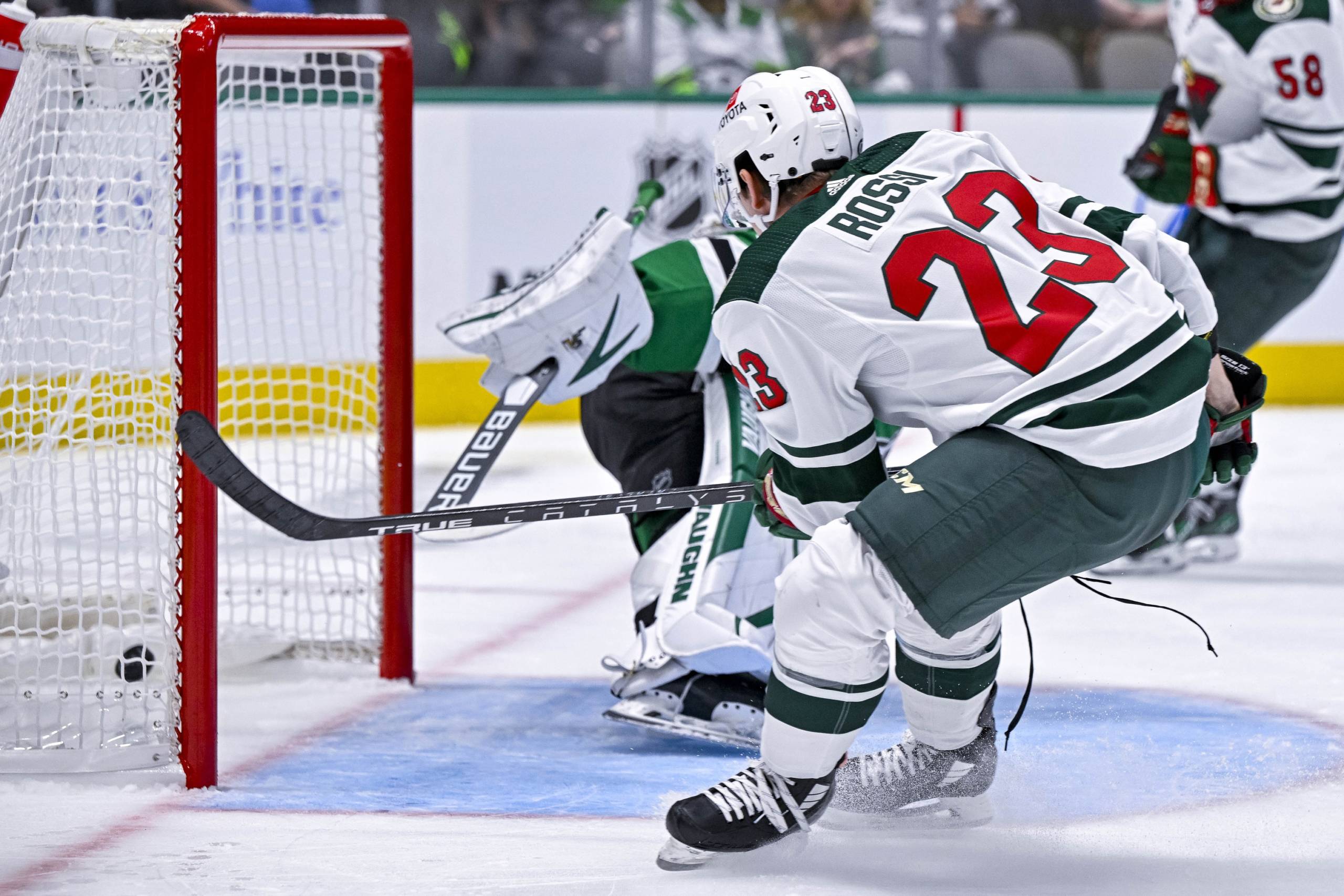 If Marco Rossi isn't the Minnesota Wild's most important player this season, he's at least their biggest X-Factor. Minnesota needs a player to replace some of the dynamism lost in Kevin Fiala's departure. Rossi, the ninth overall pick in 2020, has the talent to do that.
There's more! The Wild were arguably weak at center last season, despite big performances from Joel Eriksson Ek, Ryan Hartman, and Freddy Gaudreau. Rossi plays center, and his two-way reputation from Canadian Juniors translated to the NHL.
Minnesota also desperately needed help on special teams. Rossi was very active on the power play in Iowa last season, with 18 of his 53 points coming on the man advantage. He also showed he can make an impact on the penalty kill last Thursday, against a pre-season Dallas Stars lineup heavy on NHLers.
Since draft day, Rossi's destiny has been that of an all-situations center. He's spent the offseason training his mind and body to prepare for it, and Rossi is proving he is ready to take that role in pre-season.
So why is the rookie already hanging out on the fourth line?
As a rule, you don't want to overreact to the preseason. It's not hockey against the normal intensity and competition of the regular season. Lines are always subject to change, and pre-season deployments can be much more about getting a look at someone, or some combination, rather than what a coach would do in meaningful games.
Still, this is a head-scratcher. Because Rossi isn't just pulling front-line duty in preseason minutes. According to the insiders, that's his spot in the lineup right now. He's lined up in practices with the full NHL squad as a fourth-line center, between Brandon Duhaime and Connor Dewar. The Athletic's Wild Season Preview also slots Rossi in the fourth line. The Rossi - Duhaime - Dewar combination hit the ice for Minnesota again on Tuesday, so there's clearly smoke to this fire.
That's a traditional route to a big role in the hockey world. You pay your dues on the fourth line, and then move up as you show you're capable. The thing is, though, that's not the approach this team takes with rookies. At least, not ones with as much talent and hype as Rossi possesses.
For instance, Kirill Kaprizov played almost 22 minutes of ice time in his first NHL game alone. Granted, he was older (and that was an overtime game), but the point still stands. Matt Boldy spent zero time toiling on a fourth line, averaging 15:23 a night alongside Fiala. Boldy was just 20 when he made his debut. Rossi is 21 today.
Kaprizov and Boldy entered the league with a ton of hype, but there was no sheltering or kid gloves. It was just go out there, skate, and play your game. In both cases, it was wildly successful. Partly because these players were talented, but also because they were put in positions to succeed.
All due respect, it's tough to argue that the role Rossi's penciled into will do that. Whatever you think of Duhaime and Dewar, there's clearly a massive drop-off from Mats Zuccarello or Fiala — Kaprizov and Boldy's rookie running mates — to those two.
A fourth-line role does more than cost Rossi talent, it also costs him time. Few coaches rolled their fourth lines as often as Dean Evason did, and fourth-liners still averaged just about nine minutes of 5-on-5 time per night.
Sure, special teams play could bump that up, but what are we talking about? 12-14 minutes per night, while playing with bottom-six caliber linemates and on the second power play? There's a reason GMs often will send a kid to the AHL if it's a choice between that, or playing a still-developing player on the fourth line.
And for what? Yes, Tyson Jost and Sam Steel have performed strongly in their auditions for a Top-9 role. The duo, seen as Rossi's direct competition, have six and three points this preseason, respectively. Jost looks like he has the inside track to a role alongside Eriksson Ek's wing, while Steel is penciled in centering Boldy.
But it's not like they're significantly out-performing Rossi, who has six points of his own, matching Jost. In fact, if anything, Rossi is significantly out-performing them. As of Wednesday, 406 forwards played 30 or more all-situations minutes this preseason. Rossi ranks 13th among them with 6.10 points per hour, just ahead of Jost (17th, 5.43), and comfortably ahead of Steele (tied for 98th, 3.18).
Rossi isn't just scoring, either, he's driving play at 5-on-5 to an absurd degree. The Wild controlled 70.4% of the expected goal share with him on the ice at 5-on-5. Out of 329 forwards with 25 or more 5-on-5 minutes, that's tied for 22nd. It not only leads the Wild but smokes Jost (41.7%, 256th) and Steel (36.3%, 286th), to put it gently.
Again, we don't want to get worked up too much over less than an hour of preseason competition. But that's all we have to go on for this training camp battle. Going off that, Rossi is decisively the better player whether you want to look at scoring or their overall games. Not only that, he's looking like a player Evason should want to play as much as humanly possible.
Factor in the disparity in upside between Rossi and the competition, and it's no contest. Evolving Hockey's Similarity Scores peg Devin Shore as Steel's top comparable. Shore has 375 NHL games, but is fairly unremarkable. The best player in his Top-20 comparables is... J.T. Compher? You can always use a guy like Compher, but that's not a name associated with upside.
Jost fares a bit better, with his top comparable being the underrated Artturi Lehkonen. His Top-20 includes players such as Martin Hanzal, David Clarkson, Jared McCann, and Nick Foligno. For a time, pretty good players! If Jost becomes one of those five players, he should be in Minnesota's Top-9.
But at the expense of Rossi? No way. We're once again tapping the sign.
It's this simple: If Steel plays his very best, he's Compher. If Jost is as good as he can be, he's more like McCann. If Rossi delivers, he's Daniel Briere or Nathan MacKinnon.
Why fight it? Why go against what we're seeing on the ice, or the stats, or the path Kaprizov and Boldy successfully took? The Wild brass seems determined to pump the brakes on Rossi, handling him cautiously at every turn. But at this point, it feels like overthinking things. He's doing more than what's asked of him, grabbing every opportunity, and hasn't been afraid of the moment. Put Rossi in a position to succeed, and he's showing the rest will take care of itself.
All stats courtesy of NaturalStatTrick unless otherwise stated.