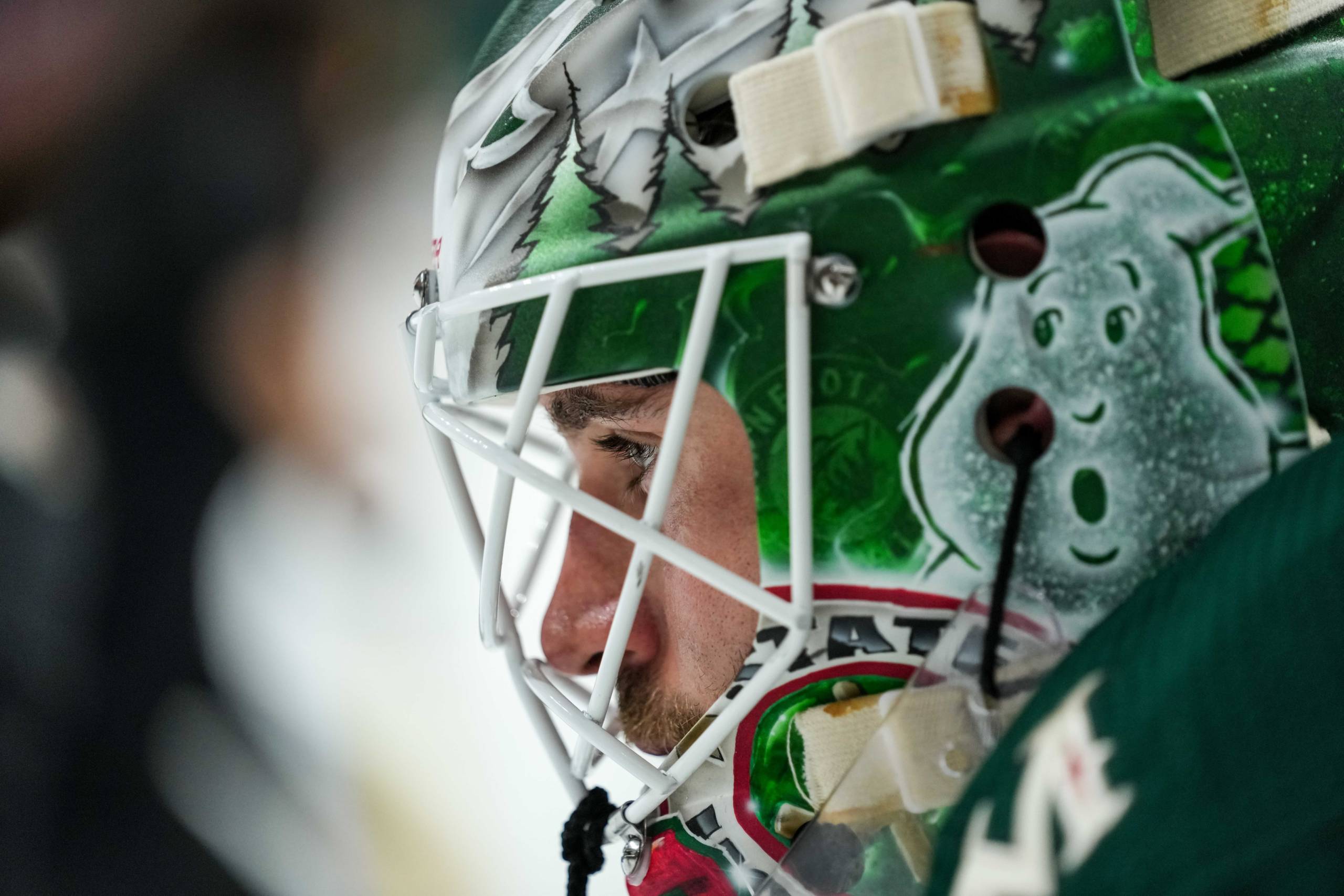 On Thursday, the Minnesota Wild announced that Marc-Andre Fleury has re-signed to a 2-year, $7 million contract. The deal keeps the future Hall of Famer in a Wild sweater for two more seasons as they wait for top goalie prospect Jesper Wallstedt to develop. It also establishes stability in net for Minnesota. It'll be the first time since Josh Harding and Niklas Backstrom shared the goal crease, giving the Wild a 1a/1b goalie rotation.
Fleury and Talbot combined for the fourth-best save percentage in all situations in the league down the stretch. It should be a formidable tandem going forward. "Each and every night, we're going to put a fantastic goalie in net," GM Bill Guerin told The Athletic. "I think that's important."
A rotation like Minnesota managed last season will be vital to keeping each other fresh. It doesn't take a Ph.D. to understand how an even split of the workload will help Talbot, 35, and Fleury, 37, stay on top of their games. So all is hunky-dory in Minnesota, right?
Right?
Reports out of Montreal shed a different light on the Wild's goalie situation. George Bazos, Talbot's agent, was seen speaking to Guerin at the draft on Friday, throwing gas on the fire. 
The Wild GM wasn't having it. "I don't have shit to do," Guerin told the Minnesota media. "Cam Talbot's under contract. George can say whatever the hell he wants. My team's set right now, and that's the way it goes. We can have all the discussions we want. Cam's a member of our team. We really like Cam. All we're trying to do is win."
Talbot is not unlike any other professional athlete. He feels he can still start most of Minnesota's games and wants to get paid what the Wild offered Fleury. His stats show that much. With a .911 save percentage, 2.76 goals against average, and 49 games played, he is on par with many starters across the league. Even after the Wild acquired Fleury, Talbot was arguably the Wild's best netminder down the stretch. He raised his game one more level by dropping his GAA and improving his save percentage in those final 11 games.
But that's also forgetting that his play throughout the rest of the season forced Guerin to make a move in the first place. His .907 save percentage leading up to the trade wasn't better than what Alex Stalock provided as a backup a couple of seasons ago. According to Evolving Hockey, Talbot was a -16.36 Goals Saved Above Expected. That means he wasn't winning games for them.
What makes Talbot think he's a full-fledged starter at this stage of his career? Shouldn't he just show up, deal with being in a tandem, and stay professional?
Well, it's not that simple. It's clear that Talbot was upset with how the Wild handled him in the playoffs. He might be upset that they went with Fleury, even though he statistically was the better goalie leading up to the first-round series against the St. Louis Blues. Or he might have some hard feelings about getting put into a tough position in Game 6. Talbot's camp might not be surprised that Fleury is back with the team but frustrated that Fleury is getting paid more. 
Whatever the reason for his dismay, Guerin underestimated the situation. Talbot appeared to be a good soldier at the deadline, setting aside his ego. "I talked to Cam yesterday, and I talked to him today, and he's been absolutely fantastic," Guerin said at the time of the trade. "We're all after the same thing here. There's no room for petty bullshit. We're on a team together, and we're trying to win." 
When the media asked Guerin about Talbot's situation after the Blues ousted his team, he maintained that there was nothing there. "It's really not that big of a deal," Guerin said during the end-of-season press conference. "There's no controversy; there's no drama. We like both goalies; we like both people. We want them both back, and we think we can be successful with both of them. That's just it." 
Things are now coming to a head post-draft. There is drama. There is controversy. Even if the reporting says that Talbot didn't ask for a trade, it has become a distraction. By his own comments and behavior, Guerin isn't interested in his players being a distraction. There are two ways this ends. Either Talbot tucks his tail between his legs, or Talbot forces Guerin to trade him. That's especially true if he's unwilling to re-sign Talbot to an extension that will bring his salary in line with Fleury's new deal.
Guerin is right. He technically doesn't have to do anything. Talbot signed a contract, and the Wild have team control. But when things boil over as publicly as they have the last two days, it's hard not to see this heading for a divorce. What makes Talbot think he can still be a starter? He's a professional athlete. Athletes only have themselves as leverage. If Talbot really wants to make a stink of it, he wields the threat of holding out or being disruptive until a new contract or a trade is consummated. This situation will have to be watched closely for the rest of the summer.