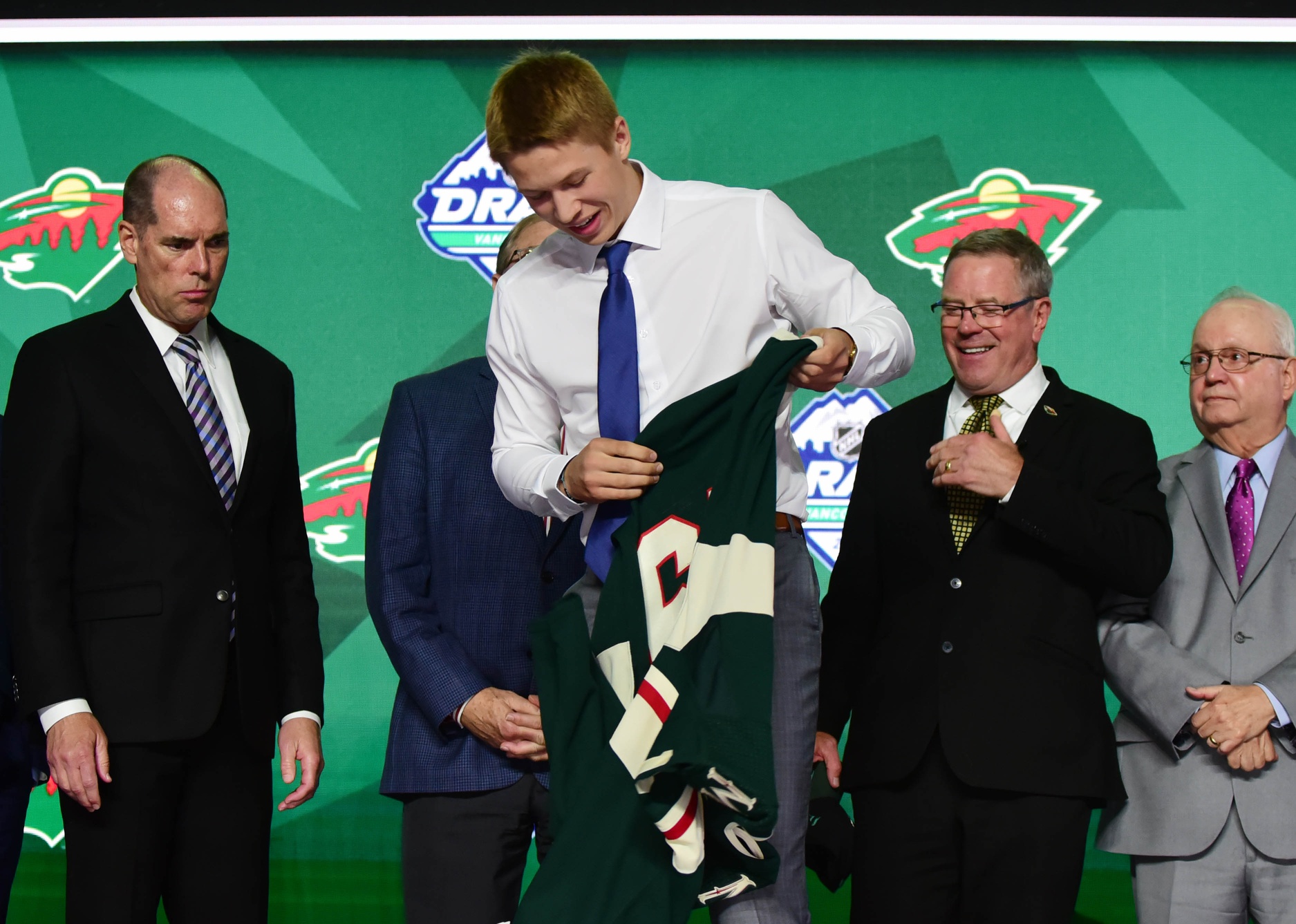 After a rookie year defined by patient observation, Minnesota Wild general manager Bill Guerin got aggressive in fixing problems. By flipping Luke Kunin for a second-round pick at the draft, he acquired a bottom-six center in Nick Bonino. He threw more darts at getting a center in low-cost trades for Nick Bjugstad and Marcus Johansson. He got goalie Cam Talbot to provide stability in net.
Guerin carried that urgency over into the new season. On Jan. 19, just five days after their season opener, Minnesota picked up defenseman Ian Cole. Some moves worked out better than others, but the aggressiveness in finding low-cost solutions was welcomed by media and fans.
Over 100 days later, Guerin's Wild team is preparing to enter the postseason. They sit in third place and are decided underdogs in the West Division bracket of the Stanley Cup Playoffs. Moneypuck pegs Minnesota at a 38% chance of winning a round and just 16% to advance to the final four. Micah McCurdy's model is more bullish but has Minnesota under 50% to advance and predicts just a one in four shot of winning two rounds.
So how different does the team look now that they're about to tango with Cup-contending titans like the Colorado Avalanche and Vegas Golden Knights? Not at all.
Minnesota blossomed into one of the league's most surprising teams, led by Kirill Kaprizov's scintillating rookie campaign. Combined with Talbot's strong goaltending, as well as key contributions from Kevin Fiala, Joel Eriksson Ek, and others, there's a lot to be encouraged by.
Yet weaknesses remain in the Wild lineup. Minnesota looks fast at times, especially earlier in the season, but they lack players who carry the puck. Kaprizov and Fiala do this at an elite level, but every other forward rates as average or worse in transition. That predictable attack is the culprit for Minnesota's frequent droughts, where they go 10 minutes without a shot. If Kaprizov and Fiala aren't going, the Wild have to resort to dump-and-chase hockey.
This holds especially true for the Wild after their March 18-20 defeats at the hands of Colorado. Before that, they controlled 56.7% of the expected goal share at 5-on-5, second only behind the Avs. After March 18, that figure drops to 47.5%, 21st in the NHL and third-worst among playoff teams.
So with obvious holes and a busted system, where was Aggressive Guerin to try to fix Minnesota up?
He wasn't there at the trade deadline. Minnesota stood pat. "With how well our team has performed," Guerin said, "the chemistry that we have on our team, I don't feel the need for [a trade] today."
It was justifiable for Guerin to not be aggressive. Other than Taylor Hall, who engineered an exit to Boston, impact rentals were hard to find at the deadline. It makes sense that Minnesota didn't jump in on, say, the Nick Foligno frenzy. Plus, their poor play in the three weeks leading up to the deadline was hardly worth investing in.
The trade deadline didn't close the window to upgrade the team, though. Guerin and Co. had another opportunity to make their team better. Star prospect Matt Boldy signed his entry-level contract on March 31, automatically burning a year on his deal.
Guerin chose to test Boldy in the AHL rather than immediately throw him into an NHL lineup. It was a completely reasonable decision, allowing time to evaluate whether he was ready for the pro game.
He was. Boldy scored two points in his debut, and has only continued to dominate the AHL from there. His five goals and 13 points in 11 games are making a dramatic case that he can help the Wild. Boldy has shown to be great in transition, a power play weapon, and has 39 shots (3.54 per game). All those traits would shore up weaknesses in the Wild organization.
Despite this, the Wild are going into their final series of the regular season without Boldy. If he does make his debut, it'll be in the playoffs, with no NHL experience.
Standing pat at the deadline was a reasonable act of restraint.
The Wild's refusal to see what they have in Boldy is insanity, masquerading as patiently staying the course.
Minnesota punched their ticket into the playoffs on April 24, giving them nine games of playing with house money. As of that day, Boldy already had nine points in seven AHL games. It would have been incredibly easy to work him into the lineup and see if he had chemistry with any of his new teammates.
Instead, Minnesota opted to make no changes to their lineup, believing themselves to be rolling. In just the second game after clinching, their roll slowed, forcing Dean Evason to shake up his lines. Even after that, Boldy never got an opportunity to play in a game.
Again, this is despite Boldy succeeding wildly in Iowa, scoring 1.18 points per game. Even if you assume the transition to the NHL cuts that in half, Boldy would still be scoring at a 48-point pace over 82 games. The only players on the Wild to exceed that are Kaprizov, Mats Zuccarello, Fiala, and Marcus Foligno.
So it's not that Minnesota's lineup so deep that Boldy couldn't possibly be an upgrade, not so long as underachievers like Johansson or Bjugstad take minutes. The salary cap is no hindrance, either. The Wild have over $700K in space that can easily absorb the $7.6K per day Boldy would accrue.
So what is the hangup? It genuinely appears that Guerin and Evason look at the Wild and say "We like this team." This is the squad they want to go into the playoffs with. Is it because they're enamored with their recent play, where they've relied on miracle comebacks to overcome sluggish performances against the likes of the St. Louis Blues and Anaheim Ducks? Do they believe the good vibes in the locker room is a fragile Jenga tower of personalities that could come down with an addition?
Who knows? Either way, the result is the same: There's no room for Boldy, at least in their eyes.
Contrast this with the Colorado Avalanche, run by Joe Sakic, unquestionably a top-three GM in the league. They signed prospect Alex Newhook when Boston College's season ended, just like Boldy. The two prospects had similar production both at college and in the AHL. Colorado has a superior roster to Minnesota, and perhaps even better depth than the Wild boast. And unlike Minnesota, Colorado had a realistic chance of winning the West Division title after clinching.
None of this deterred them from calling up Newhook and giving him a role in the NHL. He's played four games in Colorado, and it's already paid off for the Avs. He notched two assists in a 2-1 victory over Vegas, keeping their Division-winning hopes alive. The assist on the game-winner is particularly impressive.
Sakic's Avs weren't concerned about anything but getting better, and now Colorado can enter the playoffs knowing that Newhook can not only play for them, but can produce in high-pressure moments. As a result, Colorado got better, and the Wild stayed the same.
Perhaps Guerin and Evason are right about this team. Maybe they do have some sort of quality that will enable them to surprise Vegas, Colorado, or both. However, if they're wrong and the Wild look out-matched in the playoffs, it'll be incredibly easy to second-guess them passing on Boldy and a slam-dunk, no-risk opportunity to upgrade their team.