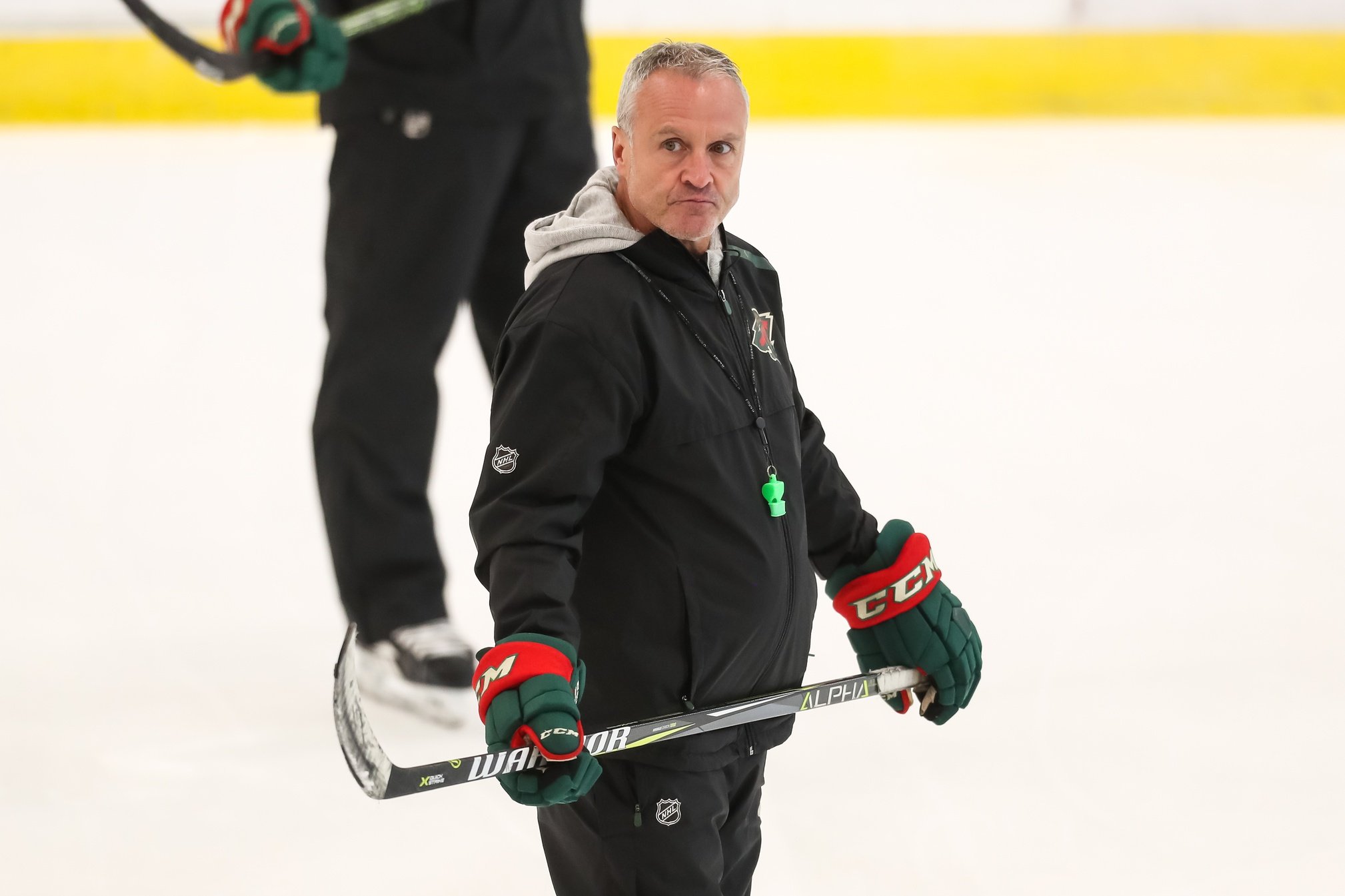 We're sitting here, the Minnesota Wild have been out of the playoffs for almost a month, and the State of Hockey is in here talking about practice.
Not the games! Not a Game 4 no-show where Minnesota failed to show any kind of killer instinct up 2-1 in the series and with the St. Louis Blues limited to two starting-caliber defensemen. Not a Game 5, where they couldn't muster any offense aside from a pair of Kirill Kaprizov goals, then gave up three even-strength tallies in a 7:03 span to blow a two-goal lead. Not a Game 6 where they went down 1-0 and played the rest of the game as if they'd already lost. Not a game!
Practice.
Joe Bouley, one of our esteemed colleagues here at 10K Rinks, wrote about practice last week. Specifically, how Dean Evason, who just finished fourth in Jack Adams voting, potentially sank Minnesota's season by not practicing down the stretch. He pins Evason's inability to adjust on the sparse practice schedule:
When things got difficult, Evason didn't know which players he could put together to be more effective. How could he? There wasn't any time down the stretch where he was on the ice tinkering with what did or didn't work. Never mind fixing what plagued the Wild's special teams.
And yes, it's no exaggeration that the Wild rarely practiced down the stretch. Two days before the end of the regular season, he confirmed to the media that the only time he'd been to TRIA Rink, the Wild's practice facility, was on a whim on an off-day.
Could a lack of practicing have thrown Minnesota's execution on special teams off? It's very possible. They might have been able to have been sharper on the penalty kill or try out backup plans at 5-on-5. It's also possible that obtaining a practice schedule rigorous enough to make a difference would've hurt Minnesota.
Let's not forget why the Wild adopted this practice schedule in the first place. The Wild played 40 games from Feb. 12 to the end of the regular season, the most of any team except the New York Islanders. Only one playoff team, the Calgary Flames, played even more than 37 games (38) over that stretch.
Forty games in 77 nights is a grueling gauntlet in the NHL. Evason bet that with reduced practices, they could institute some load management and still ice a full lineup to play for home-ice advantage. Did it work? Arguably, yes! The Wild earned the second-best record in the Western Conference, giving them a chance to tip the scales at the Xcel Energy Center in a 2-2 series against St. Louis.
Instead, Minnesota fell apart, and it's on them to figure out what happened. I'm not trying to absolve blame from Evason, either. His team's signature resilience disappeared in the series, and every setback seemingly derailed their games. He refused to make any sort of adjustments, even as Craig Berube seemingly solved the Wild's system. And yes, that penalty kill was awful. There's no hiding from the accountability there.
It's not that Evason doesn't deserve scrutiny. The buck stops with him. However, it needs to be pointed out that his practice schedule was a damned if you do, damned if you don't tactic. Minnesota may have just as easily run out of gas with a more rigorous practice schedule. We'll never know.
What we do know is that the Wild's penalty kill has been a problem for almost the entire season. According to Natural Stat Trick, here's Minnesota's month-by-month rankings in actual goals allowed and expected goals allowed (all per-hour stats):
October: 24th, 30th
November: 8th, 19th
December: 10th, 14th
January: 24th, 23rd
February: 25th, 22nd
March: 28th, 13th
April: 30th, 25th
There were only two months where the Wild were out of the bottom-10 in allowing goals, and they never finished in the top-10 in preventing prime scoring chances. It isn't a penalty kill that fell apart in March. From January to the end of the season, Minnesota gave up short-handed goals at the second-highest rate in the league.
That's a huge drop-off from the 2021 portion of the season, when their penalty kill was the 12th-best team at limiting goals. There's another explanation for that drop-off, and another reason Evason would shy away from practicing in general: injuries.
Last week The Athletic's Michael Russo reported Jared Spurgeon would go under the surgeon's knife for a core muscle injury. Spurgeon had been in and out of the lineup since late November. Matt Dumba missed nearly the entire month of February with injuries, then punctured his lung and broke ribs in April.
At forward, Joel Eriksson Ek has played hurt since January and walked down the tunnel to the trainers' room in multiple games down the stretch. That also includes the playoffs. Marcus Foligno had a knack for doing the same after laying big hits during the late part of the year.
Now, let's look at the Wild's top penalty killers this postseason. Dumba was second, Spurgeon fourth, Foligno fifth, and Eriksson Ek was seventh. While Spurgeon performed decently (one goal allowed in 13:52), Foligno (two GA in 13:40), Eriksson Ek (two in 10:45), and Dumba (five in 16:38) had a rough time. It's hard to think injuries didn't affect their play.
Would adding the wear and tear of practicing have helped any of them? Probably not. Especially when the locker room is full of veterans. Of the 14 skaters who got the most average minutes in the playoffs, just one player (Kaprizov, who had seven goals) was under age-25. The average age of the skaters (not counting 37- and 34-year-old goalies Marc-Andre Fleury and Cam Talbot) was 27.4.
If any locker room should've been able to overcome a lack of practice time, it should have been this one. It's an older room where over half the team, including its most important pieces, have spent playing Evason's systems.
Luckily for Minnesota (at least from this small, specific angle), the days of shutting down teams for two weeks because of COVID appear over. There's also not an Olympic break to further disrupt the schedule. If not practicing did hurt Minnesota, the Wild will probably not run into another extremely compressed schedule again next year.
We know practice is important, we honestly do, but it will take more than extra days on the ice for Evason to fix Minnesota's issues. There has to be a real plan for how to adjust the penalty kill, power play, and perhaps even his team's killer instinct. We'll see next year whether Evason can find those answers.