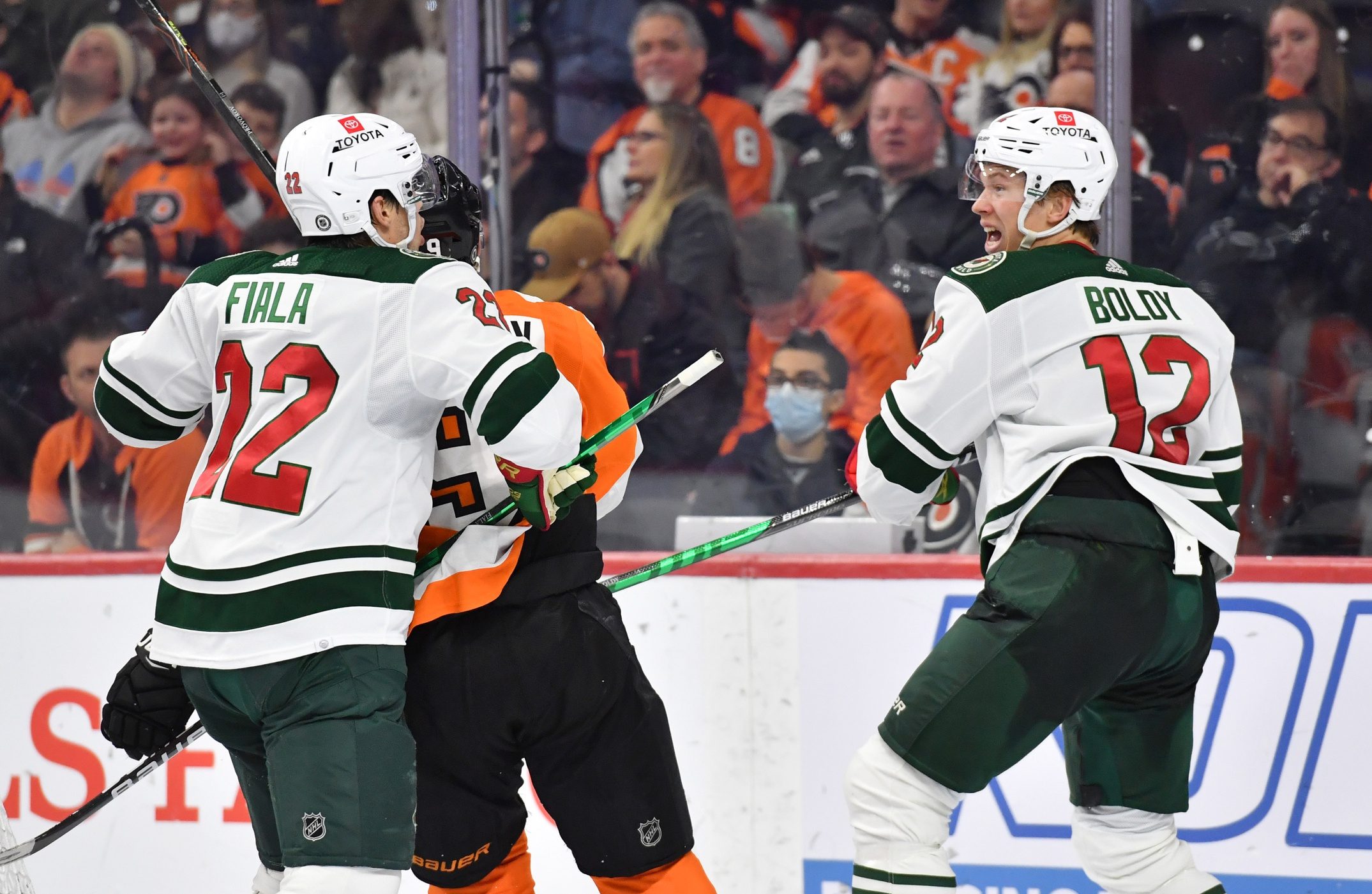 Once Matt Boldy's January call-up came, he quickly became inseparable from Kevin Fiala. Of Boldy's 581 minutes at 5-on-5, Fiala was alongside him a whopping 85.3% of them. Some of the NHL's most iconic duos, like Patrice Bergeron and Brad Marchand, or Auston Matthews and Mitch Marner, or Alex Ovechkin and Evgeny Kuznetsov, didn't spend that much time together last season.
This year, that's a different story. The Minnesota Wild separated entirely from Fiala, trading him to the Los Angeles Kings, and now Boldy had to find his own way in the NHL. Wild fans were, like it or not, going to get an answer to a big debate from last season: Who fueled who? Boldy or Fiala?
Now that we're a quarter of the way into the season, it's the perfect time to look at how the two are doing and wildly come to definitive conclusions based on 20-ish games. Well, maybe we won't go that far, but we can see the early trends and see if they tell us anything.
If you're reading this, you're probably already familiar with Boldy, so let's start there. After posting one of the very best per-minute rookie seasons in recent memory, Boldy came to training camp without a running mate. At least, not one that was set in stone, the way Kirill Kaprizov had Mats Zuccarello for his sophomore campaign. The candidates were Marco Rossi, Freddy Gaudreau, Sam Steel, and Tyson Jost.
So far, none of them has worked out as a stable partner. Still, Boldy started the season hot, with six goals, four assists, and 3.2 shots per game in his first 10 contests. Since then, it's been a bit rocky. He had an eight-game stretch with one assist before going back on a four-game point streak.
All told, this adds up to a very strong nine goals and 17 points in 22 games. It's no sophomore slump, for sure. Prorate Boldy's stats to 82 games last season, and he'd have had around 26 goals and 68 points. This season, he's on pace for 34 and 63. Given the Wild's need for players to put the puck in the net, you'd probably take that goals-for-assists trade-off, even at the expense of overall points.
Meanwhile, what's going on with Fiala in Hollywood? Anyone believing Fiala's second-half surge to only be the product of Boldy should be eating crow right about now. Fiala isn't just not crumbling without the Boston College prodigy; he's tracking to be even better than last season. His eight goals and 28 points have him tracking to hit 25 goals and a career-high 82 points.
It's Fiala and not Boldy who's maintaining their status as one of the NHL's most dominant 5-on-5 offensive forces. Last season, Fiala ranked ninth in the NHL among forwards with 500-plus minutes at 5-on-5 with 3.06 points per hour. Boldy was just behind him at 11th, sitting at 2.99.
This season, Fiala is sitting at 2.78 points per hour, which is 20th in the NHL among players with 200-plus minutes. It's the highest on the Los Angeles Kings, by far. Fiala isn't just putting up points in LA; he's pushing the pace for them and making the kind of difference they'd hoped when they traded for, then extended him.
[caption id=attachment_139500" align="alignnone" width="759]

Courtesy of Evolving Hockey[/caption]
Not only that, but he's also helping another young player break out. Gabriel Vilardi is a 6'3" center who the Kings took 11th in the 2017 draft. Injuries and inconsistent play held him back, and he split time between the NHL (25 games, seven points) and AHL (39 games, 38 points) last year.
Now in his age-23 season, Vilardi is finally showing well offensively in the NHL. He has 13 goals and 19 points in 25 games, with five of those goals coming off Fiala's assists. He doesn't ride with Fiala at 5-on-5 like Boldy did last season, but it's clear that Fiala's presence helped bring along a good young player for the Kings.
Flip it over to Boldy, and it's been the exact opposite for him at 5-on-5. Nine of his points (three goals and six assists) have come on the power play. That puts him at eight 5-on-5 points for the year or 1.40 per hour. That's tied for 208th of the 305 forwards with 200-plus minutes. That's a pretty big step back.
Why's that? Ironically, Boldy finds himself in the same situation he rescued Fiala from. Boldy doesn't get to be on the top line, with Kaprizov or Zuccarello. The other top-6 line is occupied by Joel Eriksson Ek, Jordan Greenway, and Marcus Foligno's shutdown line. Other than short stints centering Kaprizov following penalty kills, there's no room for him in Dean Evason's Top-6.
Because of this, Boldy's linemates have been pretty underwhelming this season. He's spent the most time with Gaudreau (35.2% of his 5-on-5 minutes), with Eriksson Ek (26.1%), a struggling Rossi (21.7%), and a struggling Foligno (18.9%). Eriksson Ek is the only player of that bunch he did well alongside from an on-ice perspective.
Unlike last season, there's been almost no stability, either. He's played 20 or more minutes with 11 forwards, or basically, the whole Wild team. It's resulted in Boldy having to put everything on his own shoulders. His goal rate at 5-on-5 is one per hour, which puts him top 75 in the league. But, like with Fiala at his lowest points pre-Boldy, teammates aren't finishing his plays.
None of this is to denigrate Boldy, though. As 10K Rinks noted yesterday with Kaprizov, Boldy is hardly the only Wild star struggling to score at 5-on-5. It's a tough spot to be in, and despite it, he is providing value for his team.
[caption id=attachment_139503" align="alignnone" width="764]

Courtesy of Evolving Hockey[/caption]
He's still bringing strong defensive value to the team, which gives him an edge over most forwards in the league. It's also no coincidence that the power play is surging with him on the top unit full-time. Add it all up, and what answer did we get? Who fueled whose success?
Strangely, the answer is neither. Their overall value in Standings Points Above Replacement? They're basically neck-and-neck. Fiala has been worth 1.6 points in the standings for the Kings. Boldy has given the Wild about 1.3 standings points worth of value. Given Fiala has four more games, it's even closer than that.
Ultimately, both players are getting along fine in their new circumstances. Fiala's productive in LA. And even without much support or stability, Boldy is finding a way to have a strong season on his own. We'll have to wait a little bit longer, at the very least, to formally declare who "won" this split-up between them.