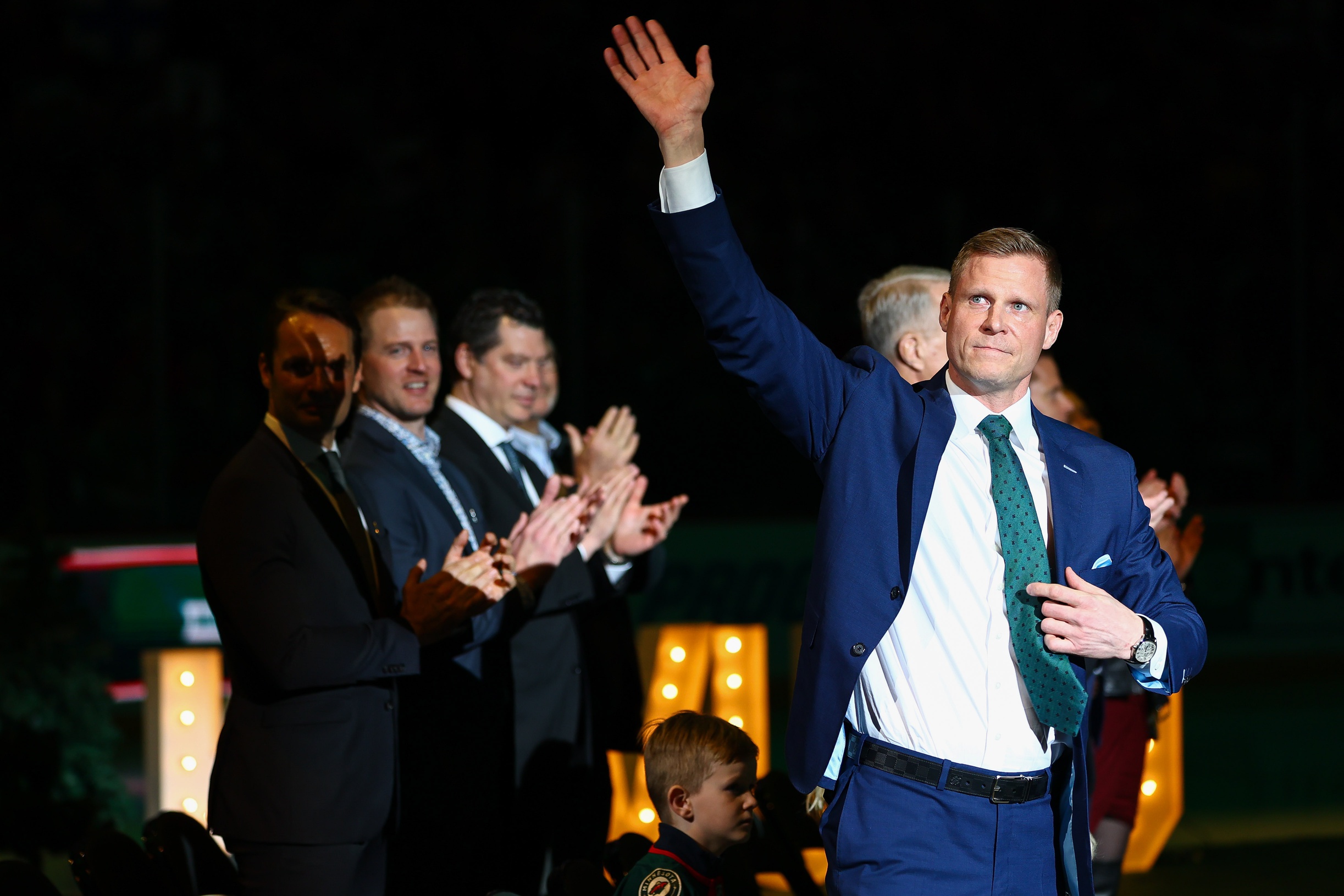 Image courtesy of © Harrison Barden-USA TODAY Sports
The Minnesota Wild have an incredibly passionate fanbase. They are hero-makers, showering the team's best and most charismatic players with adoration. Speak to a fan who's followed the team from its inception, and they can recount names from decades ago who are etched into their minds forever. That's history, and the legacies of those players don't seem reflected in the building when fans pour into the Xcel Energy Center. 
Where most fan bases would retire numbers for these players, making a case for any Wild player clearing that bar is tough. The main reason? A lack of playoff success. Minnesota has often become a stepping stone for teams en route to Stanley Cup championships. Even so, players who leave their mark on the team, like Zach Parise, Niklas Backstrom, and Marian Gaborik, deserve a place of honor in the arena. 
Earlier this summer, Michael Russo hinted on his podcast that the Wild Alumni Association might be the foundation for future projects such as a Wild Ring of Honor. While that never came to fruition, such a program would be the perfect middle-ground to recognize these players. 
So, what is a Ring of Honor? There's an excellent example of one just down I-94 at U.S. Bank Stadium, home of the Minnesota Vikings. The NFL Hall of Fame describes the Vikings Ring of Honor as "[recognizing] Vikings legends for their contributions to the team's success on and off the field." Put another way, it's like a team Hall of Fame. 
Part of why the Vikings instituted the Ring of Honor is that they can't keep retiring numbers. Logistically, they need 90 of the 100 possible jersey numbers in circulation to provide numbers for the 90-man preseason roster. A Ring of Honor is like the zero-calorie version of having your number retired in hockey. 
The Minnesota Wild are entering their 24th season. They've outgrown their early expansion years, and their adolescence of regular-season success has grown old as well. The franchise has matured, and with that comes a quarter-century of history. But who should be included in a Ring of Honor? 
The Vikings have inducted 27 players, coaches, and executives into the Ring of Honor over 62 seasons. The Wild have played 24 seasons, meaning their first class could include around 10 players. However, it's worth noting that NFL teams have 22 starters on offense and defense. If we pare those 44 guys down to a 20-man NHL roster, that works out to more like four or five members. So, the Wild have local precedent to bring in five or ten members in the inaugural Ring of Honor. Who should make up that group? 
A ring of honor should include the players, coaches, and executives without whom you cannot tell the team's story. They could easily include Jacques Lemaire, Manny Fernandez, and Andrew Brunette. They could also induct guys like Pierre-Marc Bouchard, Wes Walz, and Darby Hendrickson. Eventually, the team could even include Sid Hartman, Michael Russo, and Craig Leipold. But the founding members feel pretty straightforward. 
The No-Brainers
Mikko Koivu (C)
All the reasons that Koivu had his number retired apply here. In truth, I support the Wild retiring his number, even if they had already created a Ring of Honor when they retired it. On the other hand, there's an argument that Koivu never rose to the bar of a jersey retirement due to the team's failure to make it past the second round of the playoffs. 
Establishing Koivu as the founding member of the Wild Ring of Honor would have been a perfect fit. If the Wild set up their Ring of Honor like the Vikings, it would include retired numbers, so Koivu is a natural inclusion either way. 
Niklas Backstrom (G)
Backstrom might be the easiest pick on this list. He was synonymous with the Wild in his nine-season tenure in Minnesota. He started 350 games for the Wild, owns franchise records for shutouts and wins, and was largely excellent on a per-game basis. 
He won the 2006-07 Jennings Trophy with Manny Fernandez, awarded for the fewest goals against per game (minimum 25 starts). While those teams never enjoyed much national recognition, fans in Minnesota knew Backstrom as a rock in net. 
Marian Gaborik (RW) 
Until Kirill Kaprizov arrived, Gaborik was the measuring stick for a game-breaking forward in Minnesota. Kevin Fiala, Zach Parise, and Mikael Granlund were all excellent players, but none measured up in the eyes of long-term Wild fans. Gaborik's raw skill at handling and shooting the puck was magnificent. 
Even for the first year or two of Kaprizov's career (by all accounts an instant success), many fans still preferred Gaborik's work. While Kaprizov has likely won over most fans by this point, that's a real testament to what Marian Gaborik means to the history of this team. 
Zach Parise (LW) 
Parise returned to his home state Wild in free agency on one of the two largest contracts in team history. For four straight seasons, he scored at a 30-goal pace in one of the lowest-scoring eras in NHL history by going to the most punishing areas of the ice. 
After the team's emotional 2014 postseason, he led a gritty comeback in their first meeting against the rival Colorado Avalanche. He gave more to this franchise in flesh and blood than perhaps any other player, and it's all the more meaningful from the hometown hero. 
Parise's buyout complicates his legacy with the team, primarily due to a decline in play due to injuries. Bringing him back into the fold by honoring him with a place in the Ring of Honor would be one of the best reasons to start the Ring in the first place. 
Derek Boogard (Enforcer) 
Boogard is an icon of Wild history. He was 6'7" but stood even taller in fans' hearts. The Boogeyman was a vital founding member of the Wild, setting a physical tone and creating a warm locker room environment. 
Perhaps more than any other player, Boogard is why the Wild need a Ring of Honor. Teammates and fans have etched him into their memories. His tragic passing could leave a complicated legacy, but somehow, it never takes his shine away. Enshrining him in a Wild Ring of Honor would be a perfect way to honor his memory on and off the ice. More than simply remembering and celebrating him, it strikes the proper reverent tone. 
2

1