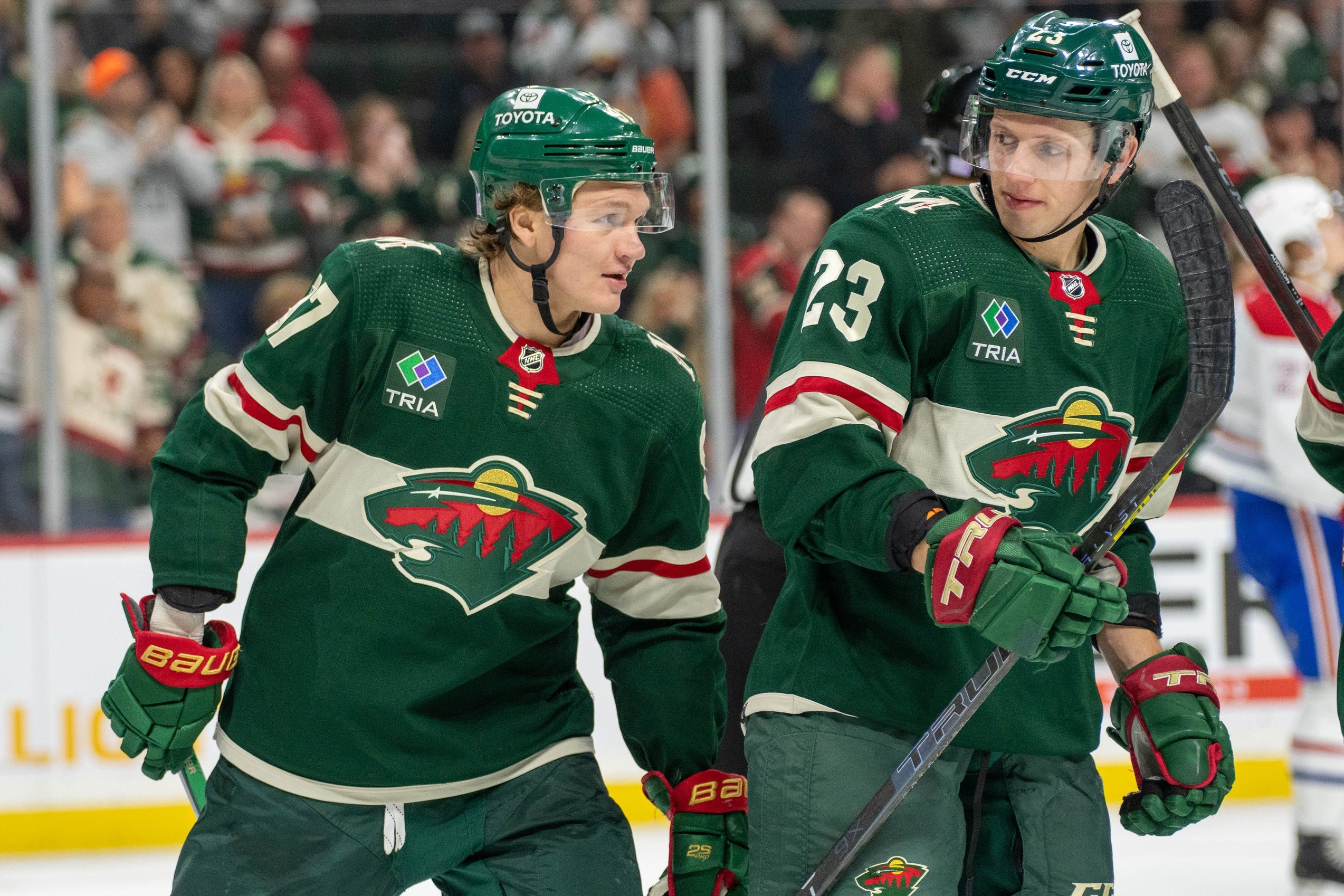 The Minnesota Wild were desperate for a generational talent for a long time. However, with the Wild hanging on to a Wild Card spot, there's only a slim chance they'll land Connor Bedard. He would be the cherry on top of Minnesota's prospect pool, but without a tanking quality, Bill Guerin has to pursue other options to build a perennial Stanley Cup Contender.
It's going to have to happen through developing draft picks, along with their trend of adding former first-rounders in low-risk/high-reward moves. Guerin is playing a game of chess. He knows how he wants to build this prospect pool.
Kirill Kaprizov is the closest they have to that generational talent at the NHL level, and his play with Mats Zuccarello has been nothing but beauty. Their friendship is an NHL favorite, and there might not be a bigger example outside of Alex Ovechkin and Nicklas Backstrom.
But the on-ice product is what fills the seats. That's fantastic right now. Zuccarello is 35, though, and has just a year and a half left on his contract. What happens if they don't re-sign him? Can Minnesota continue a trend of developing prospects to channel Kaprizov and Zuccarello's chemistry?
Let's take a look at the Wild's system and try to identify who has the ideal skillset to bring Zuccarello's half of this duo to the NHL.
Rossi has been going through a rough time since the Wild drafted him 9th overall in 2020. He's battled through myocarditis that took him out of action for almost a year after producing monstrous numbers in the OHL. And his journey hasn't been easier after he got back into the swing of things.
He was able to see some more success at the AHL level by being one of the best rookies in the league last year. The NHL has been a different story, though. Rossi faced larger players and faster competition, a couple of steps above the leagues he was comfortable playing in. Ultimately, Rossi hasn't produced yet.
Yet, he saw time on the fourth line and hardly played 10 minutes a night. He was often a healthy scratch, and seemed to kill his confidence. Now he has to restore it. Rossi still has plenty of time to rebound and develop the two-way game he had when the Wild drafted him.
Marat Khusnutdinov 
Khusnutdinov's starting to see production after he's been through some tough stretches. But with his incredible work ethic and understanding of the game, he's finally getting rewarded. Khusnutdinov has three goals and 10 points over his past seven games in the KHL.
He plays the majority of his time at center, which is good news for Minnesota. The Wild needs to develop more centers on their team, as their depth outside of Joel Eriksson Ek remains shallow. If Khusnutdinov can emerge into a Top-6 center, that would be a bonus for Minnesota. They'd have the potential for a 1-2-3 punch down the middle once Rossi develops.
You've got to love Khusnutdinov's willingness to take punishment around the net. That part of his game and energy gives you Zach Parise vibes, which is perfect for cleaning up Kaprizov rebounds. Khusnutdinov is on the rise, and should see more success and ice time over the rest of his KHL deal, which expires in Spring 2024.
Danila yurov
Yurov is still a favorite to break out into a star. If anything, he may have the best chance to become the next great young goal-scorer alongside Kaprizov and Matt Boldy. His MHL (Russian Juniors) production out-paced Kaprizov, Artemi Panarin, Nikita Kucherov, and Pavel Buchnevich in his draft year -- that's hard to do by accident.
Yurov's having an up-and-down season when it comes to ice time. The KHL has a common theme of letting 17- and 18-year-olds play sparingly, which means it often takes longer for them to develop professionally. Because of this, his numbers (four goals, nine points in 37 KHL games) may be the most misleading of anyone in the 2022 draft.
Liam Öhgren
Öhgren is going to take a little longer to come out of Europe, and that's okay. You don't rush a prolific goal scorer. He's playing in Hockey Allsvenskan, the AHL of Sweden, and has yet to play for Djurgårdens' big club yet.
He has been spending time playing third line minutes to be a depth contributor. How will he continue to grow to eventually take on top minutes next year? It all starts with consistency for Öhgren. He has a natural scoring touch and breakout speed, which are two traits elite goal scorers possess.
Can he become similar to a Taylor Hall-type of player? Hall is known for his fire speed and scoring ability and rode it to a Hart Trophy win in 2017-18. Sure, you never want to bring up comparisons to a former first-overall pick. However, Ohgren has a foundation that he can use to his advantage at the next levels.
And as good as Hall is, he has only scored 30 goals in his career once, and he's been in the league for 13 years now. It's clear on a Cup-contending team Hall's a high-end Top-6 player and not necessarily a franchise top-line player. So maybe a comparison like that isn't a big reach with Öhgren.
Adam beckman 
Adam Beckman is looking for his identity at the pro level, with just six goals and 12 points in 20 games in his sophomore AHL season. Is he fighting through one of the toughest growing pains or did his goal-scoring magic fade away from the junior levels?
His calling card has always been filling the net. He was brought in as a prolific shooter. If anything, this is his time to reevaluate himself and study opposing goalies by watching game tapes. What worked in juniors doesn't work in pros. Beckman needs to figure out what his strengths and weaknesses are. Will he find his next stride?
Beckman has a volume-shooting cornerstone in Kaprizov to idolize. And with 73 shots in 20 games, he has that part down. It's Kaprizov's pace that Beckman needs to continue mimicking. He may never be a great skater, but so what? Boldy isn't a great skater. Neither is Kucherov, for that matter. But they use their hockey sense more often than not, and their brains help them move fast on the ice. Beckman needs to learn how to use his brain to make the puck move faster than his skating, and the rest will follow.
SerVac petrovsky
Petrovsky may never be a high-level playmaker at the NHL level, but when scouts praise your shot and compete level, you're going places. Petrovsky can develop a blue-collar goal-scoring mentality, much like Joel Eriksson Ek.
Petrovsky can thrive with the right playmaker to bring out his offensive production. He knows where to position himself and can fight off defenders, and has a fearlessness of paying the price around the net. Once he improves his speed and gains experience, he can develop into a polished player who can be relied on to play heavy minutes.
Hunter haight 
It's been a tale of two seasons for Haight. With the Barrie Colts, he scored just three goals and nine points in 20 games. Then he got traded to the Saginaw Spirit, and has exploded early on with four goals and 12 points in six games.
He's finally building on his wealthy foundation of standout skill, which is good news for the 2022 second-rounder. It's hard to project anyone outside of the first round, as the draft is a crapshoot after the first five draft picks are made. Who's made to thrive and who's made to die? It's a waiting game.
But thanks to his skillset and change of scenery, Haight still has a chance to surprise fans. With his speed and skill on the wing, maybe a realistic model for him to channel his game after is Anthony Duclair.
Duclair has had a slow start to his career, despite notching a 20-goal season early on. Recently, he's shown he brings Top-6 quality play for the Florida Panthers. While he's battled injuries, he's capable of embarrassing you in the worst way possible on his best nights.
It's likely going to take at least two years before Haight plays top minutes in the AHL. But once he gets to the NHL, watch out. Haight can bring his own flavor to the Wild by playing to his strengths, which might just mesh well with Kaprizov's creative playmaking and way of creating open ice.
Pavel novak 
Lastly, do not count out Novak. He fought and won his battle with cancer. He's on a mission to complete his dream of playing in the NHL one day, and it's impossible to not cheer for him. He's shown to be a dominant goal scorer in the OHL (54 goals, 130 points in 117 games with the Kelowna Rockets), but can he translate that to the next level? That has yet to be seen, but due to his hard work, willingness to fight, and determination, he won't stop at anything.
Now, we know that every player won't hit their ceiling. But if the Wild can get, say, four of them to hit their ceilings, they should be able to create a perennial Stanley Cup playoff team. And of these eight players, at least one of them is going to probably catch on with Kaprizov, whether that's at center, or along the wing, like Zuccarello is. Which one will it be? We'll have to wait, but at least there are plenty of good candidates who can fit the bill.