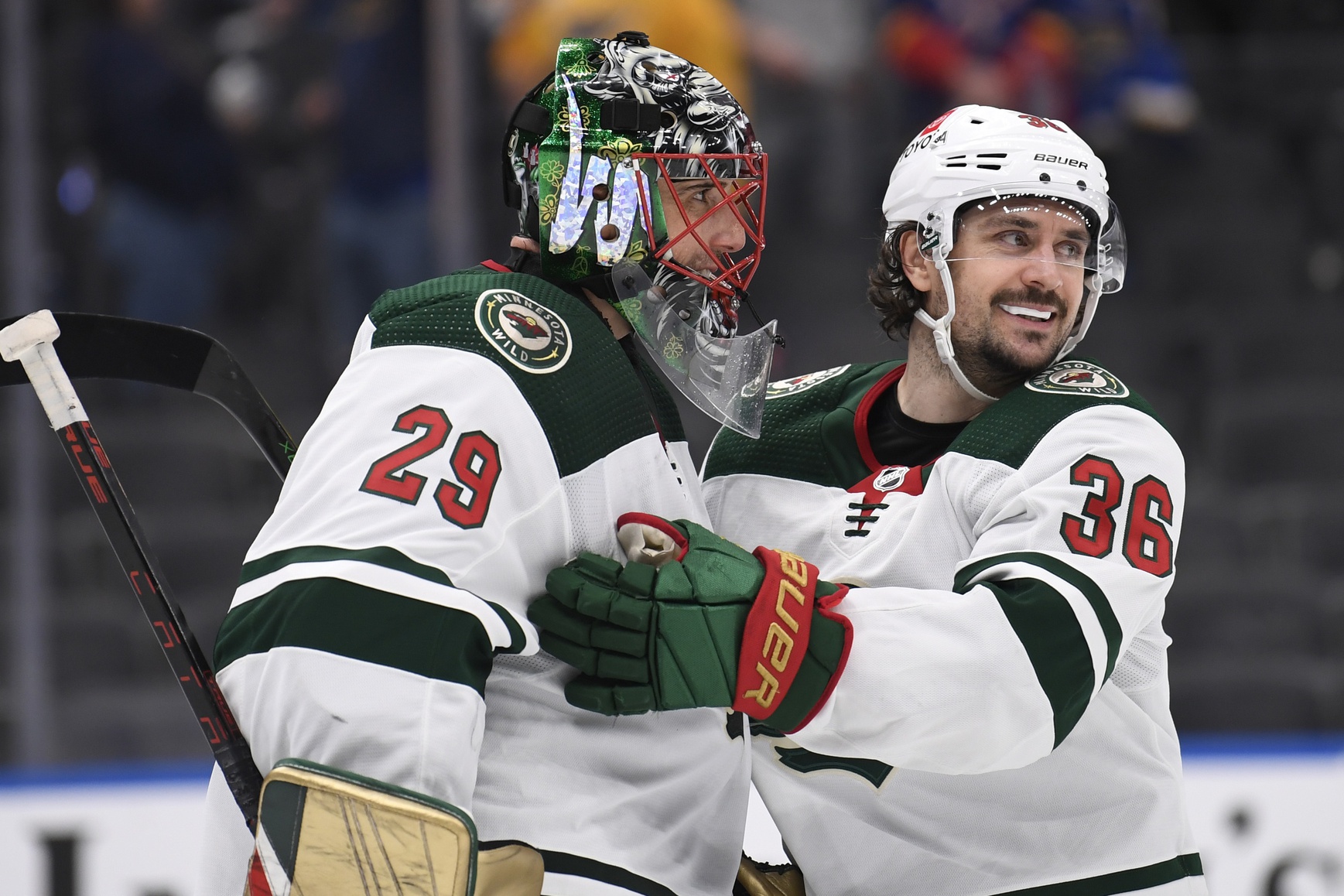 The Minnesota Wild's season came to a screeching halt at the hands of the St. Louis Blues. Their historic season ended abruptly with a few sloppy losses and a shocking lack of urgency. To make matters worse, the Wild have to conduct business with a tight salary cap over the next three years, the result of buying out Zach Parise and Ryan Suter.
That means significant changes could be coming this summer, and it starts with pending RFA Kevin Fiala. However, there are also a lot of other question marks throughout the lineup, including the defensive logjam and the future of the goaltending position in Minnesota.
With that in mind,10K Rinks compiled a list of players who are here to stay, potential trade candidates, and players departing to free agency in the offseason.
The Untouchables
Unsurprisingly, Kirill Kaprizov is untouchable and isn't going anywhere. The 25-year-old Russian superstar has four years remaining on his contract, and he continues to provide the Wild with surplus value on his lucrative deal. Not only did he make franchise history as Minnesota's first 100-point scorer (47 goals, 61 assists), but he singlehandedly had the Wild on his back in the playoffs.
Joel Eriksson Ek has seven years remaining on his deal and is here to stay. The Wild didn't hand him a maximum eight-year deal to trade him a year later. The 25-year-old center is like a Swiss Army knife, providing so much value to the middle six. Eriksson Ek proved that last season wasn't an outlier. Instead, it was a forecast of the future with 26 goals and 49 points this season. Plus, he's proven to be a clutch playoff performer, with five goals and eight points over the last two years in the playoffs.
The No Move Clause crop
Mats Zuccarello is the only Wild forward with an NMC at the moment. However, it will become a 10-team no-trade clause over the final two years of his contract, which kicks in this summer. While he's 34, he probably wouldn't even be moved without the trade protection he holds. Zuccarello was sensational this year after a decent but underwhelming start in Minnesota over his first two years, and his contract is no longer a burden. He finished the season with 24 goals and 79 points and was a major part of the Wild's top line.
Not only is Jared Spurgeon the Wild's captain, but he's one of the most underrated blueliners in the league. The 32-year-old has five years left on his deal and is coming off one of his best years to date.
Jonas Brodin has six years remaining on his long-term contract and has an NMC. He continues to be one of the league's best blueliners defensively and is an integral part of the Wild's top four.
Bill Guerin likely regrets re-signing Alex Goligoski because of the defensive logjam that he created in the process. Calen Addison will probably push for full-time duty next season, but that doesn't matter because Goligoski has an NMC and is under contract for two more seasons.
sticking around
If the Wild wanted to gain additional cap space and add more young assets, Marcus Foligno would be a perfect candidate to move. But the 30-year-old does it all for Minnesota and is simply irreplaceable. Even though he's an attractive trade option, his value outweighs the return they could get for him. His defensive numbers rank at the top of the league, and he not only provides a physical presence but chips in offensively.
Like Foligno and Eriksson Ek, Jordan Greenway plays a large role in the GREEF line's success. The Wild just signed the 25-year-old winger to a three-year extension, and Minnesota won't break up one of the best defensive lines in hockey.
Ryan Hartman has two more years left on his deal that pays him $1.7 million annually. After scoring 34 goals this season, his contract is not just a bargain but one of the NHL's best contracts. Even though he is an attractive trade option, the Wild need his production and inexpensive deal on the payroll amid their salary cap squeeze.
Matt Boldy just came off a fantastic rookie campaign, scoring 39 points in 47 games and seamlessly fitting in on the second line. This season, the 21-year-old's 3.24 points-per-60 was the highest among all rookies, including besting notable first-year players in Michael Bunting, Trevor Zegras, and Lucas Raymond.
There were many surprising players this season, but rookie Connor Dewar may have been the most surprising. While he didn't produce much in terms of points, he had an excellent season and exceeded expectations with superior defensive play. Dewar is a legitimate NHLer and is a perfect candidate to be on the fourth line next season.
Just like Dewar, Brandon Duhaime had a strong rookie season, aside from his poor performance in the playoffs. Along with 17 points, he provided a physical presence and was strong defensively. He should have a spot on the fourth line next season.
The Wild extended Jon Merrill to a three-year contract during the second half of the season, so his future in Minnesota is relatively certain.
All signs point to Cam Talbot returning next season despite not getting the nod in the playoffs until the season was on the line in Game 6.
 Potential trade chips
Both Tyson Jost and Freddy Gaudreau will likely return next season, but the Wild could use them in a trade. They already have Eriksson Ek and Hartman down the middle and Marco Rossi, who will likely make the opening night roster. Add in the possibility of someone like Adam Beckman making the team, and there's a chance that one is moved this summer because of a lack of roster spots.
The thought of trading Dmitry Kulikov in the regular season would have been crazy because of how well he performed alongside Merrill. But his two abysmal games in the postseason and the Wild's lack of spots on the blue line suddenly make it a possibility.
Matt Dumba has consistently stayed in trade discussions over the past few years, in part because of his $6 million annual paycheck. While he has a partial NTC and one year left on his deal, the Wild could move him this summer because of the tight salary cap and defensive logjam.
Expect Jake Middleton (RFA) to return next season, especially with how good he has been since he arrived at the trade deadline. But for that to happen, at least one of Dumba or Kulikov will have to be moved. Perhaps both if Addison makes a serious push to make the roster out of training camp.
it Depends on the money
After acquiring Marc-Andre Fleury at the trade deadline, it's not surprising that the Wild have interest in re-signing the reigning Vezina Trophy winner. While that means there's a chance he could return next season, it will come down to what Fleury is looking for, considering the Wild have to budget this summer.
Losing Kevin Fiala would be detrimental to the Wild's offense, but their tight salary cap makes it difficult to fit the 25-year-old game-breaker into the payroll. He's coming off a career year where he had 85 points, so his next contract will likely be too pricey for the Wild. While it's not impossible that he re-signs, his departure became inevitable after the Wild made moves that made it more difficult for him to remain in Minnesota.
Don't expect them to return
There's certainly a chance that Nic Deslauriers returns for another season, but don't count on it. He was invisible in the playoffs after taking Dewar's roster spot. Additionally, Dewar definitely deserves a regular role on the fourth line over Deslauriers.
Nick Bjugstad has been a quality depth piece over the past two seasons in Minnesota. However, the veteran likely won't return because roster spots will be scarce with Rossi and perhaps even Beckman joining the team next year. Plus, Bjugstad missed significant time this season due to injury and didn't play a game in the playoffs.
The Wild acquired Jordie Benn for insurance on the blueline. And although there's an argument that he shouldn't have played over Addison this season, he was still useful at times. Still, there's no opportunity for him now in Minnesota.