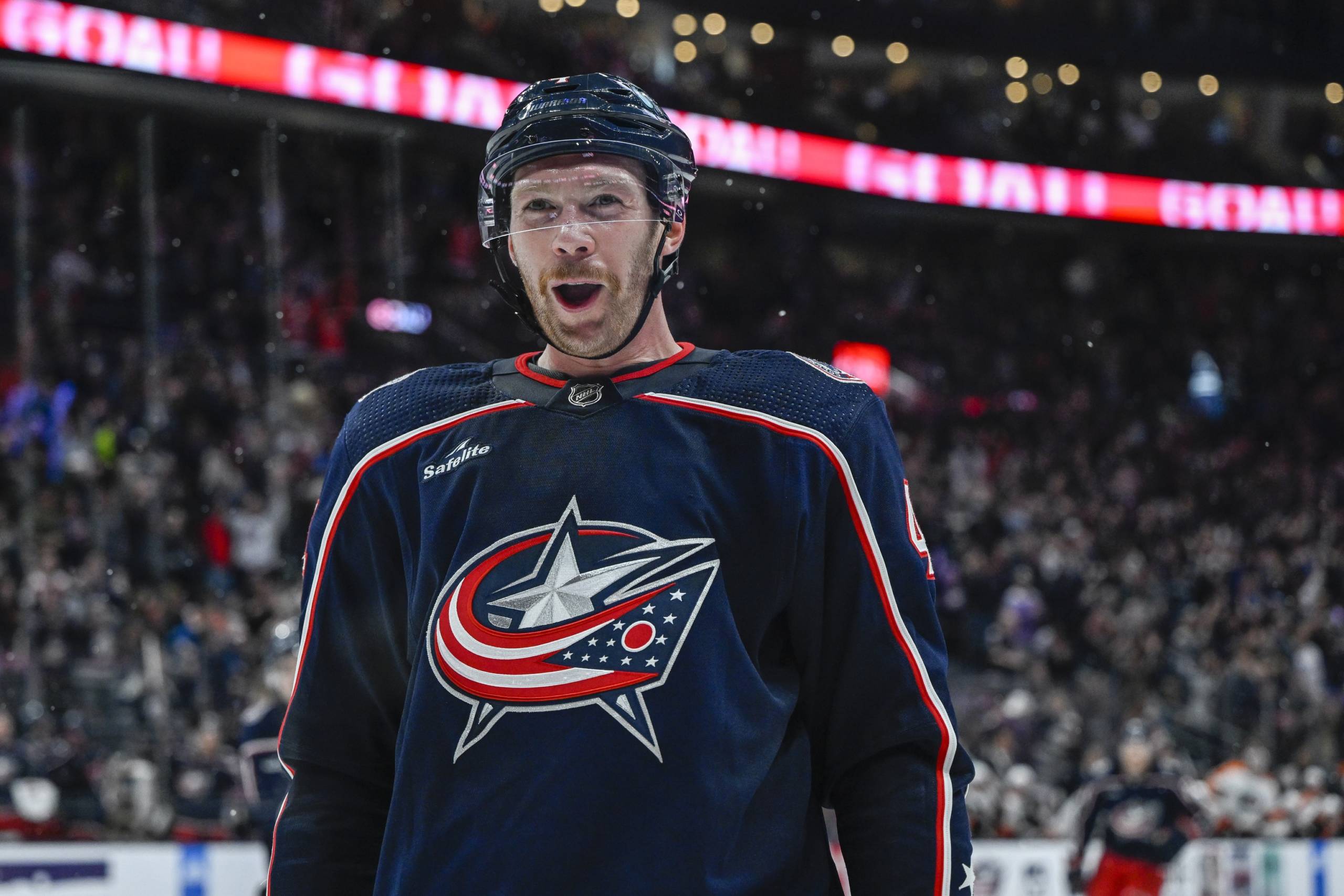 Why are the Minnesota Wild so hung up on trading for a forward? While it's well known that Bill Guerin wants to get more forward talent, he should focus on making Minnesota's blueline the best in the NHL. They'll need that upgrade for a sustainable playoff run. This is where Vladislav Gavrikov of the Columbus Blue Jackets comes into play, and his skills are easy to fall in love with.
Don't fans get tired of Minnesota's defensive breakdowns? Doesn't everyone get on edge when Matt Dumba and Alex Goligoski patrol the ice together? Goaltending has been the least of Minnesota's problems this season. While it's prone to occasionally giving up soft goals, it's often a lack of structure that creates more havoc for sustainable success at 5-on-5, which they need improving.
First things first, let's get familiar with Gavrikov. The Columbus Blue Jackets selected him 159th overall in the 2015 NHL Entry Draft as an overager. The Wild took Kirill Kaprizov 24 spots before him in the same draft, and Gavrikov and Kaprizov played for Team Russia in the 2018 Olympic Games. That was the same Olympics where Kaprizov scored the game-winning goal to win the Gold Medal for Russia. So there's instant familiarity between them.
Why was this so important to mention? Well, for starters, Kaprizov and Gavrikov experienced winning the most coveted medal in all of international hockey. While Kaprizov brought the scoring punch, Gavrikov brought tons of defensive structure. It played to perfection. So if Guerin wants to get this band back together, now this is the opportune time as Gavrikov has been coming up in trade rumors.
Think of Gavrikov as last year's version of Jake Middleton as a comparison, but with a little more offensive upside and professional experience. Gavrikov won't ever blow you away with his offensive numbers. That's not why he's going to take this blueline to new heights. He plays his defensive defenseman role to perfection. He isn't just good, he's elite at it. Because of this, he's a very underrated player who's currently helping to anchor the Blue Jackets' blueline in Zach Werenski's absence.
Gavrikov's defense would take much burden off of Jared Spurgeon, Jonas Brodin, and Middleton. He plays with tons of smarts, snarl, and sacrifice. Not to mention has leadership. The guy will block shots until he can't block shots anymore. He was able to block four shots against the Florida Panthers' explosive power play on one shift. Just watch it.
He's great at being stationary, boxing out the high slot area and being alert. Once he sees Mike Hoffman as the one-timer option, he doesn't hesitate to get in position for the block. You need this kind of will to win a Stanley Cup. He even blocked a cross-ice saucer pass with his face and came back later in the game against the Carolina Hurricanes.
His defensive reads are so strong. Here's another play where he single-handedly defends two Anaheim Ducks' forwards which could've been a 2-on-1. You see tons of commitment and physical strength here as Gavrikov makes defending look easy. Much like how Middleton overpowers his opponents and smothers them away from the net, Gavrikov is a player every playoff team needs. And if the Wild are going to be a playoff team, they will need more players like him.
Gavrikov has the type of personality Guerin loves to have in his locker room. He brings a presence to the locker room which any team enjoys. Definitely a fan favorite to bring light despite a lackluster start for the Blue Jackets so far who was supposed to become a Cup favorite after adding Johnny Gaudreau. Gavrikov is a great teammate to lean on to win games the right way.
He may not bring the kind of offense you'd want, but he's definitely a savvy player who you shouldn't overlook. Gavrikov scored two goals against the New York Islanders this past spring with great awareness and execution. It's that simple type of game that he excels at. It's not flashy, but it's effective.
He also isn't afraid to shoot the puck from the point and score, even if he doesn't necessarily have Dumba's bomb from the point. Gavrikov just scores smart points. He's going to help shutdown the opposing team and get rewarded by chipping in offensively.
How can the Wild acquire him? They already carry seven defenseman, and won't be able to have eight. Someone like Jon Merrill would have to be included. Goligoski carries a No-Movement Clause, or else he'd be a good candidate as well. But of course, Gavrikov is highly valued, which would mean it would also take a prospect, perhaps a Ryan O'Rourke or Daemon Hunt, to complete the trade. Or perhaps even high draft pick, although a first-rounder feels a bit too rich.
It'd be an instant upgrade. Merrill's a solid depth defender, but he's prone to having hiccups, much like Dumba. While Merrill's one of the bigger defenders on the team, he lacks the snarl to be effective. Gavrikov plays with more of an edge and utilizes his size much more often. Minnesota would have a great 1-2-3 punch of defensive defensemen on the left side with Brodin, Gavrikov, and Middleton entering the playoffs.
Gavrikov is definitely a player the Wild should stick with for a few years as a core piece. Who knows, maybe it could be a little bit of extra influence for his countryman Kaprizov to sign an extension? If they already won Olympic Gold together, why couldn't they win a Stanley Cup in Minnesota? Even more importantly, though, Minnesota's defense group would regain their status as having one of the best, if not the best, bluelines in hockey.