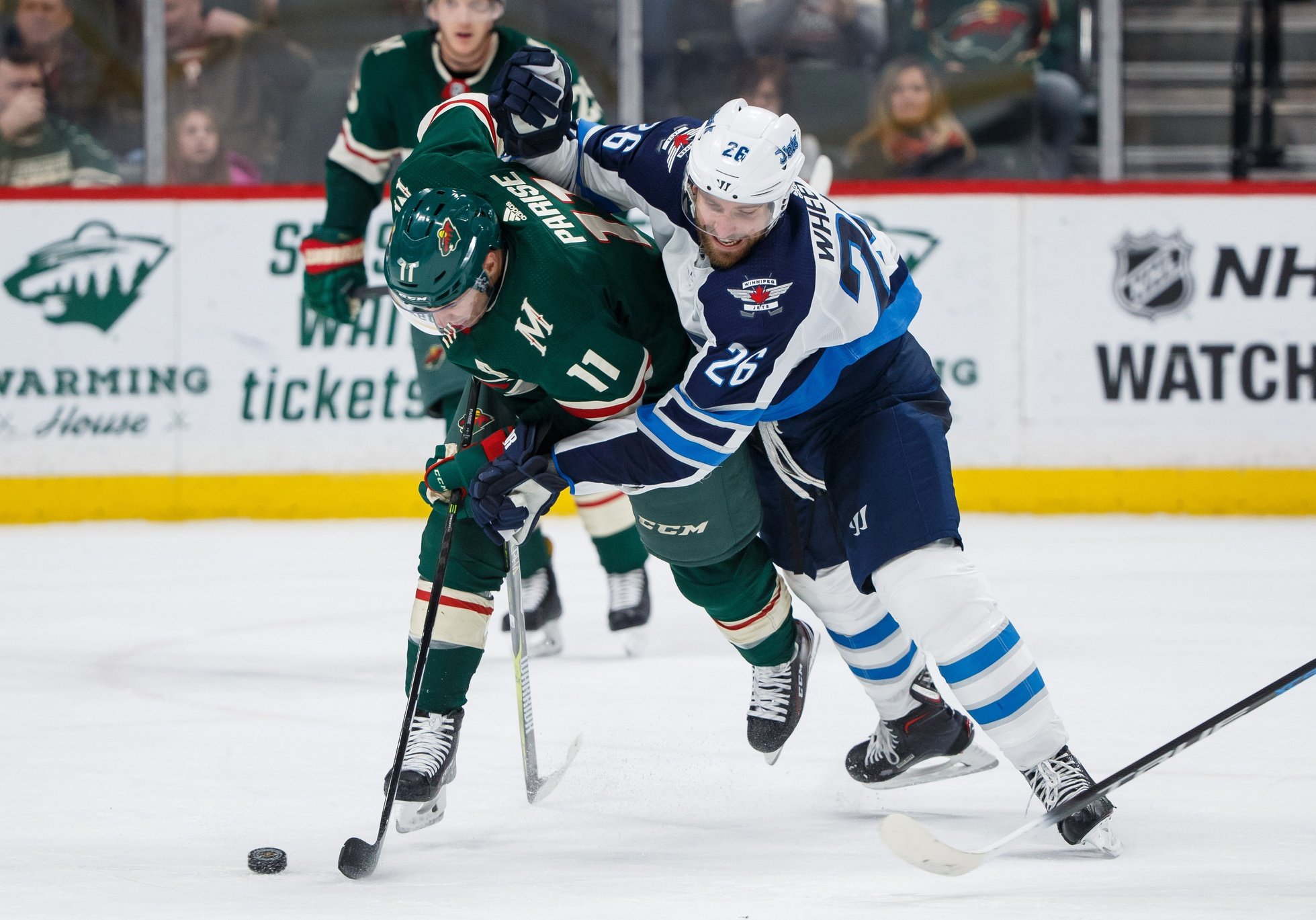 Be it a famous actor, an Olympic skier, a hip hop artist, or a sports athlete making it big time, the people of Minnesota take pride in one of their own born and bred Minnesotans getting famous. Nowhere is that more apparent, and sometimes rampant, than in the sheer numbers of Minnesota kids now in professional hockey.
With so many active pro players that claim Minnesota as their birthplace, there must be a "best" among the bunch. Before determining the best Minnesota hockey player right now, there must be some ground rules laid down.
First, this list is comprised of currently active players only. So no votes for Neal Broten. He'd be high on the list of all-time Minnesota-born players. Second, I'll be using the list of active Minnesota-born players from QuantHockey.com. The site currently tallies 51 players, and I'll be taking the top 10 players sorted by career points per game. Finally, I'm going to use the last three seasons of stats to determine the best player right now. 
Oh, and I'm using a list of players that have their birthplace listed as a Minnesota town at Hockey-Reference.com. So all of those who believe Jake Guentzel or T.J. Oshie are among the best players from Minnesota, I'm sorry to say that they are not #OneOfUs. Guentzel was born in Omaha, Neb., and Oshie from Everett, Wash.
"But, couldn't you just take the top player off the list in points per game?"
A person could, but what's the fun in that?
Blake Wheeler tops the list in total points in the last three seasons. Born in Plymouth, Wheeler was drafted by the Boston Bruins in 2008 after compiling 114 points in two seasons with the Golden Gophers. He was traded by the Bruins in 2011 to the Atlanta Thrashers for Rich Peverley and Boris Valabik. Since then, he's been a staple on the top line for the Winnipeg Jets, garnering nearly 19 minutes per game. He racked up 91 points in two of the three seasons. Yet, he's only appeared in one All-Star Game and has continued to fly under the radar, even among fans in Minnesota. He remains one of the most underrated Minnesota-born players to this day.
Wheeler does have faults, though. The last three seasons have shown that his defense is sorely lacking. In even-strength defense and short-handed defense, he is below replacement level according to Evolving Hockey's Goals Above Replacement model. Wheeler is an excellent player, but to determine the best Minnesota-born player, the player must be able to be at or above replacement level on both ends of the ice.
Anders Lee has some of the best Expected Goals For rates among this group. Lee, who is from Edina, played at Notre Dame and scored 117 points in three seasons with the Fighting Irish. He made his NHL debut with the New York Islanders, who drafted Lee in the 6th round in the 2009 draft. He had some up and down seasons between the AHL and the Islanders until he found a full-time role in the 2015-16 season. For Lee, his game is all about getting into the high-danger areas as evidenced by his high xGF/60 rates, and letting his shot do all the work. A strong shooting percentage of 9.19 makes Lee a goal scoring threat every time he's on the ice.
However, Lee, like Wheeler, doesn't do defense. He doesn't even log minutes on the PK, and his Even Strength defense rivals Thomas Vanek's numbers when Vanek was with Minnesota. And while we could stop there due to the reasoning stated above, another reason to not name Lee the best Minnesota-born player right now is because his point production just doesn't reach the levels of even Wheeler to out-weigh the negatives on defense.
Goligoski is the only defenseman to show up on the list. Neal Pionk actually has a higher PPG than Goligoski, but Pionk, like Guentzel, was born in Omaha.
Goligoski was born in Grand Rapids, Minn., and spent three seasons at the University of Minnesota. Drafted by the Penguins, he's bounced around the league quite a bit. After spending time in Pittsburgh, he went to Dallas, and signed as a free agent with the Arizona Coyotes. In Arizona, Goligoski has earned himself a letter on his chest as an alternate captain. 
His point production on defense is just so-so. He contributes, but Ryan Suter has consistently out-produced him the last three seasons. While Goligoski's career is definitely in the twilight, his 3.3 GAR still ranks higher than Derek Stepan, Kyle Okposo, Nick Bjugstad and David Backes, who all land on this list. 
Parise has maybe had the better career to this point of all active Minnesota-born players. He leads the list in games played, goals and points. Born in Minneapolis, Parise spurned the hometown Gophers and went to the University of North Dakota. He scored 116 points in the two seasons at UND.
After seven seasons with the Devils, Parise signed a giant free agent contract with the Minnesota Wild in the summer of 2012, the summer after leading New Jersey to the Stanley Cup Final, and almost-heroic performance at the Vancouver 2010 Olympics.
Parise battled injuries in 2017-18 and missed a good chunk of time. However, his 2.43 standing points above replacement ranks third on this list. He also carries a 7.0 GAR over the last three seasons. He's a strong candidate for best player.
Boeser was infamously not drafted by the Minnesota Wild in 2015 and instead went to the Vancouver Canucks at Pick 23. The Burnsville grad went to North Dakota and scored 94 points in two seasons. He left college after his sophomore season and immediately made an impact in Vancouver. 
His numbers are elite.
Even though he doesn't have penalty kill time, he is firmly above replacement defensively, all while doing his thing offensively. The production stats have yet to come for Boeser, but everything he's doing at an underlying level screams upper-echelon. As Vancouver continues to build for the future, you can expect Boeser's box score numbers to climb.
He's also going to be a force for the Minnesota Wild in the Qualifying Round match-up with the Canucks. Boeser is easily the player to watch who calls Minnesota home.
The Award Goes To…
Allie Thunstrom of the Minnesota Whitecaps. 
Hailing from Maplewood, Minn., Thunstrom led the NWHL with 24 goals in 24 games. She was second in the league with 36 points. She's one of the fastest players, not just on the Whitecaps, but on the entire ice. It's her best weapon, and she uses it to the max. She comes through in clutch moments and is on the ice in all situations. An Isobel Cup champion in 2019, Thunstrom led the Whitecaps back to defend their title before the championship game was canceled due to the COVID-19 pandemic. She was named the NWHL MVP for 2020 and is a NWHL Foundation Award winner. 
Minnesotans can't get enough of #OneOfUs. Whether these elite players land in the men's game, or the women's game, the best Minnesota has to offer will always be something Minnesota fans can be proud to call their favorite son or daughter.