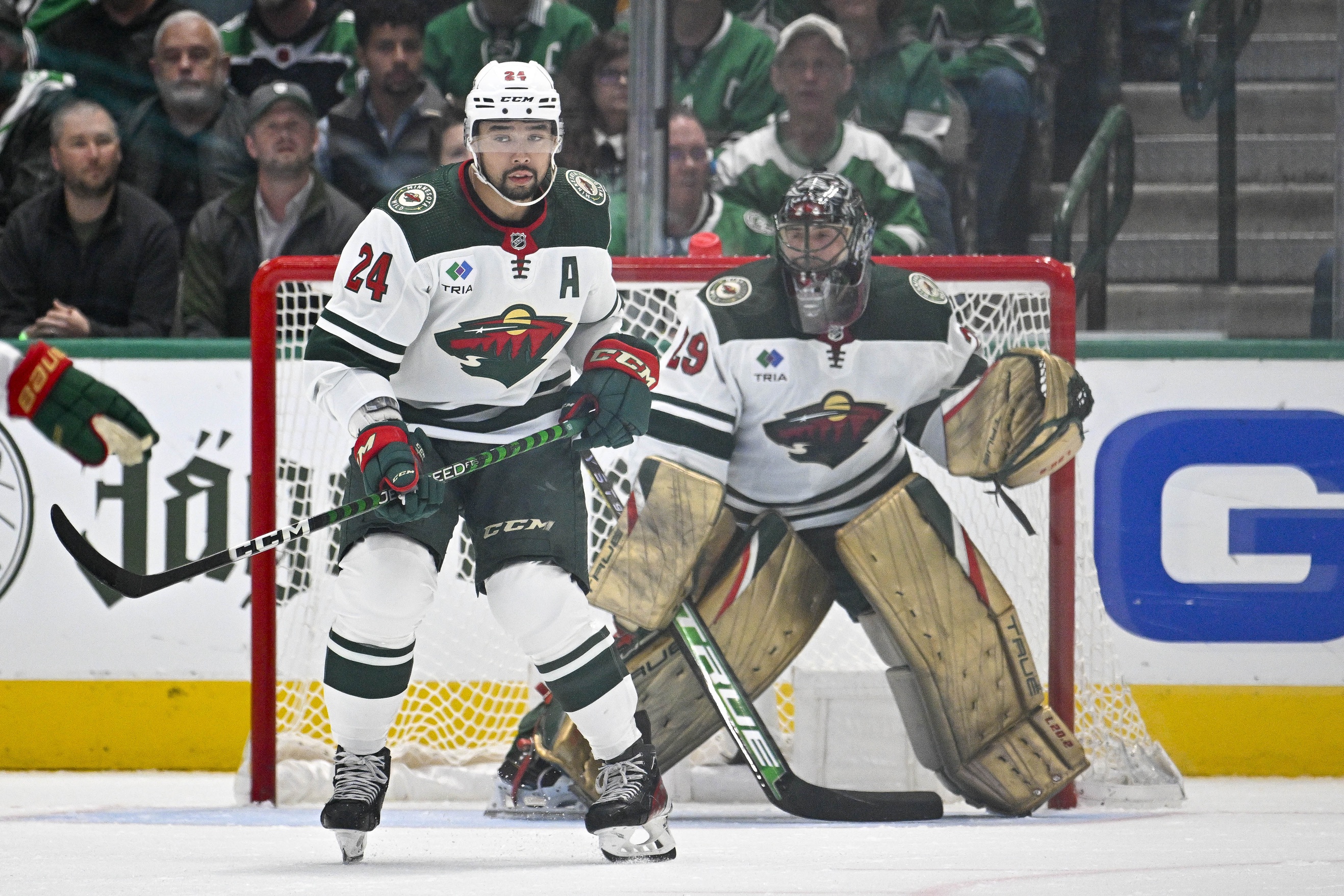 Image courtesy of Jerome Miron-USA Today Sports
A leader both on and off the ice during his ten years in Minnesota, Matt Dumba donned the alternate captain's "A" on his chest full-time this past season. He bore a lot of criticism from fans, but was well-respected in the locker room. He was a passionate, vocal, and strong leader, and he will be difficult to replace. Nonetheless, the Minnesota Wild will have to stitch the "A" on someone else's jersey for this upcoming season, and there are some intriguing options. 
Jared Spurgeon and Marcus Foligno serve as the captain and the other alternate captain, respectively. Those roles should stay the same. It's just a matter of who will step into Dumba's role. 
In theory, there are 20 options for who could get the "A". But let's look at realistic options of who Dean Evason will choose as the next alternate captain. 
While there are a lot of options, we can narrow it down by excluding some obvious players who will not receive the stitch on their chest. Newcomer Patrick Maroon is a very hard-nosed player. But it's his first year here and he's a bottom six-player, so he likely won't get it. Maroon is also on a one-year deal. Evason won't want to name a captain he knows he will have to replace next year. When he made Dumba a captain, he had two more years left on his contract. Foligno had just signed a new three-year deal, which expires this season
With that in mind, guys like Alex Goligoski, Ryan Hartman, and Brandon Duhaime shouldn't be in contention. While they are all leaders in the locker room and play a hard brand of hockey that Dean Evason likes, their future is uncertain. Speaking of uncertain futures, guys like Jon Merrill, Jake Middleton, and Marcus Johansson are all solid players who are on good contracts. Depending on how good the Wild are this next season, they could be moved by the trade deadline. 
Due to logistical reasons, goaltenders are almost never captains in the NHL, so Marc-Andre Fleury and Filip Gustavsson are out of contention. If goalies could be captains, Fleury probably already would have been one in Vegas and maybe even Pittsburgh. He's a leader in the locker room. Lots of guys around the league look up to him. 
None of the young guys, no matter how good they may be, are going to get it. Evason typically takes a while to warm up to young players, and he probably won't thrust them into a leadership role. So that takes Matt Boldy, Brock Faber, Connor Dewar, and Calen Addison out of the running.
Bill Guerin wanted vocal personalities in his locker room and in his leadership group. That's why he went out and got Ryan Reaves and just traded for Maroon. Spurgeon is quiet and leads by example. That's what Evason and Guerin want in their captain. They leave the charismatic, vocal, energetic leadership roles to their alternate captains. 
That takes guys like Freddy Gaudreau and Jonas Brodin out of the equation. They are a little too reserved to do what Dumba did in the role. Evason's fondness for Gaudreau makes him a dark horse candidate, but that probably won't be the case. 
Kirill Kaprizov fits the bill as a captain. He's one of the best players on the team. Kaprizov is vocal and brings energy with his words and his play style. But the Russian language barrier is still a roadblock for him. Unlike Alex Ovechkin, Kaprizov has not been in the NHL since he was 18. Ovi has had a lot more time to adjust to America and the English language before stepping into a leadership role with the Washington Capitals. 
A captain represents more than just the letter on your chest. It's a representation of the team. A representation of the style of play, the attitude, the determination. A captain is a glimpse into the team. The Wild have their boisterous leader in Foligno. They have their lunch pail leader in Spurgeon. It's time to add a happy medium to that group. 
If a captain is a representation of the team, then the answer to who should be the next alternate captain of the Wild is obvious: 
Eriksson Ek has it all. He's a popular figure with his teammates. He's a guy who is fun and can bring energy to the locker room. The 26-year-old center has worn the "A" before when Foligno was out of the lineup with an injury. He plays Wild hockey through and through by being responsible defensively, physical, and putting his body on the line for the team. 
Eriksson Ek led all forwards in blocked shots and was sixth on the team in Goals For% despite getting the second-most starts in the defensive zone on the team. You'll often see him engaging in scrums after the play to try and get under the opposing team's skin. 
He does all this while being the forward to play the second-most shorthanded and the third-most on the power play. Eriksson Ek's a do-it-all player for the Wild. The hard-nosed Swede has been willing and able to play all over the ice and as much as Evason needs him to. 
Case in point, the guy tried to pull a Greg Jennings and play a playoff game on a broken leg. He skated nine days after the injury to try and be ready for the playoffs. NINE! For context, that injury, if it's a minor fracture, the leg would take six-to-eight weeks to heal. If that's not dedication to the squad, then I don't know what it is. 
Eriksson Ek has been around the team for six seasons. He's a top-end player on the team. The former first-rounder set a career-high in points last season, and he's under contract for another six years. Eriksson Ek will be here for the long haul, and he's hitting his stride offensively. Last season, he helped Boldy go on a torrid scoring streak with Kaprizov out of the lineup. 
Dumba was a great leader, and he'll be difficult to replace. But Eriksson Ek has everything you look for in a leader on the ice and in the locker room. He's been around for good and bad times. He's gained the respect of his teammates and newcomers to the locker room with how he sacrifices and sticks up for his teammates. The big Swede has just hit his stride offensively. The coaches trust him in all situations, and he's going to be here for many years to come. 
Joel Eriksson Ek is Wild hockey. He should be their next alternate captain too. 
4