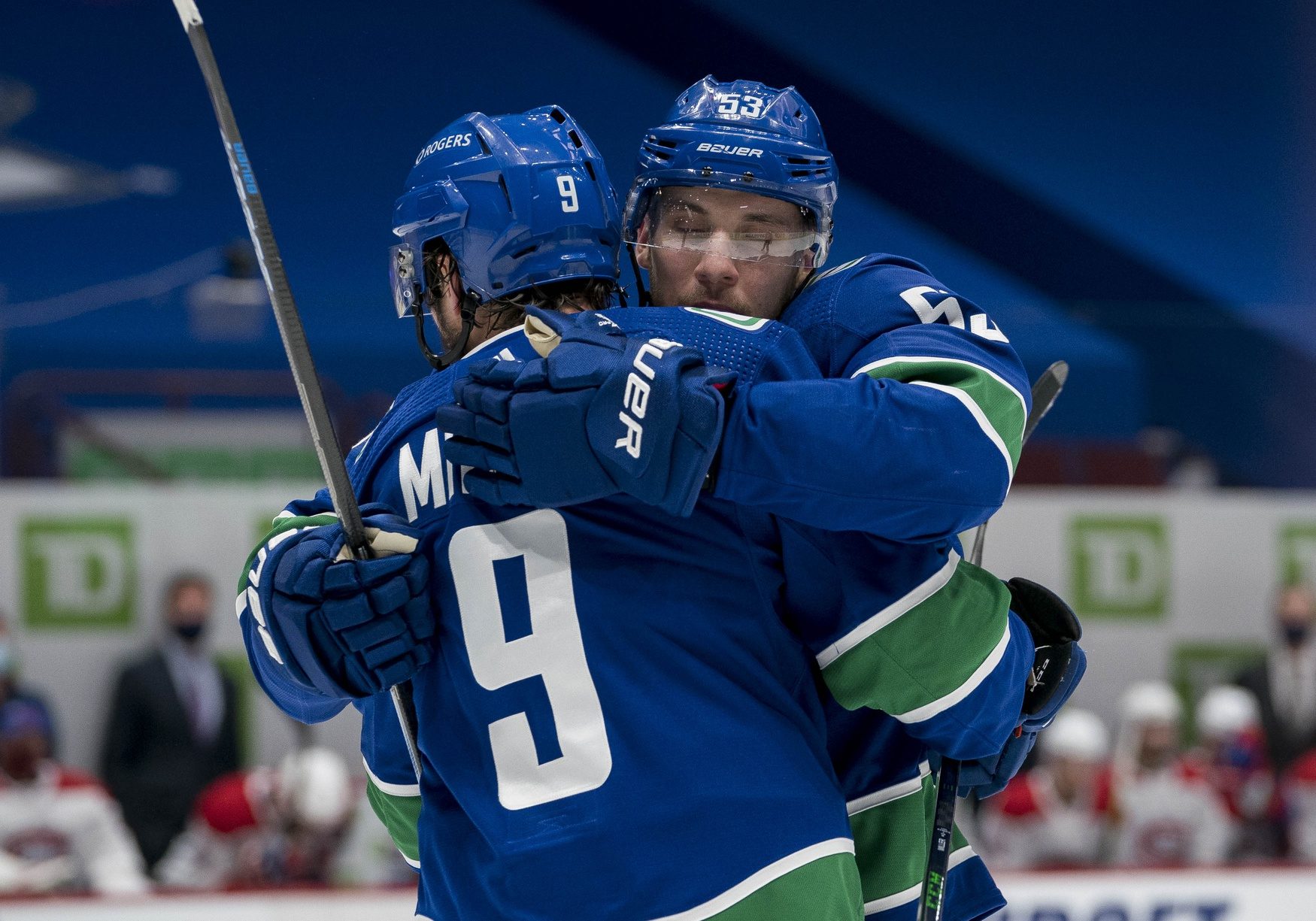 In watching Pierre-Luc Dubois go to the Winnipeg Jets, then Jack Eichel to the Vegas Golden Knights, the Minnesota Wild have missed the boat on the last two center sweepstakes. And also, every center sweepstakes before that.
But time marches on, and there's always someone on the trading block. This time, all eyes are on the Vancouver Canucks, who are coming to terms with the reality that they're bad. With only 14 points in 22 games, they're entering December with postseason odds below two percent. Their efforts to spend to the cap and trade two consecutive first-round picks fell way short. The only way out is through a rebuild.
Even while struggling through a miserable start, 23-year-old superstar center Elias Pettersson is likely untouchable. But Vancouver has two other options that should pique the Wild's interest in Bo Horvat and J.T. Miller. Neither center touches the Eichel tier of center, or perhaps even the Dubois tier, but they both can help Minnesota. They're legitimate top-six centers that log a ton of minutes, score at a steady clip, and contribute on the power play.
With two centers that could upgrade the Wild, the question becomes: Who should they go for? Minnesota's looking not just for an upgrade, but the missing piece to lift them to contention. Bringing in a Martin Hanzal — a good player who doesn't quite fit their needs — won't cut it. They must get it right. So let's stack them up head-to-head and figure out whether Minnesota should pursue Horvat or Miller.
5-on-5 Offense
It might seem weird to think the Wild would need more offense at 5-on-5. They're scoring 3.14 goals per hour, which is best in the Western Conference and fourth in the NHL. Kirill Kaprizov has 16 5-on-5 points, and Ryan Hartman has eight 5-on-5 goals, both in the league's top-5. So what's the problem?
While Minnesota is getting goals, they aren't generating all that much quality. Their 2.41 expected goals per hour is 18th in the NHL, and they're relying on a high shooting percentage to get those goal totals. If there's any shooting regression, they'll need a boost in shot quality to keep them afloat, especially in their top-six. Hartman and Kevin Fiala are the only forwards outside of their fourth line to generate over 2.5 xG per hour when they're on the ice. Any trade must address this.
Given that the Canucks are generally terrible, it's no surprise that their numbers don't quite pop. The Canucks generated 2.51 xG per hour with Miller on the ice at 5-on-5 since he arrived in 2019, and 2.39 xG per hour with Horvat over the same period. Both do beat out Vancouver's average over that time (2.09).
In terms of individual offense, Miller has a decided edge here. In Vancouver, he has 2.15 points per hour, which ranks 53rd among 343 forwards with 1000-plus minutes since the 2019-20 season. Horvat is 190th with 1.58 points per hour at 5-on-5. In fact, Horvat has never cracked 1.9 points per hour at 5-on-5.
Advantage: Miller
Power Play
Don't know if you know this, but the Wild power play is bad. They're bottom-10 in overall goals (10) and power play conversion rate (15.2%). They're 2-for-29 in their past nine games. Even worse, seven of their ten goals have come against the Colorado Avalanche, Winnipeg Jets, Arizona Coyotes, and Ottawa Senators, four of the worst six penalty-killing teams in the league.
So, yes, whoever they trade for needs to help there.
Both Horvat and Miller are staples of the Canucks' first power play unit, but Miller once again has a large advantage in points. Miller averages 5.52 points per hour on the man advantage over the last three seasons, which is 37th among 198 forwards with 200-plus minutes over that time. Miller would be a massive upgrade on the Wild's top unit, as only Fiala (5.51 points per hour since 2019-20) is in that realm. Kaprizov has 4.17 points per hour, and no one else currently on the Wild cracks four.
Neither does Horvat, who's scored 3.32 points per hour on the power play over the past three years. Horvat does make things interesting by being a superb triggerman on the man advantage, though. His 2.29 goals per hour ranks 43rd among that 198-forward sample. Miller is 96th with 1.58 goals per hour. The Wild power play doesn't get enough goals, so that would be something to consider.
Again, this is as much about fit as anything else. And for Minnesota, they have players who can put the puck in the net on the power play. Fiala and Kaprizov are goal-scorers, and Joel Eriksson Ek is excelling as a net-front guy this year. They don't need snipers, they need someone who can open up space for them, giving Miller the edge.
Advantage: Miller
Role
Vancouver asks Miller and Horvat to do drastically different things. Since his arrival, Miller's job is mostly to get the most out of their young stars. His three most common linemates are Brock Boeser (57.6% of his 5-on-5 minutes), Pettersson (54.0%), and Nils Höglander (14.7%). Boeser and Pettersson are Vancouver's two top offensive talents outside Miller, and Höglander may well be the third-best.
Meanwhile, the Canucks use Horvat as their shutdown center, putting him in tough defensive assignments. He doesn't get the benefit of playing with the Petterssons and Boesers to boost his offense, either. His three most common linemates in the last three years are Tanner Pearson (68.3%), Höglander (23.2%), and Jake Virtanen (15.0%). Pearson is a four-time 20-goal scorer, but in terms of upside, he's way outclassed compared to Miller's linemates.
What should the Wild take away from this? On one hand, Miller has proved he can play with superstar talent, something that's good to know when finding a center for Kaprizov. On the other hand, you know what you're getting: very good, but not elite production. Could Horvat find his way into more offense in a new role, making an Eriksson Ek-like leap? Horvat's scored 26 goals per 82 games these past three years playing minimal time with big-time players. Miller's the surer thing, but Horvat has upside Miller doesn't.
Advantage: Horvat
Center Ability
An important part of acquiring a center is making sure they can play the position. The last thing the Wild want to do is go all-in for a center and come away from the deal with a winger.
Miller logs a lot of minutes at center, but bounces between positions. How does he do down the middle? It's a mixed bag, at least compared to his performance as a winger. The Athletic's Harman Dayal tracked Miller's games at both positions and found that Miller's aggression as a shooter plummets at center. He also takes a dip in shot assists at center, and his transition game is much better suited to the wing.
Will those be problems in Minnesota? If he lines up beside Kaprizov, Miller won't be the primary puck carrier -- that's Kaprizov's job. Neither would he be the primary, and perhaps not even secondary offensive catalyst on the line. He'd just need to be a capable top-six center who can finish when called on in the playoffs.
Meanwhile, Horvat is a natural center, and there'll be no question about where on the ice he plays best. You can argue that Miller fits the Wild's "play anywhere" ethos, but if Miller is a winger by spring, that leaves a hole beside Kaprizov, barring a Marco Rossi promotion.
Advantage: Horvat
Contract
Both Horvat and Miller are unrestricted free agents after next season, and both make under $6 million against the cap. Even to the cap-strapped Wild, the difference between Horvat's $5.5 million cap hit and Miller's $5.25 million is a rounding error. Minnesota wouldn't have too much trouble fitting either contract under the salary cap, either. For example, trading Jordan Greenway and putting Victor Rask in the minors would give them ~$3.1 million of cap relief to go with their $2.25 million in cap room.
What's more interesting is their next contracts, or more specifically, how tempting it will be to lock them down in 2023. Horvat will hit the UFA market at age-28, and if he became integral to Minnesota's success, it'd be very tempting to re-sign him. With the Zach Parise and Ryan Suter buyouts on the horizon, such an impulse could get Minnesota in trouble. Signing Horvat could mean making a sacrifice elsewhere that would be disadvantageous to keeping their young players together long-term.
It will be much less tempting to sign a 30-year-old Miller to a long-term extension. It's a small difference, but making it easier to walk away in two years and a slightly lower cap hit nudges this towards Miller.
Advantage: Miller
FIT
In a vacuum, Horvat is the more logical target for a team. He's younger, a natural center who plays tough minutes, and has untapped scoring potential in a more offensive role. If this was the Wild of two years ago, they should want Horvat over Miller.
But this isn't the Minnesota team of two years ago. They're a team looking to make the leap to contender status, and they have very specific needs to do it. They also don't need a long-term fix like they used to. Eriksson Ek is already a Horvat-type, with better defense and a 30-goal pace this season. Rossi is on the way, and the team no doubt expects huge things from him. They just need a center to buy them some time for Rossi to be ready to take on the Number One role.
They also need someone to help spark the offense, specifically on the power play. Horvat may have upside, but Miller's the safer bet to do that with 20 points to Horvat's 12. His ability to get the most out of Elias Pettersson in his first year in Vancouver should be something Minnesota looks long and hard at when deciding on a running mate for Kaprizov.
Even Miller's bouncing between positions isn't much of a concern. Miller plays the position competently, can win crucial power play face-offs, and would have a ton of support from Kaprizov and former teammate Mats Zuccarello. A center group that boasts Miller, Eriksson Ek, Hartman, and Nico Sturm, with potential for Rossi in the mix should be able to give Minnesota a chance against elite teams like Colorado and Vegas. For the Wild's specific needs and position, Miller is the obvious choice.
Verdict: Miller