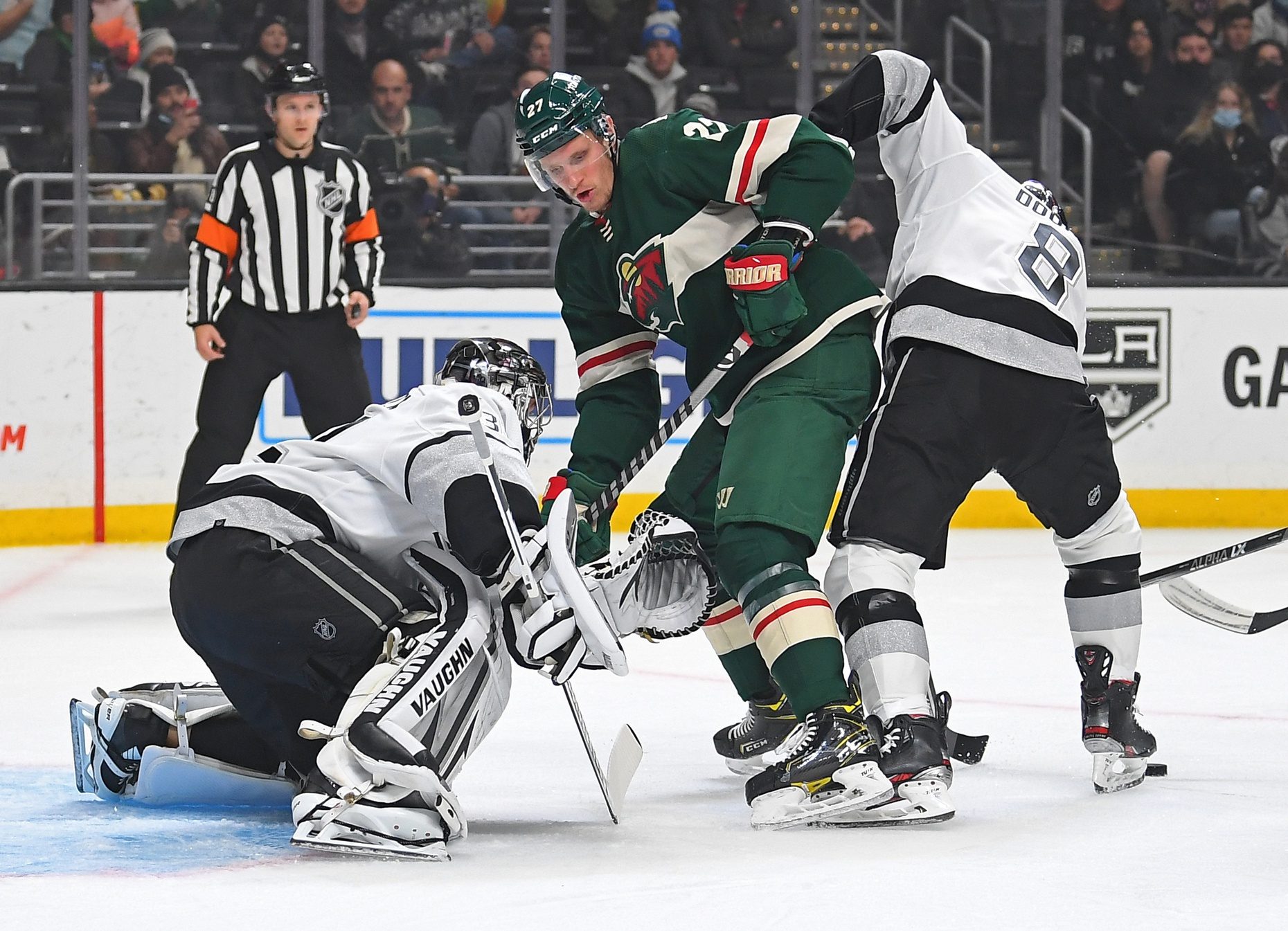 The last time Nick Bjugstad dressed for the Minnesota Wild was at the Winter Classic on New Year's Day. The 2010 Mr. Hockey winner was injured during practice on Jan. 5th after taking a slash to the arm from Mats Zuccarello. This injury was expected to sideline him for six weeks. But with his return nearing, it may also cost him his starting spot in the lineup.
For most of the season, Bjugstad has been playing on the fourth line with Nico Sturm and Brandon Duhaime. He has only managed four goals and an assist through 28 games. The Blaine native has shown moments of brilliance by flashing his physical style of play, but he has not been able to produce at a consistent rate.
Bjugstad has been hampered by injuries before, but his career has sputtered over the last several years. He may miss the 20-point mark for the third time in as many years. His current point output is a far cry from the 40-point seasons he recorded with the Florida Panthers, who drafted him in the first round in 2010.
Connor Dewar has slotted in on the fourth line in Bjugstad's absence. Dewar played his first stint with the Wild in October. He has played fairly well over this stretch, accumulating one goal and three helpers in only 11 games. At 5'10", 183 lbs., the 22-year-old winger manages to play a physical game similar to Bjugstad's. But he also seems to provide a bit more quality in the offensive zone.
Before Tuesday night's matchup against the Winnipeg Jets, Duhaime replaced the injured Marcus Foligno on Minnesota's shutdown line alongside Joel Eriksson Ek and Jordan Greenway. He recorded a goal and an assist over these two games. Up to that juncture, most of his ice time was on the fourth line, where he tallied four goals and seven helpers in 35 games.
With Duhaime's promotion to the shutdown line and Sturm out with COVID, the Wild need to fill a vacancy on the fourth line. The polarizing Victor Rask slotted in to fill in the vacancy and tallied two assists.
With Bjugstad scheduled to return to play by the end of February, the question now becomes, who are the odd men out when he comes back?
Certainly, the Wild would love to have the 6'6", 210 lb. Bjugstad back in the lineup once he is healthy. But is that the best thing with how well Dewar has played in his absence? Does Bjugstad even crack into the lineup before Rask does?
Coincidently, the Wild waived Rask on the same day Bjugstad was injured. Since clearing waivers, he has appeared in six games and has two assists, one goal, and is almost 57% from the faceoff dot. Rask has six goals and eight assists on the season, all in one fewer game than Bjugstad.
Let's compare Bjugstad and Rask against the usual fourth-liners using Standing Points Above Replacement (SPAR). According to Evolving-Hockey, Bjugstad ranks as the worst of the bunch with a -0.8 SPAR. Sturm, Dewar, and Duhaime sit near the baseline as they range in value from 0 to 0.5. Somewhat unexpectedly, Rask is worth 1.8 SPAR.
That's roughly a 2.5-point swing when compared to Bjugstad, and yet Rask is a consistent scratch when everyone else is healthy. So, it's hard to see how Bjugstad cracks the lineup without injuries, COVID-related absences, or suspensions sidelining several starters on any given night.
The obvious silver lining here is that the Wild have veteran depth at their disposal. They likely could sustain an injury to the bottom half of their lineup talent without missing a step. Losing, say, Kirill Kaprizov or Zuccarello to a long-term injury or even breaking up the chemistry between Kevin Fiala and Matt Boldy would be irreplaceable. But further down the lineup? As competitive as the bottom of the lineup is, it's next man up.
The NHL trade deadline is fast approaching, and as reported by TSN's Darren Dreger, the Wild are looking to add some depth in the center position by the deadline. If Bill Guerin is active, he could flip one or both of the two upcoming UFAs in Bjugstad or Rask. Or they may just look at their situation and decide they're good with their depth. If that happens, Bjugstad will probably find his way back into the lineup in this weird season, even if he initially loses his spot.