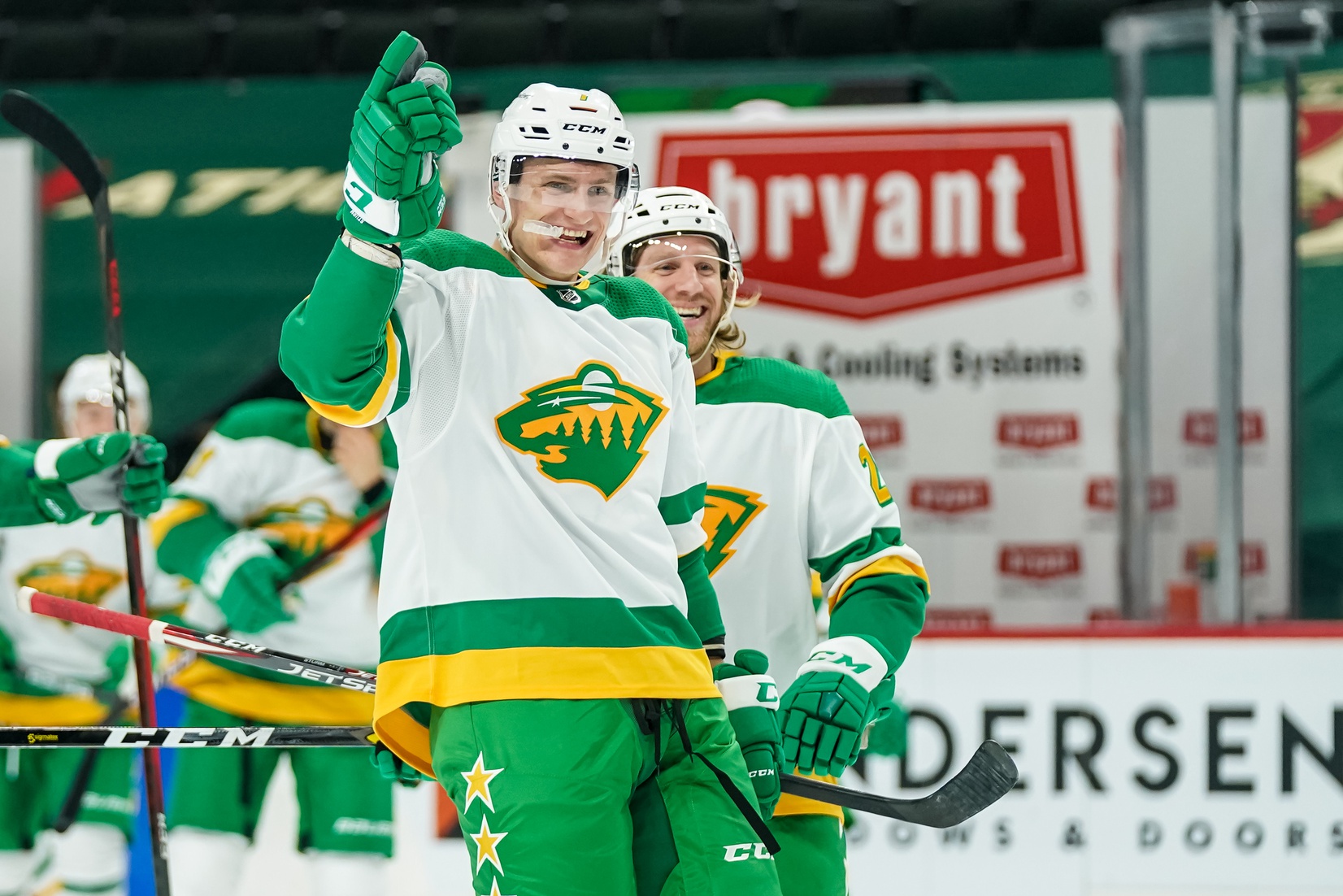 Having depth is one of the best possible attributes for any hockey team. It's a sport where the best forwards play just 33% of the game, and the best defensemen play 45-50% of it. If you don't have a good answer for what happens when they're off the ice, you're in trouble. Unless you're the Edmonton Oilers, and even that's only sustainable because they have not one but two All-World players.
Yes, last season, the Minnesota Wild's ascendency was fueled by Kirill Kaprizov's arrival and instant superstardom. However, if that superstardom were all the Wild had going for them, they'd have found themselves scrapping with the Arizona Coyotes and St. Louis Blues for a playoff spot. Instead, Kaprizov elevated a deep team to make the playoffs comfortably and have a decent chance at becoming a Cup contender.
Judging by the training camp battles for roster spots, Minnesota may be even deeper this season. It feels absurd to say after the losses of Ryan Suter, Zach Parise, Carson Soucy, Nick Bonino, and Ian Cole. But it's no less accurate.
The Wild iced a lineup on Monday night that could easily have been mistaken for an Opening Night lineup. Legitimate roster forward hopefuls Marco Rossi, Adam Beckman, and Brandon Duhaime weren't in it. Neither were third-pair defensemen contenders Jon Merrill and Calen Addison. That's five guys who could easily be in the NHL somewhere competing for spots.
And that's just the guys who aren't in the lineup. The Wild's depth will affect some players who make the roster but find themselves pushed down it.
That's almost certainly the fate of Nico Sturm, whose path to a top-nine role on the Wild is murky. This is through no fault of his own. Sturm showed out despite playing fourth-line minutes last year, displaying a nose for the net and fan-favorite levels of tenacity. His 11 goals and 18 points in 50 games don't immediately leap off the page, but they look much better considering his role and ice time.
Among forwards with 450-plus 5-on-5 minutes, Sturm ranked third on the team with 1.16 goals per hour. If you're keeping score, that's behind only Joel Eriksson Ek and Kaprizov, slightly edging out Kevin Fiala. He also fares well compared to the rest of the NHL, as the rookie finished 26th among 313 forwards.
How did a guy who scored a career-high 14 goals as a 23-year-old junior at Clarkson College become an efficient NHL goal scorer? It's similar to Eriksson Ek's, who found scoring success by going hard to the net. Like Eriksson Ek, Sturm's success doesn't come from massive shot volume, as he fires a solid but not great 7.7 shots per hour at 5-on-5.
He's always in a position to make those shots count, though. His shot map suggests he isn't allowed to leave the crease in the offensive zone. Over half his shot attempts come from inside the "home plate" area, with a few shots in the slot and even fewer on the perimeter. Eight of his nine 5-on-5 goals were scored within 20 feet of the goalie or less.

Sturm also appears to be the next in a long line of two-way forces in Minnesota. Sturm allowed just 1.86 expected goals per hour when he was on the ice at 5-on-5 play. Marcus Foligno was the only Wild forward to best him, and Sturm finished slightly ahead of Selke Trophy contender Eriksson Ek.
Being able to drive net-front offense and shutdown opposing lines is a devastating combination. It's why Evolving Hockey has Sturm's rookie season ranking in the 78th percentile of offensive goals above replacement and the 98th percentile for defensive GAR. Combined, it meant Sturm was worth 3.6 standings points to Minnesota, in the NHL's top-40 among all players.
It's a small sample size, for sure, but all a player can do is take advantage of the opportunities given to him. Sturm's done precisely that. So what should Sturm's role be in this lineup? Are there teams that would be thrilled to have their own Eriksson Ek-lite on their third line? Absolutely. But the Wild's top-nine forwards look more or less spoken for.
Eriksson Ek skating with Kaprizov and Mats Zuccarello theoretically opened a shutdown line spot, but Ryan Hartman has quickly occupied that. Hartman's had a strong preseason and brings similar attributes (shooting, defense) to the table as Sturm. Could they easily be flipped? Sure, but the difference might be negligible, given Hartman's ability.
The only other spot would be alongside Fiala, and whichever rookie makes the roster. Could that work? The Eriksson Ek comparisons mean that can't be ruled out, but such an arrangement would likely have a shelf life that only lasts as long as Rossi isn't on the roster. Minnesota isn't going to send their stud prospect to St. Paul to do mere fourth-line duty.
Instead, Sturm will likely anchor a fourth-line rated best in the NHL by Dom Luszczyszyn's model. As far as problems go, it's a great one for the Wild to have. Minnesota has a strong kid with a relentless motor on their fourth line, destroying weak match-ups. And if injuries do hit the shutdown line, Sturm's skills make him a perfect fit to slot in.
There may not be a clear path to a more significant role for Sturm, and that's kind of a bummer after his excellent rookie season. However, the good news for him is if he continues to play as well as he did last season, he won't need more minutes to make a dramatically positive impact with Minnesota.
All data is from Evolving-Hockey unless otherwise stated.