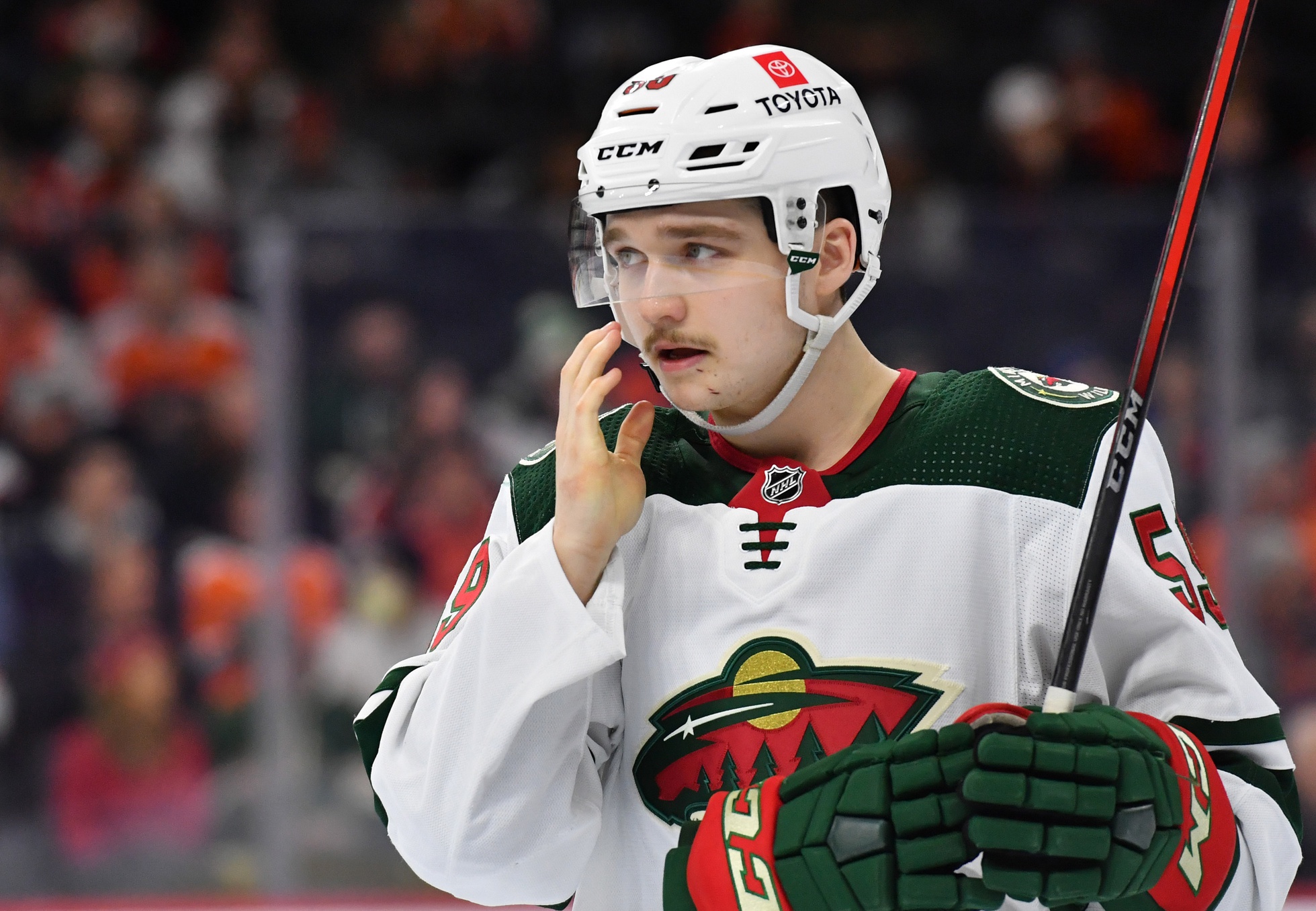 On the most recent episode of "Becoming Wild," Calen Addison shaved his long curly hair into a pretty sweet mohawk to complement his famous caterpillar mustache. The kid has serious talent but isn't afraid to show an endearingly playful side that the State of Hockey will, ahem, grow to love.

 

But Addison and his fan-favorite mustache may have to wait a bit longer to break into the NHL, though. Bill Guerin surprisingly recently re-signed Alex Goligoski to a 2-year, $4 million extension, which puts six of the Minnesota Wild's defensemen under contract through the 2022-23 season. The Wild also traded for Jacob Middleton, who is currently playing on the top pair with Jared Spurgeon. Middleton will be a restricted free agent also looking for a deal this offseason.

 

Guerin's decision to re-sign Goligoski surprised many fans because it presumably blocks an NHL-ready Addison. The Wild also re-signed him in the middle of Dean Evason scratching him for three straight games. When the Wild originally signed him to a one-year deal last summer, speculation emerged that Minnesota may have intended to bring him back on a cheaper multi-year contract. That looked more and more unlikely as the season went on. He has struggled recently and has seen his ice time diminish.

 

So with six and possibly seven NHL defensemen on the books for next season, Addison sits as the eighth option for the Wild going into next season. That's a recipe for starting the season with the Iowa Wild. However, as we know from all the moves made by Guerin last offseason, a lot can happen. So let's look at all the possibilities for the defensive core next season.

 

As it stands right now, here are the Wild's top three pairings in 2022-23:

Goligoski - Spurgeon

Jonas Brodin - Matt Dumba

Dmitry Kulikov - Jon Merrill

The Wild are all but guaranteed to lose a good player because of the Zach Parise and Ryan Suter buyout penalties. It's just a matter of who becomes a cap casualty. Dumba and Kevin Fiala, who make over $5 million with little trade protection, are obvious candidates. And with the chemistry between Fiala and Matt Boldy, the Goligoski re-signing, and Addison ready and waiting in Iowa, perhaps Dumba's days in St. Paul are limited.

 

That's not the only path to an NHL role for Addison, though.

 

The Wild acquired Addison on Feb. 10, 2020, along with Alex Galchenyuk and a 2021 first-round pick (Carson Lambos) from the Pittsburgh Penguins for Jason Zucker. Guerin knows Addison well. He was part of the front office that drafted him in the second round in 2018, so it will be interesting if he chooses to trade him to his third NHL team before cracking an everyday spot on an NHL roster.

 

Spurgeon, Brodin, and Goligoski likely aren't going anywhere before next year's season opener. That leaves Dumba, Merrill, or Kulikov as the three most likely candidates to be traded over the summer.

 

Dumba's $6 million cap hit and the possibility of a hefty return for the top-four defenseman may put him on the trade block once again. Not to mention, Addison, who is also a right-shot offensive defenceman, is more than ready to take his place in the lineup. It's also possible the Wild could move either Merrill or Kulikov. Both third-pair defensemen had a solid start to the season but have cooled down since. Kulikov has one year remaining on a cheap deal, making him more tradeable than Merrill. Guerin signed Merrill to a three-year contract with an average annual value of $1.2 million back in January.

 

There is also the possibility that Addison comes up next year, and either Goligoski, Merrill, or Kulikov are the 7th defenseman. All of that depends on whether or not the Wild re-sign Middleton. But Goligoski will make $2 million next season, Merrill $1.2 million, and Kulikov $2.25 million. That is a lot of money to pay for the seventh defenseman on a team with nearly $13 million of dead cap money.

 

It is also possible that the Wild's front office has decided that Addison is not ready for the NHL yet. Maybe they plan to keep him in Iowa for another season and call him up sporadically to replace injured or struggling players. Or perhaps Minnesota could package Addison with someone as a sweetener to get a bigger return. Given Guerin's history with Addison, it's unlikely, but we've seen more surprising moves than this from him.

 

The simplest, most obvious path to getting Addison Top-4 NHL minutes is moving Dumba at the Draft. Minnesota can get a return for a Top-4 defenseman in Dumba to add more picks or prospects, and Addison can slide neatly next to Addison in the lineup. But recent Wild offseasons have rarely been simple, so we'll have to see what path Guerin takes in this situation.