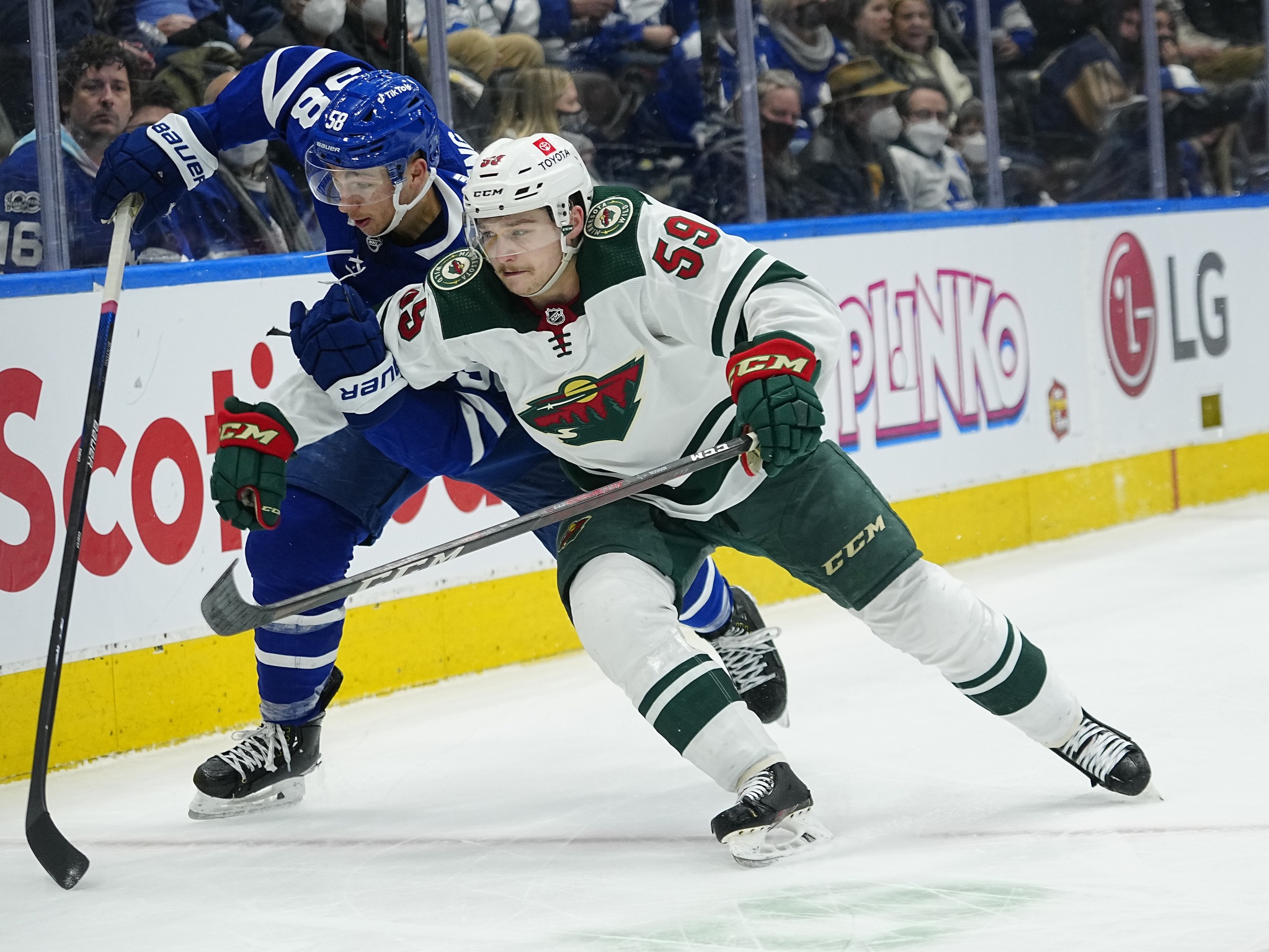 At the beginning of the season, Calen Addison seemed poised to get a shot at making the Minnesota Wild. Then something happened — they started signing depth defensemen and wouldn't stop. Any fears that these signings would bury Addison became a reality. Even with two holes on the right side of the blue line in the wake of injuries to Matt Dumba and Jon Merrill, Addison still can't crack the lineup. After sitting on the bench for over a month, Jordie Benn has played in the last seven games. That leaves Addison essentially as the 9th option on the depth chart.
The Wild trusted Addison to play in three playoff games against the Vegas Golden Knights a year ago. But this year, Addison remains stuck in Iowa despite putting up good numbers with seven goals and 31 assists in 39 games. Addison has four points through 14 games played with the big club this year, but he has not seen much time other than on the 3rd defensive pair. He didn't even crack the top-4 when Dumba, to whom Addison is a logical successor, was on injured reserve.
So why is Benn higher on the depth chart? Perhaps it's out of respect and sympathy for Benn. He has been on the NHL roster all year, and the front office may believe it's unfair to him to call up a rookie to take his spot every time there is an injury. Or perhaps the front office believes Benn has simply played better. Maybe they would rather use Benn's 6'2" frame over Addison's 5'11" -- they have wanted size on the blue line all season.
But even if they like Benn's game more now, why wouldn't the front office let Addison play these last few regular-season games? They can see where his development is at and continue to let him grow at the NHL level. This is important for any prospect, especially with Minnesota facing an upcoming salary-cap crunch.
Addison will be making $795,000 this year and next year. He is a restricted free agent in 2023-24 when he would most likely sign a cheap bridge deal. All Wild fans have heard about since the Zach Parise and Ryan Suter buyouts is how the team will be in cap hell. Wouldn't it make sense for Addison to be a large part of the Wild navigating those next three years?
With that in mind, it's more puzzling that they wouldn't plug Addison into Dumba's spot after his injury. They play a similar game, and this would be the perfect opportunity to pair him with Jonas Brodin and see what they can do together. Given that trading Dumba is one of the only things that give Minnesota a prayer to keep Kevin Fiala, isn't that at least worth a look?
On top of that, a potential Dumba trade could also go to re-signing Jake Middleton, who has looked very good (and also, big) next to Jared Spurgeon. Or perhaps Marc-Andre Fleury. With Jesper Wallstedt hopefully coming into the organization next year, Fleury would be an amazing role model and mentor for Wallstedt.
The Wild traded Jason Zucker for Alex Galchenyuk, Addison, and a first-round draft pick (Carson Lambos) over two years ago now. Many fans had thought that they'd start seeing the fruits of this trade by now. Despite two seasons of Addison playing well in AHL hockey, it looks like his destiny remains in Des Moines, at least for the time being.
Still, having too many viable defensemen going into the playoffs is a good problem. It gives the Wild plenty of options if (or when) injuries or poor play happen. Hopefully, Addison doesn't view this as a lack of Minnesota's trust in him or lose confidence himself. It can't be easy to look and see eight players ahead of you, then strong prospects in Carson Lambos, Ryan O'Rourke, and Daemon Hunt right behind you.
The Wild clinched a playoff spot Sunday night, and they will almost certainly play the St. Louis Blues in the first round of the playoffs. Even though they clinched, Minnesota is still trying to win as many of the last games as possible to earn home-ice advantage in the first round. As of now, they're currently tied for points with St. Louis with one game in hand.
This spring and summer are sure to be one of the most exciting in Wild history. Up next, they'll look to finally make a deep playoff run. Then they have plenty of big moves and big decisions to make in the offseason while still trying to stay competitive. The draft will also be a large piece of the Wild's offseason as big trades to stay cap compliant and gain some assets. Maybe they can even gain a spot for Addison to finally get a real shot next year, too.