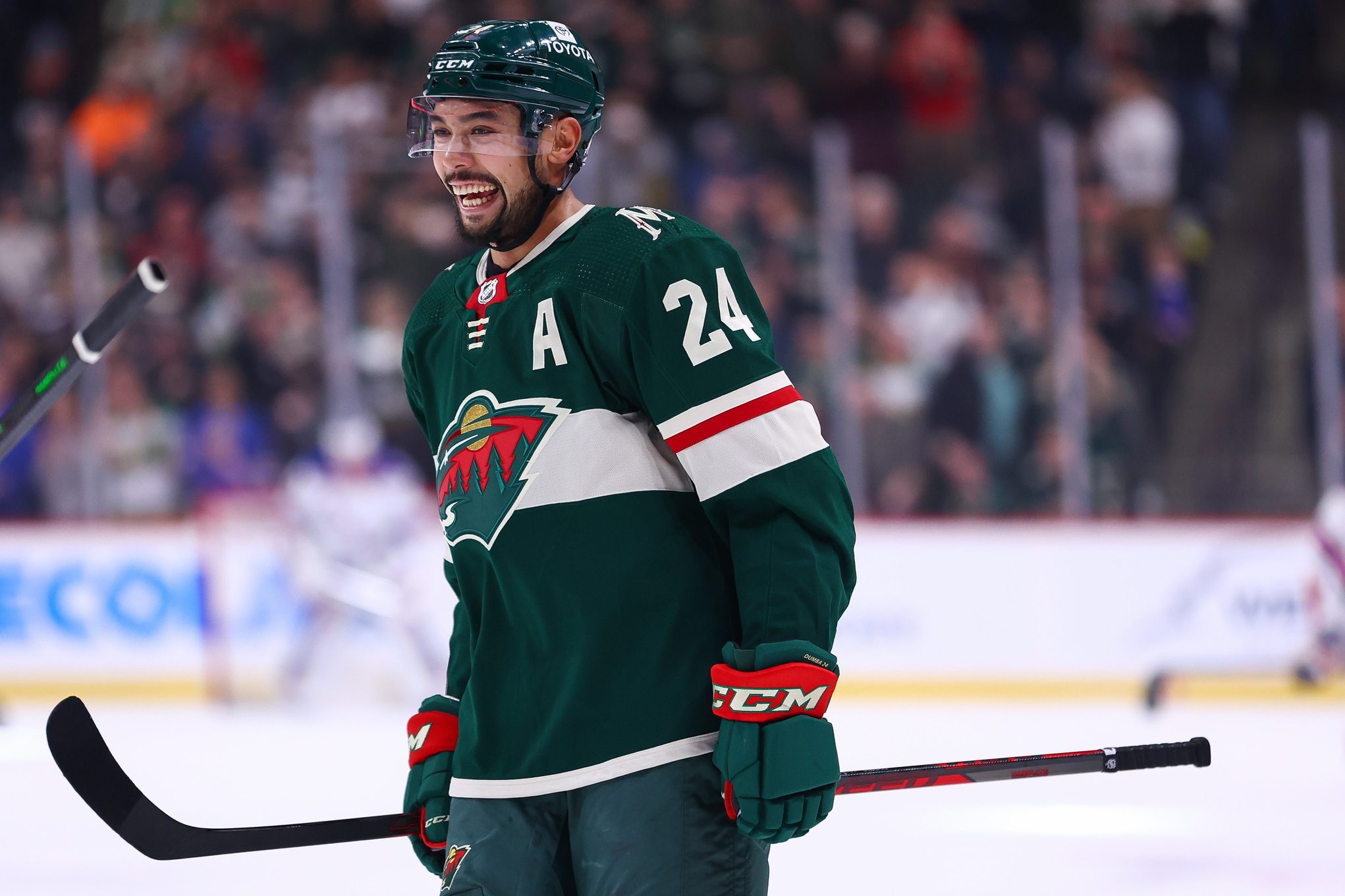 Matt Dumba has been a lightning rod of speculation for approximately a half-decade. This offseason is no different. As one of the only players making big money on the Minnesota Wild without no-move protection, any trade proposal or potential move has to include moving Dumba's $6 million to work.
Not to mention, the clock is ticking on a decision for Dumba's future for the team. His five-year contract expires next summer, making him a pending UFA. Typically, a team would either want to extend their 28-year-old defenseman or flip them to avoid losing that player for nothing.
Dumba is a Top-4 defenseman, but he faces many challenges in getting an extension. The Wild are facing punishing buyout penalties that limit their ability to pay anyone. A Dumba extension would almost certainly come at a pay cut, especially given his offensive decline since a 2019 pectoral injury. Calen Addison and Brock Faber waiting in the wings also gives Minnesota a clear succession plan.
Okay, you might say, so trade him. It's super easy to say that, but look at the market and ask yourself to who?
The Wild's buyout issues are indeed putting the squeeze on the team. They're far from the only team in salary cap trouble, though. Right now, eight teams are projected to be over the salary cap. Just 12 of 32 teams are even capable of taking on Dumba's $6 million salary. Many of those teams have little interest in competing, like the Chicago Blackhawks or Arizona Coyotes.
There are teams in that group, like the New Jersey Devils, Detroit Red Wings, and Ottawa Senators, who are interested in competing next season. But as of now, these teams don't have much incentive to trade for Dumba.
What would these teams rather do, spend an asset for Dumba for a season, or acquire John Klingberg as a free agent for free? Or grab fellow right-shot defenders P.K. Subban or Anton Stralman as a cheaper short-term option than Dumba? Why not try to pry RFA Ethan Bear from the cap-strapped Carolina Hurricanes? Teams have options of upgrading their defense that don't involve trading an asset to give Minnesota $6 million of cap relief.
So to trade Dumba, the Wild will almost certainly need to do so as a cap dump. How much might that cost? The Philadelphia Flyers sent Shayne Gostisbehere and his $4.5 million to Arizona and paid a second and seventh-round pick for the privilege. They got nothing in return.
Take a look at Chuck Fletcher's tenure here, spending second-round picks to little return. Heck, take a look at Fletcher now, the architect of that Gostisbere deal. Is that the brain genius whose footsteps you want Bill Guerin following in?
Sure, $6 million in cap space is an asset in itself. However, that's only the case if you can use it well. Nazem Kadri is the only impact UFA forward on the market, who posted a career year on a superteam in Colorado, with 28 goals and 87 points in 71 games. That sure looks like a No. 1 center, but Kadri's history inspires skepticism that he'd do it again. Over the five years before his career year, he's averaged 26 goals and 55 points every 82 games — playing on very good teams, no less. Look at his future, and he turns 32 in October.
So in a best-case scenario, $6 million of cap space would allow the Wild the honor of paying $8 million to a very good but not great center until he turns 38. What could go wrong?
Or Minnesota could swing-and-miss and have an extra $6 million of cap space to just chill. That could help at the trade deadline, but why part with a second just for trade deadline prep?
Dumba is more valuable to the Wild as a player than he is as raw cap space. He's not the 20-goal threat he was before his injury and probably won't ever be again. But he was still a crucial part of the shutdown pairing between him and Jonas Brodin. His defense, leadership, and ability to take on minutes are still valuable to this club.
Is that enough to merit a new contract? Likely not, with Addison and Faber waiting for roles. But the Wild can let Addison break into a role this season behind Dumba and Jared Spurgeon. Easing into an NHL role worked out well for Dumba, who averaged under 17 minutes a night in his first two seasons. What's the need to throw Addison into the deep end as a rookie?
Assuming an extension is off the table, the Wild have two options. They can pay some bottom-feeder the next Marat Khusnutdinov, Ryan O'Rourke, or Hunter Haight to move him. Or they can enter the year with a top-four defenseman to help them transition to Addison.
What's wrong with that? If the season goes well, great. He helps Minnesota win, and they get $6 million of cap relief to help re-sign Matt Boldy. If the season goes poorly, they have a much better chance of getting an asset at the trade deadline. The upside on this decision rests entirely with having Dumba on the Wild for one more year.