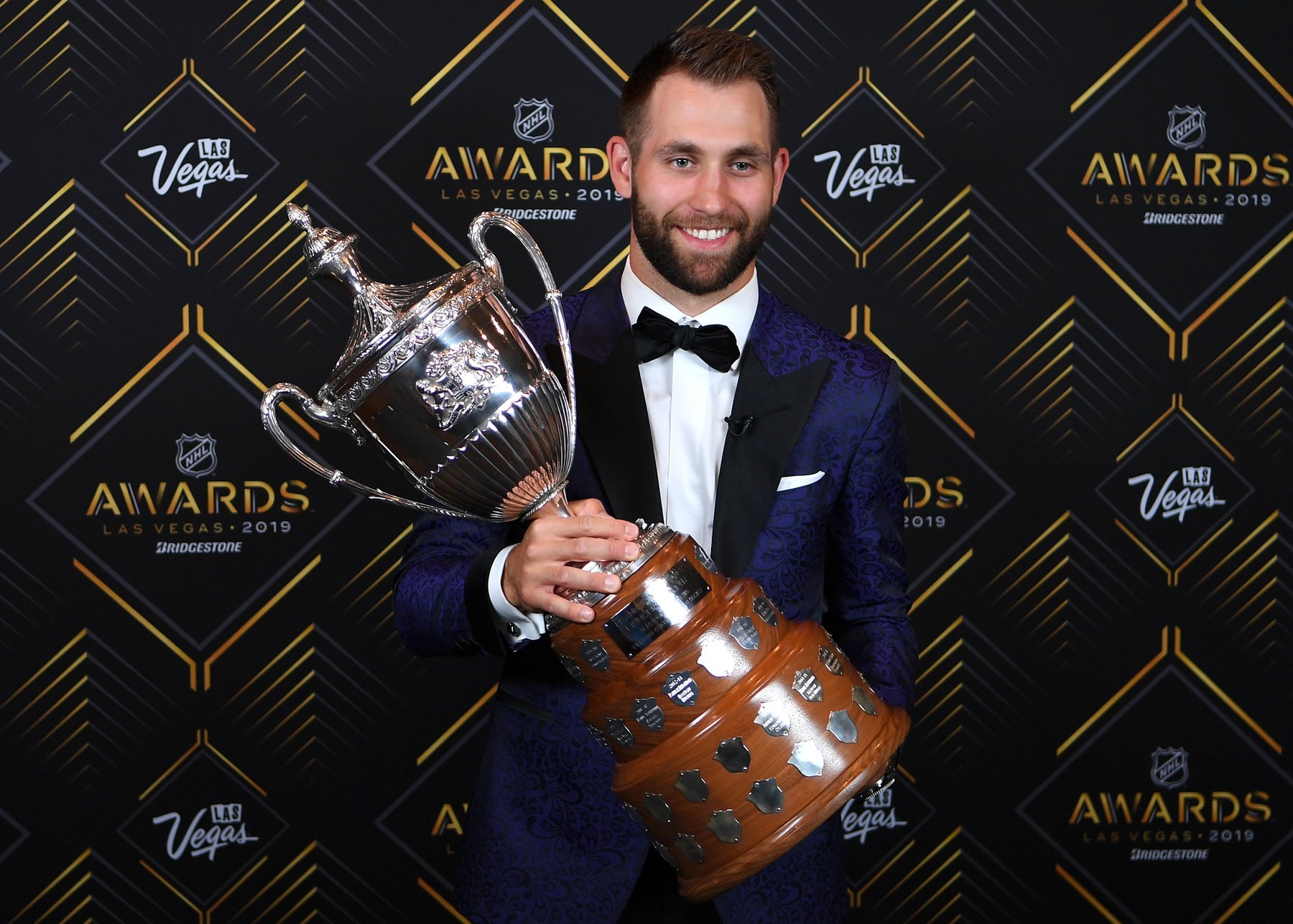 With the NHL regular season officially concluded, it's time to debate who should win the awards. While there are deserving players to win the various awards, there seems to be some issues that arise annually with how voters pick and choose their winners.
So while we hand out some hardware in this piece, we are also going to air some grievances with what's wrong about the voting for the various trophies.
Let's dive into the awards.
Most Valuable Player – Hart Trophy
Issues: It feels like this award just goes to the highest point-getter every year. If only they made an award for that. Oh wait, they do! The Art Ross Trophy! The Hart Trophy description is "player judged to be most valuable to his team." So by that definition, it should be a goalie every season ,but goalies rarely win because they need otherworldly stats to get into Hart consideration (see: Carey Price in 2014-15).
Who Should Win: Artemi Panarin – New York Rangers
You see a lot of the PHWA voters get googly-eyed at Leon Draisaitl, and don't get me wrong, he has had an incredible season. But is he the most valuable player on his own team?! The fact that it's a question really puts him back into the No. 3 position. The winner absolutely should be Panarin because he is the best player on the Rangers and dragged them into a play-in series.
Why is Panarin the runaway winner? Well, for starters, he tallied 40 points in the Rangers final 30 games before the pause to sneak them into the NHL's play-in series. If you don't believe he's that much more valuable than Draisaitl, well then let's take a look at the list of players who have a better Goals Above Replacement (GAR) mark than Panarin this season.
(none)
/end of list
[caption id=attachment_69246" align="alignnone" width="1982]

via Evolving-Hockey.com[/caption]
If you don't trust the stats, then watch the tape. The guy has literally carried the Rangers offense this season.
Best defenseman - Norris Trophy
Issues: Again with the points. Hockey coaches and writers love to cry about playing defense, but it's weird that this award usually goes to the blue liner that stacks up the most offense. It's time to look at the best of both worlds and give the award to a defenseman who excels in both ends, not just in the points column. Hard to believe we have to ask for writers to value defense WITH A DEFENSEMAN, but here we are.
Who Should Win: Roman Josi – Nashville Predators
Josi has had an incredible year on the blue line for Nashville, tallying 65 points while being an above average defender. John Carlson of Washington leads NHL defensemen with 75 points, but he has been subpar on the defensive side of things which is why Josi should get the nod here. Josi should get in as a finalist for the award, but it is up in the air if he will actually win. He definitely should be the guy.
Best goaltender – Vezina Trophy
Issues: The only complaint, which is a minor one, is that wins and a team getting into the playoffs are a bit overvalued for this award. Otherwise, the voters usually get this one right.
Who Should Win: Connor Hellebuyck – Winnipeg Jets
Next to Panarin, no player has carried their team into this play-in tournament more than Connor Hellebuyck. In fact, Hellebuyck should be a Hart finalist and the probable winner because no one is more important to their team than the goaltender. Hellebuyck has the highest mark of expected goals against in the league (thanks to the poor defense in front of him) but he has the highest mark of goals saved above expectation, which led to the Jets getting an invite for a play-in series. This award is really a no-brainer.
[caption id=attachment_69252" align="alignnone" width="1598]

via ChartingHockey.ca[/caption]
Rookie of the Year – Calder Trophy
Issues: Trying to understand what a rookie is in the NHL is a bit confusing, but once you figure it out you are all set. From there the rookie with the most points who is closest to Toronto gets the award. Predictable.
Who Should Win: Cale Makar – Colorado Avalanche
This award is tough because there are three worthy candidates – Makar, Quinn Hughes and Adam Fox. All have had impressive rookie campaigns and should be the three finalists, but Fox was subbed out for Dominik Kubalik of Chicago. Makar should be the clear winner, as he has become a formidable one-two punch with Nathan MacKinnon out in Colorado.
Hughes has the upper hand in points, but Makar has been the better all-around player this season.
Most Gentlemanly Conduct – Lady Byng Trophy
Issues: Honestly, for a sport that has some of the most foul-mouthed players in sports, this league hands out a trophy for most gentlemanly conduct. Go figure. You would think referees and linesmen would get to vote on the award since they are the ones on the ice receiving the verbal abuse, but nah. Somehow hockey writers vote on this one, and it just goes to a player who has a lot of points and few penalty minutes.
Who Should Win: Jaccob Slavin – Carolina Hurricanes
It's honestly baffling where the three finalists for this award – Auston Matthews, Ryan O'Reilly and MacKinnon – came from. Seriously. Jaccob Slavin has averaged over 23 minutes per game this season for Carolina, playing in all 68 games, and has only amassed 10 penalty minutes. 10. Five minor penalties. That's it. How was he missed? Do the voters actually pay attention here?
Best Defensive Forward - Frank J. Selke Award
Issues: How does one judge this award? There is no basic stat to go off, so everyone blindly assumes its just Patrice Bergeron who was great defensively that one year. Find a way to better judge this award or get rid of it. This one causes a lot of headaches.
Who Should Win: Valeri Nichushkin – Dallas Stars
Again, there is no basic metric to judge this award, so a quick flip over to Evolving Hockey's expected goals against numbers show that Nichushkin was the best forward this past season in terms of suppressing shots away from the high danger area. He was really good at that, and it's a bit of a surprise to see how good he really was. He probably will not win, nor even be a finalist, but he has our vote.
[caption id=attachment_69257" align="alignnone" width="1708]

via Evolving-Hockey.com[/caption]
Head Coach of the Year - Jack Adams Award
Issues: Another award that is typically given out to the most worthy recipient. However, the award comes with a terrible curse. The coach is typically fired within the next year and a half. Maybe it's like a Horcrux where if you touch it death will soon befall you.
Who Should Win: Alain Vigneault – Philadelphia Flyers
Vigneault worked his magic on the mediocre Flyers this past season, turning them from bubble playoff team to a team that got a bye right into the round of 16 playoff tournament. Carter Hart was a big reason for that turnaround, but the Flyers were also sixth in the league in goals scored and were in the upper third of the league in puck possession and expected goals for.
Dedication and perseverance to hockey - Bill Masterton Memorial Trophy
Issues: Please stop with every team nominating a player. It was thoroughly embarrassing to see Ryan O'Reilly get nominated after the season where he drove his car into a building. Really shows a lot of perseverance there!
There are usually three to five worthy candidates every year, so just recognize them and get on with it. We don't need 31 nominees.
Who Should Win: Oskar Lindblom – Philadelphia / Bobby Ryan – Ottawa / Stephen Johns – Dallas
Honestly, give the three finalists the award. They all are deserving of it. Lindblom was diagnosed in December with a rare form of bone cancer. Ryan checked himself into rehab in late November before making a memorable return in late February. Johns battled back from a serious concussion last season and missed 47 games at the start of this season with those symptoms.
Seriously, give them all the award.
Issues: Eh, it's fine having the players vote on this.
Who Should Win: Panarin
See above.
General Manager of the Year
Issues: It takes a general manager in the league several years to build up the squad into a contender, so it's weird to have this award for just one year. Let's try replacing this award with the best acquisition of the year or something. It will still recognize a general manager for a great move, but naming one as the best of the year is rather silly.
Who Should Win: Jarmo Kekalainen – Columbus Blue Jackets
Look at the Blue Jackets from last year and look at them now. The team went all in last season with Panarin and Sergei Bobrovsky in the final year of their contracts and they traded for Matt Duchene at the deadline.
None were retained this season, and instead of making panic moves, Kekalainen weathered the storm, went with his crop of young talented goaltenders and skaters. The Jackets were fourth in the Metropolitan Division at the time of the pause and easily got an invite to the play-in tournament. Kekalainen should win for simply not making a panic move in free agency. Really commendable how he did not when most of his peers would have.
Best Leader - Mark Messier Leadership Award
Issues: It's a leadership award. How do you judge that? This is almost worse than the Selke.
Who Should Win: Jack Eichel – Buffalo Sabres
You try playing in Buffalo and get back to me.
Most Charitable - King Clancy Award
Issues: None. This award is for humanitarian services rendered during the last year, with Jason Zucker of Minnesota winning previously for his work with the Give16 campaign.
Who Should Win: Any of the finalists.
The work is commendable, as always.