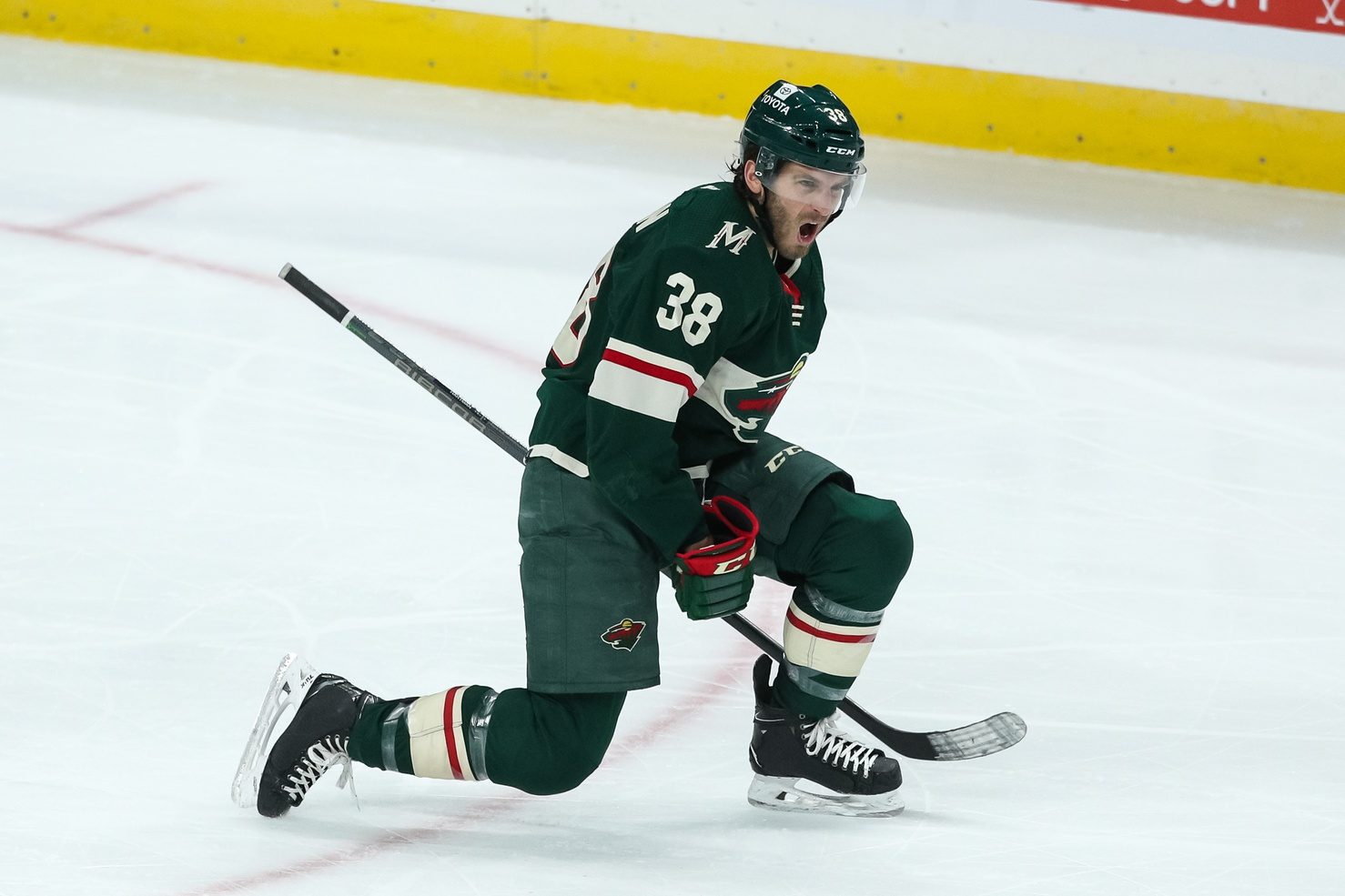 It's almost impossible to pick which stat best captures Ryan Hartman's unexpected start to the season. Is it that through 23 games, his 21 points are just one shy of what he accomplished in 51 games with the Minnesota Wild last year? Perhaps it's that only six NHLers have more than Hartman's 13-goal total? Or the fact that he's on pace to best his career-high 19 goals on Jan. 2 en route to a blistering 46-goal season?
But by any measure, Hartman is making an impact far beyond anyone could've foreseen from him. The individual numbers are staggering in themselves: He's matching Auston Matthews in goals and Mitch Marner in points. His advanced numbers may be even more mind-blowing. He's currently seventh in the NHL in Evolving Hockey's Standings Points Above Replacement, single-handedly providing Minnesota with 3 of their 33 points.
When a relatively obscure player breaks out like this, it's easy to dismiss it as a fluke. After all, Hartman is a 27-year-old 9.8% career shooter suddenly shooting 15.5%. He's never been an elite goal-scorer at any level. It's just not the profile of someone who has a 46-goal year in them.
So, yeah, Hartman is obviously riding the hottest streak of his life. But do we write this off entirely as a flash in the pan? Is his newfound goal scoring the result of a difference in his game? What can we expect Hartman to accomplish during the rest of the season?
The first thing we want to do is look at if Hartman is changing his shooting behavior. After all, if we wrote off Joel Eriksson Ek's hot start as a fluke last year, we'd have been wrong. Why? Because we'd be ignoring that Eriksson Ek was crashing the net more frequently. So let's look at where Hartman was shooting from last year and compare it to this year.

Both seasons look pretty similar in terms of shot location. Hartman's willing to fire the puck from anywhere but also frequently gets to the net and slot. Perhaps he's focusing a bit less on the crease and a bit more on the slot, but it's a negligible difference. What is extremely different is the quantity of shooting. Reminder: The left chart represents Hartman's output through 51 games. Hartman's only played 23 this year, and has nearly as many shots in fewer than half the games.
In fact, Hartman is easily shooting more than he ever has before in his career. He's blasting 12.9 shots per hour at 5-on-5, which is the fourth-most in the entire league. Only David Pastrnak, Timo Meier, and Kyle Connor are shooting at a higher rate. And as the year-to-year shot charts imply, he's more than doubled his 5.6 shot rate from last season. Shot quantity is as important as shot quality, and Hartman's hot streak owes a lot to him constantly throwing pucks towards the net.
Hartman is starting to unlock the secret of Zach Parise's success: It's hard to slump when you're consistently shooting. Hartman has zero games without a shot and only four with two shots or fewer. His longest stretch without a goal this year is two games.
Of course, you have to assume that his shooting percentage will cool off at some point. But with the sheer amount of opportunities he's getting, he should still be well on his way to a career year. He has six expected goals through 23 games. If he keeps that pace for the remaining 59 games, he'll get another 15 goals even with average shooting luck. That's flirting with a 30-goal season without good fortune propelling him the rest of the way.
And this isn't even accounting for the fact that he's suddenly on an extremely dangerous line.
Hartman is skating with Kirill Kaprizov and Mats Zuccarello following Dean Evason's November line blender. Thanks to a hand injury that kept Zuccarello out for two games, the trio has only played 43 5-on-5 minutes together. However, they've registered a whopping 69 shot attempts in that short time. That's a per-hour pace of 96.6, best in hockey among 183 forward lines with 40-plus 5-on-5 minutes. No other line has more than 83 attempts per hour. Get ready for the most insane heat map you'll ever see.

This is art. The Hartman-Kaprizov-Zuccarello line is absolutely shelling goalies from in front of the net, uninterrupted all the way through the slot. Thanks to this onslaught of shot quantity, Minnesota's controlling 65.3% of the shot attempts at 5-on-5, sixth-best in the NHL. According to Natural Stat Trick, Thursday's game against the New Jersey Devils was particularly staggering, with the Hartman line out-attempting the Devils 21-7 in 9:49 of 5-on-5 time.
After the game, Evason noted the way Kaprizov controlled the pace. A superstar like Kaprizov should get a lot of credit for that, but Hartman deserves praise for being able to keep up with that pace. Of all the centers that auditioned between Kaprizov and Zuccarello these last two years, Hartman's been the guy who gets them to put their feet on the gas the most. They're absolutely clicking now, out-scoring opponents 9-2 at 5-on-5. Only ten forward lines have scored more goals.
Like Hartman's individually, one has to expect this line to slow their pace at least a little bit. The best lines in hockey tend to top out at around 75-80 shot attempts per hour, and Minnesota's currently shooting 22% with those three on the ice. Like Hartman, their combination is a lot of quality shot attempts combined with a lot of luck.
But them being one of the top lines in hockey checks out with their performance in 88 minutes together last season. They generated 3.44 expected goals per hour at 5-on-5, which was 11th in the NHL last season for lines with 80-plus 5-on-5 minutes. They controlled 68.0% of the expected goal share, more than even the vaunted Eriksson Ek-Marcus Foligno-Jordan Greenway line.
How much of Hartman's season is for real or not? He's probably not going to get 45, and even 35 goals may be tough to crack. But at this point, who cares? Regardless of whether Hartman gets 25, 30, or more goals, he's still a key cog in the most dominant iteration of the Kaprizov line. If he can keep peppering the net and keeping Kaprizov in the offensive zone, he'll be insanely valuable, regardless of where his final goal total winds up.
All data from Evolving Hockey unless indicated otherwise and accurate as of Dec. 4.