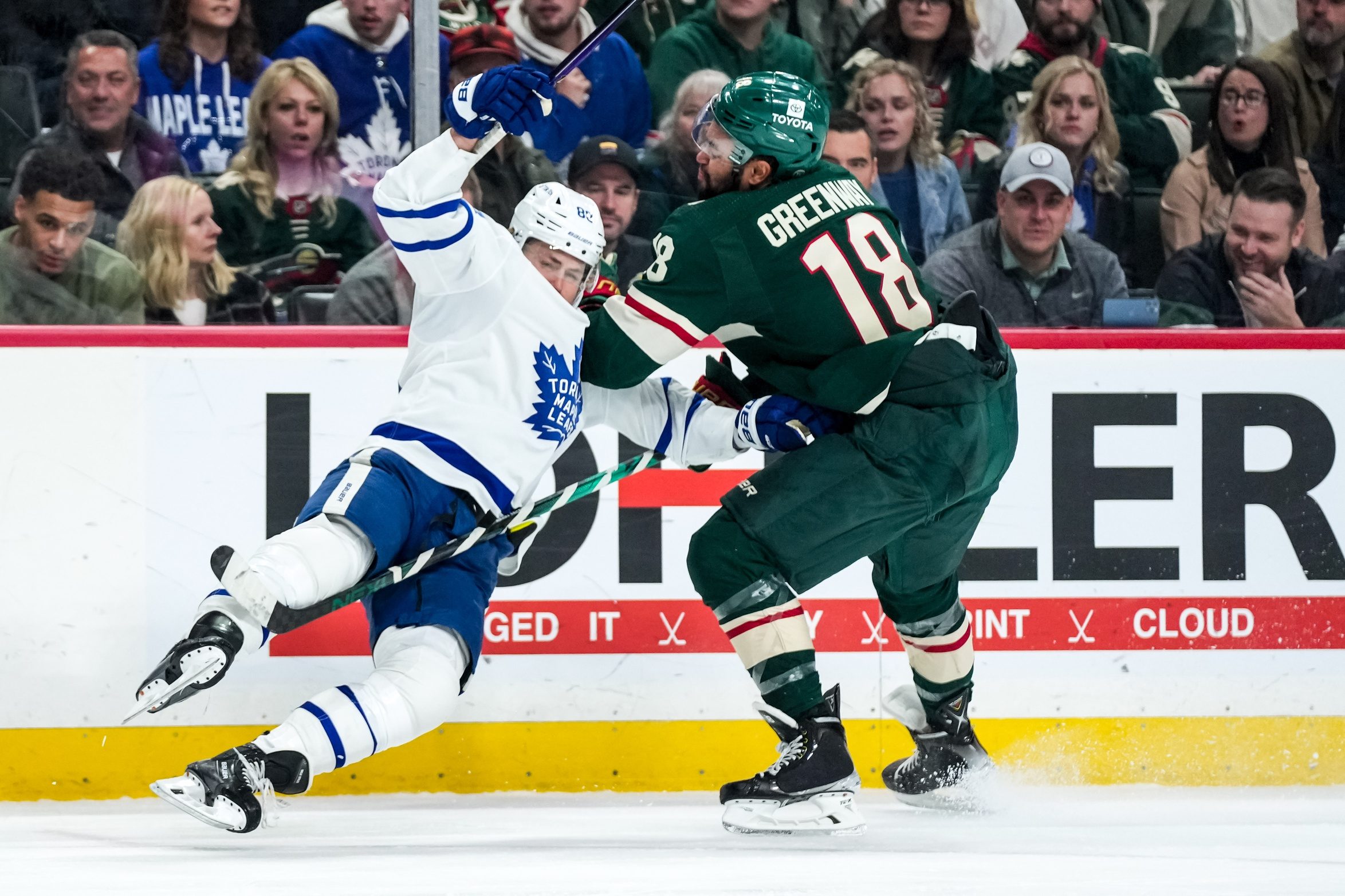 The Minnesota Wild are heading into a roster crunch. With difficult decisions looming, players will have to take pay cuts or pack their bags and play for another team. Jordan Greenway could be a casualty of the Wild's current cap situation. He's been playing much better lately, but is playing his way into Minnesota's future? Or is he only raising his trade value at this point?
Greenway's season got off to a sluggish start, with just three points in his first 17 games. He matched his point total against the Arizona Coyotes on November 30, with a goal and two assists. He then scored another goal against the Toronto Maple Leafs, bringing his season total to seven points in 20 games played.
Greenway brings a giant frame and can be a dominating presence to the ice. Off the ice, he's as calm and chill as you could imagine, which seems to bother fans. Well, at least the people who populate comment sections and are glued to social media think so. While he has not been producing as he should, he's been playing with intensity and physicality.
He's got a great reach and excellent playmaking instincts. With evident power forward abilities, he can be a monster in the corners and is a giant when placed in front of the net. He also can play all three forward roles, although he has primarily played left wing for the Wild.
Last season, Greenway played on the dominating line with Joel Eriksson Ek and Marcus Foligno. Evason became uncomfortable breaking up his "security blanket" line, or "GREEF" as it's known in some corners of Wild Twitter. That line was split up early this season. But they have since been reunited and continued to dominate. They form a hard forechecking line, and Dean Evason praised their play in the Toronto game.
"I wish they never got tired," he said. "Especially in the second period, we would just like those guys to stay on the ice, but they can't do that because they are doing the right things in all areas of the game, and they're leading our group by what they're doing and showing that leadership quality. It's a great game by them basically every night."
Evason trusts this line and all three players individually. After Greenway's slow start, being reunited with Eriksson Ek and Foligno was precisely what he needed to get back into his groove. They all compliment each others' style well.
However, Greenway is one of a few players on the Wild who are set to be restricted free agents after this season concludes. But with just $16 million in cap space to fill nine roster spots, Minnesota has little money to spread around. Either Greenway will have to take a massive, team-friendly pay cut as Ryan Hartman did, or the Wild will have to trade him.
Some players, like Hartman, are willing to take less money if they like their role on the team and don't see better opportunities elsewhere. Greenway is in a great situation now, playing on a line suited to his abilities and has his coaches' complete trust. But another team might call with an offer of a more significant offensive role or make an offer Minnesota can't match. If that happens, no one can blame him for knowing his worth.
If the Wild are forced to trade him, the best they could get in return would be draft picks or prospects. They cannot afford to take on a lot of salary with the Zach Parise-Ryan Suter buyouts coming. However, a trade would give Greenway a fresh start elsewhere, and the Wild could receive either a decent prospect or the chance to draft a good prospect in return. He could also be packaged with another player who could free up more cap space and allow them to get the Wild a first or second-line center.
Greenway's lack of physicality has often caused consternation among fans. With a towering 6'6'', 240-lb. frame, Greenway has the build to be a player that no one wants to play against. He could be a terrifying presence on the ice with his size, taking out guys left and right with ease. However, Greenways says that's not part of his game.
"I've never really been an overly physical guy," he says. "If you watch previous years, I've never been out of this world physical. So it's not ingrained in me by any means. It's definitely something that I've got to get myself worked up to do." He is third on the team with 42 hits, but none are necessarily punishing.
On the bright side, if Greenway is no longer on the Wild, the organization has plenty of suitable replacements. Matt Boldy could be one of them. He plays a similar playmaking style and would fit well with Eriksson Ek and Foligno, allowing the Wild to form a "BEEF" line. Boldy's skill set would make that line even more dangerous and give them more of a scoring touch.
That's not to say that Greenway won't be missed if Minnesota isn't in his future. He's had a steady start to his career in St. Paul. He's logged 92 points in 230 games played for the Wild and had a career-high 32 points last season, leading the team with 26 assists. But if Minnesota can't afford him, his trade value may be too high not to get something in return for him. Given that he was a former 50th overall pick, even a second-round pick in return could open space for Boldy while replenishing the prospect pool for the future. Fans would hate to see him blossom for another organization. But depending on the return, it could all work out for the teams involved.